One single tweet was the final nail in the coffin of the cinema exclusivity window, given added poignancy by being in French; "100 000 locations en une semaine, rien ne sera plus comme avant" ('100,000 viewings in a week, nothing will be as it was').  This was the message from Vincent Maraval, Co-Founder of Wild Bunch, the French production and distribution outfit behind the controversial "Welcome to New York", which was released on video-on-demand without first screening in French cinemas.
In a country (France) that counts cinema admissions rather than box office takings for a film (something that sets most of Continental Europe apart from Anglo-Saxon markets like the United States and United Kingdom), this tweet added insult to injury for what was truly a milestone for the industry in slaughtering its last sacred cow.
The day-and-date release of films in cinemas and on-line is nothing new, but we have now reached a point where the sacrosanctity of the exclusive theatrical window is well and truly dead for the vast majority of films. The recent Cannes Film Festival and the release of the report "Circulation of European Films in the Digital Era" (funded by the European Parliament and European Commission) has thrown this into sharp focus, yet there are many other factors to consider.
Fighting Day-and-Date for Years
"It's the biggest threat to the viability of the cinema industry today," is how John Fithian, president of the National Association of Theatre Owners (NATO), put it in 2006 in response to the day-and-date release of the Steven Soderbergh directed "Bubble", which was released simultaneously on DVD, pay-per-view and in cinemas. Or rather, in a handful of cinemas. In Landmark Theatres alone, to be precise, the sister company of Magnolia Pictures, which produced and distributed the film, both owned by Mark Cuban.
Commenting on the experiment six years later, Steven Soderbergh opined:
On "Bubble" and "The Girlfriend Experience", we really weren't able to find out if the experiment worked because frankly, we were blackballed by all the chains. We couldn't get any screens outside of Landmark, even though we offered to cut them in on some of the VOD and video revenue. They just blackballed us. Part of the point of going day-and-date is that somebody who lives in a place where that kind of movie wouldn't typically open could watch it through VOD because they've read about it, because this whole thing of having to sell a movie multiple times is really f–king boring. We never got to find out if that worked or not because what does Landmark have, 75 screens or something? The movie was not allowed to be shown outside that group of theaters so I don't know how day-and-date works.
Fithian was skilled in rallying his members to boycott the film, even though he knew that releasing a small independent film with no stars on DVD the same day as it plays in a few art-house screens was not the same existential threat as, say, releasing "Oceans 12" (also directed by Soderbergh) on all platforms on the same day. But what it did represent was the thin end of the wedge, which is why Fithian was willing to risk coming up with a Jack Valenti-VCR-Boston-Strangler-type of quote.
The key word in the Fithian quote is 'today' and where his greatest success lies was in killing off the discussion and experimentation for another half decade. Fithian is neither a technophobe nor is NATO blind to the direction in which the industry is heading. In response to Soderbergh's interview, Fithian wrote, "Over the past two years NATO and our members have stated publicly that distributors should sit down privately with their exhibitor partners and their creative partners in dialogue about how the industry moves forward together." But everything changed in early 2014.
The most serious threat wasn't "Bubble" in 2006 but the MPAA-FCC exchange in 2009, known by the exhibitor-baiting headline, "MPAA Seeks FCC Okay For Transmission of First Run Movies Directly To Consumers". While seemingly about day-and-date, we wrote at the time that "the MPAA may simply be hiding behind the concept of protecting content during shortened release windows as camouflage for their true motive; securing high definition digital content as it is distributed into the electronic ether of the home by controlling which devices can playback and display the content."
There is not room to retread all the aspects of the 2009 spat (I urge you to re-read the original article), but it is worth noting our take on the tussle back then:
Make no mistake however, if studios could get away with releasing certain movies on DVD and VOD day-and-date with their theatrical release they probably would. Just ask Disney CEO Bob Iger who has alluded to the notion numerous times. And it probably won't be long before such a simultaneous release occurs, but it likely won't become routine very quickly. Instead, this whole to-do over the MPAA seeking an FCC waiver is the studio's effort to get something they were previously denied.
The issue is no longer Landmark and some obscure art-house films, but the likes of Disney wanting to keep their options open.
How to Undermine Your Position With a Single Sentence
The next major clash came in late 2013 in a very public spat between Fithian and the CEO of Netflix, Ted Sarandos, which had by that stage become the poster-child of delivering entertainment content, not just because of its clever use of technology, but also its ability to fund original content, much like HBO ten years earlier. Nothing earns Hollywood's respect faster than putting your money where your mouth is and Netflix is able to outspend the likes of Mark Cuban and Landmark by a significant factor.
During his Executive Keynote on 26 October at the 9th Annual Film Independent Forum, Sarandos criticized cinema exhibitors for fighting the day-and-date release of films in cinemas and on Netflix, saying that they are going to "kill movies." Having initially adopted a Jack Valenti approach of film-homicide similes, Sarandos was ultimately forced to stage a retreat:
After getting some flak, he presented a more subdued keynote today at "The Business of Entertainment," an event in Los Angeles sponsored by Bloomberg and the Tribeca Film Festival.

"I wasn't calling for day and date with Netflix," Sarandos said during the Q&A session. "I was calling to move all the windows up to get closer to what the consumer wants."

In response to a question about why the change of heart, Sarandos said, "I think there's a better business in giving people what they want than creating artificial distance between the product and the consumer."
Fithian's response was take no prisoners.  He stated ""Subscription movie services and cheap rentals killed the DVD business, and now Sarandos wants to kill the cinema as well." It all looked like a re-run of 2006. Only this time Fithian/NATO were bolder, because they had fended off significant threats from Hollywood studios, most significantly Universal's plans to release "Tower Heist" as a premium video-on-demand (PVoD) title to about 500,000 cable subscribers for USD$59.99 three weeks after its theatrical release in November 2011. The plan was cancelled after U.S. cinemas threatened to boycott the film.
In the end the NATO position was killed off not by anything Soderbergh, Cuban, Iger or Sarandos said or did, but by John Fithian's speech at CinemaCon 2014. A single sentence was all it took to unravel several years of presenting a united front on the position of day-and-date:
It's not that I didn't consider the movie worthy of watching. Quite the contrary, '12 Years a Slave' constitutes one of the most important movies of our generation. It's simply that, for me, the movie was too unequivocally intense to watch in a cinema, so I waited and watched it at home." [added emphasis]
What was meant as a line to illustrate the overwhelming power of the cinematic experience, may become the line which will forever be used to justify some films being available in the home. In the case of Fithian, and a select group of film and cinema industry insiders, that is the DVD screener or encrypted links sent to voting members of AMPAS, HFPA, BAFTA etc. in time for the big annual film awards. It might be construed as elitist to try and argue that the wider public should not be allowed to watch films at home the same way that they are viewed in the Fithian household.
By this stage, several notable Hollywood directors and executives had joined, what was previously viewed as an extreme position taken by Soderbergh. In April of this year, Jeffrey Katzenberg, head of Dreamworks Animation, predicted that films would be available in the home three weekends after their theatrical release, while filmmakers Steven Spielberg and George Lucas had earlier prognosticated films such as "Lincoln" will only be made for television in the future as we see the implosion of mega-budget films that may cost USD $50, $100 or even $150 in cinemas.
Hollywood had come around to the fact that change was inevitable – and imminent. But it was at Cannes, appropriate given its home in France, that this sea change was given its philosophical underpinning.
VoD As The New Normal
A trend only becomes noteworthy when nobody considers it remarkable anymore.  At such a point it has ceased to be a trend and has evolved into normality. The epiphany for me that day-and-date film distribution was the new normal came in a recent film review round-up from The New Yorker's Richard Brody, where he commented:
In addition to the extraordinary "Drinking Buddies," by Joe Swanberg, and "Ain't Them Bodies Saints," by David Lowery (which are also available via video on demand), two other independent films that opened in the last few weeks are among the worthiest films on screens now: "This Is Martin Bonner" (also on V.O.D.) and "Short Term 12."

and

Two new films by venerable directors, Francis Ford Coppola ("Twixt") and Brian De Palma ("Passion") are also available on demand (De Palma's film opens theatrically today as well), and I take no pleasure in saying that both films convey a sense of great artists who haven't renewed their ideas or their methods.
The fact that he helpfully informed readers that they could catch the films in VoD but not making any editorial reference about the fact that they could be seen somewhere other than a cinema in Tribeca is Sherlock Holms' famous dog that didn't bark. The above titles might still only be art-house fare in the vein of "Bubble", but now they are not alone or being boycotted or denounced by NATO's President. They are also directed by famous American auteur directors such as Coppola and De Palma – much in the same way we also think nothing of directors like Fincher or Scorsese directing television drama pilots for Netflix and HBO.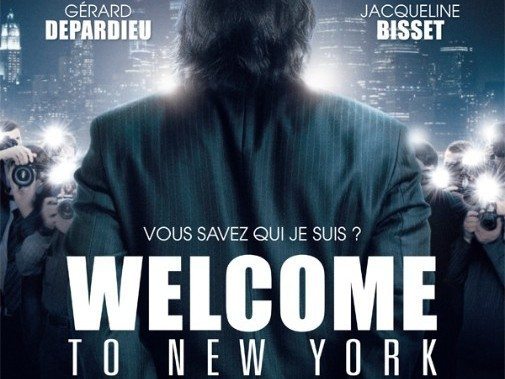 Still, it was fellow U.S. director Abel Ferrera's "Welcome to New York" that caused the biggest controversy when it screened in Cannes out of competition. Because French law regulates that films cannot be shown on-line in the four month window after the theatrical release, a day-and-date premiere was impossible. So Wild Bunch did the unthinkable and released the film as a PVoD title only on networks such as Orange 24/24, FilmoTV, SFR, iTunes, Canalplay, MyTF1VOD, Google Play, Videofutur and Virgin Mega.
As indicated in the tweet above, the film achieved more than 100,000 paid downloads in its first week, which can be compared to a family title like "Asterix and Obelix in Britain 3D", which achieved 88,000 sales in its first week on PVoD release. There can be no doubt that interest was fueled by the publicity surrounding the film during its outing at the Cannes Film Festival, as well as the controversial subject itself, which Wild Bunch cleverly exploited:
Asked at the press conference whether either Strauss Kahn or Sinclair had seen the film, Wild Bunch co-chief Vincent Maraval said: "Who knows. Perhaps they're watching on FilmoTV right now and paying us €7 to do so."
Variety recently called it 'a Potential Game-Changer for French Biz', noting that it has led Wild Bunch to consider creating its own VoD label, with possible reform of the French release windows regulation (which Wild Bunch did not technically breach, because the film was not pre-sold to any French television channel). Maraval is also quoted as saying that "[t]he ones who really oppose it are Canal Plus and the big circuits, including UGC and the Pathe-Gaumont Europalaces. They are strong lobbying groups and, naturally, they don't want anything to change in order to preserve the status quo."
(Meanwhile in the U.S.)
Less controversial or written about, the same month also saw mid-budget Hollywood studio films finding their way day-and-date onto PVoD platforms, with Universal doing what it failed to do in 2011 with "Tower Heist", this time through its specialty division with "Walk of Shame":
Focus Features' raunchy comedy grossed a dismal $38,000 from 51 locations this past week giving the pic, which cost $15 million to produce, a dismal per-screen average of $780.

The film's simultaneous VOD release may be proving more popular than the theatrical run — Focus pointed out that the film started very strong on iTunes and shot up to no. 1 in 24 hours.

"The limited theatrical run was part of an integrated and simultaneous release on VOD and PPV," a Focus spokesperson said in a statement on Sunday.
Indiwire even compiled a list of "the 10 best indies new to VOD this month that have yet to open theatrically." These included acclaimed films such as "God's Pocket", "Devil's Knot" and "The Double" available on platforms such as iTunes, Amazon, Charter, Comcast, Google Play, DirecTV, Playstation, SuddenLink, Time Warner, Verizon FIOS, Vudu, XBOX and others.
The financial template for independent films making more money on PVoD than in cinemas was arguably set by Kirsten Dunst-starrer "Bachelorette" in 2012, as reported in EW.
Even after "Bachelorette" was snapped up by RADiUS, The Weinstein Company's brand new label focused on alternative distribution, McKay remained skeptical at the plan to release the film on VOD a full month before its theatrical debut Sept. 7. "It just didn't seem like that big of a deal to me," he says with a chuckle. So you can imagine McKay's surprise when, within 48 hours of its digital premiere, "Bachelorette" hit number one on the iTunes video-on-demand chart — the first time, it seems, that a film has hit that milestone before hitting movie theaters.
Though even here it was preceded by films such as "Margin Call" in 2011 and "All Good Things" 2010.
What had changed was that there was now a sufficient penetration of PVoD or EST (electronic sell-through) platforms, coupled with a consumer willingness to pay for titles that were getting sufficient buzz, whereas before this was no less restricted than cinemas when cable platforms controlled the pay-per-view (PPV) channels.
As noted by EW, it also overcame cinema's single biggest restriction, which was lack of geographical spread and competition for on-screen real-estate space.
Not only does VOD service over-busy cinephiles, it finally allows heartland audiences that have historically been underserved with independent film a chance to be the first to see the buzziest festival movies. "You're able to see it while other people in New York or LA or Chicago or San Francisco are able to see it too," says Jason Janego, co-president of RADiUS. "So you're part of the discussion, wherever it might be."
The issue of change in attitude of film viewers was highlighted in a note this week from Seeking Alpha, which summarized it as follows:
NPD: Digital movie sales becoming a bigger factor • 10:27 AM – Consumers are rapidly adapting to purchasing movies through digital channels, according to NPD.
The growth rate for the electronic sell-through of movies is triple of that for TV EST [electronic sell-through].

The exclusive early release window for some digital titles appears to be helping to boost demand and awareness.

The trend is encouraging for studios (DIS, LGF, SNE, VIAB, TWX, FOXA, VIA, CMCSA) looking to capture some of the lost revenue from the lower demand for DVDs.

Movie theater operators (CKEC, CNK, RGC, MCS, RDI, AMC, DCIN) might look at the development differently with their revenue share mix tilted higher the longer movies stay in a theater.
The biggest problem with VoD, as noted by Scott Tobias in The Dissolve, is its lack of transparency in terms of sales/views/revenue. This is causing problems for industry analysts and commentators, who have to work with fragments of data and snippets of information. As Tobias puts it.
We can guess these things, but we can't really know them with any kind of precision, because they can't be quantified. And that's because the money generated by VOD rentals is almost never disclosed. Figuring out what's successful or unsuccessful on VOD—or the overall viability of the format, period—is like being lost in a wilderness within a wilderness. And the powers-that-be aren't passing out flashlights.
It is nice of Maraval to share the information that "Welcome to New York" had 100,000 sales in the first eight days, but he is not telling us everything we need to know to properly benchmark the film. What we are left with is iTunes Top 10 charts and factoids like Keanu Reeves kung-fu movie "Man Of Tai Chi" earning 15 times as much on VoD as it did in cinemas. Just like Netflix, VoD operators and distributors releasing on these platforms have not been compelled to share the revenue information, the way that exhibitors were made to a long time ago.
Curzon Follows Landmark's Lead in Transforming the Business
Back at the Cannes Film Festival, away from the "Welcome to New York" press conference (and party) there was the more sober Next conference and the launch of the Analyses of experiments launched in the context of the Preparatory Action "Circulation of film in the digital era" by Thomas Paris, researcher at CNRS (GREG HEC) and affiliate Professor at HEC Paris. It should also be remembered that discussions in Cannes took place against the backdrop of falling cinema attendance across most of (western) Europe, as confirmed by the publication of the European Audiovisual Observatory (EAO) of its annual report, at a time when a record number of European films were being produced (but not watched).
Day-and-date releases were not the only topics at the Next conference, which covered issues such as "Premium VOD, Ultra VOD, day-and-date releasing, crowdfunding, Cinema On Demand, social media, direct and self-distribution, VOD aggregation services, online marketing strategies, gameification, event cinema, virtual reality, interactive services, and new DIY services." However, looking at the list it is clear that nearly all of these topics are linked to the one larger issue either directly or indirectly.
The session has been well summarized by Sampomedia, whose Michael Gubbin was also the Chair of the event. The article is worth reading in full, but one section in particular stands out:
New patterns of consumption that are forcing "paradigm shift" for the industry, according to Eamonn Bowles, founder and President of Magnolia Pictures.

But he suggests that what is emerging is not a unified new media model to replace the singular value chain of the old industry, but a range of options to be knitted together according to the needs of a film.

He raises the existential question of whether there is any longer a single film business, to which all movies essentially belong; 'what is 'film'?' is becoming more than an academic question in a post-celluloid world.

Serious question marks now hang over the idea that all film is defined by the cinema.

Bowles (Magnolia Pictures) and Philip Knatchbull, (Curzon World) both expressed doubt about whether films are really best served by the traditional initial theatrical release, followed later by other platforms. Both Premium VOD (release on VOD at the same time as theatres) and Ultra VOD (release on VOD before theatres) were effective for certain releases, they argued.
What these two companies have in common is that they are vertically integrated and not afraid to embrace technology and experiment. Even before the advent of UVoD/PVoD Curzon would sell art-house DVDs in the lobby of their cinemas at a time when most cinemas saw any aspect of home entertainment as the enemy.
Yet it has more resonance when the head of one of Europe's most successful cinema chains echoes the words of Netflix's Sarandos: "Knatchbull, in particular, is bullish about the emerging multi-platform world, suggesting that windows have become an irrelevant barrier between content and audience for all films." [added emphasis] There is almost no difference between this statement and the claim by Netflix's Sarandos that windows are "creating artificial distance between the product and the consumer."
Curzon drove home this point when it re-launched its Curzon Home Cinema platform this week:
"Consumers and their engagement with content is changing and Curzon, using its home cinema experience, is meeting these ever changing demands", [Director of Curzon Home Cinema Phil] Mordecai said. "The connection from film-loving homes to the high street has never been as seamless".
'Circulation of European Films in the Digital Era'
Curzon was also one of the partners in the study funded by the European Parliament to better understand the dynamics of the newly emerging online market for film.
The introduction of the study sets out its aims:
The European Parliament has launched a Preparatory Action, "Circulation of European Films in the Digital Era," aimed at experimenting new modes of film distribution in Europe through simultaneous or quasi-simultaneous releases in several territories. The goal is to learn and understand – this is the meaning of an 'experiment' – with no bias other than that of seeing the new modes of film distribution, whatever risks they may involve, as a potential source of opportunities. This experiment has been carried out in the framework of three projects, sponsored by different players in the European film industry, all of whom share the concern to seek new outlets for films for which access to European theatres is every day more difficult. These three projects have led to the distribution of 9 films to date, in 15 territories, totaling 86 releases, 39 of them on a Day-and Date (D&D) basis, that is with simultaneous release in theatres and on VOD. These figures are already a success in themselves, given the considerable difficulties that became apparent during the experiment in combining the demands of day-and- date and multi-territory release.

This report is a preliminary analysis of the results of these experiments. In view of the fragmented and provisional nature of the data obtained, the small number of films in the sample, and above all the idiosyncratic nature of each film release in a given territory, it does not pretend to draw definitive conclusions. Its ambition is to highlight a certain number of results from the three points of view of spectator access to films, the economics of the films, and the economics of the distribution network.
The report is timely because of the explosion in PVoD and UVoD distribution, as illustrated by statistics and charts from the report.
Some of the key practitioners are also part of the report, underpinning its relevance and importance.
The study combined no less than three major projects.
The report and the preliminary findings are too detailed to be neatly compressed into a paragraph or two in this overview and the report deserves to be read in full (PDF link) but we should highlight some of the interesting results detailed in its summary:
the boost that innovative release formats such as day-and-date or Direct-to-VOD can give to a certain number of films that thereby benefit from increased exposure at least cost in a saturated market;
greater accessibility, for the cinema audience, to certain films;
the advantages of these innovative release formats for the economic situation of the films on three levels: extra revenue generated by VOD, savings on print costs, and possible synergies in promotion costs;
concerning the economics of the system as a whole, the experiments seem to indicate no major risk: VOD consumption mainly concerns the zones where the film is not visible, or only to a limited degree, in theatres.
While inherently limited in its scope, though not ambition, the study thus succeeds where the would-be experiment of "Bubble" failed, in terms of pointing to the strong benefits for certain films from day-and-date PVoD or even pre-release UVoD. And while not every exhibitor can follow in the footsteps of Curzon and Landmark/Magnolia, they can all benefit from a maximized advertising and pre-publicity campaigns that drive film-interested consumers towards a variety of platforms, where cinema is the premium experience for those within its geographical catchment area. Insisting on a time-monopoly is becoming increasingly untenable for film.
The main question now is when will PVoD move on from independent films like "Welcome to New York" and medium-budget films like "Walk of Shame" to full-fledged Hollywood studio blockbusters like "Divergent" and "Neighbors"? The answer is that it already has – you just can't afford it (yet).
Prima, Imax and Auro
Regular readers of Celluloid Junkie will already be familiar with our past coverage of Prima Cinema, the service that brings first-run Hollywood films directly to the home. As we noted in 2010, though, "[t]here's just one tiny little catch; customers will have to shell out USD $20,000 for digital-delivery equipment and will be charged USD $500 per film." At the moment the service does not have the backing of the majority of the Hollywood studios, but distributors like Universal and Lionsgate make all their films available and worries about piracy appear to be unfounded.
Prima is not alone, with Imax recently joining the race for the ultimate home theatre, offering its services in both North America and China, with an eye towards a comprehensive launch next year. Imax is also an investor in Prima. Then there is Auro, which is aiming to duplicate Barco's immersive cinema audio experience in the home. Don't think for a second that its target is to just be able to play an Auro-mastered Blu-ray of an old film. Auro-in-the-home only really makes sense for first-run releases to justify its premium over a standard 7.1 home cinema set-up.
So premium VoD to the home of major first-run hollywood releases is already a fact, even if it has not yet been embraced by all Hollywood studios or at price level that can spur mass adoption. But the gradual expansion is par for the course. Already PVoD is used for the majority of films released, just not for the films that take home a majority of the box office revenue. Whatever it might hint at in public, Hollywood studios are just as concerned as exhibitors about cannibalizing revenue streams that flow from different release platforms, most of which are still separated by some sort of window.
With geographical windows having  now been reversed, as Hollywood blockbusters often opening overseas before they do in the U.S. (something practically unthinkable ten years ago), temporal windows are no less immune to change.
Katzenberg's predictions are highly likely to come true, the question is only how soon. It is also worth noting that this situation is already a fact in the case of the world's most prolific film producing nation, India, where a major Bollywood release might appear on satellite PPV just a week after opening in the cinema (or even a day before), particularly if it underperforms at the box office.
Conclusion
So the cinema exclusivity window as we know it is dead and that is not a bad thing, nor does it mean the end of cinema.
Having the option of consuming a film via PVoD or at big screen near you (assuming there is one) will not by itself lead to more people choosing to stay at home. Cinema audiences have been in decline in western countries for some time, even before the arrival of PVoD, due to a number of factors. Cinemas are already responding to competition from your living room by installing more comfortable seats, as well as offering drinks and hot food, in addition to technical improvements like immersive audio and laser projection for brighter 3D.
For anyone who will still come up with the claim that this or that will "kill" cinema or film we offer the statement by New York Times' film critic A.O. Scott: "Film has been dying since the introduction of sound. It kept dying through the rise of television, home video, and now the Internet. I expect it to continue its death spiral for another 100 years or so."

Latest posts by Patrick von Sychowski
(see all)