Ukraine's Docudays UA festival will tour 20 films across Ukraine this year, including showings in some of the besieged country's most dangerous flashpoints. Celluloid Junkie spoke to one of the organisers, Maria Buchelnikova, about the importance of carrying human rights messages into a warzone.
"For us right now, everything is black and white. There are no other colours," Maria Buchelnikova tells me with the stoic resolve so prevalent amongst Ukrainians in today's climate. "This is not simply 'conflict and war', it's genocide and invasion."
Maria is the organiser at the Docudays UA Film Festival with the unenviable task of arranging a national tour of jury selections and winners of the 2023 event during a violent, unpredictable, and escalating conflict, and at an axiomatic point in the nation's history. Docudays could be considered the vanguard at a moral crossroads, asking global leaders not whether Ukraine will remain at liberty to create independent film, but whether Ukraine will remain at liberty at all.
Docudays UA is Ukraine's largest documentary film festival, and since its inception has had a specific focus on human rights issues. The festival has given a voice to directors focussing on fundamental human freedoms since Russia illegally annexed Crimea in 2014. Putin's new war of aggression has given the festival added impetus this year, as Russian attacks escalate, and an endless stream of Kremlin-backed talking heads spread state sponsored dogma on bought-and-paid-for Russian channels.
With western media reporting that the Kremlin will spend more than USD $1.5 billion dollars on propaganda in 2023, Maria says, "This year it's even more important to counteract this propaganda than previous years, because right now there are a lot of people around the world who are already exhausted and tired of this war." With fatigue setting in, the Docudays UA team know that it is now more vital than ever to take the work of both Ukrainian and international directors to the cinemas and village halls of parochial Oblasts, many unused to hosting cultural events and debates.
"People don't want to know. They try to avoid this information; they try to close their eyes and not see anything."
But if war weariness is perhaps starting to take hold in foreign media and amongst international observers, then the Docudays team know that the focus on Ukraine remains intense, and levels of unanimity in support of the Ukrainian people and their struggle offers an opportunity to give global exposure to documentary filmmakers just as they commit their most important work to celluloid. Maria sets her jaw; "Right now it's hard to continue, but it's even more important that we do continue."
The Docudays team have been making representations on the world stage, passionately setting out their case that Russian and Ukrainian entrants should not be competing side by side in international competitions. "My colleagues from Docudays, they made a huge job to discuss with festival organisers and to explain to them why Ukrainians and Russians cannot be in the same programme, why it's different, and why Russian movies, even if they are pro-democratic and pro-human rights right now, we cannot be on the same level. It's like we're in a very different situation, because we are living through genocide, and we cannot talk right now about some 'balance'."
"A lot of cultural managers, they really do not understand why the Russians – and especially the Russian liberals, like Navalny's movie, or this situation with Navalny's movie, you know, is very illustrative – because people start to pay attention to Russians, Russians try to push new narratives about the 'liberation' of Russia, how to 'help' Russia, how to 'save' Russians, all these very funny and interesting narratives, and also propaganda as well. So I believe that we need to talk about human rights, about justice, even louder and more, because I think that a lot of people from abroad cannot really understand how Russian society can be a threat for their democratic societies. They already forget what it means to fight for democracy. Ukrainians know this, how to do it, and for us it's very important, and we pay a huge sacrifice for it."
However, if there was any doubt about the levels of interest in attending Docudays in Kiev, there's a perennial rallying call likely to summon the international sororities and fraternities of documentary filmmakers; a David and Goliath battle of both epic scale and divine simplicity; the fight against fascism. A free and democratic nation suffering a brutal assault by a much larger, authoritarian dictatorship can only build upon its magnetic allure when the victim inflicts an embarrassing – and unlikely – bloody nose upon the invaders.. Which is precisely what Ukraine did, and what it continues to do. "I know that a lot of directors and teams, they are already ready to come to Ukraine. It's some sort of political position, some point, a statement they want to make." Speaking about previous years, Maria says, "It's easier to make big events in Kiev because there are more people, more audience, people from abroad loved to come to Kiev to spend their days together." She adds, "We hope that we manage to do something like this in June."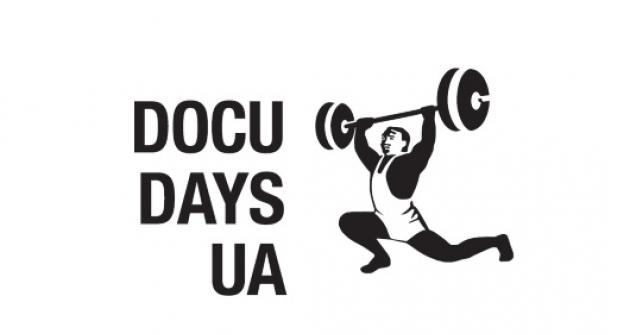 It seems both incredible and admirable that Docudays' local programmers have been able to schedule screenings throughout the country, when, even if not every screening location is a frontline in the conflict, no city or region is beyond the reach of Russian missile attacks. Maria clearly holds her local affiliates in the highest of esteem:
"We have a regional coordinator in almost every region of Ukraine, every Oblast, and they can organise events in their cities, in big cities like Kharkiv, Odessa, Chernihiv, Chernivtsi… But they also connect to other human rights activists in smaller cities, their regions, so they can cooperate together and take these movies to show in smaller cities, even in smaller villages. For example [in 2022], our colleagues in Kirovohrad Oblast, they managed to show in more than twenty small villages and cities around the Oblast. So they come to very small cinemas or, you know, cultural buildings, and they spend time together, watch these movies, and have some conversations or discussions. Because, for these people in small villages or cities, it's a really big event, because not a lot of our cultural events are going there, so they're really waiting to watch these movies."

Maria Buchelnikova, DocudaysUA
The power of film to inform and educate is clearly still an important maxim in Ukraine, and even as the populace suffers unimaginably under the Russian bombardment, there are still positive forces at work. "For me, cultural events and culture is a soft power to change people's minds, and I think that it's really important to do it this year, because not a lot of attention is being paid right now."
It seems almost darkly poetic when, as we are concluding our interview, the air raid sirens in Odessa begin to howl warnings of an incoming salvo of Russian missiles. "Please be safe," Maria says earnestly, "and perhaps we will see you in June."
The 20th Docudays UA festival takes place in Kiev from the 2nd to the 8th June 2023.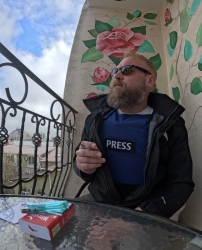 Latest posts by Mark Law Hitchings
(see all)