There is really only one story to begin with today – Jeffrey Katzenberg is definitely off John Fithian's Christmas Card list.
Not only did Mr Peabody and Sherman underwhelm at the box office, but now the head of Dreamworks Animation has suggested that the theatrical release window for first run feature films could shrink to just over two weeks.
"I think the model will change and you won't pay for the window of availability. A movie will come out and you will have 17 days, that's exactly three weekends, which is 95% of the revenue for 98% of movies. On the 18th day, these movies will be available everywhere ubiquitously and you will pay for the size. A movie screen will be $15. A 75" TV will be $4.00. A smartphone will be $1.99. That enterprise that will exist throughout the world, when that happens, and it will happen, it will reinvent the enterprise of movies," he told the crowd.

And according to Katzenberg, this scenario will play out 10 years from now.  LINK
In fact, you don't have to look as far into the future as 10 years to see this come true. This situation is already the case in the world's second largest film industry – India – where a big studio film will appear on pay-per-view as quickly as two week after its cinema release. But only if it does badly at the box office. Like Mr Peabody & Sherman did.
Australia: A joint marketing a promotion initiative for independent cinemas in Australia has been launched on the first day of the  Independent Cinemas Association of Australia conference in Sydney.
ICAA is keen to see Australian films benefit from access to the My Cinema platform. Results would be measured against past performance to ensure the platform is effective in growing the market for Australian film, she said.

All 93 members of the association, representing 830 screens which equate to more than 80% of the independent sector, are automatically part of the My Cinema group. The initiative will result in cost savings in delivery and improve the box-office by giving indie cinemas greater visibility in the national market, she said.

Promo trailers, sneak peek clips and footage of interviews and events will be compiled for a My Cinema channel sent to participating cinemas and foyer screens.  LINK
Business
Australia: The decline in cinema attendance amongst teens is a worry for studios and exhibitors in the US, but in Australia the numbers seem to be holding up.
"Looking at the year-on-year comparison from the Roy Morgan data, the drop hasn't been anywhere near the level seen in the US," said Paul Butler, marketing director of Val Morgan Cinema Network.

Last year 41.4% of teenagers aged 14-17 who were surveyed reported they had been to a cinema in the past four weeks (down just 0.4% on 2012) and the average number of cinema visits was 1.49 (1.48 previously).

Of the 18-24s, 38.9% (42.1%) had been to the cinema and the average number of visits was 1.57, up from 1.54. "Interestingly both drops are offset by a slight increase in the average frequency of going," Butler noted.  LINK
USA (CA): Dolby held its quarterly earning conference call and towards the end of the transcript there is an interesting question/reply about Atmos and premium large format (PLF):
Steven Frankel – Dougherty & Company
Okay, and then on Atmos what do you think your share of large format theaters is, excluding IMAX, kind of the house brands, what does that six centers terms of your market shift?

Kevin Yeaman – President and CEO
I don't know if have top of my head the exact number of the house brand in PLF, but it is fair to say that the vast majority of the 440 we haven't sold and the six centers committed are targeted at the growing PLF market. There is still, I mean on a global basis there is still a lot of room to grow in the existing PLF market and it's also the area where we see quite a lot of investments from our exhibitors where we anticipate their investments to be going forward is in the PLF format.  LINK
Malaysia: The three largest exhibitors in Malaysia (TGV, GSC and MBO) have their ticket prices compared by MalaysiaDigest.com and (at least to me) they all seem pretty much comparable, with the usual Tue/Wed and pre/post 6pm differences.
The experience of watching a movie on a large, wide screen on comfortable seats with popcorn and drink in hand adds on to the movie watching experience. But not all cinemas are the same, and the price to watch a movie in Malaysia depends heavily on where you go, the time and which cinema chain you get.

Here are three of the most popular cinema chains and their current ticket pricing for adults.  LINK
UK: RetailWeek looks at the ' increasingly complementary nature of retail and leisure' in UK, which inevitably involves cinemas.
At Doncaster Leisure Park, LaSalle Investment Management has taken the existing seven-screen Vue cinema and is extending it by four additional screens and two restaurant units, pre-let to Pizza Express and Nando's, which have signed leases for 25 and 20 years respectively. Acquired from a fund managed by Helix Property Advisors for about £9.6m with a view to extending the leisure offer, it is adjacent to other retail and leisure outlets that support the park, including the Dome Leisure Centre.

Last year Hercules Unit Trust (HUT), the specialist retail park fund advised by British Land and managed by Schroders, opened the £9m, 45,000 sq ft leisure extension at Glasgow Fort, home to a multiplex Vue cinema and 24,000 sq ft of restaurant space let to TGI Friday's, Prezzo, Harvester, Chiquito and Pizza Express.  LINK
Technology
China: Barco held a 'customer summit' meeting in Suzhou 23-25 April for Chinese exhibitors, customers and partners. The CinemaBarco concept was explained (repeating what was done at CinemaCon), the 4K single six-color (6P) laser film projector was shown off, awards were handed out and the whole thing seems to have been well received.
On how to improve the experience of cinema, Barco think this is beyond a single integrated product performance issues, so at this year CinemaCon, Barco presented the CinemaBarco philosophy and forward-looking vision, and strive to provide viewers with top-viewing experience. "In CinemaBarco vision, the future of cinema will be bold and full of bold ideas, the theater playing a home theater can not show top moviegoing experience." said Todd Hoddick, global vice president of Barco Digital Cinema. " We believe that the image quality and the difference is to determine the viewing experience remains a key factor, so this is our new technology priority development work, while our 60,000 lumens projector laser launch sets a new standard in the industry, but also the same level of brightness in the most affordable way. "  LINK
Seating
USA (WI): The move towards larger seats isn't directly linked to the growing girths of Americans, but rather the need to extract more money per visitor, as witnessed by this example.
Lean back, kick your feet up and enjoy the show.

That is what moviegoers will be able to do starting Thursday evening in one of the theaters at Marcus Renaissance Cinema, 10411 Washington Ave., which has been renovated to include all lounge seating, complete with foot rests. It will be premiering along with the premier of "The Amazing Spider-Man 2."

One of the screens known as the UltraScreen DLX went from approximately 400 seats down to 200 seats, but includes an extra 7 feet for leg room, said Bret Hoffmann, the advertising manager for Marcus Theatres. The seats will cost approximately $3 more than other seats for shows without the loungers, although he said they will only be $5 like every other seat on $5 Tuesdays — excluding 3-D movies. "It's part of an ongoing process to enhance the movie-going experience," Hoffman said.  LINK
Digital Death Watch
Canada: With less than 5% of cinemas in Canada still relying on 35mm film, their numbers will now dwindle rapidly.
The Rialto Theatre has shown its last film as the theatre closed its doors Monday. Empty movie poster spots adorned the theatre's exterior as the marquee that typical advertises upcoming flicks simply bore the message "THEATRE CLOSED."

In a release sent out Monday, a spokesperson for owner Criterion Entertainment attributed the closure to the increasing difficulty of obtaining movies on 35mm film.

"This was a difficult decision, but as movie theatres across North America have converted to digital projection from 35MM film, the shrinking demand for 35MM prints has forced our hand," read the release.  LINK
Cinema Opening/Closings
USA (PE): A new single-screen art-house cinemas in opening in Pittsburgh's Lawrenceville neighbourhood. Around $17,000 was raised on crowd-sourcing website Indiegogo and the building also houses a beer shop and Mexican restaurant.
Once spread out like post offices, only a handful of small community theaters in Pittsburgh have been able to hold out against the advent of the suburban multiplex: the Manor in Squirrel Hill, the Regent Square Theater, the Hollywood in Dormont and the Parkway in McKees Rocks.

This is why, when the first kernels of popcorn pop and the projector beams above the screening room for the first time at the Row House Cinema in Lawrenceville, the scene will represent the triumph of an idea at which many investors scoffed.  LINK
Taiwan: One of Asia's largest screens has opened in the small Taiwan's archipelago of Kinmen and is expected to be a major tourist draw. It is the first time the island has a since since the last closed in 2008.
According to Chiu Fu-sheng, chairman of Taiwan Development introduced Lion Studios viewing the two sides will lead the trend as it is Asia's first super-giant screen 4D + somatosensory flagship lobby, and Taiwan's largest super-giant screen (22 m × 12 m). It is worth mentioning that the Dolby ATMOS sound system is currently Asia's top Dolby sound configuration.

Chiu Fu-sheng said the station will open Lion Studios not only the world's highest standard of technical equipment first introduced in place, but also to build a sound and vision, viewing comfort and quality of service are the leading Taiwan's top studios, allowing Kinmen together with the people of mainland tourists to enjoy the finest viewing pleasure.  LINK1  LINK2
China:  Another 4D cinemas will soon open in China, but this one on the Mainland, and this one operated by South Korean major CGV Cineplex, which just signed a deal. Outside Korea CGV already operates cinemas in placesa as diverse as Vietnam and Los Angeles' Koreatown.
Chengdu has a real sense of the first high-tech 4D video room CGV Cineplex in Korea on April 26 about to sign the blue Sky Harbor International City, located to the south of airports, which would break no real sense of Chengdu 4D theater. The Korean CGV Cineplex blue sign in the investment briefing Airport International City, International City, not only to the Blu-ray Airport Adds heavyweight weight, but also marks the end of Chengdu ranks among the country's leading position in supporting the theater.

Unique Guinness "3s cinema technology" to bring a new viewing experience. Blu Sky Harbor International City officials say that the introduction of the Korean CGV theater is Korea's largest theater company, with more than 100 theaters in Korea. 4000 million people in South Korea, a quarter of all CGV members. Is well deserved, "South Korean national cinema." Years of excellent management and technical updates, making South Korea the CGV theater unique Guinness "" 3s cinema technology "Screen (screen), Sound (audio), Seat (seat)" certification. LINK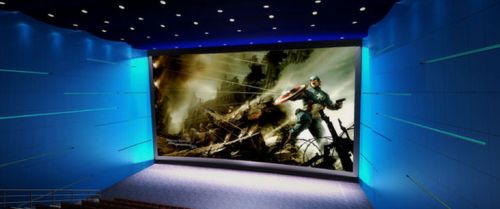 Mongolia: And yet another 4D screen, this one in China's neighbour Mongolia.
April 30, reporters from Inner Mongolia Science and Technology Museum New Museum was informed, Inner Mongolia Science and Technology Museum New Museum HMAX digital stereo IMAX theater, 4D Motion Theater will be "51" during the preview.

According to Inner Mongolia Science and Technology Museum New Museum staff, the museum's HMAX digital stereo IMAX theater and 4D cinema projection equipment are used in class. The projector is the single highest brightness, high definition 4K resolution, the player uses dual polarization technology, better play three-dimensional effect, high-fidelity stereo sound 7.1 channel sound reproduction. Among them, the giant screen theater construction area of ??1005 square meters, can accommodate 292 people, the screen 23 meters wide, up to 16 meters; within three degrees of freedom with a 4D theater seats electric movement can be achieved within the theater ear wind, water, leg sweep, ball and other environmental effects.  LINK
Israel: Jerusalem is set to get another multiplex in the mixed Arab-Jewish Abu Tor neighbourhood and this one won't face the same restrictions about Shabbos that have bedeviled the new Cinema City.
The name of the new entertainment complex under construction in Jerusalem's Abu Tor neighborhood is the Yes Planet Sherover Cultural Center, and the answer to the burning question in many Jerusalemites' minds is also a resounding "Yes" – the movie theaters in this complex will be open on Shabbat.

Jerusalem Mayor Nir Barkat confirmed this at a lavish press conference – complete with champagne and hors d'oeuvres – held on Tuesday at the site that will become a 16-screen movie, entertainment and restaurant complex by June 2015.  LINK
Ireland: One of the largest cinema screens in Ireland is set to come up in Swan. It's not an Imax.
One of the country's largest cinema screens is to be installed at The Swan in Rathmines as part of a €5 million upgrading, expansion and rebranding of the Dublin 6 cinema complex.

The Omniplex Group, Ireland's largest cinema chain, owned by the Anderson family, is extending the leisure facility by 2,043sq m (22,000sq ft) in order to double its capacity to eight screens and 1,600 seats. It will be known as Omniplex Rathmines from its launch date in June.  LINK
Australia: Port Augusta is still fighting to keep its cinema open, with a new hope following a shuffling of politicians responsible.
Port Augusta mayor Sam Johnson and member for Stuart Dan van Holst Pellekaan have joined forces in the fight to keep Cinema Augusta alive.

The leaders have harnessed a change in the state government cabinet ministry to make another push for a lease agreement solution.

With the Employment, Higher Education and Skills portfolio now under the eye of Minister Gail Gago (previously Grace Portolesi), Mr Johnson said he is hopeful this change will have a positive result on negotiations.  LINK
Australia: Another cinema in Australia is this perfectly lovely looking one in Reading.
Reading Cinemas Dubbo have delayed their closure by a week and will now close their doors on May 7, unless a last minute deal can be done to keep them here permanently.

A spokesperson for Reading in Dubbo confirmed the cinema will remain open in the Riverdale Shopping Centre for a another week but wouldn't comment on why the decision had been made.

There has been speculation in recent weeks suggesting a new contract could still be agreed to, but as of last week both Reading and Riverdale Shopping Centre owners Charter Hall have remained adamant no deal will be done.  LINK
Finally
For a true film buff, what could be more romantic than proposing in a cinema. Particularly if that's where you went on your first date.
Delhi boy Avinash Jayan, who has been dating Tanvi Malik for the last 10 years, produced and enacted a three-minute clip that was played in a city ­multiplex to a clueless Tanvi, who had come to watch a movie with her friend.

"We met at a movie theatre, so I thought it would be the best way to express my feelings. Although we had been dating for a long time, Tanvi wasn't sure that we would end up together, because of the way I am. So I had to say it in a grand way," he says. The duo is set to tie the knot next year.  LINK
And it seems like somebody in China had the same idea.
This is a special marriage proposal carefully prepared by the planning company, active man doing the preparatory work, the woman was completely unaware of all this. And her boyfriend went into the theater watching the movie, the girl's visual focus and inner feelings all concentrated in the screen, including hiding behind the screening room and staff every corner of the venue through a wireless intercom countdown began slicing. Reporters noted that the girl suddenly saw the movie on the screen becomes the lens boyfriend figure, listening to the sound coming out of her boyfriend confession, and more relatives, colleagues, friends, blessings, girl unable to control emotions, tears do not Stop flow, and subsequently breaks through his tears. A romantic music played, a boy dressed in starched suits singing love songs to the screen in front, the truth invited the audience seats on a white girl.  LINK

Latest posts by Patrick von Sychowski
(see all)