This is the keynote speech delivered by Phil Clapp, President, and Laura Houlgatte, CEO, International Union of Cinemas (UNIC) at CineEurope 2023 in Barcelona on 19 June 2023
Good afternoon everyone – on behalf of UNIC, the International Union of Cinemas, we are delighted to welcome you to CineEurope 2023.
It's great to see so many friends and colleagues here with us in Barcelona to once again celebrate the big screen experience.
With our colleagues at the Film Expos Group we've worked hard to bring you a packed week of screenings, slate presentations, seminars, panels and of course a cutting-edge trade show. As ever we have sought to bring you a week of engaging and informative panels and seminars. Just this morning, we kicked off the show with the launch of the UNIC People Programme – more on that later – and then heard leading industry executives set out their vision for the future of our sector.
And tomorrow will see the first of two seminars delivered by our headline sponsor – the Coca-Cola Company – sessions that have over a number of years become 'don't miss' events at CineEurope.
And 2023 is no exception.
Early tomorrow, coke will bring together a panel looking at 'Shaping and Understanding Consumer Behaviour and Sustainability'. And then on Wednesday morning a second session titled 'from Exposure to Experiences'.
Tomorrow also, our CineEurope focus sessions will look at two topics important to cinema operators and their partners, specifically an in-depth look at the current state of film piracy before we talk about sustainable cinema design.
During the rest of the week, seminars organised by the I.C.T.A. Will look at different facets of the ever-changing world of cinema technology.
And don't forget to visit the trade show floor – where we now have a great new bar to welcome you too (but please pace yourselves…)
Thank you to all of you, our colleagues and partners, for your support. Of course another key element of the week will be the slate presentations and screenings. Thank you once again to our partners in film distribution for bringing us such exceptional film content.
Starting today with Lionsgate, Unifrance and, for the first time, Mubi, over the next four days you'll see no fewer than nine exclusive slate presentations.
So put all of these in your diary – and who knows where there might also be a couple of surprises along the way.
No one in this room needs to be reminded of the strong performance of the European cinema sector in 2022 – proving beyond doubt that audiences just love the big screen – particularly when a diverse range of films is on offer .
Overall European cinema admissions were up by around 36 per cent, that's 809 million visits across the region, with box office up 55.3 per cent at an estimated €5.7 billion.
As you can see here, almost all UNIC territories recorded impressive growth.
A particular shout out to Austria – where box office was up 96 per cent – Lithuania – 133.5 per cent – and Slovenia – a staggering 182 per cent.'
And the picture in major European film territories like France, the UK and Germany was no less positive, with box office up between 62 and 93.5 per cent.
We would like to give here a special mention to our Ukrainian colleagues.
We struggle to imagine the challenges the last year has brought to you, which make the numbers here all the more impressive.
You have our unwavering support and solidarity.
In many territories, the continuing recovery received a significant boost from National Cinema Days.
Already a tradition in a number of countries, National Cinema Days were successfully launched in many others for the first time, attracting new audiences to the big screen. And being for many cinema-goers a rallying call to return for the first time since the pandemic.
We look forward to the continued success of these events in 2023 and beyond.
And of course local titles also played a key role in last year's success, most impressively in France where they enjoyed a market share of 41 per cent.
And Bulgaria, Slovenia and Czechia all achieved a higher national share of box office in 2022 than in pre-Covid years.
In Romania, two domestic films made the top ten for the first time, with three local productions featuring in Norway's box office top ten.
So going forward, your must-see movies should now definitely include a Czech comedy, a Norwegian Christmas tale and a Danish drama.
A particular thank you here to our friends at Comscore, whose support has allowed us to monitor weekly European box office results, highlighting the value of national, European and international releases across the region.
For all of the value of local content, we should also of course celebrate the contributions made by our colleagues at the us studios.
"It's not the plane sir, it's the pilot".
Yes, Top Gun: Maverick, 2022's highest-grossing film, took $1.49 billion at the global box office, topping the charts in the UK and Sweden while coming second in France and Germany.
It was followed by three more hits – Jurassic World: Dominion, Doctor Strange in the Multiverse of Madness and Minions: the Rise of Gru.
And then in December, those blue people hit our screens again (no, not the Smurfs, more of them later).
Avatar: the Way of Water grossed $798 million across EMEA and $2.3 billion globally, becoming the highest grossing film of all time in EMEA and the third- biggest film of all time globally.
These films and so many other titles over the last year have proven again that only cinemas can attract the biggest audiences and create global events.
And already in 2023 we've seen some fantastic new releases which have wowed audiences.
Dungeons and Dragons: Honour Among Thieves at the start of the year with over $208m worldwide as of end of May.
The Super Mario Bros Movie with $1.3bn globally. Guardians of the Galaxy vol 3 with $820m. John Wick 4 with $430m. Spiderman Across the Spiderverse with $489m.
The list goes on.
On the basis of audience response so far in 2023, Gower Street Analytics have put projected global box office for the year at $32 billion, up 10 per cent from its earlier estimate. And they're optimistic that that forecast will only increase.
In the first quarter of 2023, EMEA was the highest grossing sub-region of the globe thanks to the exceptional performance of multiple major markets such as The Netherlands, Austria, France, Germany. And this positive trend continued in may with the international market (excluding China) reaching the same box office level as the comparable month in 2017-2019.
And there's more to come.
Here's just a small selection of the exciting films that will hit our cinemas later this year. Not just blockbuster titles from the us studios but also top local releases.
Whether you're barmy for Barbie (we know who you are) or a glutton for gore – there should be something for everyone!
But after the last few years, you could surely forgive European cinema operators for wanting more. More diversity. And more audience-friendly films.
All year round.
That's just one reason why we're delighted to see the move of major streaming companies such as Amazon and Apple into the theatrical space in recent months.
You'll hear much more on that later this week.
And the emergence too of powerhouse distributors such as A24, producing diverse and audience-friendly films that bring in new and perhaps sometimes under-served audiences.
The support shown by those companies – and the definite sense from studio partners in both words and actions that they too are once again 'all in' for the big screen experience – is further confirmation that the theatrical model works for everyone.
For audiences, it's unquestionably the best way to experience a film.
For the industry, it's the best way to maximise revenues and reduce the threat of film theft.
And for the creative community, there is no substitute for seeing their work shared on a big screen with a room of strangers.
Cinemas are the ultimate space to showcase quality films and create memories that will last long after the credits roll. Nothing else comes near.
But don't just take our word for it.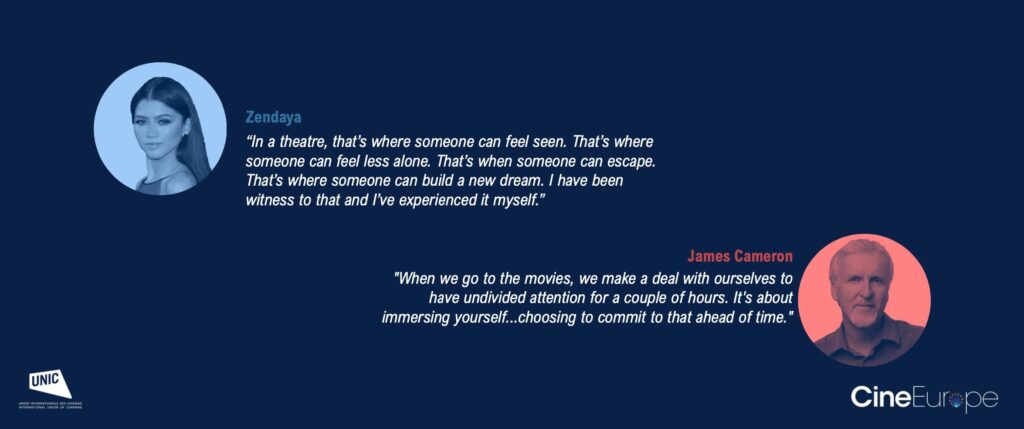 Cinemas are spaces where cultural diversity flourishes. Cinemas are at the heart of their communities, a unique place where people meet to laugh, cry, and scream together.
We want to acknowledge the incredible resilience and passion of our industry colleagues and our members' ceaseless ambition to offer the best experience to audiences.
The relentless appetite for innovation – and the significant levels of investment that accompany it – tell us our industry is confident in the future.
Later this week, with our partners at Boxoffice Pro, we will again celebrate those cinema operators who have made the cut for the giants of exhibition: Europe listing, ranking the top 50 European cinema groups by screen count.
This year's ranking is led by odeon cinemas group with nearly 2,500 screens across the UK and Ireland, Finland, Germany, Italy, Norway, Portugal, Spain, and Sweden.
Cineworld, Vue International, and Les Cinémas Pathé Gaumont round out the top four.
Taken as a whole, the 51 companies listed in the 'Giants of Exhibition' are headquartered in 20 countries and operate across more than 38 territories.
There can be no clearer evidence of the strength and diversity of the European cinema industry.
From immersive screening rooms, to stunning screens and sound systems, complemented by premium levels of comfort, they and so many other cinema operators large and small are leading the way.
Of course UNIC has also been working on other projects.
As mentioned earlier, this morning saw the launch of the new UNIC people programme, a concerted effort to support all UNIC exhibitor members as they rise to the challenge of recruiting and retaining our most precious resource. The people who bring the big screen experience to their local communities.
Thank you to Ferco and Generation Media, our strategic advisors in this new endeavour.
This is though something on which we will want to work with everyone in this room, so please visit the UNIC website to find out more.
The people programme builds on our Women's Leadership Mentoring programme, which this year saw a seventh cohort of 12 mentees and mentors added to our growing pool of success stories.
Good luck to them and huge thanks to IMAX and Vista group, our joint 'champions of the programme', supporting UNIC's vision of achieving a more diverse and inclusive cinema industry.
And now a quick word about the land that brought you Jean-Claude van Damme, the smurfs, the Manneken pis (who loves dressing up), waffles and Kevin de Bruyne (not necessarily in that order).
Many of you will know that UNIC's principal purpose is to represent the views of cinema exhibition with European law-makers in brussels. Next year, we will have a new European parliament and a new European commission, with a lot of new faces.

We will, as ever, hit the ground running to ensure that EU policy-makers and politicians get the full picture and that the interests of our industry are protected and celebrated.
So a huge thanks to all our members, our partners, and to the small but mighty UNIC team for all your work, dedication and support – Laure, Sonia and Kamil.
A huge thanks also to Bob and Andrew and our friends at film expos group, for their extraordinary work and continuing great partnership.
Let's continue to bring European audiences together to share in the unmatched big screen experience.
Have a great CineEurope, thank you.

Latest posts by Patrick von Sychowski
(see all)