A study by Google called "Behind the Box Office: What Influences the Films We See" has found that trailers are by far the biggest determinant of what movies moviegoers chose. While the study come out in favour of YouTube, the infographics still has plenty of interesting facts and conclusions.
Google conducted a study, analyzing nearly two years of search data, to determine what makes frequent moviegoers choose which movies they'll see. As you may have guessed, the carefully composed missives of yours truly (and my critical brethren) don't really figure into the equation. But frankly, neither do filmmakers, actors, or even word-of-mouth. No, the biggest influencer is the movie trailer(which might help explain why there's six or seven of them before every feature nowadays).

The study, which Google conducted with Millward Brown Digital, was focused on "how moviegoers research and choose the films they watch." Unsurprisingly, they're trumpeting the prominence of Google-owned YouTube, noting that four out of five moviegoers "use video sites to look for more information about a film" (well, duh). Thirty-nine percent report the official movie trailer influences their decision most — a factor more than three times as important as the runner-up, "information on the cast" (11 percent). "A friend's opinion" is third (with eight percent).  LINK
France – Yet the Google study above is contradicted by another study by the French audio-visual authority CNC, that finds that word-of-mouth is the most important factor, at least amongst youth, but only by a small margin. Young people also tend to decide on the day of the movie visit what film to watch, which sets them apart from the rest of the cinema-going population. Very detailed study that points to clear generation differences and importance of social media.
When asked about the information channels to choose a movie, young people aged 15 to 24 cite, in order of importance, word-of-mouth, oral or via social networks (58.6%), the extracts trailers or seen on television (56.8%), trailers views cinema (56.4%).

Conversely, they are 17.8% cited advertising or articles in the press and 29.4% the criticism in the media, according to studies of the National Film Centre, based on surveys of Médiamétrie or Harris conducted with several thousands of people throughout the year.

The entire population, she favors ads on TV (51.6%) and word-of-mouth (47.5%). 32.5% rely on critical to their choice.

Unsurprisingly, social networks and video sharing sites, like YouTube or Dailymotion, playing a growing role for youth to learn about film releases.  LINK
The same week that Lionsgate UK's CEO was quoted advocating flexible cinema pricing, Odeon was found by Film Divider to charge GBP £1 extra for Hollywood blockbusters as part of its "dynamic pricing policy". This is said to be for 'extra staff'. Already this summer Odeon was charging 50 pence extra for films like "X-Men: Days of Future Past.".
Odeon have quietly instigated a new policy and introduced price bumps for big-draw films. They have added a £1 surcharge to the price of tickets to Interstellar, for tickets both booked online and in person. The same will also stand for The Hunger Games: Mockingjay when it releases across the UK on Thursday and, once it releases in December, the third Hobbit film.

I haven't been able to find any explanation or comment on this new policy on Odeon's website, but it is possible to see the prices at point of booking. We've chosen Derby's Odeon, just as a random f'rinstance.  LINK
Thailand – A Thai has pulled screening of the new "Hunger Games" film – because of pro-democracy activists' adoption of the film's three-finger salute.
Five university students were arrested in the country on Wednesday for flashing the franchise's signature three-fingered salute at the country's prime minister during an official government event ahead of the opening of the film in the country on Thursday.

Hours later, local cinema chain Apex Group, which was scheduled to start screening The Hunger Games: Mockingjay — Part 1 in its theaters on Thursday, announced that it had pulled the film's release. The company told the Bangkok Post that it wasn't pressured by the government, but "did not want to become embroiled in a political movement."  LINK
France – Ymagis has signed a deal with a Hollywood studios, but is not permitted to say which. I'm speculating Fox.
YMAGIS, the specialist in digital technologies for the cinema industry, announces the signature of an agreement with one of the top three major US production studios for the delivery of all its cinema content across Europe. After the creation of SmartJog Ymagis Logistics, a joint company with SmartJog (TdF Group), in December 2013, the purchase of the Arqiva's content delivery network in April 2014 and, finally, the acquisition of dcinex, completed in October 2014, YMAGIS established the leading European delivery network for digital cinema content.

The non-exclusive agreement stipulates that YMAGIS will provide a complete delivery service for its movies and trailers, through the Group's network, covering more than 3.200 cinema sites in France, Italy, Germany, Spain, United Kingdom and in more than 10 other European countries.

The agreement covers DCP (1) delivery as well as KDM (2) generation and delivery to the cinema screens via satellite, terrestrial (ADSL/fiber) or physical means; therefore allowing for delivery cost optimization.  LINK (PDF) 
Italy – One way to stage a political come-back; promise free cinema tickets for pensioners.
Pensioners in Italy will get free trips to the cinema if Silvio Berlusconi's party is returned to power, the former prime minister has reportedly said.

Berlusconi, who is in hospital for an eye operation, has written a letter in which he sets out a host of promises to the elderly, as long as they vote for his Forza Italia party at the next election, Il Messaggero newspaper reports. As well as pledging to cut taxes and increase pensions, he says pensioners would get free cataract operations and dental implants, as well as "free cinema in the afternoons and train journeys during the week". The 78-year-old is currently banned from holding public office after being convicted of tax fraud, and has been doing community service at a care home as part of his sentence.  LINK
UK – Once again British journalists demonstrate their general ignorance in being unable to distinguish between a drive-THROUGH and drive-IN cinema. Oy vey.
Manchester United is to be transformed into a huge drive through cinema in the week leading up to Christmas.

From December 19 until Christmas Eve, the club will play host to the Magical Christmas Drive-In Spectacular which boasts the biggest LED screen ever seen in city.

Cinema fans will be able to enjoy a host of family blockbusters from the comfort of their cars, and fancy dress is encouraged to get everyone in the festive spirit.  LINK
Advertising
USA (NY) – Audience Entertainment's CEO Barry Grief pens an article for Inc. about what cinema going will be like in 2020. Perhaps not surprisingly point 2 is "Say hello to interactive cinema advertising." Interesting, but reads a bit like a Sponsored Feature.
5. The middle seat goes. We are already seeing the industry move to an airline approach, preselecting your seats in 2014. In 2020 we will have perfected the art and you will no longer worry about showing up early to find a seat and scurry back to the concession stand with jackets strewn across a line of seats, in lieu of reserved signs. You will arrive early, confident in the knowledge of your seat, which by 2020 is better compared to a business-class recliner in design. You will come 25 minutes early to experience the preshow rather than suffer the ads, and it's your creativity that is engaged in a space dedicated to one thing: entertainment. LINK
Digital Death Watch
USA (OK) – Another discount theatre put out of business by the switch to digital. According to NATO there are now just 700 theatres operating that have not converted.
Eastland Four Theater in Bartlesville announced Wednesday via its Facebook page that it will close its doors Thursday after its evening movie showings.

The four-screen discount theater, which has provided entertainment to the community for decades, will show its final film "Planes: Fire and Rescue" at 7:30 p.m. Thursday. Three other films will start around the 7 o'clock hour.

Industry changes and expense are behind the closure, theater owner James Veit said.

Equipment upgrades necessary to convert the theater to a digital format, now the industry standard, are expensive, he said. Additionally, Veit said the shortening of the cycle from a film's first run to distribution on DVD, Blue-Ray or download make people less likely to go to the movie theater.  LINK
Cinema Opening/Closings
USA (NY) – It looks like it is THE END for New York's oldest independent cinema. Condos coming in its place. *sigh*
A real estate developer has snapped up the site of the city's oldest independently owned movie theater for $7.5 million.

Brooklyn-based Madison Estates and JMH Development are the new owners of the two-screen Brooklyn Heights Cinema, the cute one-story white brick building at 70 Henry St. between Cranberry and Orange Sts., which shuttered in August after 44 years, the Daily News has learned.

Gerard Longo, president of Madison, declined to comment on the company's plans for the property but sources said the building will likely be replaced by a low-rise condo or rental building.  LINK
USA (AZ) – Harkins Theatres is expanding its footprint around Phoenix Arizona with a new cinema in Goodyear.
The Scottsdale-based chain of movie houses announced this week it will break ground on a 78,000-square-foot 16-screen multiplex as part of the long-in-the-works Estrella Falls regional mall project slated for a swath of land north of McDowell Road between PebbleCreek Parkway and Bullard Avenue.

Harkins will begin construction early next year and anticipates an opening sometime in 2016. The new multiplex will include an enhanced Cine Capri auditorium, a first for the West Valley.  LINK
Switzerland – The greater Zurich area is getting full of multiplexes, with more on the way.
Cinema halls in the Zurich region are booming: After Houdini in District 4 with five new rooms and the Arena Sihlcity soon with 18 instead of 10 rooms are in Spreitenbach to 2018 added another ten new halls with a total of 1,700 seats. "The site was chosen deliberately, because the west of Zurich missing a multiplex," says Brian Jones Pathé Switzerland AG. The company – the market leader in Switzerland – already operates multiplexes in Dietlikon, Westside Bern, Küchlin Basel, Lausanne and Geneva. Another is planned in Ebikon LU.  LINK
U.A.E. – Vox Cinemas continues its expansion in the Emirates.
Master developer Nakheel has signed cinema operator Vox Cinemas for Nakheel Mall on Palm Jumeirah, where more than half of the available retail space is now booked, the developer announced today.

Occupying a two-storey, 60,000 sq ft area at Nakheel Mall, Vox Cinemas will feature 15 theatres, including the popular Vox Max big-screen concept and the Vox Gold experience.

The Nakheel/Vox Cinemas partnership comes as more than half of the 100,000 square metres of retail space at Nakheel Mall is booked by a growing number of top brand names, the master developer said in a media statement.  LINK
 USA (TX) – There's a new multiplex planned for the McKinney's Craig Ranch community.
Moviehouse & Eatery said Tuesday it will build its fourth facility in the Craig Ranch development located on the north side of State Highway 121.

The Austin-based company has contracted to purchase a 6.5-acre tract of land on S.H. 121 at Exchange Parkway.

The development is planed for a 10-screen Moviehouse & Eatery, which would start construction next spring and open in early 2016.  LINK
UK (Scotland) – It looks like the historic old Odeon cinema in Edinburgh could make a comeback as a cinema.
A MYSTERY buyer is in talks with developers over restoring the former Odeon cinema – an iconic venue which has lain vacant since 2003.

The Clerk Street landmark has been subject to several attempts to transform its fortunes, including a failed bid by singer Susan Boyle's brother Gerry to turn it into a Las Vegas-style theatre.

The lease of the building has recently reverted to owners Clerk Street Auditorium Limited (CSAL), after Mr Boyle's company An Instant World Group Limited ceased trading, according to Bruce Hare, director of CSAL.  LINK
UK – Curzon Cinemas will not only take up residence in a new Westgate shopping mall at the outskirts of Oxford, but judging from the artists drawing it looks like they will be also showing "Citizen Kane". Yeah!
A FIVE-screen cinema and designer fashion outlet have been revealed as the latest two big name tenants for the redeveloped Westgate Shopping Centre.

Developer Westgate Alliance Oxford said it had signed deals with Curzon Cinemas and Michael Kors, that will operate alongside a flagship three-storey John Lewis store.

The announcement came as city council bosses last night signed off plans to use £1.1m – of an expected £4.3m in contributions from the alliance – to pay for public space improvements around the site.  LINK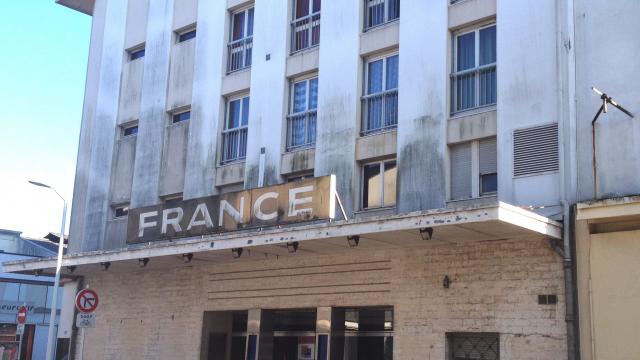 France – It is 'thumbs down' for a cinema in Chenôve.
National Business Improvement Committee rejects the draft multiplex cinema in Chenôve, Côte-d'Or. It therefore does not see the day, which irritates the mayor of the city. Jean Esmonin recalls the essential role of the multiplex. First for the economic development of Chenôve. Mayor regrets the loss of fifty jobs have been created with this giant cinema, but also the sites that could have travailller local businesses to achieve that equipment investment cost was estimated at between 12 and 15 million. Jean Esmonin also believes that this multiplex could meet the deficit almost nonexistent films on offer in the south of the Dijon. For him this decision is not going in the direction of the future.  LINK
France – But it was 'thumbs up' for a megaplex in the city of Pau.
The proposed 9 Lescar cinemas supported by the city of Pau was unanimously approved. It is a decision of the National Business Improvement Commission which met on Wednesday midday in Paris.

So this is the end of the suspense for the project in Quartier Libre cinemas Complex. National Business Improvement Commission met Wednesday afternoon to make its decision. A meeting that was attended by Christian Laine, mayor of Lescar (his duties end tonight before new elections on December 14) and assistant to planning for the city of Pau, Jean-Paul Brin .

"They said they would defend the project. Their commitments were met. This means that we can work with the president of the urban community," said Mayor Lescar.  LINK
Finally
amNewYork picks the best five cinemas in the Big Apple. We are particularly partial to this one in Brooklyn.
Best deal: Williamsburg Cinemas

No multiplex in the five boroughs offers more opportunities to see a first-run flick for $8. Tuesdays and Thursdays are $8 days from morning until night for most movies; matinees before 5 p.m. during the week and 2 p.m. on weekends are $8 as well except for certain films. 217 Grand St., 718-210-2955, williamsburgcinemas.com  LINK

Latest posts by Patrick von Sychowski
(see all)