Having looked at challenges facing United States exhibitors relating to carbonated sugar beverages (Cinema's Dangerous Addiction to Sodas), it is now time to examine the situation in the United Kingdom. The issue has come to the forefront with an article in the Daily Mail's This Is Money section titled "The 35 teaspoons of sugar in a box of cinema popcorn: Cinemas slammed over supersized snacks". The piece highlights the amounts of sugar found in the concessions offering of the UK's Big Three (Cineworld, Odeon and Vue).
Coming hot on the heels of the new recommendations from the World Health Organization (WHO) to cut daily intake of sugar by half, the statistics in the Daily Mail's article make for sobering reading. Effectively a UK cinema goer could consume his or her entire weekly sugar "allowance" in just one cinema visit, if they buy a soda and a popcorn. From the article:
A 200 gram box of toffee popcorn at Cineworld comes in at 840 calories and 121 grams of sugar, equivalent to about 30 teaspoons. Adding a 32oz Coca Cola carries an extra 407 calories and 101.2 grams of sugar, or 25 teaspoons.

A large bucket of sweet popcorn at Odeon cinemas amounts to 1,005 calories, which is more than half of a woman's recommended daily intake. And at Vue, a 200 gram tub of toffee popcorn contains 138.9 grams of sugar, which is equivalent to about 35 teaspoons.
UK's Weight Watchers has thrown its, um, weight behind this criticism, with a call to ban 'super sized' serving portions, as part of its 'Slim Our Snacks' campaign. Quoted in The Mirror:
Actress Patsy Kensit, 44, who is 9 stone (126 pounds or 57.2 kilos) after shedding 14 pounds with Weight Watchers, said: "The full-sugar fizzy drink and popcorn sizes are ridiculous."

WeightWatchers' Zoe Hellman said film fans should not be faced with "blockbuster-sized sugary and fatty foods".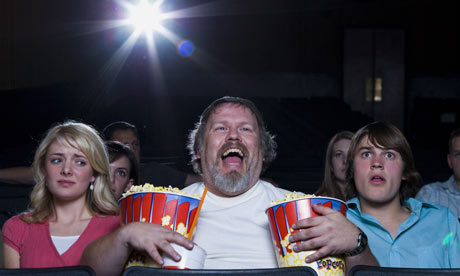 While in the Daily Mail article:
Weight Watchers spokesman Angharad Massie said: 'Cinemas are inherently family focused spaces, yet we all recognise them to be one of the worst spaces for promoting portions of high fat, salt and sugar snacks with little or no choice of healthier alternatives.'
Government Regulation on the Horizon?
More worryingly for cinemas, though, are the pronouncement of Professor Susan Jebb, Head of the Diet and Obesity Research Group at the Medical Research Council Human Nutrition Research unit (HNR) in Cambridge and Chairperson of the UK Government's Public Health Responsibility Deal Food Network (nicknamed 'the Obesity Czar'). Interviewed on The Guardian's food blog ('Government obesity adviser calls for action on sugary drinks'), she takes aim at sellers of sugary drinks such as Starbucks, but also cinemas.
Jebb has the same complaint against cinema chains, pointing out that while the Odeon chain, for example, has stopped serving the 44-ounce cup size, it is still serving "huge" 32-ounce portions. The cinema chains tell her that this is what customers want, but Jebb says her own anecdotal evidence is that people are shocked by the large portions and don't understand why they serve them.

"When you're offered a much larger portion, all the research evidence tells us that people are more likely to consume more. We need to try to get the public to get to a point of saying, 'Yes, I may well want to have a drink when I go to the cinema, but I don't want to be over-served and I would like you, Mr Cinema Chain, to support me in that intention."
The Professor has spoken out on the issue before, including here, and is backed up by a detailed study from the Harvard School of Public Health (Sugary Drinks and Obesity Fact Sheet), which makes clear that sugary carbonated beverages have next to no nutritional value but have a significant impact on obesity rates.
Cineworld, Odeon and Vue can console themselves that the UK's Conservative-led coalition government adopts a largely laissez faire attitude to tightening regulation on drinks and food (unless it is horse meat) and is unlikely to introduce new legislation in this parliament. Moreover, the government's own effort in this area seems to be failing, as highlighted by this report by Channel 4 news on 13 March:
The government's key forum for healthy eating is so ineffective it should be scrapped. That's the view of the campaigners behind Action on Sugar.

Channel 4 News understands that 41 organisations have withdrawn from the group which was set up with the aim of bringing together food manufacturers and health bodies to bring about reductions in the consumption of unhealthy ingredients in our diets such as sugar, salt and alcohol.
However, there is no guarantee that the issue will not surface in the future and a sugar tax is an appealing 'sin tax' which could help plug budget deficits. The issue was discussed last year, when it was reported that "Department of Health officials are planning a summit meeting of drinks companies and leisure businesses to thrash out a voluntary ban on large sugary drinks, which can contain more than 500 calories each and be more than two pints." As stated earlier, Odeon has reduced its serving sizes for fizzy sugary drinks in response, but this may not be enough in the long term.
Sugary Britannia
While soda drinks and sweets or candy in cinemas are an issue in the US and elsewhere too, in the UK it is a triple sugar whammy, due to the nations fondness for sweet popcorn. Although unheard of in many other territories, fresh popcorn (we use the term generously) in the UK always comes with the option of sweet or salt. In addition there is toffee-covered or caramel popcorn, which is often sold pre-made in sealed bags.
In many cinemas sweet popcorn is even the preferred or default flavour (as I discovered when I visited a cinema in Eastbourne in my early teens and spat out what had been served to me, having never been aware that there was any other topping than salt for popcorn). While sweet popcorn is (surprisingly) only 10% to 20% more calories compared to the same size serving of salt popcorn (mainly due to the high calorie oil used to pop and flavour popcorn), it is a significant amount when considering the WHO recommendations.
In terms of total source of sugar, cinemas make a very small contribution to Britain's growing waistline, with supermarkets and fast food outlets both serving as much larger culprits. With a population of 63.7 million and total cinema attendance of 165.5 million in 2013 it works out to just over 2.5 cinema visits per year. Even with a super sized serving on each trip that would not be enough to have a significant impact on total sugar consumption.
However, cinema going is not so evenly spread and with a large proportion of the population only coming out once per year (if that) for films like "Skyfall" or "The King's Speech", for those that do go the average sugar consumption is high enough to be significant.
Another way to look at it is on a per cinema basis. The only major exhibitor to publish annual results, Cineworld, reported that it made GBP £84.6 million (USD $140.7) in 'Retail' in FY 2013, with an average 'Spend per Person' of GBP £1.75 (USD $2.91), while at the acquired Picturehouse Cinemas its GBP £3.06 (USD $5.09), reflecting the premium market that the art-house chain caters to. Given that many people bring their own snacks, while some buy nothing, it shows that the patrons that do consume concessions do so in significant amounts. Enough to warrant worry about sugar intake, given the clinical evidence of the harm it does.
Healthy Alternatives
What about healthy alternatives? The idea has been discussed for a long time and took centre stage at ShoWest (as CinemaCon's predecessor was still called back then) in 2010, when Sony Pictures CEO Michael Lynton urged the assembled exhibition industry to offer healthier concession options, citing results from moviegoer surveys:
"By bringing healthier snacks into your concession stands you would be helping our country meet an urgent public health need. Taking this step is also great audiences and for your business because people want to see healthier foods in theatres and when they do, they'll buy them."
The problem is that what people say in surveys and how they act as consumers are often two different things (known as 'cognitive dissonance'). They may say that they want healthy alternatives, but when given the option they still go for the sweet-n-salty options. As quoted in the Daily Mail article:
A Cineworld spokesman said it had trialled healthy choices such as fruit and nuts in the past but these had proved unpopular with customers, adding: 'The cinema experience is seen as a treat by most people.'

Despite this, the chain is testing a smaller 16oz cup for fizzy drinks, which may soon be rolled out across its cinemas.
The dilemma is that smaller serving sizes without significantly reduced prices will lead to cinemagoers strengthening the conviction that cinema snacks are 'overpriced' or a 'rip off'. In this regard it is worth scrolling down to the bottom of the articles mentioned above and survey the readers' comments, which invariably focuses on price, with many people bringing their own snacks, while a majority object to the consumption of any food (particularly noisy varieties) in conjunction with movie watching. But with even the BFI South Bank (normerly NFT) now allowing outside food to be taken into screenings, that last point is a losing battle.
What's To Be Done
It is important to recognise that UK cinemas have already taken action in the past. The CEA has gone on record and acknowledged that its members understand the increasing awareness amongst their customers of healthy lifestyles. All UK cinemas offer a choice of low or no calorie fizzy drink options, as well as coffee, tea and bottled water. In addition many offer healthier snacks such as frozen yoghurt, cereal bars etc. There is also an increasing move to make available nutritional information to customers, thus allowing them to make their own choices with the information that they are given, even though studies have shown that this does not necessarily influence consumer behaviour.
Here are just some examples of what has already been done by the big UK cinema chains:
Odeon eliminated 44-ounce sizes while Cineworld is testing smaller 16-ounce cup sizes;

Odeon has a detailed nutritional chart providing full breakdown in its FAQ website section;

Odeon is offering a probiotic frozen Yogurt counter called Yog, with a choice of five 'fat free' probiotic yogurt flavours and an add a choice of fresh fruit toppings;

Cineworld has a link to its nutritional chart right on its front page;

Though harder to find, Vue has no less than four separate charts of drinks, food, ice-cream and sweets  (curiously serving sizes of salted popcorn are smaller in Dublin than in other Vue UK cinemas);

Vue has put calories on the menu boards at its tills;

Vue and Cineworld have also said that cinema goers are welcome to bring their own (healthier) snacks to film showings;
At the same time there is a perception that more could be done and if the industry is seen as dragging its feet the calls for government action could grow louder. Below are some measures that have been put forward by campaigners coupled with our own suggestions.
Inevitably most of these will affect the cinemas' bottom line. Some will also require the re-negotiation of vendor contracts, particularly with PepsiCo, the Coca Cola Company and the Hollywood studios that pay for the branded cups. But it is important to take these seriously, if cinemas are to be perceived as helping to reduce the UK's growing waistline. As stated earlier, some of these have already been or are being implemented, but they are still worth highlighting.
Allowing customers to weigh their own sweets at Pick-n-Mix counter so they know how much they are buying and consuming;
Provide clearer labeling on packaging and cups, including total calories and sugar count (even spoon measures, for total clarity);
Reducing the serving sizes even further of both soda drinks and popcorn and offering new smaller-size options;
Avoiding super-sized 'Special Deal' and 'Combo' offerings, particularly when tied in with a film promotion;
Considering abolishing or reducing toffee and caramel popcorn to 60g 'snack' packs (which would be 'only' 250 calories or 10 teaspoons of sugar);
Replacing Sweet popcorn with cheese flavour and other non-sugary flavours;
Differential pricing for regular sodas and diet drinks (though this will be anathema to Coke and Pepsi), in lieu of a 'sugar tax';
Promoting bottled water more strongly as a drinks alternative but capping pricing (GBP £2- USD $3 is my personal cut-off point);
Going upmarket with ice-cream and chocolate to maintain the margin even if sales volumes go down;
Ultimately there is no getting away from the fact that a trip to the cinemas is seen as a 'treat' and hence there will always be a strong demand for the traditional cinema snacks that will not adhere to strict dietary guidelines. Trying to get people to eat more healthy at the cinema is like getting people to make healthy food choices at Christmas, birthdays or Thanksgiving.
Cinemas are already moving in the direction of more high-end dining options, and while alcohol and canapés do not always offer the same margins as those conjured up by sugar and hot air (sodas and popcorn), they nevertheless help offset the inevitable losses from reduced sugar consumption in the future.

Latest posts by Patrick von Sychowski
(see all)