RealD shares debuted at USD $16 when the company first went public but are now languishing at less than ten dollars, so this unsolicited take-over bid should not come as a surprise.
RealD Inc. (RLD), the supplier of 3-D technology to cinemas, received a $12-a-share takeover bid from Starboard Value LP, the activist investor that's pressing Yahoo! Inc. (YHOO) for changes. RealD shares soared.

Starboard holds a 9.9 percent stake in RealD, according to a regulatory filing yesterday. The offer represents a 29 percent premium over RealD's $9.27 closing price yesterday in New York and values the company at about $600 million. The stock jumped 27 percent to $11.78 at the close in New York, the biggest one-day gain since the July 2010 IPO. LINK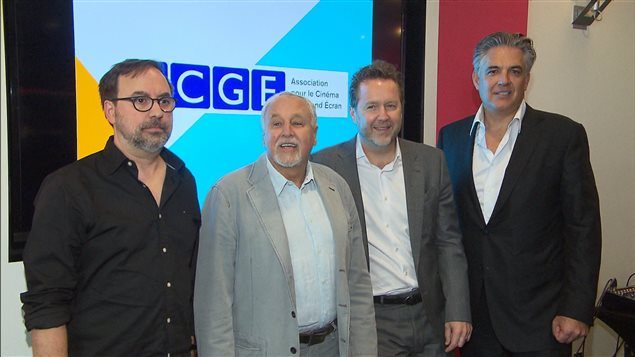 Canada (Quebeq) – French-speaking Canada has a new cinema association: l'Association pour le cinéma sur grand écran (ACGE).
Speakers from all areas of the film industry on the big screen on Wednesday announced the creation of the Association for movies on the big screen (ACGE), whose objective is to promote the cinematic experience.

As President, members ACGE elected unanimously Raffaele Papalia, president of Cinemas Cine Entreprise. The former president and CEO of SODEC François Macerola will act as a strategic advisor to the association.
According to Papalia, now is now conducive to union resources of members of the CGEA, "to analyze the challenges the film industry faces on the big screen." The objectives of the new association will be to develop new approaches that will favor the revival of audiences, convey a positive and inclusive message to moviegoers and promote the cinema experience on the big screen. LINK

France – Le 69e congrès des exploitants du cinéma à Deauville, i.e. the 69th annual conference of French cinema operators has just concluded in Deauville and it seems to have been a positive tone.
Operators of cinemas made a comeback at Deauville this Thursday, October 2 at a convention. 2,700 patrons cinemas and 24 film distributors and studios were present to showcase their upcoming projects, and more than 250 trailers or previews of all the great films of the coming year that were projected. LINK
Canada – An excellent summary and overview of what was discussed and shows at the Giant Screen Cinema Association Conference 2014 in Toronto.
Digital is with us, finding its way into the capture process (cameras) with varying degrees of success and in giant screen theaters too (flat screens wider than 70'/21m and domes larger than 60'/18m). And already the next stage is upon us; laser-illuminated projectors, higher frame rates, maybe much higher frame rates and even better digital cameras will drive the quality of the immersive experience up to and probably beyond that of our old friend, 15/70.

Those of you who read my review of ECSITE this year may remember I adopted and adapted the approach of Pecha Kucha (the art of the concise presentations; 20 topics, each that can be read in 20 seconds, or less, if you're quick). Reactions were positive, so I thought I'd adopt the same to review this GSCA conference. Here goes… LINK
UK – A community cinema project in the north of the UK gets a re-brand.
Cine Yorkshire, a project to improve access to cinema in rural areas and hard-to-reach urban areas of the county has rebranded as Cine North.

This will open up the project to 40 venues in Yorkshire and Cumbria.

"This is an incredibly exciting time for Cine North. Over the past year the National Media Museum has been working with Film Hub North & BFI Neighbourhood Cinema to develop the project in response to appetite for the three year pilot phase, which has transformed the rural cinema landscape in Yorkshire," explained Rachel McWatt, Cine North project manager. LINK
Advertising
Poland – A long interview with the woman spearheading Poland's new cinema advertising company Moje Kino (My Cinema).
Kinga Do??ga-Lesi?ska is a woman dynamite. For years, sitting in the cinema and now wants to sped energy on fighting long advertising breaks. What is the plan? 5 minutes advertising, cheaper tickets, great atmosphere. Will it work? Read the interview with Kinga.

Advertisement during the screening. It's a good idea?

Kinga Do??ga-Lesi?ska: In my opinion, and I have fifteen years of experience in the cinema market, in Polish conditions, it will not work. The owner is a distributor of the film, which imposes a prohibition top interrupting the movie as a work of art. LINK
Concessions – F&B
USA – Yet another cinema falls under the spell of the liquor demon.
The parent company of the Rave Cinema in Huber Heights will renovate the 16-screen cinema and will add beer, wine and frozen cocktails to the concession stand menu, Cinemark officials announced Thursday.

Cinemark Holdings, owner of the Rave Cinemas Huber Heights 16 at 7737 Waynetowne Blvd., said the multiplex will offer Luxury Lounger recliners in all auditoriums, an updated lobby and new concession stand and bar area. Plans call for the renovations to be complete in time for the 2015 summer movie season, Cinemark officials said in a news release.

"The Huber Heights complex has been part of the community for over 25 years," Cinemark CEO Tim Warner said in the release. "This full remodel will enable us to continue to offer our guests the highest levels of comfort and technology." LINK
Cinema Opening/Closings
Poland – It looks like a possible semi-reprieve for Warsaw's leading independent cinema, set to close and make way for a clothing shop.
The famous cinema Femina may not disappear from the map of the capital. Director. Corporate Jeronimo Martins Poland, Biedronka's owner, told gazeta.pl was waiting for permission to build the cinema.

Jeronimo Martins Poland has never had plans to destroy places of importance to the residents of Warsaw – says in an interview gazeta.pl Alfred Kubczak of JMP. – From the very beginning we wanted to maintain the character of the place – he adds.

In addition to the discount JMP wants to leave a small cinema studio – one room. – Following the decision of the conservator our application was rejected – Jeronimo Martins reported. LINK
UK – No word on any possible operator for this proposed cinema yet.
Plans to build a £10m art-house cinema and leisure complex in the middle of a Yorkshire spa town have been given the go-ahead by councillors.

The scheme, put forward by developer 4Urban, would see the former Beales department store in Harrogate demolished and a five-screen cinema, plus bars and restaurants, built in its place. LINK
Canada (ON) – Last year Landmark bought 23 cinemas in Ontario and Western Canada from Empire Theatres. Now Landmark is closing one of them that caters to Indian/South Asian audiences.
Square One's Landmark Cinema, formerly known as Empire Theatre and one of a dwindling number of movie houses left in the city, is closing its doors Friday, Oct. 3.

"Landmark Cinemas Canada has strategically decided to end their lease at Square One in Mississauga," said Brian McIntosh, executive chair of Landmark Cinemas Canada.

McIntosh said the Square One landlords wished to reclaim the facility and for a variety of strategic reasons, Landmark Cinemas' board of directors determined that it is in the best interest of the company to accept the lease buyout. LINK
UK (Wales) – Yet another arts centre with cinema ambitions and a target of 25,000 tickets sold per year plus an economic lift for the area.
An arts centre has revealed plans which would see it house two cinema screens and could be up and running in 2016 if funding is secured.

Galeri Caernarfon Cyf, a Caernarfon enterprise who have regenerated large parts of the town and are responsible for Galeri in Doc Victoria, have conducted a feasibility study to examine the potential business impacts of having a two screen dedicated cinema on site.

This would see Galeri become the largest full time independent cinema in Gwynedd, Anglesey and Conwy, showing blockbuster and current movies as soon as they come out, which could prove hugely popular. LINK
Ireland (Rep) – The owner of this planned cinema promises 100 new jobs.
According to Omniplex owner Paul Anderson, the eight-screen cinema is scheduled to open in time for Easter next year.

Work is progressing quickly at the former Irish Road Motors site at Highfield and it is understood construction is to begin on the main structure next week.

Mr Anderson said around 30-35 full and part-time staff will be employed at the cinema with 65-70 staff in the four restaurants in the complex. LINK
Canada – A welcome return for this small Canadian mall cinema with new owners and an ambitious slate.
With the Northumberland Mall theatre to re-open as the Rainbow Cinema by week's end, plans are already underway to retrofit the facility during the first months of operation.

Located inside the Northumberland Mall at 1111 Elgin St. W., the cinema will receive upgrades to seats, sound and other amenities to optimize its appeal to regular patrons, according to the new owner, Magic Lantern Theatres.

Rainbow Cinema is slated to open on Oct. 3 and will feature first-run Hollywood hits along with a variety of art and alternative films, including The Northumberland Film Sundays that will return to home base in January. LINK
Luxembourg – A welcome cinema opening for town people tired of traveling far to have their big screen treat.
For the first time in 50 years, Mersch residents won't have to travel to see a film at the cinema. Thursday night saw the opening of Ciné Ermesinde in the same location as a school of the same name that opened two years ago.

Part of the Caramba cinema chain, the new 150-seat Mersch venue joins the list of others in Esch-sur-Alzette (Ariston and Kinosch), Rumelange (Kursaal) and Mondorf-les-Bains (Cine Wasserhaus). LINK
Finally
The headline really says it all: '7 Terrible People You Meet At Los Angeles Movie Screenings'. (Good twist on a feel-good self help book title too.)
As wonderful as it is in Los Angeles that we have so many theaters to suit our own particular and personal moviegoing preferences, a metropolitan area with a population approaching 20 million mean that we have to deal with some truly awful people when sitting down and taking in a cinematic experience that should be rightfully perfect. Whether it's the latest big-budget studio tentpole or the screening of an experimental work that draws only a dozen people, you've probably dealt with at least one of these in your lifetime. Here are the worst people you encounter at the movies in Los Angeles. LINK

Latest posts by Patrick von Sychowski
(see all)