"Everybody talks about the weather, but nobody does anything about it," Mark Twain once said. Is the same true for declining cinema youth attendance? Not in France, which is making sure that the next generation values and keeps the '7th Art' alive in cinemas.
To overcome this drop and respond quickly to the first problem, exhibitors have at the beginning of the year set a single price of 4 euros for children under the age of 14. The operation caused some gnashing of teeth from the distributors, who have seen their revenues decline. It nevertheless proved a success, and contributes greatly to the revival of attendance in the last six months.

More fundamentally, the education aspect of cinema is subject to multiple touches. A report commissioned by the CNC has been finalized. Directed by Xavier Lardoux, Deputy Director General of Unifrance (Support Association of French cinema export), he advocates through 10 measures, the establishment of a genuine European policy for film education.

The author of the report considers educating young audiences about the 7 th art to be both a political and an economic necessity. "When we see a French child spends more time in front of a screen, whatever it is, at school, and that children are facing more and more young people in these screens, learning how to watch should be taught earlier. As for the economic aspect, it is about creating the spectators of tomorrow for European cinema, which is a major industry," Xavier Lardoux said.  LINK
Calling the theatrical platform 'the largest pay-per-view platform in the world', Cinemark's CEO Tim Warner calls for big shows like HBO's "Game of Thrones" and episodes of "The Voice" to be shown in cinemas. Give the success of TV events like "Dr Who: The Day of the Doctors" even in the US, it would be more surprising if he didn't call for cinemas to have access to such premium content.
"'Game of Thrones' on the big screen would be so exciting," Warner said. "It's not that you can't go to the bar and watch this stuff, but you can't have that premium experience."

However, studios may need to become more collaborative. Structurally, media conglomerates tend to run their television and film arms separately without allowing for much overlap.

"They're going to have break down that barrier within the studios, so that all the content providers take a look at whatever content they're doing and say, 'Should this be going into this platform?'" Warner said.  LINK
If nothing else, it gives credence to Quentin Tarantino's recent rant that "Digital projection, that's just television in public." And "Game of Thrones" did screen in one particular cinema.
Business
USA (NY) – Following yesterday's story about how AMC is re-seatings its auditoriums – which I hope you've all read – here is a similar effort underway by National Amusements, which has gone so far as to shrinking from 3,000 regular seats to less than 1,000 across 12 theatres.
A night at the movies just got a bit cushier. National Amusements has just completed the next step in its multi-year Broadway Multiplex Cinemas renovation project, which includes seat upgrades in each of the theater's 12 auditoriums.

Broadway Multiplex Cinemas is one of the first National Amusements theatres to receive the fully-reclining premium seating upgrade. Local moviegoers can now enjoy stadium seating and reclining plush arm chairs in each auditorium, as well as a new advanced sound system featuring Dolby 7.1 Sound.  LINK
USA – RealD shares went up a bit on the back of better-than-expected results.
The company said revenue was $40.6 million in its fiscal fourth quarter, down from $45.4 million a year ago. Its net loss was $5 million, up from a net loss of $4.3 million.

The company said for the year it generated $13 million in cash flow, which CEO Michael Lewis attributed to a cost-reduction plan and a focus on expansion in high-growth areas of the country.

During the quarter, box office generated on RealD screens was $499 million, with $273 million coming from international markets. Both numbers were down compared to a year earlier.  LINK
India – The recent change in government in India has given investors hope that the entertainment sector will soon experience a boost with a more business friendly administration in place. Hence the renewed interest in cinema owners and mall operators.
Private equity firm Everstone Capital is in talks to buy a significant minority stake in the Subhash Chandra Goel-controlled lifestyle mall operator Fun Republic as a stable and pro-growth government at the Centre rekindles hopes of greater spending on entertainment.

Everstone Capital, promoted by Atul Kapoor and Sameer Sain, could buy up to 30% stake in the Essel Group company, according to three people with direct knowledge of the development. A top Essel Group official declined to comment while Everstone also refrained from speaking on the subject.  LINK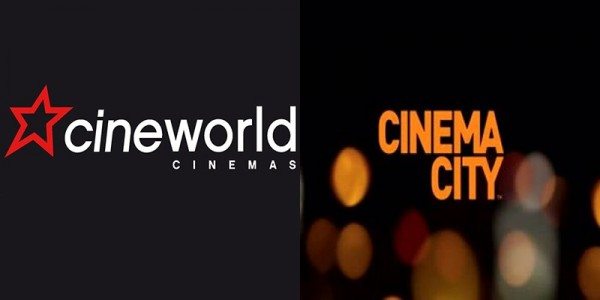 UK/Poland/Israel – A vote of confidence in the merged Cineworld-Cinema City by its senior managers.
Two directors of Cineworld, the Greidinger brothers, have snapped up more than £5million worth of its shares.

Moshe Greidinger, chief executive of the multiplex chain that is the UK's biggest cinema operator, and chief operating officer Israel bought 1.6million shares at 340p a pop.

The brothers picked up the stock via Global City, the business formerly known as Cinema City International that sold its east European assets to Cineworld in February.  LINK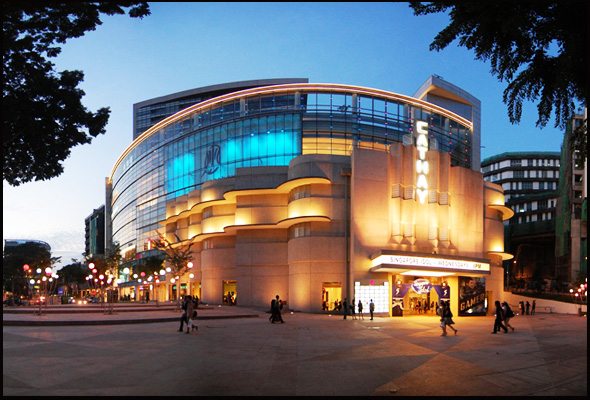 Singapore – All four of Singapore's cinema chains have raised their ticket prices for weekend shows, in apparent unison.
MOVIE-TICKET prices here have been on the rise, with a weekend screening at Cathay cinemas now costing $13.

While the Cathay ticket price increase is the highest so far, all four cinema chains have upped their prices this year, Lianhe Wanbao said.

Cathay tickets for a 2D movie on weekends and Friday evenings used to cost $11.

Golden Village theatres now charge $12.50 on Friday evenings and weekends, up from $11.50, while weekend and Friday-evening ticket prices at Shaw theatres are up a dollar to $12.

FilmGarde ticket prices are up 50 cents to $12 on Fridays and weekends.  LINK
One letter writer to the Competition Commission Singapore is very upset about it.
This puts consumers like us at a disadvantage. What is the point of having more players to compete in the market when all of them can gang up, increase prices and Singaporeans are unable to do anything about it?  LINK
India – Advertisement has long sponsored television shows, but can it work in cinemas? I guess it helps that most Indian films have intervals, but usually that's when people go for toilet break or to buy more concessions.
Imagine watching the latest movie in cinemas without spending a single penny or making a mad rush for tickets.

Just wait a while before disbelieving such a scenario as a new Malayalam film is all set to be released with the promise that it can be watched free of cost at movie houses, at least in the initial week.

Claiming to introduce the concept of "sponsored film" in Indian cinema, "Test Paper", directed by S Vinod Kumar, will be screened free of cost for the public in select theatres across Kerala.  LINK
India – Entertainment taxes are the bane of Indian exhibitors. But seems like even when they are directed not to collect them, they still do. (And why exactly was the film exempted in the first place?)
A contempt petition has been moved against top officials of the Commercial Taxes and Registration Department after film exhibitors and authorities started collecting levy from the viewers of Rajinikanth's latest film 'Kochadaiiyaan' despite Madras High Court direction not to do so.

Hearing a petition filed by S Muthiah, the High Court bench comprising Acting chief Justice of Madras High Court Satish K Agnihotri and Justice M M Sundaresh granted one week's time to S K Prabakar, Principal Secretary of Commercial Taxes and Registration Department and Commercial Taxes Commissioner K Rajaraman to produce an affidavit of compliance.

Muthiah, in his petition, stated that except Devi Theatres in Chennai, no other cinema hall owners had shown any regard to the High Court order to not to collect any levy from the viewers.  LINK
CineEurope
China – Running in parallel to CineEurope is not just Cannes Lions but also the Third Shanghai International Film Technology Forum. Very frustrating as I ideally need to attend all three.
If we say that the Internet profitable for the theater is more of a supporting role in the promotion and then the rise of the network may be a development of cinema theater bigwigs do not want to see. Famous American director and screenwriter Paul Schrader said, we have now entered a "post theater era", the film is entering the era of multi-platform network era from the theater, but that does not mean that the cinema will disappear in the near future, new film screenings mode broadens the film distribution channels, occupies a place in many possible pathways. But this is a long-term capacity development for the theater is not a small challenge. How to deal with a more open market environment, theater practitioners who need to sit down and chatted. In the theater of the forum, by the Fang Bin, general manager of the cinema hosted the earth, Poly Culture Group Co., Ltd. President Liu Debin, Zhujiang Film Media Co., Ltd., Zhao Jun, general manager of SMI International Cinema Ltd. Wang Lun Xi, Beijing Bona Huang Wei peak dialogue Starlight Theatre Management Managing to participate, I believe the future of theater development in China road to make the best interpretation.

Shanghai International Film Forum was founded in 2012, is one of the most important professional event in China, with rich-looking, high-quality and timeliness exhibition activities, focused on enhancing the level of film technology, and promote innovation and development of film technology, and the establishment of fruitful win-win transaction platform for exhibitors, visitors and conference delegates concern at home and abroad to expand the target market in order to create lasting business value professionalism enterprise!  LINK
Event Cinema
UK & Ireland – Not the first time a director has hosted a Q&A in conjuncture with his/her film, but interesting to see a big star using it to give a niche film and documentary a push.
Al Pacino's Salomé, based on Oscar Wilde's play, and accompanying documentary Wilde Salomé are to get a UK release as part of an event at London's BFI Southbank.

The two films produced by Barry Navidi and Robert Fox will be presented together Sept 21, followed by a Q&A with Pacino that will be broadcast live via satellite to cinemas across the UK and Ireland. The event will be hosted by Stephen Fry, who played the titular role in 1997 feature Wilde.  LINK
UK – Secret Cinemas' plan to screen Back to the Future in a replica of the film's town square has proved an astonishing success. As always, Twitter was the outlet to vent despair, humour and film references for those frustrated about getting tickets.
A screening of 'Back To The Future' has broken the world record for ticket sales, according to reports.

Secret Cinema, the 'experiential film company' which exhibits films in elaborate locations, shifted an astonishing 42,000 tickets for their screening in just four hours.

Before its systems went down due to overwhelming demand, it sold 34,000 tickets in just 20 minutes.  LINK
UK – This Odeon cinema claims that event cinema is what has enabled their astonishing audience growth.
Dorchester's Odeon cinema is claiming a 45per cent increase in audience numbers – the highest percentage growth in the group.

The cinema puts the figures down to the variety of content shown on its big screen, which includes live broadcasts of National Theatre, Royal Ballet and Royal Opera House productions as well as the latest movies.

It has also had to compete with Dorchester's long-established and well supported Plaza, by reducing ticket prices .  LINK
Australia – So far I've only read about the World Cup screening in cinemas in China and Australia. Anywhere else? Anyone?
With the World Cup only eight sleeps away, this is a reminder to purchase your tickets at the Southern Cross Cinema to watch the game on the big screen.

Tickets are only $10 each which includes breakfast plus prizes and many give aways. You won't get a better offer so hurry as tickets are selling fast.

The game kicks off at 8am, meaning soccer in Young has to be delayed for two hours.  LINK
UK – A social media tool for cinema-on-demand. Not the first or only attempt, but interesting nonetheless.
Ourscreen is a new digital and social platform that aims to empower film fans and local communities to create and attend their own screenings at their local cinemas. The project is becoming available across 13 cities including London, Norwich, Bath, Exeter and now York. Jessica's event will become a reality in York on July 6 at 8pm, but only if enough people book tickets to attend. That number is not specified, but the more, the better.

Dave Taylor, City Screen's marketing manager, predicts popularity for the concept dubbed as a new kind of "people-powered" cinema. Once you have chosen a film and allotted a date on Sunday evenings or Monday/Tuesday afternoons, an event is created to be shared with family, friends or anybody who wants to come. A wide range of films is already available on the platform, including 2013's Starred Up and foreign-language films, as well as classics such as Scarface.  LINK
Digital Death Watch
USA (FL) – The phasing out of 35mm prints meant that this second-run cinema didn't get a copy of Disney's Frozen until after it was out on DVD. It has launched a Kickstarter campaign to go digital and put a donations box in the lobby. But the outlook is bleak.
Cinema 6 in Port Richey is struggling to convert from film projectors to digital projectors, and movie studios will stop making 35mm prints by the end of the year. Cinema 6 faces huge expenses to upgrade to digital projectors.

Yet Chanel Casteel and the other owners of Cinema 6 want to keep the doors open at the second-run theater at 9510 U.S. 19. Where else can West Pasco residents still see flicks on a 24-foot screen for $3 a ticket? Or get snacks at the concession stand for about half the price?  LINK
USA (FL) – But this fellow Floridian cinema managed to stage a digital comeback.
The new business opens a little more than a month after Cinema Plus, the previous business to operate out of the historic movie theater building, showed its last movie and closed its doors.

"I think it's one of those things that people didn't know how good it was until it's gone," said new owner James Coleman.

Since talking over the lease of the old theater building, which first opened in 1940 as the Tringas Theater, Coleman has invested more than $50,000 into the property.
One interesting aspect is the USD $1 increase in the ticket price.
Coleman said theaters that charge $4 or lower for admission are considered a discount theater and they have to wait five to six weeks after a movie's opening weekend to be eligible to show that movie. By increasing the price to $5, Downtown Cinema Plus will be eligible to show a movie just two to three weeks after it has opened.  LINK
USA (PA) – Lets hope that the next mall owner requires a movie theater as a condition of sale.
The sheriff's sale for the Mall at Steamtown has been rescheduled to July 15, but the mall's theaters could close as early as September, according to an employee of Marquee Cinemas who requested anonymity.

According to the Marquee employee, the theaters could cease operations when students return to school and the summer movie bonanza is over.

Another reason for Marquee's exit could be that major motion pictures will all be made digitally, meaning no more film. New, more expensive equipment would be required to continue to show first-run movies at the theater.  LINK
Accessibility
UK – An autism-friendly screening of an autism-themed play. Very appropriate.
The Empire Cinema, at Festival Leisure Park, in Basildon, is showing an autism-friendly viewing of the Curious Incident of the Dog in the Night-Time.

The screening welcomes people with autism, sensory or communication disorders or learning difficulties.

The cinema reduces sound levels, increases lighting and shows the feature advert-free to the audience, allowing viewers, their families and companions to be comfortable and feel fully included in the unique experience of a trip to the cinema.  LINK
Cinema Opening/Closings
UK – A derelict cinema in Wellington, Shropshire looks set to get a new lease of life if plans to convert it to an arts centre go through.
The Clifton cinema, which closed in 1989 and was most recently used as a furniture store, is the focus of a community-led group planning to transform the premises into a 400-seat theatre and a
100-seat cinema, as well as studio and rehearsal spaces.

The project is inviting members of the community to buy shares in the business to raise enough funds to purchase the properties.

The group hopes to own the properties by the end of this year, ensuring that the studio spaces can open within several months to allow an initial revenue stream to come in.  LINK
Finally
We end with a bit of cinema art-deco nostalgia.
They were once icons of the 1930s, and some of them still retain their charm, but other grand Odeon cinemas have seen better days.

While most of us are happy with a comfy seat, a decent sized screen plus a bottomless popcorn bucket, a major draw for cinema goers visiting an Odeon 70 years ago was the chain's unique style.

The buildings boasted striking facades with neon lights and strong vertical and horizontal lines. Inside, the glittering foyers and bars featured sleek curves and murals.

The design, adopted by the chain's founder Oscar Deutsch, was a departure from the traditional theatre-look which most cinemas resembled, and by 1939 there were 136 Odeons. Three years later when Deutsch died there were 258.

But with the advent of multiplexs what became of the buildings that once housed Britain's most fashionable cinema chain?  LINK
Become bingo halls, that's what's become of them!

Latest posts by Patrick von Sychowski
(see all)