Dear Junkies,
How much is MoviePass worth and what are its business prospects? Predicting this currently is a fool's errand, because there are simply too many unknowns. The unknowns include how fast it will burn through its cash reserves, what revenue potential its data-play holds and whether the market continue to shower money on it as a 'disruptor' (or grow bored with it like it did with Groupon).
Someone brave enough to attempt such prediction, however, is Ben Rabizadeh, an investor in MoviePass' parent company, who outlines his reasoning in Seeking Alpha why it could be eventually be worth USD $10 billion. He makes a lot of important observations and his reasoning is worth considering. 'Disruptor' companies can lose money for a long time (exhibit A: Uber) as long as markets feel that they will eventually make money (exhibit B: Amazon). Rabizadeh is also honest enough to admit that "we don't have the required data" to know how MoviePass is doing financially.
There is no question that there are problems that US cinema market that MoviePass has tapped into, first and foremost that unlike UK and Europe, no cinema chain had launched their own 'unlimited' pass prior to MoviePass (Cinemark has done so since). MoviePass is already disrupting the market in that its 1.5+ million members are having a noticeable impact on the box office, particularly for smaller films. This was also the case in China with subsidised tickets pushing up the box office significantly 2014-2016. Then came the crash.
Yet two problems not highlighted in the article is that MoviePass has no way of tapping into exhibitors concessions spend and data, thus only making it half a cinema analytics proposition. Secondly, unlike Amazon, Netflix and even Uber the barriers to entry are not so high that MoviePass couldn't see a competitor launch if it proves a success or it is forced to raise its price – which CEO Mitch Lowe has admitted the company will have to do at some point. But for now we are all watching what it is doing with fascination. So pass the popcorn and sit back.
Regards, Patrick
---
'Padmaavat' violence and police defence; FT's Lex knocks Cineworld–Regal deal; strikes and closures at Picturehouse; Odeon's inclusivity initiative; Indian release windows; "Paddington 2" pushed in Russia; Indian JV to take on PVR et al; 'transaction fee' for cinema cash payment; Lebanon won't ban "The Post"; Regal frozen pipes, Cayman Islands cinema fire and Vue Printworks mouse, plus 100-year old UPP's re-branding. 
---
India – The release of historical drama "Paadmaavat" is causing disturbances and threats of violence against cinema screening it. In Mumbai special forces have been posted by the police in multiplexes in Mumbai and elsewhere. But it's too late in some locations. The Hindu reports that "More than a dozen masked men vandalised the reception of a multiplex and a few shops at Raheja Mall here on Monday," though fortunately nobody was injured. However, the authorities are taking a strong line this time. Ahmedabad city police commissioner A K Singh said, "Multiplexes are dark and congested spaces vulnerable to stampedes. Miscreants are well aware that protests in such places may cause chaos and damage to property and life." Other multiplexes are weighing up whether to screen the film or give in to goondas. Indian Express – 23 January 2018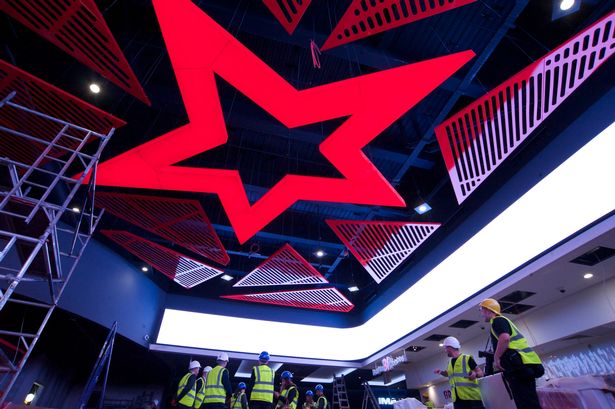 UK/US – The deadline for rival bids for Regal has passed without any suitors (thus killing our first prediction for 2018), so the reverse take-over by Cineworld is going ahead. But the Financial Times' Lex column is no fan of the deal.
The proposed deal is expensive and will leave the combined group with too much debt. Cineworld proposes an all-cash offer of $23 a share — a steep price not far from Regal's record high last year. To help pay for the $3.6bn purchase, Cineworld intends to carry out a £1.7bn ($2.3bn) rights issue. Terms published on Wednesday would not pass a screen test.
It then goes on to detail its reasoning, which is that the flawed premise for the take over is that Cineworld can run Regal better than Amy Miles & Co. have, while paying off debt and paying dividend at the same time. FT (paywall) – 17 January 2018
UK – Meanwhile Cineworld-owned Picturehouse's Ritzy cinema in Brixton closed this past weekend as the industrial dispute takes on new life. Cineworld is playing hard with staff/union's demanding the London Living Wage. "According to the union, Cineworld told staff that those who inteded to strike for only a portion of the day would not be paid anything that entire day." The conflict dates back to 2007 (!) and while Cineworld does not apparently support the Living Wage campaign, we at least found a document on the company's website (above) that it is firmly opposed to 'modern slavery'. Screen Daily (paywall) – 19 January 2018
UK – Odeon has launched a diversity and inclusivity initiative. "The strategy programme, termed 'Our Incredible Differences', was launced today [22 Jan] in London and is due to roll it out across the network's 14 European countries." The company has spent a year of careful preparation and teams in each of its territories are expected to develop a plan based on it. Screen Daily (paywall) – 22 January 2018
India – Indian multiplexes have scored a major victory in the fights against distributors related to release window. Cinepolis, PVR, Inox and Carnival all refused to show horror film "1921" until the distributor agreed not to release the film on satellite and online platforms for eight weeks after the cinema opening. A spokesperson for the multiplexes is quoted as saying that, "This will apply not only to 1921 but all Hindi releases, big or small." Bollywood Hungama – 12 January 2018
Russia – The release of "Paddington 2" in Russia was postponed, allegedly because the film could prove too popular. The Association of Cinema Owners called the postponement by the Ministry of Culture a "gross interference" and the government body had to reverse its decision. It stems from a move to promote local films, nine out of ten that are government-funded. Local films "Scythian" and "Going Vertical" released in the same week. Washington Post – 21 January 2018
India – Another joint venture plans to grow cinemas faster in (South) India than established players like PVR and Inox have been able to. Push Aeon Consortium, formed by Push Motion Picture Company & Aeon Entertainment, plans to open "ten multiplex screens across South India by the end of 2018. This will be increased to 50 by 2020." They will also invest in film production and distribution. We wish them luck, genuinely we do, because India remains woefully under-screened. Economic Times – 18 January 2018
UK – A cinema goer to The Courtyard in Hereford was charged a GBP £1.50 "transaction fee" on top of the GBP £7 cost of the ticket – when paying in cash at the box office. "For a simple single ticket purchase in cash face to face there should not be a transaction fee. Or just make the ticket £8.50," the patron is quoted as saying. Not-so-clever way for the cinema to avoid splitting BO takings with distributors? Ledbury Reporter – 19 January 2018
Lebanon – The Prime minister of Lebanon has overruled the country's censorship board in banning Steven Spielberg's "The Post". The film had been banned on vague anti-Israeli ground, with both "Wonder Woman" and "The Jungle" were banned because of the former had an Israeli lead and the latter had Daniel Radcliffe portray Israeli adventurer Yossi Ghinsberg. Variety – 17 January 2018
Health & Safety
USA (AR) – A Regal cinema inBreckenridge  was forced to close after the freezing weather caused its water pipes to burst. The fire department was called to empty the water, which froze on the pavement outside, forcing the cinema to turn away cinema goers and offer them vouchers. TVH11 – 17 January 2018
Cayman Islands – A 'minor fire' broke out in the concessions area of the Camana Bay cinema last week. Amongst those evacuated was HE Governor Helen Kilpatrick, though the fire was quickly contained and put out. Cayman27 – 18 January 2018
UK – An apparent rodent problem at Vue's Manchester Printworks multiplex. "John Alesbury claims his daughter got the fright of her life when a mouse ran underneath her seat at the Vue Cinema, in the Printworks." Vue is looking into it 'as a matter of urgency'. Manchester Evening News – 20 January 2018
Finally
UK – The Ultimate Picture Palace in Oxford is one of the oldest independent cinema in the UK and just celebrated its 100th birthday. The cinema brought in branding agency Salad to get its message out that it is a cinema that has a policy of 'no adverts, no popcorn, no talking.' "The agency was asked to "evolve" the brand into something sophisticated and instantly recognisable." The above slogan, on posters, t-shirts and elsewhere is part of what the result was. Clever and funny. Daily Echo – 19 January 2018

Latest posts by Patrick von Sychowski
(see all)