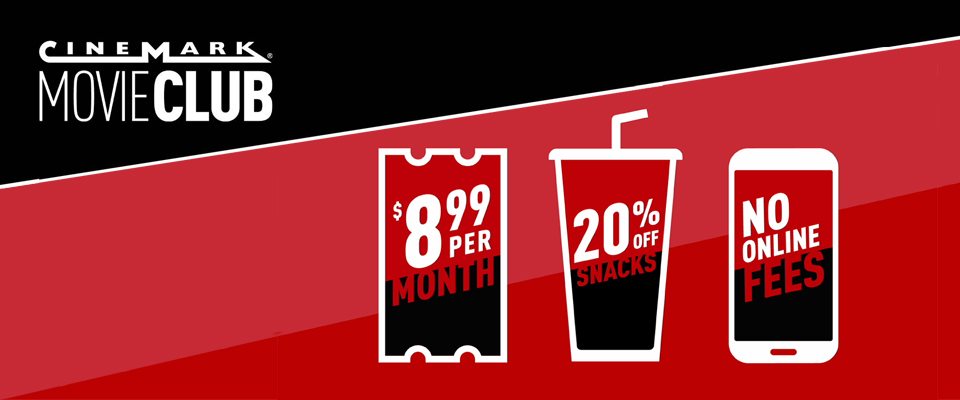 Well that didn't take long.
When MoviePass reduced the monthly price of its unlimited moviegoing subscription this past August to the unbelievably low USD $9.99, we suggested that some of the major cinema chains might create their own versions of subscription programs. Earlier this week, Cinemark announced this is exactly what they planned on doing with the launch of MovieClub, a homegrown monthly subscription membership program.
The comparisons of Cinemark's MovieClub to MoviePass were inevitable and immediate. However, while both subscription concepts are designed to increase cinemagoing, they differ significantly enough that any such correlation is, if not like trying to compare apples to oranges, is the equivalent to comparing two varying apple cultivars. Sure, they're the same fruit at the end of the day, but some apples are meant to be eaten off the tree and others are designed for use in cider or baking.
MoviePass was designed to be an "all-you-can-watch" program, allowing subscribers to watch up to one movie each day in any theatre that accepts MasterCard. The company pays full price for each ticket, thus losing money on almost every ticket purchased through its service. Their business model is based on the idea that, with scale, the company can sell the data generated by its subscribers to turn a profit.
MovieClub, on the other hand, offers subscribers a single 2D movie ticket each month, and only in Cinemark theatres, for a price of USD $8.99 with no longterm contract. Additional benefits include the ability to upgrade to a premium format ticket, a 20% discount on concessions during any visit and the ability to reserve seats in advance, online or through Cinemark's mobile app, without paying an a fee. Cinemark will also allow MovieClub members to purchase a ticket for a spouse or friend at the USD $8.99 price. These are all features not offered by MoviePass.
Another differentiator is that MovieClub does not include any breakage models in its revenue strategy. Breakage is a concept in which customers pay for a good or service but do not use it in an allotted time frame. Gym memberships are notorious for employing such models. Breakage is no doubt a part of the MoviePass business plan, though the company has not admitted as much. Active subscribers, who are not required to be on a longterm contract, will be charged their monthly subscription fee even if they don't go to the cinema and use the service. A percentage of MoviePass' subscriber base will surely pay their monthly fees, never purchase a movie ticket and subsidize its heavier users.
Cinemark is allowing active MovieClub subscribers to roll over unused tickets from previous months. A subscriber isn't forced to use their ticket credits when visiting a Cinemark theatre though, allowing them to be saved for higher priced evening or weekend screenings. As well, once an active subscriber has used all their MovieClub ticket credits, they can purchase additional tickets for themselves and guests at the USD $8.99 price. Even if a customer cancels their subscription, the chain is giving them six months to use their MovieClub credits. This time frame cap probably has more to do with the revenue recognition constraints of a public company than Cinemark's desire to walk off with former subscriber's unused funds.
Whereas cinema operators in Europe such as Cineworld, Gaumont Pathé, Odeon and others have implemented successful subscription platforms, to-date MoviePass has been the only game in town when it comes to exhibitor subscription programs in the United States. When Cinemark set out to create its own subscription concept they studied a wide range of similar programs in relevant businesses such as Audible for audio books, music streaming, cable television, streaming video and even data services.
As Cinemark's CEO, Mark Zoradi explained, "We considered these different designs, took the best aspects from each one, applied it to the exhibition industry and configured multiple concepts that we felt possessed the greatest ability to generate the broadest consumer appeal and grow attendance and profits for our company. We then conducted extensive consumer research to guide and validate our thinking."
Cinemark ran a test with 1,000 moviegoers from throughout the U.S. that lived within 10 miles of one of their theatres and had been to the movies once in the past 3 months. They ran a four prong test that included individual one-on-one studies, online discrete choice tests, webcam interviews and simulations which saw participants design their own moviegoing subscription program.
"Consumers told us over and over they wanted a great theatrical value and they prefer a program from a trusted brand like Cinemark," said Zoradi in a statement that could be seen as a very mild dig at MoviePass, whose present money-losing business model has caused even its most avid users to wonder how long the company can remain operational. "The MovieClub program that we have constructed gives exactly what they told us they want; all of the features and benefits of a membership program without any hassle. A program that provides meaningful value and enables members to enjoy the moviegoing experience with friends and family and more often."
Cinemark's MovieClub initiative is entirely focused on driving incremental moviegoing attendance and though one might think that the all-you-can-eat model provided by MoviePass might better be able to achieve such a goal, Zoradi disagrees. While avid moviegoers, who might visit the cinema four or five times a month, appreciate the unlimited viewing aspect of MoviePass, "What we found is that there was a much larger group of consumers who go four or five times a year," said Zoradi. "That's a much bigger group and that's the group we went after here with the idea of how do we get the person whose going four or five times a year to go six or seven times a year? That's why put in the companion element to it, that's why we put in that you can roll it over and bring a spouse or a friend the next time. That's the bigger audience."
Cinemark reports that its studio partners were satisfied when presented with the program before its launch, especially since they will be paid based on the full price of a ticket. Ideally incremental box office generated by increased attendance from MovieClub subscribers would benefit both Cinemark and the distributor. According to Zoradi, it could very well help boost the exhibitor's sales per person average too. "When somebody walks in and they didn't put down USD $10 at that moment, chances are they're going to be a little freer with their pocket book in terms of incidents and basket size at the concession stand," he predicted.
Cinemark will also take advantage of any upside MovieClub might offer the company in terms of gathering data on its customers moviegoing habits so that it might market future releases. To that end, any MovieClub subscriber will also be enrolled in Cinemark's Connections loyalty program. Existing members of the program were sent email notices this week about MovieClub and the chain began marketing the subscription service in all of its theatres.
Over the next 12 to 24 months the company will be scrutinizing the key performance indicators it has identified to monitor how MovieClub affects attendance and ultimately the circuit's bottom line. Surely Cinemark will be pleased if they can ramp up to the same 600,000 subscribers the way MoviePass did after lowering its price. Meanwhile, you can bet every other large U.S. exhibitor will be keeping an eye on how Cinemark fares with MovieClub as they consider whether to enter the subscription fray for themselves.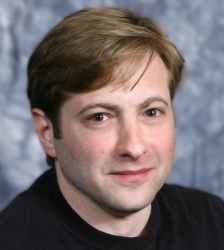 Latest posts by J. Sperling Reich
(see all)