Cinépolis Jr horrifies, Canal Olympia's African ambitions, Lotte workers pay docked, Eclair partners AHC, Cineworld profits, GSC celebrates 30th, PVR's Bijli 20th, MVP fires back at Vincon, CGV-Hana barcode pay, Los Angeles cheapest cinema, Printemps du Cinema returns, Gaumont assigns seating, Showcase-Fathom mind-meld, real bugs found in IMC Taillight sweets, wedding cinema in Japan, 12 Delhi multiplexes fined over water and fake torrent site points users to cinema.
USA (CA) – Cinépolis is launching two cinema screen with a playground for very young children called 'Cinépolis Junior' in Los Angeles and San Diego, at a retrofit cost of USD $500,000 per screen. The very idea horrifies Entertainment Weekly and The Guardian but it is a concept that has already been launched and is running in India (PVR), Spain (Yelmo), Indonesia (Cinemaxx) and no doubt other countries too. What's lacking is a screen where the kids can be dropped off and supervised while mom and dad go off to a VIP screen with recliners that also serves alcohol. LA Times – 7 March 2017
Burkina Faso – As reported in yesterday's CJ Cinema Property Update Canal Plus's parent company Vivendi is pushing ahead with its ambitious plans to create 100 cinemas across sub-Saharan Africa. The fifth property opened in Burkina Faso capital and tickets are priced at just over USD $3, making them more affordable than those of African competitors. Vivendi is not alone, with Imax having gone from just two screens four years ago across Africa to 13 today, of which four were opened in the last year and seven more in development. Too soon to speak of a gold rush, but much of Africa is definitely still severly under-screened even as its middle class grows. Variety – 2 March 2017
Korea (Republic of, South) – Up to 80% of part-time workers at Lotte cinemas have had their wages cut to 30 minute or even 15 minute intervals, rather than a full hour. This has led to protests by workers and the unit of part-time workers, who complain of unfair practices by Lotte. Labornet (JP) – 2 March 2017
France / USA (MI) – Eclair has formed a strategic alliance with Art House Convergence (AHC) for the distribution of specialty film and event cinema. Under the terms of the deal Eclair's CineConductor for DCP Management & Delivery via Broadband Network will be AHC's preferred "next generation" broadband digital cinema services provider in the US. CineConductor was introduced at the 2015 AHC event and has since expanded to over 100 sites. Press Release – 9 March 2017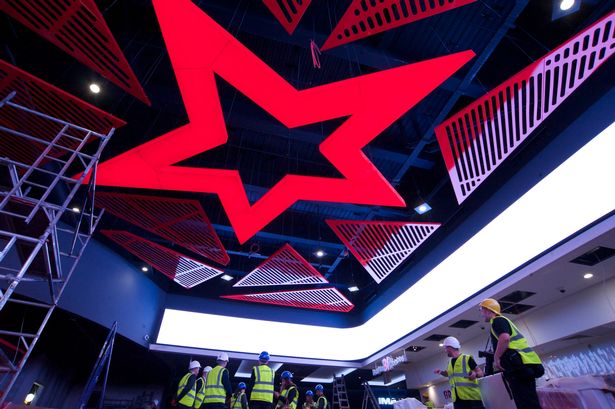 UK / Europe – Cineworld reported FY 2016 revenue of GBP £797.8 million (up 13%) and profits of GBP £93.8 million (up 18.3), mainly thanks to Central and Eastern Europe growing 13.3% in local currency but 26.6% in GBP, due to the falling value of the sterling. Growth in UK & Ireland was 6%. Cineworld opened four new sites in UK, as well as four in ROW (Poland, Romania, Hungary and Czech Republic). total admissions passed 100 million for the first time and it acquired five sites from Empire. Cineworld also plans to open 40 new cinemas with 441 screens – half of these in the UK, in the next four years. Screen Daily – 9 March 2017
Malaysia – Golden Screen Cinemas is celebrating its 30th anniversary, having achieved several significant firsts since its founding in 1987 as a JV between the Kuok family's conglomerate PPB and Hong Kong's Golden Harvest. GSC's Ivan Chea and Koh Mei Lee have been fitted at CineAsia for their achievements, including Exhibitor of the Year 2016. GSC is for sale, though buyers appear to have balked at the alleged USD $500 million price tag. Variety – 8 March 2017
India – Ajay Bijli celebrates 20 years of running PVR, India's largest cinema chain. He is humble about his role as multiplex pioneer in India, the death of single-screens, improving content (films), changing tastes and denies the Wanda takeover talks. Above all he stresses the need to "to remain restless and keep improving." Visa PayWave contactless payment was recently introduced by PVR. Live Mint – 9 March 2017
Vietnam – Following on from last issue's news that Vincom closed down three of MVP's five Platinum Cineplex cinemas in Vietnam on 1 March, the Indonesian exhibitor is now threatening legal action. "We strongly condemn this move as it shows total disregard to follow the due procedure of law and shows lack of goodwill of a landlord to its anchor tenant," MVP said in a statement, claiming that it had not breached any clauses in its contracts with Vincom. Screen Daily – 8 March 2017
Korea (Republic of, South) – Hana Financial Group has launched a direct payment scheme called /hana money that can be used CU shops and at CGV cinemas. Instead of NFC or ApplePay it uses a unique barcode on the customers smartphone. Hana is offering a 20% discount in the first month of use for CGV purchases. Focus News (KR) – 8 March 2017
Spain – Los Ángeles is the cheapest place to watch films. No, not the home of Hollywood, but the cinema in Santander, Spain. The five most expensive cities to watch films are Barcelona, ??Madrid, Guadalajara, Oviedo and Vitoria. The difference between the most expensive (Cinesa Diagonal in Barcelona) is €10 compared to just €4 for Cinema Los Angeles de Santander. Average price in Spain is €7.24 or €6.41 if you apply promotions, found a study by Facua. El Diario (ES) – 9 March 2017
France – Springtime for Cinema will be back 19-21 March in France when cinema tickets will cost just €4 (not including 3D and Imax) across 5,741 screens. Last year the event grew 16% to 2.2 million visitors. February was a record month for cinemas in France with 25 million tickets sold (up 3.8% on February 2016) and 41 million in total since 1 January. Pariscope (FR) – 7 March 2017
France – Gaumont-Pathé cinemas are switching to assigned seating form 29 March, which has divided opinions. While this is already standard for concerts, theatre and opera in France, it is still unusual for cinemas and not everyone is for it. Ouest France (FR) – 7 March 2017
USA (AR) – This title tells you all you need to know: "Cinema that banned screening of Beauty And The Beast because of gay character accidentally schedules film about drag queens." Because….the owner thought it was a movie about dragons. Metro – 9 March 2017
Event Cinema
USA (MA) – Showcase cinemas and Fathom Events are offering a mind-melding experience. "Cinema audiences will help make neuroscience history: for the first time, one thousand human minds will be simultaneously connected via cloud technology and cognition headbands while they watch the immersive film, MindGamers." It will be followed by a Q&A – think hard about your questions. Boston Calendar – 8 March 2017
UK – Secret Cinema "Moulin Rouge" happening reviewed. Short read: Pricey but worth it trip to Ye Olde Paris. The Independent – 9 March 2017
Concessions / F&B
Ireland (Republic of) – Irish Multiplex Cinema (IMC) Tallaght Ltd has been convicted and ordered to pay €700 after a customer found insects crawling in the bottom of a box of sweets. The sentence and fine for breaches of food standards were brought by the Health Service Executive (HSE) under an EU law regulating food safety. IMC says the product line of sweets has now been suspended. Irish Independent – 7 March 2017
Japan – The concept of cinema dining is being taken one step further by Japanese wedding company Novarese is launching 'Wedding Party' cinema dates in six locations (located near Koriyama, Niigata, Kanazawa, Nagano, Hiroshima and Matsuyama) where couples can enjoy fine dining and a classical film for ¥5,000 (USD $) each. Elle (JP) – 7 March 2017
India – The Delhi government has taken action against 12 multiplexes for 'overpricing' for items such as bottles water. The multiplexes involved were not named. New India Express – 10 March 2017
Finally
Costa Rica – A film distributor in the Central American state trolled internet users with a Kickass Torrents-clone site called Legal Torrents (sic). But instead of being able to download illegal copies of the films listed, visitors to the site were played a trailer of the film with a warning about the damage that piracy does. They were the offered two free cinema tickets to encourage them to visit the cinema instead. Genius! Techworm – 7 March 2017
Patrick was a Senior Analyst at Screen Digest, went on to launch the digital cinema operations of Unique and Deluxe Europe, then digitised Bollywood at Adlabs/RMW, and now writes, consults and appears on panels about cinema all over the world.
Latest posts by Patrick von Sychowski (see all)