Africa: Solar powered Burkina Faso cinema USA: cinema drive-thru 'accessory' UK: Kentish town work halts S. Korea: Megabox cinema 'illegal', new Yeongju cinema India: new Inox & PVR three-screeners. Refurbs: Cineworld Hemel Hempsted Super Screen,  Showcase Bluewater expands, Hackney cinema re-opens after 60 years, Sparks cinema re-opens as a Galaxy, Quad in Greenwich Village to re-open, UCI Bochum €5m refurb Closing: Odeon High St Ken Art Deco past revealed, Brandenburg's oldest cinema requisitioned Finally: world's oldest outdoor cinema is in… Australia!
---
London's Olympic Studios, which has Birman perched on the roof, is the CJ + Vista Cinema of the Month
---
Burkina Faso – A solar powered cinema has opened in Ouagadougou ahead of the Pan-African Television and Cinema festival FESPACO. The Canal Olympia cinema is part of the initiative of Vincent Bolloré's Canal Plus to spread cinema across Africa. The 300-seater can also host live performance events. Africa News – 25 February 2017
USA (NY) – A cinema with a drive-thru restaurant as an 'accessory'? That is the proposal from the developers of the Riverbed Route 58 site that formerly housed a Walm-mart, where Regal is the intended operator. Under shopping zoning regulation drive-thrus are normally only automatically allowed as an accessory for banks and pharmacies. Not clear if this cinema would sell popcorn and hotdogs as a drive-thru, though two free-standing restaurants had also been proposed. Riverhead News Review – 2 March 2017
UK – Work has halted on a new cinema in London's Kentish Town after the developer put the site up for sale despite its un-finshed state. A 12-flat development with an extra storey was approved on the condition of a cinema on the ground floor. Yet despite several operators having been sounded out, there are apparently doubts about whether a single-screen cinema could work in this part of London. Camden New Journal – 2 March 2017
Korea (Republic of, South) – Megabox's multiplex cinema in Songpa Park Habio mall has been deemed to operate 'illegaly' in the mall. Seoul Metropolitan City Council stated that "the opening of the movie theater is a clear violation of the [planning zone] contract" that the operator had signed. There was previously concerns that the steep stadium seating layout of the cinema could be a health and safety issue. SEdaily – 2 March 2017
Korea (Republic of, South) – A new cinema is set to open in Yeongju Cinema to open on the site of an old buss terminal. An MOU has been signed with Daewoo Engineering & Construction. September is the planned completion date. A mall will occupy the ground floor while a six-screen cinema will take up the second and third floors. Kyongbuk – 26 February 2017
India – A new Inox cinema with three screens and 888 seats opened at Jyoti Mall in Kurnool, Andhra Pradesh, on 23 February 2017. Inox now has 94 multiplexes with 365 screens across 51 cities, together with Satyam Cineplexes that it acquired previously. Business Standard – 23 February 2017
India – PVR has opened a three-screen cinema in Parsvnath Mall, Moradabad, Uttar Pradesh with a total seating capacity of 631. PVR now has 572 screens in 124 cinemas across 49 cities in India. Equity Bulls – 6 March 2017
Re-furb/re-opening
UK – Cineworld has announced plans for a PLF 'super screen' for its Hemel Hempstead multiplex. The addition would give the site 17 auditoriums with 1,788 seats. The site already has an Imax screen, which the PLF screen will complement when it opens 17 March. The cinema was one of the five Empire cinemas that Cineworld acquired last year. The site is also getting a Starbucks this year. Hemel Today – 3 March 2017
UK – The Bluewater shopping centre outside London is set to get four more cinema screens. The Showcase Cinema de Lux will grow to 17 screens, which will now include an XPlus PLF auditorium that includes Dolby Atmos. There will also be electric recliners in all screens.  Works is set to be completed by Christmas this year. KentLive – 27 February 2017
UK – The Castle Cinema in London's Hackney cinema has re-opened after 60 years. The crowdfunding campaign reached GBP £57,000 (out of £45,000 target) and is now an 80-seat venue with a swanky bar that also serves hot and cold food. The cinema opened in 1913 but was converted to a bingo hall in 1958. The couple behind it previously ran Hot Tub Cinema and Pillow Cinema. Evening Standard – 26 February 2017
USA (NV) -The closed Victorian Square Cinema in Sparks is set to re-open as multiplex. The remodelled cinema will have 14 auditoriums similar to Galaxy's luxury approach at The Outlets at Sparks. The City of Sparks will provide USD $1.5 million in funding to help with the renovation, with Galaxy promising 'community outreach' programmes in return. Reno Gazette-Journal – 27 February 2017
USA (NY) – Manhattan's first ever multiplex The Quad is re-opening after extensive renovation. Located in Greenwich Village it had been closed since 2015, after it was acquired by real estate developer Charles S. Cohen. Seating has been reduced from 560 to 430 and there is now a wine bar, although it will not be serving hot food when it opens on 14 April. Gothamist – 6 March 2017
Germany – UCI in Bochum's Ruhr Park is getting a €5 million refurb. The entrance is being re-modeled and the foyer will follow this summer. The number of POS terminals will be reduced from 10 to six. WAZ (DE) – 3 March 2017
Closing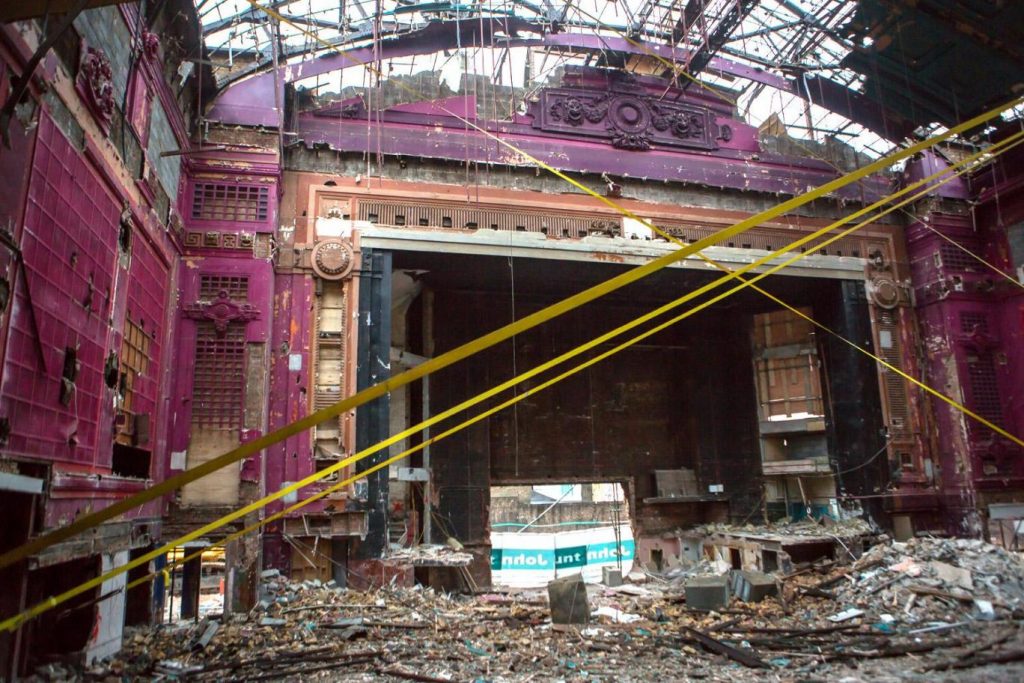 UK – Campaigners have applied to stop work on converting the old Odeon cinema in London's High Street Kensington into apartments and a new cinema after an original a rare Art Deco interior was uncovered during demolition work. Evening Standard – 2 March 2017
Germany – The oldest cinema in the state of Brandenburg has been forcibly requisitioned for €1.2 million by the the Sparkasse Spree-Neiße bank that was selling it. An offer for the Weltspiegel cinema of €959,000 believed to have been made by Berlin's Yorck Kino group was rejected. The previous owner went insolvent refurbishing the cinema, which has three screens. Opened in 1911 it is the second oldest in Germany after the Kinematographentheater Topp in Berlin-Kreudberg. Berliner Zeitung (DE) – 28 February 2017
Finally
Australia – The world's oldest outdoor cinema is not a drive-in in the US but Sun Pictures movie theatre in Broome, Western Australia (WA).
According to the official history (which glosses over the period it was probably used as a brothel), the building was opened in 1903 by the Yamasaki family. It sold imported Asian food, clothing and other household goods. Part of the building was later given over to a traditional Japanese playhouse until master pearler Ted Hunter bought it in 1913.

Hunter had a 500-seater movie theatre constructed on the site, which finally opened 100 years ago in 1916. The first film shown was a British racing drama called Kissing Cup.
You can still see the original projector from 1926 next to the box office. Broome was one of the few places exempted from the White Australia policy and thus had a rich ethnic mix, mainly form Asia, though European got the plum cane chairs in the front row, while Chines and Japanese labourers got the inferior seats behind them and Malays and indigenous Australians confined to the back and the sides. This segregation only ended in 1967. The Armidale Express – 27 February 2017

Latest posts by Patrick von Sychowski
(see all)