Don't go short on AMC! If you only read one cinema-related article this week (other than one of ours) make it this one. Heck, forward or print it out and give it to your colleagues.
This is one of the best pieces of analysis that I have read about any exhibitor in a very long time. It looks at every aspect of AMC's strategy, but the lessons to be drawn are universal.
The condensed version is that AMC is slowly but deliberately moving in the right direction that anticipates changes in the exhibition business, though its re-seating program, MacGuffins lounges and Dine-In Theatres, AMC Stubs loyalty program and more. Here is an excerpt on the re-seating program for shrinking the number of seats while increasing their size (and price). Genius!
After a specific remodel is completed, over approximately the first year it goes through a trial period where the company watches the attendance numbers; waiting to see how much they increase, as well as how quickly it takes to get there.

Once the jump in attendance approaches targeted levels, which has been taking about a year to reach, the company boosts its average ticket price (ATP) at the specific theater moderately afterwards. When the company sees the change in behavior taking place and holding, it then more aggressively increases ATP a little later in the second year.

The key is getting customers to get used to the better seating. When that is accomplished, along with a smaller price increase, the customers enjoy a much better experience and aren't resistant to the larger increase that comes a little later in the process.

How the company determines when to implement the price increase is when the theater approaches attendance capacity. At that time the customer is deemed ready to accept paying more for the better seating and service.  LINK
Come back and read the rest of the Daily when you've finished reading this article. You will thank me, and even more so, thank analyst Gary Bourgeault who wrote it. [Disclaimer: none of the above constitutes investment advice, of course. But you knew that already.]
Business
USA – Scrabble is going all out to woo drive-in cinema owners to sign up to its digital conversion programme, offering them mouthwatering rates.
Scrabble, based in Cypress, CA, has eliminated many of the previous expenses associated with leasing of Christie digital projection equipment, including connectivity and installation fees.

Now, the upfront costs, including deposit payment, installation, and all equipment necessary, including audio processing and screen automation (for ease of use and quick arrangement of the evening's program) usually do not exceed $10,000 per screen ALL IN.

"This is the lowest cost entry point for a drive-in to make a digital conversion than available anywhere else," said Scrabble's CEO Ranjit Thakur from Philadelphia.

The monthly lease payment during the five-year term range from roughly $678 per screen (up to 70 feet in length), and $863 per screen (exceeding 100 feet in length).  LINK
India – PVR's VIP member scheme seems to have got off to a strong start.
PVR Cinemas announced that Director's Cut has signed up its 1,000th member with the Director Cut's ("DC") Privilege Card programme, the luxury cinema's membership programme designed to combine ease of payment with a wealth of benefits offered by a network of hand-picked retail brand partners.

To celebrate this milestone, less than 6 months after this initiative was launched, PVR Director's Cut hosted a fashion show with designer Kushali Kumar, who presented for the occasion a collection of ballroom and evening gowns inspired by the spring flower varieties in France, a theme reminiscent of Mistral's Fresh and Simple motto. Kushali Kumar is known to design unique pieces for international celebrities such as Shakira, Justin Bieber, Melanie Brown and many more.  LINK
CineEurope
Spain – Want to know how Coca Cola's lounge at this years CineEurope will look? Wonder no more. Don't forget that there is also the Coca-Cola seminar on the Monday, where I'm sure these things will be highlighted further.
Working with Littlebit Technology, as well as with NEC Displays Solutions and Intel Corp., YCD said it will bring "a rarely seen" immersive digital signage solution to the Coca-Cola lounge. Coca Cola is the main sponsor for this year's CineEurope show, and "it was important for us to help Coca-Cola showcase a complete digital signage solution for cinema complexes," said Eran Sharon, VP of product management for YCD Multimedia, in the announcement.

From box office to ticketing, concessions, future film promotions and wayfinding, each solution shown addresses today's Cineplex needs and business goals while incorporating immersive and experiential elements to enhance the movie-going experience, the company said. Content will be presented in each area and linked together to integrate with ERP/POS systems for added operational and business benefits.  LINK
People
USA –  Having founded several cinema-related technology companies, PrysmTech and EntTek/Allure Global Solutions, as well as a stint as Director of Software Development for Rave Cinemas, Bill Budwitz is moving to one of the leading US online ticketing companies.
MovieTickets.com (www.movietickets.com), a leading global provider of remote movie ticketing, announced today that it has hired veteran industry technology executive Bill Budwitz as the company's Director of Product Development. Budwitz will play a key role in continuing to build on the company's product innovation, point-of-sale integrations, and further modernizing its transaction infrastructure. He will report to Joel Cohen, Chief Executive Officer of MovieTickets.com.  LINK
Immersive Audio
Auro – Just in time for CineEurope… Auro Technologies decided to upstage Barco by launching its Auriga Home Theatre Receiver "with Auro-3D Immersive Sound."
Since its inception, the Auro-3D® format has revolutionized the audio world by creating the most realistic, natural sound experience available by adding the missing height dimension around the listener. Until now, this 3D immersive sound experience has only been available in Digital Cinema, with almost 500 screens confirmed to be equipped with Auro 11.1 by Barco around the world. But now it is set to enter the consumer market as Auro Technologies announces its Auro-3D® Auriga AV receiver, manufactured together with StormAudio, and available with global distribution starting today.

The Auro-3D® Auriga is set to revolutionize the home theatre world in much the same way as the leap from Stereo to 5.1 Surround sound. The Auriga's Auro-3D® format creates an amazing immersive experience around the listener which surpasses anything you've heard before.  LINK
Event Cinema
China – I've not seen many mentions of the World Cup playing in cinemas in Europe or the Americas, but it seems to be happening in Australia and China (and the Digital Gym Cinema).
During the World Cup, there are many theaters in the city will choose some wonderful theater screenings performed live. For example, the Peoples Liberation Monument Yingli Cineplex selected during the World Cup in four games, watch free membership organization, specific screenings are at 1:00 on June 17 Germany VS Portugal , at 0:00 on June 21 Italy VS Costa Rica , 6 month at 0:00 on the 26th Nigeria VS Argentina, and at 3:00 on July 14 Brazil World Cup finals tournament.

Jinfoshan listen to music while watching

June 13 to 15 at the music festival held in Foshan Jin, will be the theme of the World Cup in Brazil, Cui Jian, compass well-known band will live Biao Song, 0:00 later, the big screen live stage four World Cup matches will be broadcast live , there will be people watching the game together.  LINK
Cinema Opening/Closings
UK – Blackpool's Opera House in the Winter Gardens will once again be able to show films, following a £130,000 installation of a giant screen, surround sound, and a new digital cinema projection system "so hi-tec it can be controlled by remote-control backstage."
Those of a certain age will know that the Opera House, inside the Winter Gardens, hasn't always just been a theatre for musicals, comedians and pop concerts.

It used to be a cinema too. In fact it was designed for that very purpose. In the late 1930s, bosses at the Winter Gardens trawled the world looking for the best possible design for an Opera House they were about to rebuild.

It opened in 1939, a theatre-cinema that could stage shows throughout the summer and be transformed into a cinema out of season – and until well into the 70s boasted packed houses for new releases, from Laurel and Hardy to Charlie Chaplin, Some Like It Hot to Vertigo, Mary Poppins to The Good, The Bad and the Ugly.
UK – Here is one we wrote about earlier. When a politician says that s/he 'remains committed', you know that it won't be happening anytime soon.
Back in September 2012, Caerphilly council's cabinet approved plans for national cinema chain Odeon to be confirmed as the preferred tenant for the cinema.

But following the tender process for the cinema development's construction and fit out, a review said the delivery cost is likely to exceed the current allocated project budget of £6.9m.

But leader of the council Keith Reynolds has emphasised that the council remains committed to making sure the cinema development is brought to the town – making it the first multiplex in the Rhymney Valley.  LINK
Australia – We like how the journalist of this article wraps it up at the end: "Subject to council approval, the first popcorn could be hitting the floor in Muswellbrook before the end of the year."
Plans to convert part of a Muswellbrook licensed club into a new cinema have gone on public display.

The development application before Muswellbrook Council is for the conversion of part of a function room at the Muswellbrook Workers Club into a cinema complex.

The proposal is for two screens with seating for 130 movie goers in each theatre.  LINK
USA (PA) – The town of York, Pennsylvania is set to get a new two-screen cinema after OK from the local architectural review board.
York's Historical Architectural Review Board approved the design for a new two-screen movie theater in the city's Northwest Triangle on Wednesday.

The developer of Sweet City Cinema scaled back the size of the project to about 13,000 square feet, down from the original 20,000 square feet, said Robert McCall, a principal with JKR Partners LLC, a Philadelphia architecture and design firm. The building includes two auditoriums with stadium seating. Each auditorium will have just over 200 seats.  LINK
UK – The saga of the bombed out cinema that is the last civilian building still standing form the Blitz enters a new chapter. It won't become a timber yard.
Site owner Saleem Hakim's timber store application was unanimously refused by the committee yesterday.

The decision was welcomed by the National Civilian World War Two Trust, which is hoping the city council will buy the site and lease it to them to be run as an education centre and visitor attraction.

Trust spokesman Alan Canvess said: "We are very pleased with the decision.  LINK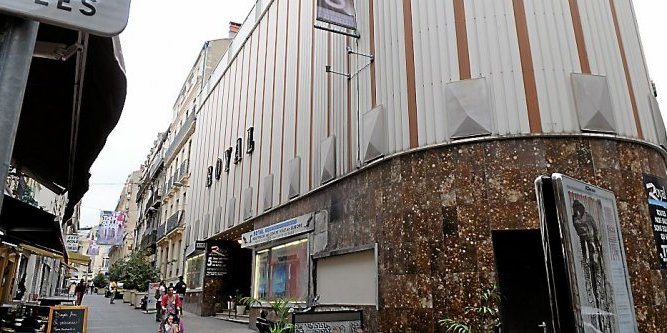 France – It looks like the Le Royal cinema in Montpellier is closing at the end of this year.
The current economic environment has finally got the film The Royal Aubert Property Group, whose headquarters is located in Cannes. The oldest screen center, located Boussairolles street, should, according to our information, close its doors by the end of the year. "I do not see how they can go beyond," said a connoisseur places. Proof that the days are numbered: Cannes management had asked at the end of May, Montpellier staff not to sell subscriptions to customers. Knowing that the maximum duration of a subscription is six months, fate seems indeed sealed. Asked by Midi Libre, management Aubert (also referred to as UGC Mediterranean) did not want to say more.  LINK
Finally
The Foreign Cinema in San Francisco might no longer be a cinema, but it sounds like an amazing restaurant that respects its heritage. It is so groovy that one couple even held a video game themed wedding there.
When I was in San Francisco last month, one of the most delicious meals we had was at Foreign Cinema. A super cool restaurant and bar in an old cinema building (pro tip: get the truffle popcorn – so good!), they also play silent foreign film during dinner. The vibe is laid back but super cool. Unsurprisingly, it also makes an awesome wedding venue, and I am super excited to share Stephanie and Jim's big day with you today!

…

"Foreign Cinema has movie projectors in the courtyard where we had dinner and the gallery where we did the partying, so we got to have some movies playing through the night too. We chose Point Break, Fight Club, and Wayne's World. The platonic romance between Keanu Reeves and Patrick Swayze in Point Break is surely one of the greatest love stories in cinema history!"  LINK

Latest posts by Patrick von Sychowski
(see all)