USA (NY) – National CineMedia has announced the details of its partnership with Shazam, to create audio-embedded links in its adverts for enhanced content. There are further partnerships with Disney's Maker Studios and Idea United.
National CineMedia revealed intriguing partnerships with Shazam and Maker Studios today at its upfront event near Lincoln Square in New York. The moves underscore how the cinema ads network increasingly sees itself as a digital company.

As part of NCM's update to its longstanding FirstLook platform, the Shazam integration is designed to extend advertisers' reach among smartphone-toting moviegoers. When they observe a sponsor's FirstLook promo via the mobile app, they can consume and share that content while also making a purchase when it comes to e-commerce pitches.  LINK
Canada – Ticket prices fell in the first quarter of 2014, which is perhaps why Canada's Cineplex is experimenting with higher charges for some seats and shows.
Later this year, at the Varsity location in Toronto's Manulife Centre, the company will launch a pilot project in which patrons pay an extra $2-$3 for the prime seats in the middle rows of the theatre.
"We've had great success with our UltraAVX cinemas ($3-$5 surcharge) as well as our VIP cinemas ($7-$12 surcharge) which both offer reserved seating; and so people really like that opportunity," said spokeswoman Pat Marshall.

"It's really about providing our guests with choices when they go to the movies . . . I sort of position it akin to an aircraft where you have your regular coach seating, then you might want a bit more amenities, so you go into business class, and then you have a first-class."  LINK
USA – Fandango has added three more exhibitors to its network.
Harkins Theatres, Digiplex Destinations and Premiere Cinemas have joined Fandango's network of cinema chains, the movie ticketer said Thursday.

The company said that the new agreements will add 1,000 screens to its rolls in a dozen states including California, Colorado, Florida, Maryland, New Mexico and Texas. The deals will go into effect this summer.

The online and mobile ticketer now represents more than 24,000 screens domestically.  LINK
New Zealand – Detailed article about Vista's acquisition of Movio and MACCS, which we covered in-depth earlier. The company is on the hunt for further acquisition targets. China, anyone?
Cinema software company Vista Entertainment Solutions is on the acquisition trail as the Auckland-based firm hunts for a bigger audience in the movie industry.

The company is a key global player in the cinema management software market, and is set to broaden its scope through buying stakes in Dutch company MACCS International (Movie ACCounting System) and New Zealand start-up, Movio.

Chief executive Murray Holdaway said the investments were part of a long-term vertical integration strategy to broaden Vista's scope into film distribution and the wider film industry.  LINK
China – More signs of troubles for the Chinese cinema market? In the city of Tianjin only 12 out of 47 cinemas made a profit in the past year, i.e. less than 30%. This is not some backward provincial city. It is one of China's five central cities with a population of more than 14 million and there is plenty of both IMAX and 3D. According to Tianjin Central Business Center, Tianjin currently has no less than eight (8) IMAX screens, including the country's largest Imax screen.
Tianjin Central Business Center statistics show that in Tianjin there were 47 theaters, 297 screens, seating 48,000. 2013 grossed 340 million yuan, accounting for 1.57% (2013 National grossed 21.7 billion yuan) of national box office revenues. 47 theaters grossed 34.4 million yuan, each cinema's takings ranging from 700,000 yuan to 900 million, but the number of profitable theatres is just 12, showing polarization in profitability. Among them, in 2013 were the top three grossing cinemas in the city: Jinyi Joy, CGV coastal mall and Wanda Hedong Aeon mall.  LINK
Premium Large Format
Sweden – Scandinavia is set to get its first (non-museum) Imax screen in Stockholm next year.
IMAX Corporation and Nordic Cinema Group, the number one cinema company in Scandinavia, today announced an agreement to install an IMAX® theatre at its new SF Bio multiplex in the Mall of Scandinavia in Stockholm, Sweden opening in the fall of 2015. The deal marks the Company's first IMAX commercial multiplex agreement in Scandinavia.

"We have witnessed the growth and popularity of IMAX in Europe and believe the time is right to make IMAX a key part of our business strategy. As such, IMAX will serve as the anchor attraction at our new flagship complex in the Mall of Scandinavia, which will be host to the region's biggest film premieres," said Jan Bernhardsson, President and CEO, Nordic Cinema Group.  LINK
Business
India – Mall closures and high entertainment taxes are not enough to discourage multiplex developers in India, according to Variety. Let's see if there is any change after the election and new government, though with many of these issues controlled at state level, don't expect a massive overnight shift.
Economic growth in India that was close to double digits two years ago is hovering around the 5% mark. Tax incentives formerly offered by the government to encourage multiplex growth are not available anymore. Also, entertainment tax rates are high in India and can be as steep as 45%-60% of ticket prices.

However, Javier Sotomayor, managing director of Cinepolis India, the local operation of the giant Latin American group, continues to be bullish about the country. He estimates that India has the capacity to absorb 11,500 multiplex screens. Cinepolis has 84 screens with plans of spending $165 million to increase that to 400 screens by 2017. That will put it close to market leaders PVR and Reliance, which have more than 400 screens each.  LINK
Romania – Hence why cinema attendance has been rising – because it was low to begin with in Romania. Encouraging though that young people go.
Romania is among the countries with the lowest cinema audiences, although cinema attendance rates are increasing, according to a research conducted by the European Commission in ten EU member states.

Romanian cinema viewers prefer American movies to European and Romanian productions, the research showed.

Romanian cinema goers are mostly young people, as 63.2 percent of total viewers are between 14 and 29 years. Almost 60 percent of movie goers are men and over 80 percent have medium to high education.  LINK
Canada – The leading Canadian digital cinema projector manufacturer will continue sponsoring Canada's leading film festival.
Christie®, a world leader in advanced cinema technologies and visual displays, is proud to once again be the official projection partner to the 2014 Toronto International Film Festival® in September. A Festival sponsor for 14 consecutive years, Christie has played an integral role in ushering in the digital age at this renowned showcase for local and international talents. Today, with the help of this partnership, more than 99 percent of all Festival entries are screened digitally, with an increasing number in 4K, sharpening the shared experience between filmmaker and audience.  LINK
Audio
Atmos – A criticism of Dolby's Atmos, or rather how immersive audio is being mis-used by sound mixers.
The problem, though, is that I'm not convinced that Atmos is being deployed in quite the way that it should. And it ties into a broader issue with cinema audio levels.

Anyone who has tinkered with any kind of surround sound set-up will know that it's the placement of the sound that's crucial. Getting the balance of levels is a fine art at times, and it varies on a film by film basis. Atmos, in theory, should all be about the placement. However, with every subsequent film that I see screened using the format, the thing that's coming through more than anything is the sheer volume. That somewhere along the line, the onus is switching from the delicate positioning of sound, to using the separate speakers and blasting you with very loud noise from even more directions than before.

This does tie in, of course, to the ongoing debate about comfortable sound levels at your average multiplex. But I find it particularly disappointing with an Atmos mix, where there's a chance to do something more interesting.  LINK
Concessions
UK – Empire's competition for a new (temporary) popcorn flavour has been won by… fish 'n' chips. Well, it is the UK.
The "quintessentially British flavour" of Chippy Fish popcorn will go on sale at Empire cinemas for a limited time over the summer after thousands of film fans voted it the taste they would most like to try.

Empire said the popcorn was "set to be a delicious twist on the staple fish and chips meal, and a perfect addition to the cinema experience".

Cinema-goers voted from a shortlist of flavours that included Sunday roast, wowee wasabi, banoffee pop and mallowcorn.  LINK
USA (ND) – It seems Marcus Theatres has given up on its plans to bring bars and alcohol to its cinema in Fargo.
Marcus Theatres is shelving its plan to offer liquor in movie theaters here, citing reluctance from community leaders and residents.

When Marcus, which operates Fargo's two major first-run theaters, proposed setting up a lounge and bar area in the West Acres Cinema in February, it was met with resistance from some, including Mayor Dennis Walaker, who said movie theaters were a family-friendly environment that didn't need booze.

Bob Menefee, the company's vice president of marketing and communication, said in an interview Thursday that the initial pushback made Marcus reconsider their plans.  LINK
Accessibility
China – Chinese films don't yet come with audio description tracks, so instead blind and visually impaired audiences are treated to a live narration of the action on screen in this cinema.
In Tongan Road, Heping District, located in the Peace Palace of Culture on the fourth floor lecture hall, a rich magnetic voice can be heard. "???daughter saw from the outside, that Jiao Shuji is still busy in the office, right Qiazhao waist, endured great pain …… " Big screen in the hall is playing the movie" Jiao". Why watch a movie which also needs someone to explain it? Here the audience will understand, because most of them are visually impaired . And here in the city lies "Reckoning Theater ", which opened nearly seven years.

The Peace Palace of Culture offered "Reckoning Theater " was founded in 2007, and is a free public service of pure cinema , which has been going for first seven years. From the beginning of September 2007, every month, there is a special screening for the visually impaired where they have the movie explained. Currently  "Reckoning Theater " cultural volunteer team has more than 180 members, one person is in charge of the volunteer team that movie guide – Zheng Heping, deputy director of the Palace of Culture.  LINKws
Australia – It seems that audio description is not always running smoothly in Australia, though the matter seems to have been resolved eventually.
"My husband and I decided to go to the movies and we chose a film that had been advertised as audio described. Unfortunately when we got there, the staff didn't know how to help me," said Rhonda. "The cinema manager approached me immediately afterwards to apologise," she added.

Rhonda, who runs the Campbelltown vision impaired persons Local Client Group was pleased when he agreed to host a group of vision impaired people at a special screening.

"It is not just cinema staff who don't know about audio description," said Rhonda. "Many people who are blind or have low vision don't know either. The screening is a great way to encourage more people to make use of the service and in turn hopefully cinema staff will be come more familiar with the terminology."  LINK
UK – Yet another example of an under-age baby trying to sneak in to see a film that it is clearly too young to watch. Or something like that.
A mother is furious after she was ordered to leave a cinema showing a 15-rated film because she had her baby daughter with her.

Sam Ross was told she was 'breaking the law' by taking her baby to raunchy comedy Bad Neighbours – even though the 11-week-old girl is too young to understand any film.

The cinema now says that she should never have been sold a ticket, as age limits are strictly enforced even for infants.  LINK
Technology
USA (TX) – Given the high price of laser projectors, it should not come as a surprise that theme parks are some of the first customers to be able to afford them.
Christie® and D3D Cinema are pleased to announce that the world's first museum-based 4K 3D giant screen 6P laser projection system will be installed and premiering at Moody Gardens MG3D Cinema in Q4 2014. The system design and configuration will further distinguish the Moody Gardens MG3D Theater as one of the world's most premier cinema venues.

"This is the game-changing milestone that the museum giant screen industry has longed to achieve for many years," said Don Kempf, president and founder of D3D Cinema. "Moody Gardens' audiences will be the first in the world to have a 6P giant screen laser experience, unarguably the future of cinema presentation. The DCI and DIGSS-compliant Christie laser solution, coupled with 6P glasses technology, will be unparalleled in terms of image quality. D3D has always been committed to designing first-rate giant screen solutions that are built on a more economically viable business model. It's a great thrill to be able to achieve this goal AND be first to market with such a premium solution."  LINK
Event Cinema
UK – Event cinema distributor More2Screen will be bringing one of Russia's leading ballets to screens around the world.
More2Screen has been appointed by the Mariinsky Theatre to bring Mariinsky on Screen LIVE to cinemas worldwide this summer in partnership with production company Telmondis. On Monday 14 July one of the all-time favourites from the ballet repertoire, La Bayadère, will be broadcast live from the Mariinsky Theatre in St. Petersburg. This will be followed by a live broadcast of a brand-new production of War and Peace from the stunning Mariinsky II stage on Wednesday 16 July. Both productions will be conducted by the Artistic and General Director of the Mariinsky Theatre, Valery Gergiev.

Christine Costello, Managing Director, More2Screen comments: "We are delighted to be working with the Mariinsky Theatre once again to bring these two outstanding productions live from St. Petersburg to cinema audiences. This is a fantastic summer live programming opportunity for our cinema partners and gives both ballet and opera fans local access to the very best of the Russian performing arts."  LINK (Word)
USA – Given the success of the Dr Who 50th Anniversary 3D screening, this should perhaps not come as a surprise.
BBC Worldwide and Fathom Events have announced a cinematic presentation of Rise of the Cybermen/The Age of Steel as part of a two-evening celebration of David Tennant in the United States. The special, 'theatrical cut' of the story will be shown in some 620 cinema locations across the USA on Monday 16th June, with tickets also including the Tennant-narrated documentary Wings-3D the following evening.  LINK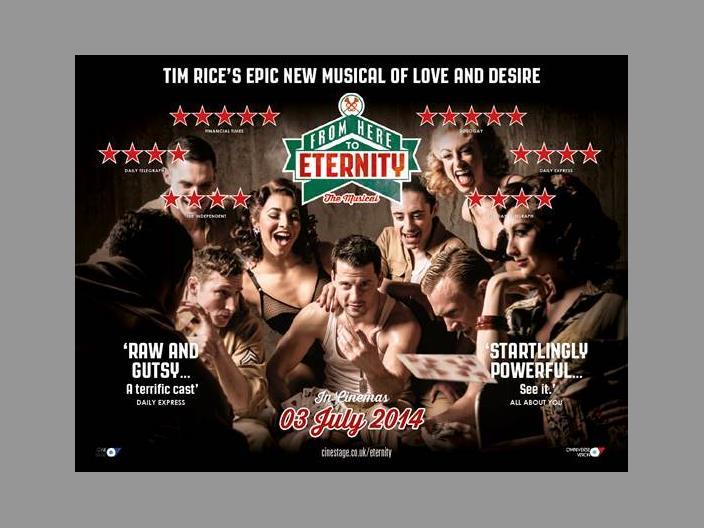 UK – It was a critical hit but a commercial failure. Now cinema audiences across the UK will get a chance to re-appraise From Here To Eternity.
Tim Rice's musical to be released in over 250 cinemas across the UK and Ireland on July 3.

From Here to Eternity will be released in over 250 cinemas across the UK and Ireland on July 3.

Tim Rice's latest musical was filmed across two nights and was adapted for the stage by Rice, Stuart Brayson and Bill Oakes. The programme will also include an exclusive behind-the-scenes tour of the Shaftesbury Theeatre and an interview with Rice.  LINK
Digital Death Watch
USA (FL) – Even when cinemas close due to lack of digital, some get a new lease of life under new management.
Cinema Plus will reopen June 6 with a new owner, new projection system and a reworked business plan.

James Coleman of Navarre purchased Cinema Plus after the historic theater announced in late April it would be closing.

"I see this as a business decision as well as an opportunity to put something back that meant a lot to the community, especially this community," Coleman said. "I want to see the downtown area of Fort Walton Beach thrive."  LINK
Cinema Opening/Closings
UK – Our favourite conversion proposal has been given the go-ahead by the local council.
The bid to transform Montrose's former swimming pool into a cinema has been formally approved by Angus Council.

And planning approval to turn the former building on The Mall into a three-screen picture house has been welcomed.

Montrose Playhouse Project co-founder David Paton said: "I'm very happy plans have been approved — this is excellent news.  LINK
UK – A Cineworld is ready to be opened a year delayed, after having been built in the wrong place! Also, note the roll of film in the photo (above), which I guess is more photogenic than a hard drive, even if I doubt there is a single 35mm projector in the entire multiplex.
St Neots opens tomorrow (Friday) – more than a year after being built in the wrong place.

Moving the skeleton of the massive six-screen complex less than a metre caused inevitable delays to the construction process, pushing back the planned opening from last September.

But thanks to site manager Steve Clarke and his team, the cinema is all set for its opening day.  LINK
Australia – More luxury cinemas for Australia. I guess there might be less complaints about high ticket prices that way.
PLANS for a luxury cinema and restaurants on Hawthorne Rd have been lodged with Brisbane City Council in a bid to attract more people to the precinct.

Cineplex Australia, who also own the adjacent Hawthorne Cinemas, have put in a development application to build a 60-70 seat cinema and space for restaurants.  LINK
UK (Wales) – Barry is the seventh biggest town in Wales, yet amazingly it does not have its own cinema. There is some hope to use the Town Hall for the purpose.
"Whenever we have asked about a new cinema coming to Barry, the council has talked about bringing a multiplex to Barry Island.

"However, planning permission for the funfair on Barry Island has now been extinguished, so there is no prospect of a new cinema in Barry in the near future.

"It is expensive to take the family to films in Cardiff, and difficult for many people because of cost and transport.  LINK
USA (WA) – One of the most unique cinemas in Seattle, the former Egyptian, has been bought by the local film festival.
The Seattle International Film Festival has purchased the SIFF Cinema Uptown, becoming a permanent resident of Lower Queen Anne/Uptown. SIFFannounced the purchase, with funding from its "Angels of the Uptown," David and Linda Cornfield, at the 40th Seattle International Film Festival.

SIFF has leased the Uptown Theatre, built in 1926, for the past two and a half years. Since opening night, SIFF has been a key fixture in Lower Queen Anne – and it's drawn new customers to neighboring businesses. SIFF estimates it has brought over 500,000 people to the area, exposing them to both new cinematic experiences and the neighborhood.  LINK
USA (NY) – There seems to be a healthy level of interest in keeping Buffalo's Market Arcade Cinema Complex going.
The Buffalo Urban Renewal Agency has received letters of interest from four potential buyers for the Market Arcade Cinema complex. The Buffalo News has identified three of them: Dr. Gregory Daniel, developer Rocco Termini, and Sinatra & Company Realty which is buying the adjacent Market Arcade complex from the City.

As required in the city's request for proposals, each would continue to utilize the complex as a movie theater. All are likely to tweak the center's operation and offerings and invest in overdue facility upgrades. Formal proposals to the City are due on June 20.  LINK
Finally
OK, we did promise a moratorium on outdoor cinema news, but we will happily make an exception for this London one. Because it is floating!
Just when we think we've exhausted every possible aspect of outdoor cinema in London, another one pops up. Floating Cinema has a summer of films, workshops, art events and more lined up at various locations this summer. The film section of the programme focuses on international documentaries, shorts and features.

Three open-air weekenders see the boat pull up for a mini-festival of film screenings, plus a five day residency at St Katharine Docks. The weekenders are in Paddington, King's Cross and Stratford, meaning that many canal-accessible parts of the city will be able to join in the fun.  LINK

Latest posts by Patrick von Sychowski
(see all)