RealD and Wanda Cinemas have launched a 3D Brightness certification scheme that will ensure that participating screens will be displaying at least 6footLamberts (6FL) of brightness. There is a fear that dim 3D images could soon lead to a similar 3D backlash that has already been experienced in the US. It is calculated that running a 6kW compared to a 3kW bulb will cost 30,000 yuan (USD $4,800) more per year, which is why tickets to these auditoriums will be at a higher premium. Perhaps an idea to export to the West.
This theater standard will come at a higher cost. However, improved viewing experience has become a major pursuit of cinemas. Thus, Wanda Cinema Beijing CBD  became the first cinema hall in Asian with 6FL certification auditoriums. It is reported that this certification means that the auditorium will always show image brightness of 6FL for all 3D movies, with 3D brightness regularly monitored. For tickets the price will be slightly higher than non-certified cinema screen, and will be particularly marketed as such by Wanda Cinema on the ticket.  LINK
UK: Cineworld had a good Q1 but expect cinema attendance to slump during the World Cup – until England gets eliminated in the second round, that is.
Hits including The Lego Movie, The Wolf of Wall Street and 12 Years a Slave helped Cineworld increase its share of UK box office takings from 26.9% to 27.6% in the first four months of the year, as the group pushed up ticket prices almost 5%, against a 1.9% rise in admissions. Cinema goers have been more willing to spend on popcorn and fizzy drinks, and now Starbucks coffee, as retail revenue rose 6.1% on last year.

Revenue growth of 7% at home was beaten in Eastern Europe and Israel after the £500 million acquisition of Cinema City International this year. LINK
Ireland (North): The body that runs the Odyssey entertainment complex has rejected a bid to buy part of its lease.
Dublin-based cinema operator Omniplex had made an offer to take over the lease of the Odyssey Pavilion. The complex contains an IMAX cinema, bowling alley, bars and restaurants.

Northern Ireland's biggest entertainment venue was put on the market in 2012, two years after owner Odyssey Pavilion LLP went in to administration.  LINK
UAE: Re-branding time for a major cinema chain in the Gulf.
A Hollywood-style red carpet premiere in Abu Dhabi has seen the launch of a new cinema brand for the region with the announcement that Grand Cinemas has rebranded itself as Novo Cinemas. The announcement came as the company inaugurated its flagship location in the UAE capital with a special screening of The Amazing Spider-Man 2 in the presence of VIP guests and a specially invited audience.
Novo Cinemas, a fresh and expanding outlook with the same heart:

Born of a passion for movies, and a mission to entertain cinema fans in the region, Grand Cinemas has built a highly successful legacy of cinematic excellence for the past 14 years. Now Novo Cinemas is proud to carry this pioneering spirit forward and build on the largest and most visited chain of movie theatres in the Middle East.  LINK
Premium Cinema
USA (CA): More proof that the future of cinema is luxury cinemas, from the people who helped develop the U.S. Cinéopolis luxury screens. La Jolla is losing its gourmet market but gaining its first cinema in 12 years.
Movie theater veteran Adolfo Fastlicht and business partner Carlos Wellman, both of La Jolla, have signed a more than 20-year lease with Dallo Enterprises — which owns the property and operated Jonathan's — to convert the building into a boutique, luxury cinema complex.

La Jolla residents Carlos Wellman (left) and Adolfo Fastlicht discuss plans for their new theater complex on Fay Avenue at La Valencia Hotel May 5. The business partners helped launch and develop the Cineopolis Luxury Cinemas first five locations, including a location in Del Mar which opened in 2011.

The La Jolla theater — the first venture for Fastlicht and Wellman's company, Boffo Cinemas — will include seven screens with 50 to 60 leather recliners per auditorium, as well as a restaurant, bar and in-seat food and beverage service.

Guests will also be able to reserve specific seats in advance (to avoid scrambling for seating when arriving fashionably late). An existing underground parking garage and outdoor lot should provide ample parking for patrons.  LINK
Law
USA (NC): A robber held up Marquee Cinemas in Morganton, NC, at gunpoint this past Tuesday. On a previous occasion the Carmike Westgate Twin Cinema in nearby Lenoir was robbed by an armed perp.
According to Morganton Department of Public Safety Investigator Tim Corriveau, at 11:50 p.m., dispatchers received a call that a man robbed the theater at gun point.

Corriveau said the suspect walked up on two employees emptying trash in the back of the business and displayed a gun, forcing the two into the movie theater.  LINK
Cinema Building Madness
Ireland (Republic): Building a cinema within 3 kilometers of one that is already not doing well is perhaps not the smartest of ideas.
An Bord Pleanála's decision to grant permission to build a seven screen cinemas at the Dundalk Retail Park will make grim reading for management at IMC Dundalk.

In its objection to the plans for the new cinema at Dundalk Retail Park, IMC Dundalk, stated that its own attendance numbers were down from 11% from the peak in 2007.

According to its own figures, 246,829 tickets were bought in 2009. In 2012, admission declined to 212,864.  LINK
Digital Death Watch
USA (NY): Two cinemas in Rochester are in the process of digital upgrades, one of which is still running an online fundraising campaign.
Theaters 2-5 underwent similar upgrades during summer 2013, and will continue to show films as normal.

While Theater 1 will gain digital capabilities, there will be no lose to its ability to show traditional film, the Little said. The space will continue to be able to show 35mm film reel-to-reel.

In similar news, The Cinema Theater, at 957 S. Clinton Avenue, is closed until May 9 as it installs its own equipment for a digital upgrade. The theater is currently hosting an Indiegogo campaign to help defer the cost of the equipment. For more information, visit Cinemarochester.com.  LINK
Pop-Up Cinema
UK: Having given the go-ahead for the demolition of a historic art-deco cinema yesterday, Liverpool council has today given the go-ahead to a SECOND drive-in cinema. Clearly there are too many heritage cinema buildings but not enough car use in the north of England.
Liverpool is set to welcome its second drive-in cinema after councillors granted a licence for a 56-car 'Moviedrome'.

The venture, on a vacant plot of land off Kings Dock Street, in the Baltic creative area, will boast a giant inflatable screen and a £75,000 projector.

The outdoor cinema will rival Route 66, which opened at Clarence Dock off Waterloo Road in April this year.  LINK
France: Even the country that gave the world cinema is not immune from budget cuts.
Hard times for the culture. The Paris Cinema Festival , which injects a dose of cinephilia in the capital each year for 12 years, faced this year to a drastic cut in its budget. "The decline was continued in recent years, see for MetroNews Aude Hesbert, general delegate of the event. But this year, it has led us to revise our offer. " If until 2010 the city subsidy was 1.014 million euros, it falls this year to 760,000 euros, against 800,000 in 2013. Savings that pushed the festival, to be held from July 5 to 12, to imagine a formula tightened. "It is less international festival and clearly becomes a summer event," explains Aude Hesbert. But programming remains eclectic and enticing.  LINK
Cinema Opening/Closings
UK: Plans to convert Scottish Screens' mobile cinema truck to a permanent theatre have collapsed.
A lengthy campaign to bring a purpose-built cinema to a county town has collapsed despite the investment of tens of thousands of pounds, including council grants.

Harborough Screen, which had intended to create a 100-seater cinema in a town park, has gone into voluntary liquidation. A meeting of creditors will be held on June 4.

The move comes after doubts had grown over the much-delayed project, which should have opened for business last summer.  LINK
UK: Planning for a new cinema in Deal will have to be re-submitted after the Kent Highway said there wasn't enough provisions for loading/unloading.
The application for the Regent Cinema in Deal has been withdrawn after it received objections by Kent Highways.

The planning proposal for a cinema and cafe at the former Bingo Hall in Beach Street was submitted last year after owners James Wallace and Mark Digwood bought the premises in 2010.

The cinema has gained a lot of local support from people who would like to see the empty building in use again but last week the application was pulled.  LINK
USA (KA): Ottawa, Kansas is soon getting a very special cinema museum – in America's oldest working cinema.
Movie fans soon will have the opportunity to revel in Hollywood memorabilia in downtown Ottawa.

The reported oldest operating movie theater in America, The Plaza Cinema, 209 S. Main St., Ottawa, is expected to open a movie memorabilia museum 7 p.m. May 15 at the theater.  LINK
The fascinating history of this place can be found HERE.
"The movie theater was just a long, narrow hallway," Plaza owner Peach Madl says. "And people didn't sit because the features just lasted 10 minutes. They stood there to see projections and something moving. It was so unique for the time."

Barker also found a story about the stage still sitting behind the double screen today, where a piano player would play music during silent films. On March 2, 1917, The Crystal Theatre survived a fire during which a piano player by the name of Professor Mapes continuously played while instructing people how to exit the building in the safest manner.

"It's not my business to say that [it's the oldest] without researching every other theater in America," Barker says. "Anybody, any minute could turn around and say that. But it is amazingly old, and it certainly opened in 1905."
Finally
We've always had a soft spot for Polish film posters. This one advertises a season of Hollywood and art-house films with an erotic theme at the Praha cinema in Warsaw. How many famous classics can you identify? LINK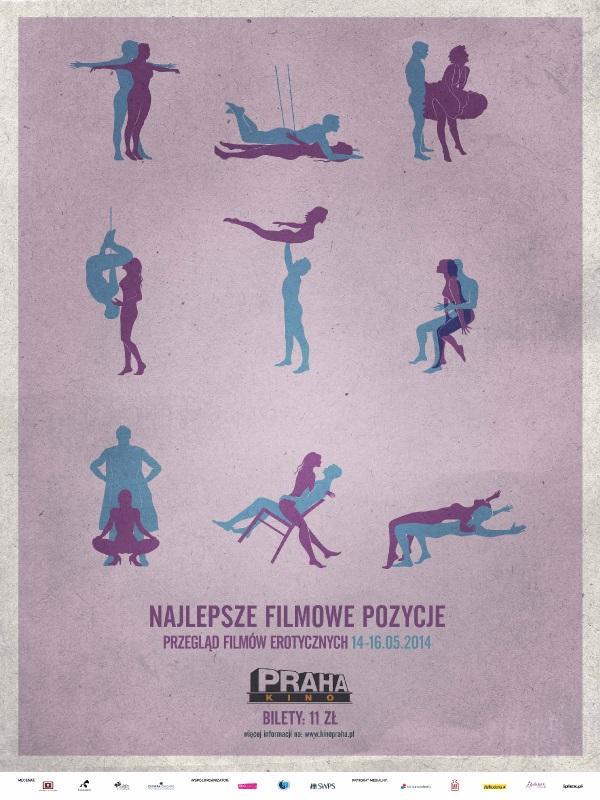 Latest posts by Patrick von Sychowski
(see all)