AMC CEO buys AMC shares; Regal & AMC both set to rise; MoviePass (not) a 'unicorn'; 'Burkha' is Indian PVoD hit for Amazon; Genesis expands to Cameroon; CGV 'cultural playground'; 'Matilda' threats to Russian cinemas; "It" fight in St Petersburg and Dundee; Megabox cooking in cinema; Empire fire and stench; Jude Law mistaken for terrorist. 

USA (KA) – AMC's CEO Adam Aron snapped up 35,000 shares at USD $15.79 each last week. The stock is up to USD $16.65, so he is already USD $30,100 richer (SEC Form 4).  The success of "It" is having a positive effect on the share price of AMC and other North American cinema-related stocks. RBC Capital "thinks some of the fears over the narrowing of the premium VOD window are overblown" and keeps an 'Outperform' rating for AMC. The company has also completed selling off a chunck of shares in NCM as mandated by the terms of its merger with Carmike. Seeking Alpha – 14 September 2017
USA (NY) – An interesting comparison and discussion about whether AMC or Regal is more under-valued. With both stocks having declined, there is a feeling that cinema shares are set for a re-bound. (NB: this does NOT constitute investment advice from CJ).  Seeking Alpha – 18 September 2017
USA (NY) – An interesting but flawed article arguing that MoviePass could be a 'unicorn' (start-up speak for a billion dollar company, if it is thought of not as a re-seller of subsidized cinema tickets, but as a credit card/lending company and a hybrid of Uber-Amazon. The main problem is that it is not competing with cinemas like Uber does with taxis and it is not engaging cinema like Uber does with its drivers, plus unlike Amazon, there is no back-end operation. All it has a is a cash supply that is rapidly diminishing as it subsidises cinema tickets. A better analogy would be Groupon. Seeking Alpha – 18 September 2017
India – "Lipstick Under My Burkha" has become the most watched Bollywood film on Amazon Prime Video India, with 40% of subscribers said to have watched it. Interestingly it was released on the platform less than a month after its theatrical release, where it earned INR 19.21 crore (USD $3 million), which is good for a niche title. Important to remember in discussion Hollywood PVoD to remember that it is already a reality in the world's largest film producing market. Live Mint – 12 September 2017
Cameroon – Nigerian multiplex operator Genesis Group has expanded into Cameroon with the opening of a five-screen cinema. Nigerian operators such as Silverbird previously opened cinemas in Ghana, while in an interview with CJ Filmhouse confirmed that it is looking to expand in West Africa. The Cable – 13 September 2017
Korea (Republic of, South) – A profile of CGV as it aims to be a 'cultural playground' or ' new-concept multi-cultural space' rather than just a multiplex. This includes dedicated virtual reality (VR) sections called VR Park and V Busters, a cinema library, manga cafe and live content spaces in partnership with MNet. Worth scrolling through just for the pictures. Metro Seoul (KR) – 17 September 2017
Law & Order
Russia/Kazakhstan – Orthodox Christian activists have told cinemas to stop screening a film about the romance between Tsar Nicholas II and the ballerina Matilda.
"Reject the Matilda film, stay away from that dirt," the e-mail said. "Do not earn money in exchange of the death of your own soul and souls of those you will lure by this ritual of repetitive murder of the tsar."
The Russian company that owns multiplex chain Cinema Park has announced that it will not screen the film when it goes on release on 26 October. Radio Free Europe – 14 September 2017
Russia – A fight breaks out in a St Petersburg cinema during a screening of "It".
The footage shows a young man in a leather jacket stand up and challenge another who was sitting in front of him at the city's Vyborg Palace cinema.

They start exchanging punches and kicks before another youngster joins in the affray which witnesses said was sparked by complaints over people talking loudly during the film.
Police are investigating but no arrests have yet been made. The Sun – 18 September 2017
UK (Scotland) – A 14-year old boy suffered facial injuries after a fight broke out at a screening of "It" in Odeon Dundee. Evening Telegraph – 18 September 2017
Event Cinema
Korea (Republic of, South) – A cooking content in a cinema. No, not live on the screen but in a multiplex auditorium. It could only happen in South Korea – m/egabox to be precise. Joints (KR) – 16 September 2017
Health & Safety
UK – The Empire Cinema in Sunderland had to be evacuated when a small fire broke out at 6:30 in the evening. Around 200 people had to be evacuated and the fire crew arrived and dealth with the blaze in the electrical room. The cinema remained close the following day. Sunderland Echo – 14 September 2017
UK – The Empire cinema in Birmingham almost had to be evacuated after a stench filled an auditorium during a screening of (you probably guessed "It" already), when a member of the audience lost control of their bowel movements. The film had to be stopped and the staff ran in with air fresheners. Alternative explanation was a stink bomb. Birmingham Mail – 18 September 2017
Finally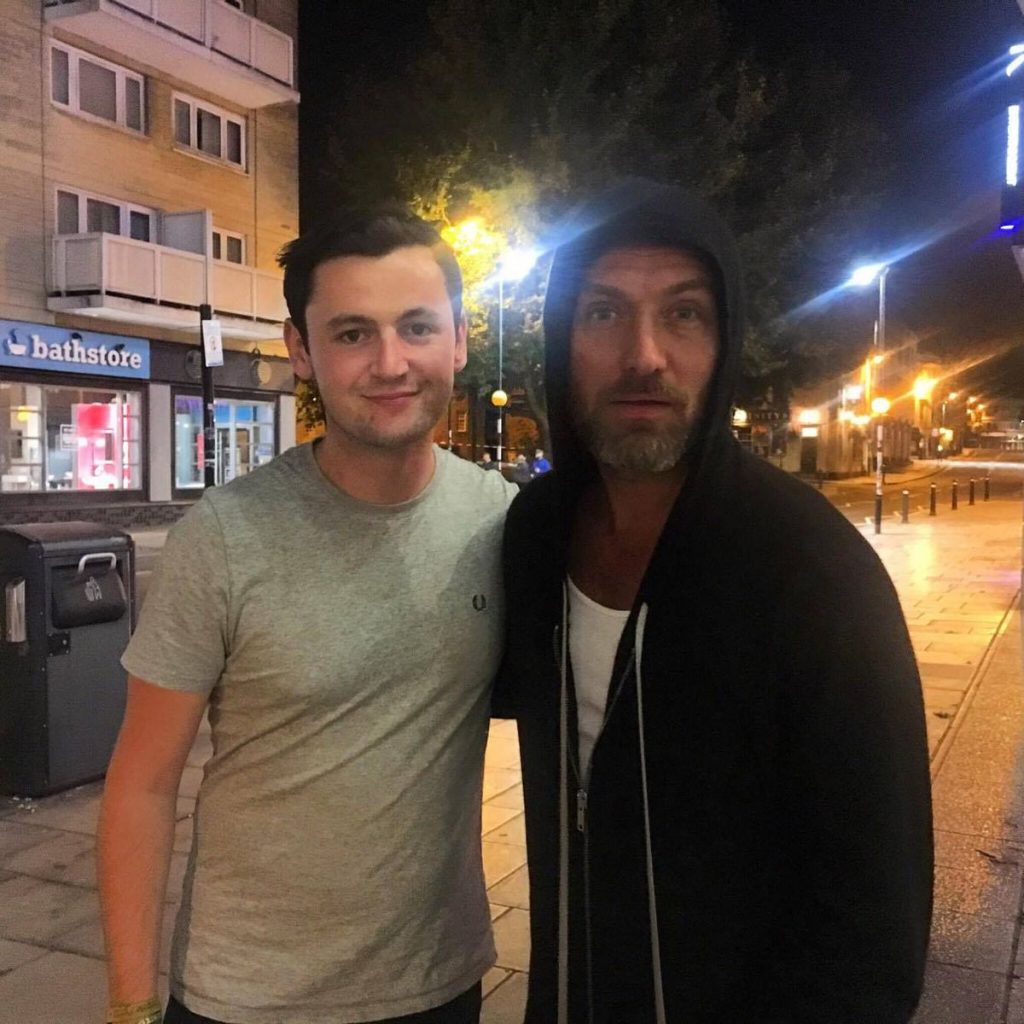 UK – Actor Jude Law almost got mistaken for a terrorist, when he tried to attend an Odeon cinema in Bath, UK incognito for a screening of "Detroit":
Unfortunately his choice of behooded-garment meant that staff at the cinema thought he was a suspicious character.

Connor Walter, who works at the Odeon tearing tickets, was told to keep an eye on him just in case he tried anything shady. Luckily he recognised the famous actor.
Jude Law gamely posed for a photo and sent a sweet 'Thank you' email. Mashable – 14 September 2017

Latest posts by Patrick von Sychowski
(see all)