In this issue: Ex-Centris bankrupt – MK2 looks elsewhere in Montreal, Regal Q1 figures, Ymagis buys ST'501, goodbye popcorn – hello intermission, lots of cinema openings and artist's impressions. 
Canada – Mk2 has withdrawn from the acquisition of Montreal's Ex-Centris cinema to focus on a different location in the city. The news come as Ex-Centris non-profit parent company Cinéma Parallel prepares to file for bankruptcy on 5 May. MK2 had been working with Ex-Centris founder Daniel Langlois on an CAN$15 million (USD$) business plan to buy and expand Ex-Centris, but those plans have now fallen through. Cinéma Parallel's liabilities of CAN$4.3 million made the venture too risky allegedly. MK2 hopes to open a venue in a different location by 2018. LaPresse.ca (FR) – 28 April 2016
USA – Lots of quarterly figures released for the US. Regal saw solid growth in the first quarter of 2016:
Regal Entertainment (NYSE:RGC) reports attendance rose 5.3% Y/Y to 53.297M in Q1.

The company says its average ticket price increased 7.9% to $9.68.

Average concession per patron also improved, up 10.2% to $4.32.

Regal had 567 theatres in operation at the end of the period.
Meanwhile AMC declares $0.20 dividend ahead of its results. Seeking Alpha – 28 April 2016
USA – Dolby, which derives most of its income from non-cinema licensing, nevertheless saw an uptick in revenue from automotive and Dolby Cinema in the latest quarter.
"Product and services revenue was $25 million in Q2 compared to $29.7 million in Q1 and $28.6 million in Q2 of last year. As we anticipated, we saw a sequential drop-off in Q2 product sales following a stronger-than-expected Q1 that benefited from exhibitors upgrading some of their cinemas to get ready for a holiday movie release slate that included Star Wars episode seven. And the year-over-year decline is mainly due to trends in general for the cinema equipment industry as the multi-year conversion cycle from film to digital is largely complete."
– said Lewis Chew, Executive Vice President and Chief Financial Officer. Dolby Atmos is now in 1,800 existing and committed locations. Seeking Alpha – 28 April 2016
France – Ymagis, the parent company of Cinema Next and Eclair, is acquiring French subtitling company ST'501 on undisclosed terms. ST'501 specialises in live broadcast subtitling for television (foreign films are mostly dubbed for cinema release in France). Do the 'synergies' of this company extend into the cinema field (event cinema?) or is it merely a broadening of business offering for the Eclair division? Press Release – 29 April 2016
Concessions/F&B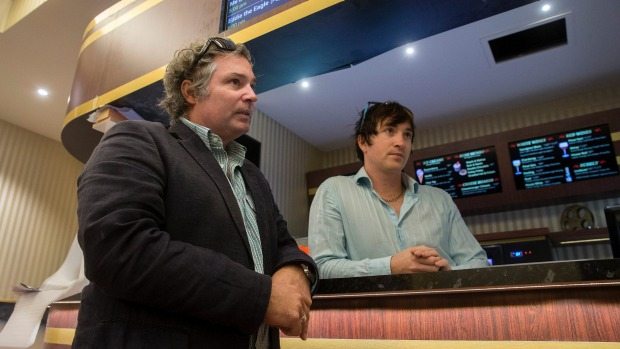 New Zealand – Popcorn is being replaced by cheese boards and intermissions when this Deluxe Christchurch cinema re-opens in The Tannery, Woolston in May. "From talking to a lot of cinephiles we learned that many of them do not appreciate the sound, smell and mess that popcorn creates. Instead we are offering gourmet hot nuts, premium rolled ice creams and [Canterbury] Cheesemonger cheeseboards,"cinema director Julian Stewart told ONE News. Intermission will feature on select films in evening sessions. Interesting move. TVNZ – 28 April 2016
Outdoor Cinema
USA (WA) – Seattle's first and America's second-only outdoor cinema in Fremont is losing its home. Opened in 1992 the Fremont Almost-Free Outdoor Cinema is losing its home because of "structural difficulties with the wall" on which it projects films. Hopes are that the community and crowdfunding will come to tis rescue. MyNorthWest – 28 April 2016
Cinema Opening/Closings
Germany – Remscheider will get a new CineStar multiplex in time for Christmas 2017. The six-screen multiplex will have seating for 1,301 spectators. The last since in the town, the Metropol in Alleestraße closed in 2012. RGA (DE) – 28 April 2016
Australia – A AUS$20 million (USD$15.25 million) plan to build a mixed-use, art deco cinema complex in the Village Heart of Prospect Rd. central business district of Adelaide is expected to create 300 jobs. The 14 screen Palace Nova Cinema complex will be split between eight boutique screens  for 25-30 people and six larger screens, seating up to 160 patrons. Work will start in July. The Advertiser – 28 April 2016
UK – Curzon Cinemas has filed an application to use the Roman House on Queen Street, Colchester for a complex that would include two restaurants at the ground floor of the cinema. Colchester currently lacks a cinema in the centre of town. Gazette News – 28 April 2016
UK – Cineworld has opened its six-screen Yates multiplex, part of the GBP£25 million Yate Riverside development. "I am delighted to welcome Cineworld to Yate. The cinema itself is gobsmacking, it is very stylish and better than I ever thought it would be," said Yate mayor Cllr Tony Davis. Gazette – 29 April 2016
UK – Plans have been approved for a six-screen cinema, along with eight restaurants and a gym on the site of a former Royal Mail sorting office in Bradford. But city Councillors have questioned "whether there was an appetite for so many cinemas in Bradford city centre." A new cinema is planned in the extension to The Broadway, in addition to the existing screens at Cineworld and the National Media Museum. Telegraph and Argus – 28 April 2016
Canada (AB) – Landmark Cinemas has announced that it is going ahead with the first phase of the Eagle Ridge Retail Centre, which will includes a movie theatre. The future of Landmark's existing theatre in downtown Fort McMurray  is yet to be determined. The planned 10-screen cinema will be able to seat 1,100 spectators. Fort McMurray Today – 28 April 2016
USA (TX) – A 98,000 square-foot Synergy Cinemas complex is due to open in 2016 along the road to Odessa on State Highway 191 at what will be Dorado Center. MRT – 28 April 2016
USA (CA) – A former LUCE Auditorium in San Diego, which originally housed a 2,200-seat theater and equipped with CinemaScope, will re-open as a cinema as part of The Lot, a "luxury lifestyle entertainment company." SD News – 28 April 2016
UK – Reel Cinema's six-screen multiplex will occupy 20,000 square foot in Rochdale Riverside, the new name for Genr8's town centre retail and leisure development. North West Place – 28 April 2016
Finally
New Zealand – Wellington's Island Bay Empire Cinema and Eatery won the International category of the Dulux Colour Awards announced in Melbourne. The cinema was further commended in the Commercial Exterior category. The restored cinema was singles out as "one of the most impressive before and after restorations" and "a great example of an inspiring conservation project that has been transformed using colour dedication." Scoop – 29 April 2016

Latest posts by Patrick von Sychowski
(see all)