Celluloid Junkie is proud to reveal its first ever annual power ranking of women in cinema exhibition. This is not just a list of the top women in cinema around the world, but an overview of some of the best CEOs and senior managers working in the global cinema industry today, regardless of gender.
In compiling the list we have spoken to dozens of industry professionals across all continents, ranging from trade bodies to commercial operations, to get their input on who the most important women working in cinema are today. Our criteria was not simply one of corporate size, but also of impact, innovation and inspiring leadership. In the end we had a list of over 100 names of women that are doing a phenomenal job in senior aspects of the cinema business.
While we have tried to be as thorough as possible there is the possibility that we may have overlooked deserving senior executives. If so, we urge you to get in touch with us so that we can improve the list further in 2017.
There is also one name notably absent from the list. National Amusements' President Shari Redstone has had a big impact on US exhibition, but as detailed in a recent New York Times article, her focus today is on businesses outside of cinema, as well as dealing with a widely-publicized and protracted family dispute.
Sadly we are also unable to recognise pioneers, such as Barrie Lawson Loeks, co-CEO of Sony/Loews and also NATO chair in the late 90s, who are no longer active. But we salute her and all the other women who helped to build and shape today's cinema business.
While these amazing women still represent an unfortunately small proportion of senior management (see our article "Why So Few Women Cinema CEOs?"), their achievements are often outsize and we hope that their example will inspire other cinema professionals, regardless of gender, race or nationality.
---
1. Amy Miles, CEO, Regal Entertainment Group (USA)
Ms Miles is a our top choice for Women in Cinema not because she heads the largest cinema chain in the United States, but because under her leadership Regal Cinemas is a giant that does not rest on its laurels. She has proved a steady hand at the helm that has guided Regal through challenging quarters, while embracing new technologies such as 4DX and recliners in a considered manner with clear ROI focus. Never seeking to be the first, biggest and fastest for its own sake (we are looking at you, AMC), Regal is the Ford Motors or Johnson & Johnson of the exhibition industry, not just a market leader but a solid and dependable one. People who have had dealings with Ms. Miles know that she is pleasant in person but tough during negotiations. She has also been a staunch defender of the cinema's primacy for films against various on-demand ventures. While the circuit is officially no longer for sale, speculation persists that it is a tempting acquisition target. Should any foreign circuit make a move for Regal we hope that they recognise that one of the exhibitor's greatest asset is its CEO, which is why we consider her the most important woman in global exhibition today.
---
2. Yu (Donna) Xin, General Manager, Dadi Cinema (P.R. China)
Ms Xin has been GM of the Dadi Cinema group only since February of 2015 but her experience with the booming Chinese cinema business stretches back many years, including her previous role as Executive Deputy GM at Dadi, as well as a decade in financial management in the culture and media sector. As China's second largest cinema chain, Dadi often gets overshadowed by the more globally recognized Wanda Cinema group, but with 1,300 screens across 276 cinemas as of December 2015 it is a giant in its own right, as well as an innovator that consciously embraces innovation and best business practices – it was the first and only all-digital cinema chain in China as early as 2010. Ms Xin has also been pushing Dadi upstream into film production and distribution, as well as the "movie+" concept of linking cinemas to the online and retail ecosystems. Her name deserves to be as widely known and admired as that of Wanda's Wang Jianlin.
---
3. Goharik Kotanjyan, General Director, Cinema Park (Russia/CIS)
It might come as something of a surprise that the head of the largest cinema chain in Russia is not just female but also an ethnic Armenian. The importance of Cinema Park grew with the announcement of the merger of ownership of Cinema Park with Formula Kino, the second largest cinema chain in Russia/CIS, earlier this month. Ms. Kotanjyan has proved a steady hand at a time when cinemas, along with the rest of the Russian economy, suffers from the fall in value of the Rubel. Yet Kotanjyan is determined to build on the success of Cinema Park with further expansions and acquisitions. Russia is likely to eventually return to the fast growth that dominated the cinema market in the years leading up to 2015 and Ms. Kotanjyan is laying the groundwork in a challenging business environment.
---
4. Debbie Stanford-Kristiansen, CEO, Novo Cinema (U.A.E.)
Ms. Standford-Kristiansen has excelled in perhaps one of the most male-dominated business environments possible, making Novo a leading exhibitor in the fast growing Gulf market. Having been a CEO of Bahrain Exhibition and Convention Centre and events@ Bahrain, she became head of Grand Cinemas in 2013, which re-branded as Novo cinemas the following year. Hospitality and people focus has shaped her drive to make Novo the premier cinema destination in the UAE, as well as Qatar and Bahrain. In a recent interview she said that being a woman in the Middle East has not "been any disadvantage for me at all," with many females in the organisation, crediting woman as being amazing 'multi-tackers'. Stanford-Kristiansen definitely exemplifies someone whose cinemas deliver on a multitude of fronts.
---
5. Maria Skoglund, President and CEO, SF Bio (Sweden)
As head of the largest cinema circuit in the Nordic region, Ms. Skoglund took over from Jan Bernhardsson when Nordic Cinema Group was created as the parent organisation. She had previously been Deputy CEO and CFO of SF Bio as well as temporarily heading SF Media. She oversaw the opening of the new flagship Filmstaden Scandinavia multiplex in Stockholm's Mall of Scandinavia that included the first Imax screen in Sweden. Under her guidance SF Bio is focused on a program of refurbishing older sites and continuing expansion, as well as tapping into synergies with SF Bio's sister companies in the Nordic region (most of them also headed by women CEOs). She is also a strong believer in getting more children into the habit of going to the cinema, thus ensuring the long term future of the business in a country with some of the highest cinema ticket prices in Europe, even before a controversial VAT reform.
---
6. Koh Mei Lee, CEO, Golden Screen Cinemas (Malaysia)
Ms. Lee elicits praise from pretty much anyone you mention her name to, no mean feat for someone who has worked so hard to make her company the largest exhibitor in Malaysia. She joined the PPB Group in 1990 and has risen through the ranks to head both Golden Screen Cinemas (GSC) as CEO as well as PPB's other entertainment properties. She has overcome the challenges from the introduction of a goods and services tax (GST) and continues to expand GSC's footprint, enhancing its brand as a premiere cinema destination all across Malaysia. It should surprise no one that she graduated from the University of Montevallo, USA with a Bachelor of Business Administration degree as Summa Cum Laude.
---
7. Edna Epelbaum, CEO, Cinevital (Switzerland)
While heading a mid-size exhibitor (28 screens in five cities) in one of Europe's smaller territories, Ms. Epelbaum ranks high due to her twin role as both CEO of Cinevital and President of the Swiss Cinema Operators' Association (Schweizerischer Kinoverband SKV), the only woman in our list to head a national trade body. This is no less an achievement in the linguistically divided Swiss market with different operators dominating the different German, Swiss and Italian speaking Cantons. But Ms. Epelbaum has by all accounts done an excellent job of balancing both responsibilities. A former academic (Ph.D. in Literature from NYU), she inherited the cinema gene from her father who was also both exhibitor and President of the SKV.
---
8. Clara Cheo, CEO, Golden Village (Singapore)
Much like it's native Singapore, Golden Village is an exhibitor that punches above its weight. The joint venture between Hong Kong's Golden Harvest and Australia's Village Roadshow is the city states top exhibitor on the strength of its quality venues, Gold Class offerings and strong service orientation. The company's first female CEO is also the first one to have risen through the ranks of the company. Ms. Cheo has pushed for innovations such as QR enabled auto-gates as well some of the best PSAs in the industry.
---
9. Meileen Choo, Chairman and CEO, Cathay Organisation (Singapore)
More than just an exhibitor, Cathay is an Asian institution, which spans from film production through cinemas to hotels and hospitality. It is also a family business, founded by Ms. Choo's grandfather Loke Yew, but it was her grandmother Cheng Kim who was the woman that shaped the business that Mr. Choo took over from her uncle in 1985. She has grown the business, including a stock market listing in 1998, with an assurance that would make her ancestors proud.
---
10. Corinne Thibaut/Cami Reynolds/Monica Datta, the Coca-Cola Company (Global)
The Coca-Cola Company's global cinema trio is an all-female power house. They are the only non-exhibitors in the Top 10, which points to the importance of the Coca-Cola Company and the influence of the women behind them in Europe, North America and Asia have on the global cinema business. Far from just being the most widely sold beverage in cinemas, Coke works tirelessly behind the scenes with its exhibitors partners to drive innovation in retail and beyond. Mmes. Thibaut, Reynolds and Datta are a fixture of the cinema conventions circuit but do their most important and tireless work on a daily basis one-on-one with each of their cinema partners.
---
11. Lyn Goleby, Managing Director, Picturehouse Cinemas (UK)
Since being acquired by Cineworld, Picturehouse has been on an expansion drive that culminated with the opening last year of Picturehouse Central in London's West End. The new site epitomises Picturehouse's blend of quality locations, coupled with a wide selection of films (both art-house and blockbusters) and premium food and drinks options that is giving Curzon and Everyman a run for their money. However, a protracted (and some would say badly handled) labour dispute at the Brixton Ritzy cinema keeps Ms. Goleby outside of the Top 10 in this year's ranking.
---
12. Karina Agadzhanova, CEO, Cinema Star (Russia/CIS)
Ms. Agadzhanova has spearheaded the expansion of Cinema Star to 17 locations across Russia and Armenia. Cinema Star also re-branded in 2012 with a drive on loyalty schemes, gift cards, as well as modernising all of its cinemas. Being located in smaller cities, Cinema Star does not have the scope to go big with Imax and similar efforts, but under Ms. Agadzhanova the circuit has cleverly grown and showed innovation in Russia's mid-tier cinema niche.
---
13. Sau Fong (Fiona) Chow, CEO, Orange Sky (China/Hong Kong S.A.R.)
Ms. Chow has been MD of the China Operation of pan-Asian exhibitor Orange Sky Golden Harvest since 2010, as well as serving as VP and CFO of Chengtian Entertainment Group (International) Holding Company Limited. She was previously a management consultant and has marketing and PR experience with both corporate and non-profit organisations in the Greater China region. She studied business at both Chinese University of Hong Kong (BA Hons.) and at the Wharton Business School of University of Pennsylvania (MBA).
---
14. Veronica Lindholm, MD, Finnkino (Finland)
Ms. Lindholm is perhaps the first woman CEO of a cinema to replace another (non-family) woman CEO, Finnkino's previous head Liisi Jauho, when she took over in May 2015. Previously she had been CEO of Mondelez Finland as well as having worked for the Walt Disney Company. She is also one of a trio of female heads of Nordic Cinema Group companies, reporting to CEO Jan Bernhardsson. Ms. Lindholm's responsibilities cover both Finland and the Baltic states.
---
15. Jannicke Haugen, CEO,  Nordisk Film Kino (Norway), the biggest cinema chain/group
15. Elisabeth Halvorsen, CEO, Bergen Kino/SF Norge (NCG), the second biggest cinema chain/group
Not wishing to wade into the sometimes fraught exhibition politics of Norway, we are delighted to be able to jointly award the 15th place of recognition to the heads of the two largest cinema groupings in the country. Both Ms. Haugen of  Nordisk Film Kino (formerly Oslo Kino) and Ms. Halvorsen of Bergen Kino (part of Nordic Cinema Group) are part of the new generation of cinema leaders in Norway who rose to the top just as Norway became the first country in the world to go digital, while also becoming the last (outside of Cuba and North Korea) where the majority of cinemas went from public to private ownership. While fierce competitors in business, both are smart, hard working and always a pleasure to deal with. Mmes. Halvorsen and Haugen also exemplify why Norway's drive to equality is not a case of positive discrimination but of recognising the best management talent, regardless of gender.
---
16. Nora Dashwood, COO, Pacific/Arclight (USA)
For many years the best public cinema in Los Angeles, the home of movie making, was universally acknowledged to be the Pacific Arclight. Much of the credit for that reputation, as well as the timely expansion of the Arclight brand goes to Ms. Dashwood, the company's COO. Having previously served as Senior VP at AMC, few people understand the business as well as she does. "We believe that if we create an environment for our guests to really become immersed in the movie and in the community, that they are going to see the movie with that they will get a more complete experience," Ms. Dashwood was quoted in an interview on the occasion of the opening of their first cinema in the East Coast.
---
17. Mariam El Bacha, Director – Operations, MBO (Malaysia)
Few people in the cinema business have the kind of global cinema experience that Ms. El Bacha brings to the box office and concessions counter. She began her career with Village Cines in Argentina, before going on to a three year stint with Vue in the UK. She then moved to Australia, where she was responsible for all the Gold Class cinemas in both Australia and Singapore. She returned to South America Hoyts before being persuaded to go to Asia as Director of Operations for CJ CGV. For the past two years Ms. El Bacha has been the Director of Operations for MBO Cinemas in Malaysia, but a CEO position is probably not far off.
---
18. Meryl Moser, Directrice, Cinerive, (Switzerland)
While Cinerive is small it is also one of the most respected art-house chains in Switzerland, a country which seems to excel in producing talented female cinema CEOs.  Cinerive's cinemas across six towns in mainly French-speaking Cantons play a picture of art-house, Hollywood and event cinema fare, as well as typically being venues with great ambiance. Having started at the front of house, her work on stage and administration has stood Ms. Moser well in putting her stamp on this quality cinema operation.
---
19. Renana Teperberg, Chief Commercial Officer, Cineworld PLC (UK/Europe)
While Moshe (Mooky) Greidinger tends to get most of the attention as the CEO of Cineworld/Cinema City, industry insiders will tell you that his secret weapon is Ms. Teperberg, the Senior Vice President Commercial at Cineworld. As the former Manager of Programming and Marketing at Cinema City International, her remit spanned both Central and Eastern Europe, as well as Israel. She joined the company as a cinema cashier in 1997 while still a student and progressed first to General Manager, and subsequently to Head of Programming and Marketing before taking on her current position. Ms. Teperberg holds an executive MBA in business management from IDC Herzliya.
---
20. Cheryl Wannell, General Manager, SAWA (Global)
Apart from Coke's trio, Ms. Wannell is the only other non-exhibitor in our Top 25 ranking. She qualifies on account of her tireless work for the Screen Advertising World Association (SAWA), which represents the interests of the cinema advertising business.  Often the overlooked component in cinema profitability, Ms. Wannell has been instrumental in driving innovation and championing technical presentation excellence for what is too often merely referred to as 'the pre-show'. Her seminars at Cannes Lions help keep what is a 1% part of the overall advertising business at the forefront in the minds of the creatives whose work light up screens around the world before the feature presentation.
---
21. Midge Krueger, CEO, Wehrenberg Theatres (USA, MO)
As CEO of the United States' oldest and largest family owned cinema chain, Ms. Krueger has a particular responsibility in running a business that has been operating for over 100 years. She took over as CEO when her husband Ronald Kreuger died last year after serving the company for more than 50 years. She is not the only senior female in her company, with strong supportive roles played by the likes of Wahrenberg's VP of Marketing and Advertising Kelly Hoskins, as well as Concessions and Guest Services Host Rabia Bajwa.
---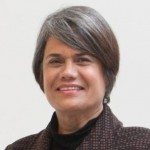 22. Vilma Benitez, CEO, Bardan Cinema (USA/Latin America)
While Ms Benitez co-owns a small cinema chain in Argentina, she is better known as the head of what is probably the largest integrator, theatre designer and dealer of cinema equipment in Latin America, the Caribbean and southeastern United States. Bardan Cinema has been instrumental in Latin America's switch to digital cinema, which took place much later than in most territories. She has been with the company for 37 years and is the reason why it is responsible for servicing over 1,800 screens in the region today.
---
23. Alexandra Sterk, CEO, Sterk Cine AG (Switzerland)
Sterk Cine AG is distinctly a family business. Alexandra Sterk is the CEO, while her sister Franziska Sterk Küng handles Marketing and Film Programming, while Martin Sterk heads HR and siblings Peter, Direter and Hannah sit on the Board of Directors. The Sterk cinema business dates back to 1912 and today encompasses the three cinemas Sterk, Tradfo and Elite in the cantons of Baden and Wettingen. Alexandra recently also spoke out about battling breast cancer and refusing to wear a wig.
---
24. Marit Sætre Færevåg, CEO, Haugesund Kino (Norway)
It is not just the cinemas in Norway's two largest towns that have female CEOs; Haugsund, which with its annual film festivals makes it something of a Nordic Cannes (with fjords), also has a very capable woman at the helm of its cinema operation. Haugsund Kino is led by Ms. Sætre Færevåg, who is not fazed by having the entire Norwegian film and cinema industry descend on her cinemas every year. As anyone who has ever attended it knows, Ms. Sætre Færevåg and her team make visiting Haugsund's cinemas a treat any day of the year.
---
25. Monica Ubillus-Verdeguer, General Manager, UVK Multicines (Peru)
Ms. Ubillus-Verdeguer heads up one of the largest chains in Peru. Founded in 1998 UVK Multicines is one of the new breed of exhibitors in Latin America that offers a premium experience to the region's growing middle class. Ms Ubillus-Verdeguer was instrumental in signing a VPF agreement for the chain through GDC and has pushed for the expansion and modernisation of its multiplexes, as well as embracing new business models, such as screening live opera and other events.

Latest posts by Patrick von Sychowski
(see all)