Switzerland – The World Health Organisation (WHO) has taken time out form the Zika crisis to warn about the dangers of on-screen smoking and recommending that film featuring smoking should be rated 'R'.
According to the new WHO Smoke-free movies: from evidence to action, the third edition since its launch in 2009, studies in the United States have shown that on-screen smoking accounts for 37 per cent of all new adolescent smokers.

In 2014, the Centers for Disease Control and Prevention estimated that in the United States alone, exposure to on-screen smoking would recruit more than six million new, young smokers from among American children in 2014, two million of whom would ultimately die from tobacco-induced diseases.
Smoking featured in 44% of all Hollywood movies released in 2014. Top grossing European films also often feature smoking. Some countries like India feature an on-screen warning during any smoking scene. UN News Centre – 1 February 2016
UK – The British Film Institute has released the latest statistics for the UK box office in 2015 (PDF link). Rising ticket prices made the headlines, with average ticket price GBR £4.87 in 2006 but GBP £7.17 in 2015, an increase of 48.25% in a decade. The good news is that grosses are at their highest ever at GBP £1.24 billion, which is a rise of 63% in a decade. The top five growing films accounted for 30% of the total box office last year. The Independent – 30 January 2016
India – Yet another Indian cinema chain has grand expansion plans. Miraj Cinemas is looking to double its multiplex screen count with new 50 screens by March 2017. Rajasthan-based Miraj Group operates 55 screens across 11 states and 18 cities in India and is keen to tap opportunities in Tier-2 and -3 towns. The Hans India – 30 January 2016
India – Rival Carnival has said that it will invest INR 800 million (USD $11.7 million) to build 80 multiplexes in – you guessed it – Tier-2 and Tier-3 cities. "The company said it is focusing on the second rung cities to tap the latent demand for multi-screens in such cities." Looks like it will be crowded in those cities when it comes to cinemas. Carnival previously acquired BIG Cinemas (more on them and their water problems below) but now wants to grow organically. The Hindu Business Line – 2 February 2016
Concessions/Retail
India – A multiplex in Jaipur has been fined INR 500,000 (USD $7,354) for selling bottled water for more than the maximum retail price (MRP). Big Cinemas had sold PepsiCo's Aquafina for INR 30 (USD $0.44) when the bottle cost INR 16 (USD $0.24) elsewhere in the shopping mall housing the cinema. National Consumer Disputes Redressal Commission (NCDRC) ordered the multiplex to pay INR 14 (USD $0.23) to Jaipur resident Manoj Kumar, as well as INR 6,500 (USD $95) for legal costs and "mental agony." PepsiCo was not deemed a party to the dispute and thus not fined. The News Minute – 1 February 2016
UK (Scotland) – Cineworld Aberdeen has applied for an expanded alcohol serving licence that would include the right to take drinks into the auditorium and not just in the bar. Other conditions would be a maximum of three alcoholic drinks per customer and drinks only served for U, PG and 12A films after 6pm. Given the antics associated with groups of women watching "Fifty Shades of Grey" while getting drunk and into fights, perhaps these restrictions are not such a bad idea. Press & Journal – 1 February 2016
Accessibility
UK – Fresh of having ejected a disabled woman for supposedly blocking the fire exit with her wheelchair last week, Cineworld staff this week asked a woman with a baby to leave a screening because it was a film rated '15'. "I was so embarrassed but also cross at the way it was handled and the ridiculousness of it. I cried which I don't usually do," she is quoted as saying. Perhaps a 'Mother-Baby' screening would have bene more advisable, but film and time selections of those are always limited. Mirror – 2 February 2015
Law & Order
Colombia – A fight broke out in a Cinemark multiplex between a Spaniard and a local during the screening of "Hateful Eight". The fight was captured on smartphone video and has caused a heated debate about xenophobia on social media. Cinemark gave a comp pass to everyone in the audience. El Colombiano – 1 February 2016
France – There appears to have been an altercation and damages done to a Utopolis cinema in Toulouse at a special screening arranged by Palestine Libre and BDS France Toulouse. However, the blog reporting it talks about 'Zionists' and "pro-Israeli fascist groups", which makes me weary of its credentials. Little other reporting about this incident. Mediapart – 4 February 2016
Cinema Opening/Closings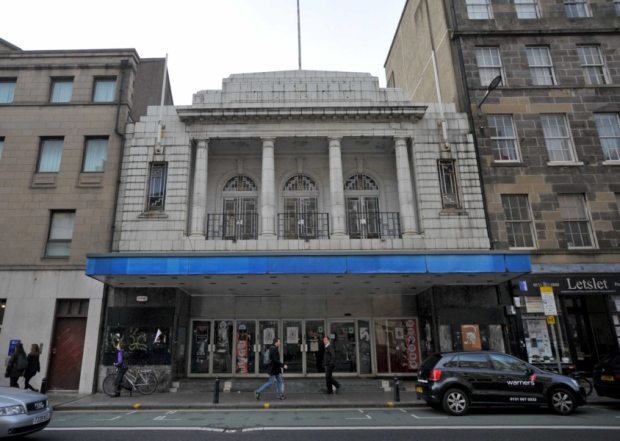 UK (Scotland) – The former Odeon at Edinburgh's Clerk Street will re-open as a cinema by the end of this year. The building had been acquired by Glasgow-based G1 group last year. The cinema will have four screens with 400, 140, 140 and 50 seats. The cinema 'entertainment hub' will also feature a bar and and a cafe. Edinburgh News – 4 February 2016
UK – Cineworld will not be opening a multiplex in Oswestry, having pulled out of the towns GBP £45 million development of the Smithfield site. The retailer Morrisons is also thought to be considering pulling out. Shropshire Star – 4 October 2016
Palestine Territories – The Gaze Strip had six cinemas before the intifada in 1987. Today it has none, meaning that the Red Crescent Society hall had to be used as an improvised screening tenure for the showing of "Oversized Coat". Sadly there are no imminent prospects of cinema returning to Gaza. A spokesman for the Ministry of Culture said "the reason behind the lack of cinemas in Gaza is not because the Hamas government has an Islamic inclination, but because the Hamas government does not support initiatives aimed at reactivating the role of cinemas." So that's clear. Al Monitor – 31 January 2016
Finally
[youtube]https://www.youtube.com/watch?v=uKPXV_DxbCE[/youtube]
Here at CJ we love clever edits that showcase the power of cinema (yes, even on your computer). "120 years of cinema in 120 seconds", delivers exactly what it promises.
The Moon Film team tells the story of cinema: After a brief overview of the processes that led to Cinema, from Nicéphore Niépce's oldest surviving photograph in 1826 or 1827 to Charles-Émile Reynaud's Théâtre optique in 1892, you'll find 75 movies by 75 different directors starting with La Sortie de l'Usine Lumière à Lyon (Workers Leaving The Lumière Factory in Lyon) which opened the first commercial public screening in Paris on 28 December 1895.
How many films did you recognise and did you agree with the film selection choices? Beliefnet – 1 February 2016

Latest posts by Patrick von Sychowski
(see all)