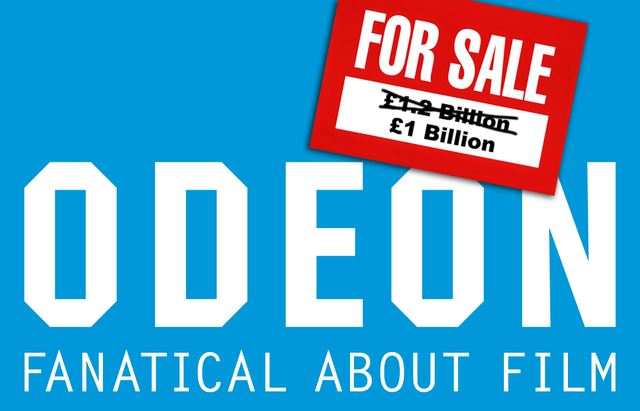 Private equity group Terra Firma has announced that UK/European cinema chain Odeon & UCI Cinema Group (Odeon for short) is for sale. The merged exhibition operation failed to attract bidders willing to match the asking price in both 2011 and 2013 but Terra Firma's chair Guy Hands is hoping that third time will prove the charm. Yet prospects for potential buyers are distinctly uncertain and Terra Firma has admitted that it may end up seeking a stock market listing instead.
Hands is quoted in a Reuters exclusive as saying:
"We will look to begin the process to sell Odeon towards the end of the year," said Hands yesterday. "We are likely to appoint banks by May. Possible buyers could include US cinema groups or South American cinema firms, and private equity groups from Europe, the US, and China."
The blunderbuss approach of targeting pretty much every potential buyer on the planet, while hedging your bets by reserving the right to do an IPO, could be faulted as demonstrating a lack of finesse or coherent sale strategy. It is also not clear what Terra Firma has to gain by announcing its intentions (emphasis on plural) this far in advance of even appointing a bank, unless it thinks it can instigate a feeding frenzy of suitors and bidders.
There is no asking price at this stage, but the figure of GBP £1 billion (USD $1.55 billion or EUR €1.36 billion) has been mentioned, which is less than the failed asking price of GBP £1.2 billion in 2011. The exhibitor has not reported income and profit for the 2014 financial year, but the 2013 figures reported last April saw profits before interest, tax and other charges decline 24% to GBP £69.2 million (USD $107.5 million) while sales shrank by 5% to GBP £706.7 million (USD $1.1 million).
A detailed valuation analysis of Odeon's worth is beyond the scope of this article and the sort of things banks get paid big bucks to do. For a handy overview of the key metrics and tools for evaluation of (US) cinema exhibition operations we refer those interested to the Fulcrum Inquiries Valuation Guide: Movie Theaters. As a recent guide, Australia's Hoyt's was sold last year on undisclosed terms to a Chinese investor but had earlier been valued at AUS $900 million (GBP £473.9 million or USD $731 million) on the basis of revenue of AUS $550 million and profit of earnings before interest, tax, depreciation and amortisation of slightly more than AUS $80 million.
Using Hoyt's as a model – not unreasonable, since the chain share many characteristics with Odeon – gives a valuation of somewhere between GBP £778 million to GBP £1.156 billion, which gives an average of GBP £967 million. Hands would be more than keen to round that up to a cool one billion pound sterling. But is Odeon worth it and who would buy it?
Why Sell Now?
The first question to ask has to do with the timing – why now? It would seem that Terra Firma hangs up the 'For Sale' sign over Odeon & UCI every couple of years, so far without success. It could even be argued that the chain has never not been for sale in the last five years. It is no secret that Terra Firma wants out of the cinema business. Desperately. There has been an internal feeling of "mission accomplished – way back" internally for some time.
It's been over a decade since the private equity group bought both Odeon for GBP £475 million (USD $732.7 million or EUR € 650 million) and UCI for €350 million (USD $392.3 million or GBP £254.3) in 2004 with the aim of merging, digitising and selling off the combined circuit. And as a reward for the merger, Hands took out a €115m special dividend. But the GBP £1.2 billion price tag was simply too high and industry insiders at the time openly talked about the 'hubris' of Hands thinking that the merged operation was worth that much.
The biggest incentive for selling was the misjudged GBP £4.2 billion (USD $6.5 billion) acquisition of the EMI music business in 2007. This lead to a high profile trial and Hands' very public humiliation. As The Guardian neatly encapsulated it in its headlines and sub-header "Hands humbled by EMI fraud case defeat – Jury takes just four hours to throw out claims that Citigroup tricked Terra Firma boss over purchase of EMI." A year later Terra Firma decided to try to sell Odeon.
To pile on the ignominy of having failed to get the asking price for Odeon & UCI, Odeon's smaller rival Vue was bought by private equity firm Doughty Hanson for GBP £450 million (USD $730 million) in 2010 the year before Odeon first went on sale. The second time Odeon was up for sale in 2013, Vue was sold on for GBP £935 million (USD $1.35 billion) to two Canadian pension funds. Vue was simply a better run operation with more attractive multiplexes, which had made smart acquisitions both in the UK and abroad, but the deals were sour grapes indeed for Terra Firma. At the time Odeon's badly timed Spanish UGC Cine Cite cinema acquisition was dragging down the bottom line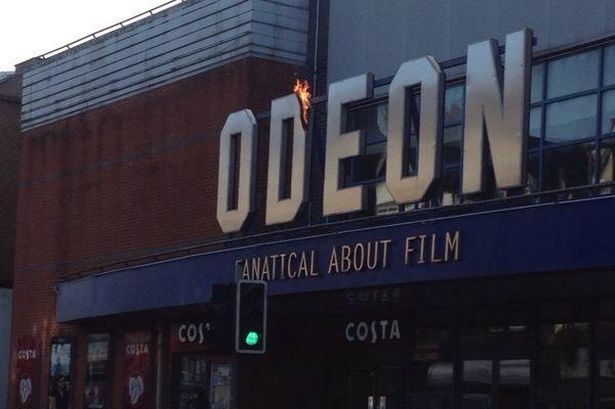 Changes in the UK
So what has changed since 2011? A few things, but probably not enough to work significantly in Odeon's favour.
Odeon & UCI Cinemas' CEO Rupert Gavin "stepped down" a year ago to spend more time with the Garden Centre Group as a non-executive director. (Many thought at the time that he was pushed out and that his Garden Centre position was a go-quietly consolation prize, since it too is owned by Terra Firma.) Gavin never won much respect or admiration either inside or outside Odeon & UCI, and was instead replaced with Paul Donovan in January 2014. Neither had cinema exhibitor experience, coming from the BBC and Eirecom respectively. But Donovan's task was not so much to run the cinema chain as making it fit for sale, something Gaving had not managed in his eight years.
Gavin's legacy is perhaps best summarised with Odeon's taking over the running of the BFI Waterloo Imax, which was at one point the world's most profitable cinema, and in the word of one industry professional familiar with the situation "running it into the ground".  The venue was reportedly under performing to such a degree that when Empire announced the opening of an Imax screen in London's Leicester Square, Odeon's senior management was allegedly talking about throwing in the proverbial towel as far as the Odeon Waterloo Imax screen was concerned.
Odeon has also not been at the forefront of opening new multiplexes or closing old cinemas, with the new Imax-anchored multiplex in Milton Keynes the first notable new opening in a while. Apart from that it has been keeping a very low profile and even delayed several key projects according to sources close the company. The Odeon West End and Marble Arch stand out as two of the few major Odeon properties being re-developed, with the former facing intense competition from nearby cinema and the later a lucrative property deal.
Meanwhile rivals Vue and Cineworld have been busy opening new sites, while up-and-coming rivals like Empire and The Light are also making their presence felt of late. And while Odeon has one luxury dining site in central London (read our food review here), it has been given a run for its money by the likes of Curzon or the Cineworld-owned Picturehouse in providing art-house high-end luxury boutique experiences, either within larger multiplexes or on a stand-alone basis.
Changes in Europe and World-wide
Within a European context, Odeon must be judged for the misjudged Spanish acquisition of the UGC Cine Cite sites. While the Spanish film market has been improving since it, along with the rest of the economy-at-large, went over a cliff following the financial crisis in 2008, even strong domestic hits in the past years have not given the market a significant enough boost. Meanwhile rivals Vue and Cineworld wound up making better strategic decisions by focusing on Central and Eastern Europe through the former's acquisition of Germany's Cinemaxx and Poland's Multikino and the latter's merger with Cinema City. Even Vue's purchase of Italian chain The Space late last year was judged (fairly or unfairly) by the industry to be a better move than Odeon's Spanish gamble.
But it is what has happened in the world outside of the UK and Europe that is the most significant when judging the scheduling of Odeon's third-time's-the-charm sale. The two most important factors are Wanda's acquisition of US major AMC and to a lesser extent Australian Hoyt's acquisition by ID Leisure Ventures (controlled by Chinese billionaire Sun Xishuang). The two deals most likely have Terra Firma salivating at the prospect of one of these entities or yet another Chinese billionaire wanting to buy the largest exhibitor in Europe's second largest cinema market (France's box office still outpaces the UK's).
In his statement to Reuters, Hands also all but name checks Mexican exhibition giant Cinépolis in talking about prospective buyers from South America. The group is primarily active outside its native base in the United States and India and was open about considering buying Regal Cinemas, when the US exhibitor toyed with the idea of putting itself up for sale. Any bank appointed by Terra Firma to handle the sale will surely gush to Cinépolis CEO Alejandro Ramirez Magana, "Buy Odeon and get a foothold in Spain as a bonus."
Would any US-based cinema chains want to buy Odeon? It is difficult to think of a likely candidate. Regal is unlikely to go from wanting to sell itself to buying another major exhibitor in the space of 12 months. AMC is owned by Wanda, so any initiative would have to come from Wanda. Carmike has been growing in-organically in the US, but has not shown any appetite for acquisitions outside of the US. Cinemark has a major international footprint but it is focused on Latin American expansion so there is little logic to suddenly enter a mature market like the UK (even with the Spanish appendage). Canada's Cineplex is just plain unlikely as a suitor.
Could an ambitious Indian operator like PVR, Carnival or Inox do a reverse colonisation of British cinema territory? The financial logistics for such a move are not impossible but would be a serious distractions from the country's domestic expansion and consolidation at a critical time in the Indian multiplex sector. So that's likely a non-starter.
Perhaps a merger of semi-equals on the Continent? Benelux's Kinepolis, France's Gaumont, or even Germany's CineStar or the Nordic Cinema Group (SF Bio et al.) might want to form a mega chain with Odeon-UCI? Putting aside the EU regulatory complications of such a mega-merger (even without geographical overlap – apart from Germany) there is little financial upside to such a deal, given that they would still only cover mature markets without major growth or expansion potential.
There are also simply no major chains left in Central and Eastern Europe that would be a steroid growth injection into the flatlining business (as in plateau growth, not as in the patient is dying) that Odeon already has. Southern Europe? Odeon would justifiably not want to even think about going back there.
Arguably, a left-field suitor might appear from Korea (CJ CGV), the Gulf states or even Japan, but the geographical logic of such a tie-up is tenuous.
Could another private equity company do a better job of steering Odeon than Terra Firma? Quit possibly, but it is not clear how their exit strategy would look, unless they think they can sell off the components at a significant premium to be worth the effort and time of chopping it up.
The problem is that Odeon effectively has no more hills to climb: digitisation is accomplished, there is no more green land to build multiplexes on (if there was they'd have to scrap it out with Vue, Cineworld, The Light or Empire who may have gotten there first), building more Imax screens in the UK costs more than it is worth (and let's not forget the defeat of Waterloo), installing more 3D screens won't make it any more profitable, and installing Dolby Atmos or Barco Auro will not boost margins significantly enough. The list of features that won't enhance Odeon's value could go on and on.
Interestingly there was a rumour circulating last time it was officially for sale that one of Odeon's two big UK competitors allegedly approached the UK competition authorities to ask, were they to make an offer for Odeon, which sites would they have to sell off? This would create a semi-duopoly between Vue and Cineworld, or one of the two would be dominant, with Empire and/or The Light looking for a major in-organic growth opportunity to be a bigger third (most likely Empire).
The management of either Vue or Cineworld may be able to streamline Odeon (not least in closing many older sites) and incorporate the rest while doing a better job of running it. But can they persuade their respective owners, specifically the Ontario teachers' pension funds that presently own Vue or the UK pensions funds that hold much of the publicly traded Cineworld?
What weighs against cineworld or Vue embarking on such a path today is the painful experience Cineworld had in spinning off just a handful of Picturhouse sites to comply with competition rulings. All UK exhibitors are aware of the bandwidth this consumed for Cineworld's management and understand that doing the same for Odeon & UCI would be far, far more complicated. Only Empire or The Light could conceivably do this, without having to worry about too much overlap, but it would be David buying out Goliath.
The hypothetical synergies that can be extracted in the UK make more sense than in Europe or globally, but they would involve having to make some tough decisions and be brutal when it comes to streamlining. There are also questions of integrating different digital cinema technologies where operating dual inventory (different 4K/2K projectors, etc.) will not offer cost savings in the short to medium term.
What About an IPO?
Could Odeon go down the same path as Cineworld in terms of listings its shares? It would definitely not be the preferred path for Hands and Terra Firma. It would involve more work and less immediate reward than selling it to another cinema chain or investor, not to mention the regulatory hurdles that stand in the way of an expedient exit.  It has also been suggested that the assets simply lack scale for such a deal.
A reverse takeover or back-door listing by buying a smaller rival would be an option, but there are no obvious candidates in UK and only a handful in Europe. The market would also not be keen on this approach.
The one thing that is certain is that any deal needs to happen before 2016. As Reuters reminds us:
Terra Firma put Odeon & UCI, Britain's market-leading cinema operator on the block in 2013, but did not proceed with a sale. At the time, the buyout group worked with JPMorgan and Goldman Sachs, which advised it to wait for the business to improve.
There may be no better year for improved business conditions than 2015. With the current box office year widely predicted to be a vintage one it is important for Odeon to surf on the Coke and popcorn wave generated by "Jurassic World", "Bond: Spectre", the second "Avengers" and the seventh instalments of "Fast & Furious" and "Star Wars" plus many more. Odeon can point to a strong year and try to gloss over previous underwhelming years while painting a rosy picture of years to come ("Avatar Two, Three AND Four! Two more Star Wars PLUS two spin-offs!! Lots and lots of Marvels and Avengers!!!").
Yet 2015 is also the last year that Odeon can hold off making meaningful investments or preparations for significant future upgrades. VPF deals will start expiring, 3D contracts will need renewing, decisions have to be made about immersive audio, 4D seating, laser projection and luxury seating. Too much of Odeon's operation has been in a holding pattern while it waited for new suitors.
Once More: Why Now?
So we once again return to the question of timing: why now? Why has Donovan given just 12 months before Hands hung up the 'For Sale' sign. Everyone knew that Odeon would be officially back on the chopping block, but most did not expect that to happen before the middle of 2015. It is also perplexing that Hands' self-leaks the decision to Reuters ahead of appointing a bank. Is he not happy with the work that JPMorgan and Goldman Sachs did the last two times or is it a negotiating tactic to get them to cut their fees?
The answer to all the above question probably lies in Australia with Hoyts. There are only so many Chinese millionaires that can afford to spend half a billion pound sterling on an exhibition chain in a mature market, which is what was paid for Hoyt's and is only half the asking price of Odeon. Terra Firma knows that Odeon will not blaze a trail on the stock market after being bought by a wealthy foreign investor and then listed, like Wanda did with AMC.
Wanda is unlikely to be interested in Odeon for the simple reason that it is not an attractive property deal and the countries in which its cinemas are found are mature markets and do not represent a major growth potential. Too many of Odeons UK cinemas are faded and converted screens from the 1960s, 1950s or even earlier, rather than new multiplexes in malls or other destinations locations. Cineworld would make a better companion to Wanda's Chinese and North American operations if there was an ambition to create a global mega exhibition operation.
What could worry Terra Firma is that there are at least two other cinema groups in Europe that would make for more attractive potential acquisitions: Turkey's Mars and the Scandinavian's Nordic Cinema Group. The former is a dynamic growth market that saw record box office growth in the last year on the strength of a vibrant local film industry and a focus on high end multiplexes in swanky new malls. The latter has built up a dominant and coherent network of quasi-monopolies in countries such as Sweden and Finland, with further significant positions in neighbouring Norway and the Baltic states. While these too are mature markets, Nordic's cinemas face less competition than Odeon & UCI does in UK, Germany and Spain.
Terra Firma very likely fears that the small pool of prospective exhibition operations buyers around the globe – "private equity groups from Europe, the US, and China" in Hands' own words – could end up investing their pension funds in Turkey or Scandinavia before there is even an updated investor's prospectus for Odeon & UCI. While UK's largest cinema chain has its challenges, with the right management it can still offer a stable return on investment over many years. Investing in cinema in 2015 need not be a repeat of the EMI debacle.

Latest posts by Patrick von Sychowski
(see all)