"The Interview" may have been pulled from cinemas, but that won't stop this freedom-loving Texan cinema chain from showing a Hollywood film making fun of North Korea's leaders.
The Alamo Drafthouse in Texas was one independent cinema willing to brave the threat and show the film regardless, it said. But now that it has been cancelled, they have decided to put on a showing of Team America instead.

The cinema hailed that movie – which is about a North Korean plot to destroy the world – as "THE GREATEST MOVIE MADE ABOUT AMERICAN PATRIOTISM EVER".

The showing on 27 December will be a free-to-attend, sing-along affair, and the cinema says it will be providing enough red, white and blue paraphernalia for everyone.  LINK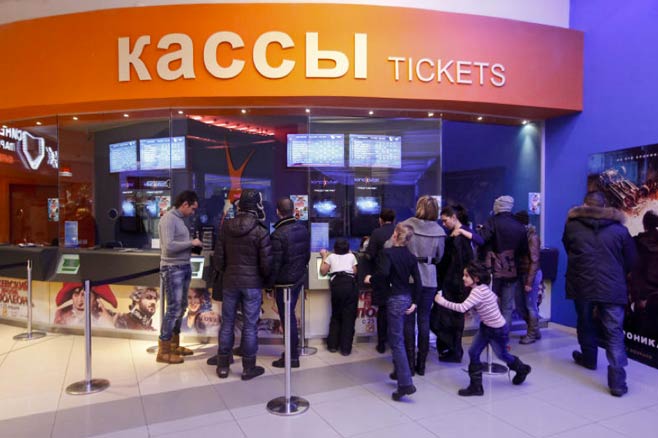 Russia – The collapsing rubel is having an effect on Russia's multiplexes, forced to seek changes to the terms of their leases.
Russian cinema chains are calling on owners of shopping malls where their theaters are located to adjust rental contracts against the backdrop of the weakening ruble, which threatens to drive them out of business.

Several large cinema chains, including Cinema Park, Karo Film, Kinomaks and Formula Kino, have sent an open letter to mall owners, requesting that rental contracts, in which rent is normally stipulated in U.S. dollars, be revised and rent fixed in rubles.  LINK
Spain and France both had a strong box office year in 2014 on the strength of the success of local hit films, primarily comedies.
The Spanish cinema is celebrating. 2014 will go down in history of cinema in Spain. The box office has burst. With 123 million raised euros and a market share of 25.5%, unusual figure and always dreamed of by the industry, the Spanish cinema has achieved the best box office history. The share of 25.5% was not reached for 37 years. Nearly 21 million viewers have chosen Spanish films in 2014, 89% more than the previous year. As of December 7 -lack therefore the bulk of this month, a traditionally very good for theatrical release entrances to the Spanish holiday period films have grossed 75.3% more than in 2013.  LINK

And
The year 2014 will be a vintage year for French cinema halls. In the first eleven months of the year, more than 186 million tickets were recognized by the National Film Centre and the moving image (CNC), which publishes figures on Monday. About 16 million spectators in more compared to the first eleven months of 2013.

And December is not yet recognized as successful films are currently in the program as "Asterix and the domain of the gods" or the third part of the "Hunger Games" saga. Other feature films should also make a cardboard as "The Hobbit: The Battle of Five Armies", released Wednesday or "Exodus: Gods And Kings," which will be released on December 24th.

The current year (December 2013 to November 2014), the change is even more impressive with 209 million cumulative inflows, or 20 million more than the previous twelve months.  LINK
Sony is equipping Hong Kong's leading cinema The Grand with its Twin Peak (yes, really) solution.
Says Wendy Nam, Consultant of The Grand, "We have had a few "firsts" – The Grand was the first cinema to be equipped with Sony 4K digital projectors, the first to be DOLBY Atmos capable, and the first to install Sony Twin Peak 4K projector solution".

The Sony Twin Peak 4K solution is essentially two units of Sony's renowned SRX-R320 projection system. This solution is ideal for large cinema halls and the only way to deliver optimum picture quality for the audience would be to employ two SRX-R320.  LINK
While the focus has been on JT and Dolby Cinema recently in Benelux, Barco has just taken the wraps of its laser projector installation with Kinepolis.
Last Tuesday, 9 December, was D-day for Barco's DP4K-60L laser projector in Europe, as the Kinepolis group screened The Hobbit – Battle of the Five Armies on its brand-new laser projector. The première took place at the Kinepolis flagship cinemas in Lomme, France. While Kinepolis Brussels (Belgium) screened its first laser-projected movies on 10 December, the new technology will go live at Kinepolis Madrid tonight. Both Barco and Kinepolis are thrilled with this European debut of the award-winning new laser projector.

"The laser experience is truly amazing; there's nothing like this on the market," says Eddy Duquenne, CEO of Kinepolis Group.  LINK
UK – BBC London looks to Leicester Square and asks, "Do London's cinemas face a fight for survival?" in a very long, detailed and well-worth reading article about the fragile architectural heritage of London's most famous cinemas. Far from being preachy it is a whirlwind tour of cinemas past and present.
London's Leicester Square is home to some of the UK's oldest and most beautiful cinemas – but unlike the equally famous West End theatres nearby, none have listed building status. Now, with developers circling, many are worried how long these buildings will last.

The 1930s Odeon West End, one of Leicester Square's oldest picture houses, has already been approved for demolition despite being in a conservation area and opposition from English Heritage.

There is nothing to stop others going the same way. Supporters fear they face a losing struggle to protect the most important cinemas in an area of central London hungry for ambitious new developments.  LINK
India – An Indian multiplex operator claimed he was forced to pull the booking of much anticipated Bollywood blockbuster "PK" because the distributor (Disney-owned UTV) was pressuring him to increase ticket prices.
The new trend of increasing the ticket rates of big starrer movies from past couple of years has been a topic of debate between the distributors and exhibitors. But, it is the audience who bares it all on their pockets. This time around the scenario is bit different with one of the top exhibitors, Manoj Desai, Executive director of G7 Multiplex (Gaiety Galaxy) and Maratha Mandir Cinema, who has decided to shelve Aamir Khan's PK over a disagreement of increasing the ticket rates.

Talking exclusively to Koimoi, Manoj Desai said, "I was not allowed to open the advance booking for PK and was asked to increase the ticket price from Rs 80 & 100 to Rs 150 & 250 for lower and upper stall respectively. I was given a condition that unless I increase the ticket price I won't be given the film and hence with due respect to Aamir Khan and Rajkumar Hirani, I preferred shelving the film instead of taking undue advantage of my patrons, my public coming to my theatres by increasing the ticket rates.  LINK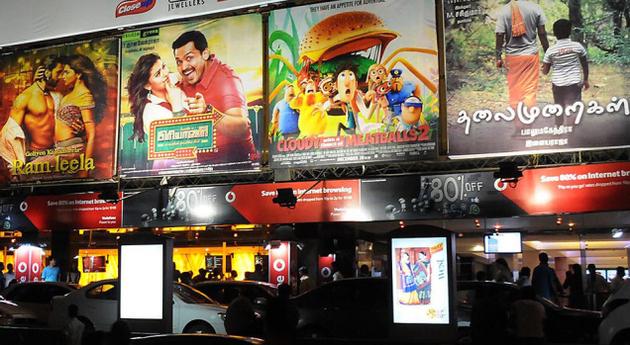 India – On the back of the Inox-Satyam, Big-Carnival and Cinepolis-Fun mergers there is scope for more consolidation in 2015.
Deepak Asher, Director, Inox Group, said acquisitions help multiplex companies get a wider footprint and achieve economies of scale through higher ticket, food and beverages and advertising revenues, besides optimising costs. "There are still 15-20 strong regional players and there is scope for consolidation. Such acquisitions could help big multiplex companies add key locations in metros and help them get a stronger foothold in smaller cities and towns," he said.

Jehil Thakkar, Partner and head of media and entertainment, KPMG India, said scale is critical for multiplex players and gives them leverage when they strike financial agreements with film distributors.

"India is still one of the most under-screened countries and there is huge headroom for multiplex operators to grow, both organically and inorganically," he said.  LINK
Advertising
Australia – Cinema advertising is up by a whopping one-fifth Down Under.
Cinema, digital and outdoor helped drive growth in ad spend in November, with overall agency bookings increasing 3.8% compared with the same month the previous year, according to the latest SMI figures.

The total ad bookings via all major agency groups reached $757 million in November. The rise follows a 3% decline in October.

Cinema ad spend increased 22% year-on-year, with bookings reaching $6.1m. LINK
UK – The Head of UK cinema advertising major Simon Rees is stepping down.
Rees will step down from the cinema advertising outfit at the end of Janary in order to pursue "other interests both inside and outside of the media industry", according to a company statement.

Karen Stacey, former Head of Broadcast Sales and Bauer Access at Bauer Media, has been appointed as Interim CEO, starting in the New Year.

During Rees' stewardship, Dcm has seen the introduction of a new digital delivery system for commercials and increased interactive capability throughmobile app Cinime.  LINK
Technology
France – An interesting app, born out of a  television listings magazine, which highlights films both on television and in cinemas.
On your mobile with the update, became Cinémur Movie Entertainment. The application is made up of two environments: one devoted to films in theaters, the other devoted to films broadcast on TV. Nothing revolutionary, but a fluid interface, easy to use and staged very effective films. The setting of the application provides the ability to record on a FreeBox through integration API.

It remains to be seen whether the mix of expertise Cinémur and Prisma Digital communication power be enough to go tickle the untouchable Allociné. My crystal ball tells me that is not the end of our surprises! In the meantime, you can test Ciné-Leisure before going to the movies;)  LINK
Outdoor Cinema
Argentina – More than 1,200 people attended the second edition of Vino el Cine organized by Bodegas de Argentina and Megacine Audiovisual.
Vino el Cine (Wine Cinema) consisted of a selection of domestic and foreign classic films that were screened outdoor inflatable screens similar to those of conventional cinema dimensions, with various wineries and vineyards frame. The locations for this year were Nieto Senetiner winery, Catena Zapata, Renacer, Dominio del Plata, Trivento, Norton, Finca Agostino, Endless, La Rural and Between Heaven – Hotel Spa-.

As in previous editions, the cycle had a united purpose. The beneficiary institution at this time was Fundavita whose motto is "fight for life, fight against cancer" – and the entrance was worth 40 smiles per person. In total, 40,000 pesos were collected.  LINK
Piracy
Spain – Good to see mobile use clamped down on in cinemas. Particularly when it is used for piracy.
THE first-ever sentence against an individual for videoing a film on his mobile phone in the cinema has been passed in Menorca.

A court in the island's capital, Mahón (Maó) reveals that a young man from nearby Sant Lluís was caught by cinema staff last October using his phone to record an entire film at the Ocimax cinema in the former city – and that he had already been arrested on two previous occasions for the same offence.

Police seized his phone and, after examining this and the footage, concluded that the model was sophisticated enough for him to have been able to copy it onto DVD or save it as a file on a programme such as Windows Media and then sell it on.  LINK
Cinema Opening/Closings
Australia – The fate of one of Australia's most hotly debated heritage cinemas could be taking a turn for the better.
ST KILDA'S Astor Theatre could be saved, pending agreement between the operator, landlord and potential white knight Palace Cinemas.

The beloved Art Deco cinema's long-time operator, George Florence, had just put the finishing touches on what was to be his final quarterly program, when Palace chief executive Benjamin Zeccola announced his interest.

The plan to save the theatre would entail Mr Zeccola leasing the building from owner Ralph Taranto, and retaining Mr Florence as a contractor.  LINK
UK – White (Art-house) Knight to the Rescue, Part II:
An independent cinema chain has expressed interest in taking over the condemned Redgrave Theatre in Farnham and running it as a joint theatre and cinema operation.

As part of the East Street/Brightwells redevelopment scheme, Curzon Cinemas, which runs a number of high profile picture houses in London, has said it wants to 'explore the opportunity' of a joint enterprise.

And in a boost for campaigners, Farnham Town council last week voted to reconsider its decision not to object to the demolition of the Redgrave.  LINK
Malaysia – The first TGV cinema in East Malaysia (the island of Borneo).
TGV Cinemas, one of Malaysia's leading exhibitor and multiplex cinema operators, will be welcoming movie lovers here to their first TGV cinema in East Malaysia today.

Located strategically at the city's new landmark, Permaisuri Imperial City Mall (PICM), the cinema has a total of eight cinema halls with a total seating capacity of 1,263.  LINK
UK – Hollywood's future in Norwich is assured.
Anglia Square Shopping Centre and Hollywood Cinemas have agreed a new long-term lease on the four-screen multiplex ahead of the new year.

It comes after the city cinema, which also has businesses in Dereham, Great Yarmouth and Fakenham, was thrust into the limelight in 2012 when it hosted the global premier of the Alan Partridge blockbuster, Alpha Papa.  LINK
UK – The delay is over for work to start for a cinema in Bishop Auckland we're told. Again.
DEVELOPERS behind plans for a long-awaited cinema complex insist the project is still on track.

Durham County Council's planning committee gave the go-ahead for the six-screen cinema, shops, restaurants and other leisure facilities at Bishop Auckland Retail Park, in St Helen Auckland, earlier this year.

Initially, developer Land Planning Partnership said work would begin in 2014 but after delays in finalising planning permission with the council, it is expected construction will now start next year.  LINK
Finally
[youtube]https://www.youtube.com/watch?v=yJnPg2_Y_UI[/youtube]
It is coming to the end of the year, which means awards time – for trailers.
Every year, filmgoers are assaulted with an ungodly amount of previews at the multiplex – only a few of which stand above the pack to give us something truly special. In 2014 there were a dizzying amount to sort through, but we've managed to narrow our "best of" list down to 16 that moved us, electrified us and just plain made our jaws drop.  LINK

Latest posts by Patrick von Sychowski
(see all)