RealD has rebuffed the takeover offer from hedge fund Starboard Value, having posted better-than-expected quarterly financial figures.
The company says that its board has "unanimously determined not to pursue" a $600 million unsolicited offer from Jeffrey Smith's activist hedge fund Starboard Value. RealD directors "believe the value of its business will benefit from the strength of its cinema platform and upcoming film slate, the value inherent in its IP portfolio, and the changes being made to further reduce operating expenses and capital expenditures," it says in a just-released quarterly earnings report.

CEO Michael Lewis added that the company is "in the process of taking additional steps designed to enhance shareholder value." That could include a restructuring of its R&D efforts and "a further streamlining of our organization and efficiencies in our cost structure."  LINK
Although RealD posted a loss for the most recent quarter, the figures were still an improvement on last year and met market expectations.
RealD reported Monday that revenue in its most recent quarter rose 8 percent to $47.4 million and the company lost $1.6 million, an improvement over the same quarter last year when it lost $4.7 million.

On an earnings-per-share basis, the 3D movie company lost 3 cents, while in the same frame a year ago it lost 9 cents. LINK
Unfortunately for RealD "Interstellar" will not be released in 3D, except possibly in China. Catch it tonight in 35mm, 70mm and analogue Imax.
The Indian digital cinema company KSS Ltd (formerly K Sera Sera), whose Vice President of Technology Rajesh Chowdhry was previously caught pirating a major Bollywood release, has pledged to work with Sony to install thousands of projectors in the country over the next few years.
Digital media and entertainment company, KSS Ltd today announced its foray into 4K space and has joined hands with Hong Kong-based Sony Corporation to bring in the 4K cinema technology.

Also KSS has set up a target to install 3,000 4K cinema screens over next 2-3 years, the company said in a statement here.

"KSS has always focused on providing the best technology and innovation in cinema. With this partnership with Sony, KSS aims to provide Indians a never before experience of cinema through 4K technology," K Sera Sera Digital Cinema Private Limited CEO Vineeta Dwivedi said.  LINK
Ireland – A big upgrade program underway for Omniplex's cinemas in Ireland (North and Republic).
Irish owned cinema chain Omniplex has announced a €10m expansion and upgrade programme currently underway on a number of its regional cinemas.

The company said the plans are part of a national programme of investment that has seen Omniplex invest €36m across its 19 cinemas, both north and south of the border, over the past three years.

"Technological advances in cinema means it is expensive to keep pace with changes," said managing director, Paul Anderson. "We have introduced premium format OmniplexMAXX screens, HD digital projection, the latest Auro 11.1 sound system, bigger and comfier 'rocker' seats, and have built our latest cinema in the prime location of Rathmines, in south Dublin.  LINK
Event Cinema
UK – From the people who brought you Hot Tub Cinema comes Pillow Cinema. Where, you ask? In the old underground station in Shoreditch, also known as the hipster epicentre of London.
If you've ever sat at home watching your favourite film, wishing you were somewhere else doing that very same thing, this is the event for you. Guests can settle down on Fatboy beanbags, either snuggled up in pairs or with a spacious beanbag each. Bring your own pillow for ultimate comfort.

Films are shown in triple bills on Saturdays throughout the run. 8 November shows off three of the best Bill Murray and Wes Anderson collaborations – Rushmore, The Life Aquatic and Moonrise Kingdom. The following week pays homage to Hollywood's Ryan Gosling with a "Gos-Fest" featuring The Notebook, Crazy Stupid Love and Drive.  LINK
Law & Order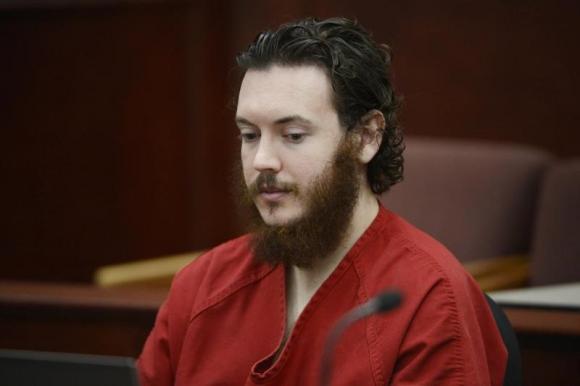 USA (CO) – Given that James Holmes is firmly tied to the Aurora cinema shooting, everything hinges on his insanity plea. Hence the many torturous rounds in this matter.
A judge overseeing the Colorado theater massacre case will let jurors in the upcoming murder trial of James Holmes see a video of the accused gunman's sanity examination, court documents showed on Monday.

Holmes has pleaded not guilty by reason of insanity to shooting dead 12 moviegoers and wounding dozens more inside a suburban Denver cinema during a midnight screening of the Batman movie "The Dark Knight Rises" in July 2012.  LINK
Health & Safety
UK – It is precisely situations like this one that demonstrate why it is critical to have cinema staff trained in First Aid. Hats off to Vue staff member Wesley Hall who intervened quickly and saved this mother-of-four's life.
A MUM-OF-FOUR was saved by strangers when her heart stopped while she was in the cinema with her children.

Caroline Kimberling, 36, went into cardiac arrest while she was watching the trailers before the children's film The House of Magic, with her sons Zach, ten, and Ben, 7.

Zach raised the alarm when his mum became unresponsive and he ran into the lobby of Vue cinema in Clifton Moor, drawing the attention of a nurse and physiotherapist who rushed to her aid.  LINK
Digital Death Watch
USA (MT) – Good to see local Chambers of Commerce taking an interest in the survival of local cinemas.
The Roxy Theater is set to join the wave of outlets switching to digital cinema, according to executive director Mike Steinberg.

The nonprofit community cinema received a $50,000 Tourism Infrastructure Investment Program grant from the Montana Department of Commerce, announced Monday.

TIIP grants reinvest lodging tax funds to improve facilities and, in turn, attract more tourism.  LINK
Cinema Opening/Closings
Australia (NSW) – The local council of Kempsey is applying to the federal government fund National Stronger Regions Fund (which replaced the defunct Regional Development Australia Fund) to open a local cinema.
Mayor of Kempsey Shire Council Liz Campbell, says the community is strongly behind the push for a cinema.

"A cinema for Kempsey has been a community desire for some time; it provides entertainment and a place to meet," she said.

"It is one of the things that has been lacking in our town for a long time."

Kempsey hasn't had much luck with cinemas – the Mayfair Theatre closed in the early 1980s and last year the small community run Bandbox Theatre folded too.  LINK
USA (GA) – A great opening offer for a chance to see some terrific recent films like "Chef" or "The Hundred Foot Journey", for a good cause as well.
Check out the new state-of-the-art Regal Cinemas Avalon 12 this week during preview nights and pay only $2 for movies, $2 for popcorn and $2 for soft drinks. The Regal Cinema Avalon 12 is located at 3950 1st Street, Alpharetta.

The event, part of Regal's 'Recipe for Hope', is in conjunction with Atlanta Community Food Bank. Money raised from the three night promotion goes to the ACFB. The preview nights take place today through Nov. 5, with movies and showtimes as follows. LINK
Finally
Do you know where the first drive-in cinema in the United States opened? The answer is Camden, New Jersey and fascinatingly it involved special pioneering directional sound system  from RCA Victor.
Richard Hollingshead, a resident of Camden, opened the very first drive-in theater in the city "on what's now Admiral Wilson Boulevard on the border of Pennsauken," said Tyler Hoffman, English professor at Rutgers-Camden and co-curator of the "Sounds of Camden" exhibit.

"About 600 people came to the theater on opening night, June 6, 1933," said Hoffman. "People were from 20 or 30 different states. It really captured the attention of a lot of people."

Although short-lived — the theater was open for less than three years — its significance as part of Camden's rich history prompted the opening of a film series devoted to this innovative "automobile movie theater."  LINK

Latest posts by Patrick von Sychowski
(see all)