What is the largest cinema screen in the world? According to Guinness World Records it is now in the tallest building in South Korea. So that's officially official.
The screen of the multiplex cinema which will open at the Lotte Cinema World Tower, boasts its unparalleled size in the industry: With 622 seats — the largest available number of seats for a screen, the Super Plex G is an ultra large theater which looks like a two-storey opera theater in appearance. In its 34 meters wide and 13.8 meter long screen, 34 adults can lie on it together.

On July 3, a special ceremony was held to commemorate the recognition of the largest screen "Super Plex G" at Lotte Cinema World Tower by the Guinness World Records that confirmed the huge screen has been qualified as the world's officially biggest screen. LINK
USA: THR asks what is behind the underperforming summer box office in North America, which is down nearly 20% up to the 4th of July holiday. Underperforming titles seem the culprit and no blame apportioned to World Cup (unlike Europe and Latin America).
What's behind the summer drought? Hollywood studio executives and box office observers blame a lack of mega-grossing tentpoles, a dearth of doubles and triples and no huge animated family film. In other words, a number of films have underwhelmed (or bombed), including Fourth of July R-rated comedy Tammy, which posted a five-day debut of $32.9 million, Melissa McCarthy's lowest recent opening (as a way of comparison, fellow R-rated comedy Neighbors launched to nearly $50 million in May).

Revenue for Fourth of July weekend hit only $130 million, down 44 percent from last year's $229.8 million haul. Granted, the holiday fell on a Friday this year, a disadvantage, but revenue managed to reach $160.2 million in 2008, the last time the Fourth was a Friday. One reason for the dramatic downturn is that no big tentpole rolled out, probably because no one wanted to open in the wake of Transformers: Age of Extinction, which debuted June 27. LINK
UK – Box office is down in the UK as well (blamed squarely on the World Cup and postponed releases), but the business does have one savior in the form of a middle-aged Irishman in drag.
London 2012 proved so catastrophic for cinemas that many ended up simply throwing in the towel. They cancelled regular showings and instead opened their doors for free, hoping to attract crowds with big-screen Olympics coverage and flog enough at the concession stalls to offset some of their losses. Panicked distributors tried to insulate the hit by releasing films the moment it was all over (Brave and The Bourne Legacy actually opened on the Monday after the closing ceremony).

The ordeal heightened nerves. And so such counter-programming as was mustered up this time round was too timid to really compete with the footie – a couple of jukebox musicals (Jersey Boys, Walking on Sunshine) and an iffy teen weepie (The Fault in Our Stars).

This left the way open for the much more robust Mrs Brown and her boys to storm the multiplexes and make a killing. Last weekend the film opened at number one at the UK box office with £4.3m – more than the rest of the top five combined. Box office takings are still 51% down from the same weekend in 2013, but just imagine how bleak the landscape would be without her. LINK
People
Russia: KaroFilm has appointed Mark Waldman as its new CTO. The Russian multiplex major thus gets a seasoned digital expert with a long track record in Eastern Europe. The company recently announced a USD $150 million expansion plan (), which Waldman will no doubt be closely involve in. No press release, but you read it here first.
Business
Brazil: As it awaits the completion of its acquisition by Dolby, Doremi is still busy signing deals in Latin America. It now has over 1,000 screens deployed in Brazil -but unless any of them are ashowing World Cup matches then I don't think many Brazilians are paying attention to this news right now.
Doremi continues to grow rapidly as its top-of-the-line Integrated Media Server, the IMS1000, is selected for CineArt Multiplex, the leading exhibitor in Minas Gerais, the second largest state in Brazil. The contractual agreement between Doremi and CineArt included 32 units to be added to the total install base of 41 servers, with Quanta DGT as the VPF integrator and CineBrasil as the service provider.
As he completed the VPF signature process with Quanta DGT | AAM, Lucio Otoni, CineArt Multiplex General Manager stated, "We've finished the VPF signature process with Quanta DGT | AAM and we understand that the Doremi IMS1000 is the best server option on market." LINK
Brazil: Doremi is not alone. Quanta DGT/AAM also chose to announce a Brazil deal at a time when everybody only seems to care about one thing in that country – and it's not digital cinema. Doremi servers are used here as well.
Quanta DGT/AAM, the partnership set up between two of the main entertainment infrastructure players in Latin America (TELEM and DGT) and digital cinema company Arts Alliance Media (AAM), will be the integrator for the digitisation of the largest Brazilian movie theatre chain, Kinoplex. Christie will supply projectors for the rollout, Doremi will supply the servers and Kelonik will be in charge of installations.

Kinoplex, which has over 170 screens across Brazil, has signed a contract to be part of Quanta DGT/AAM's VPF program to digitise its movie theatre chain. All of Kinoplex's screens are part of the contract. The project includes the VPF integration, with Arts Alliance Media's TMS (Theatre Management System) software solution and funding through the Audiovisual Sector Fund of ANCINE (the National Cinema Agency) via BNDES (the National Bank for Economical and Social Development). LINK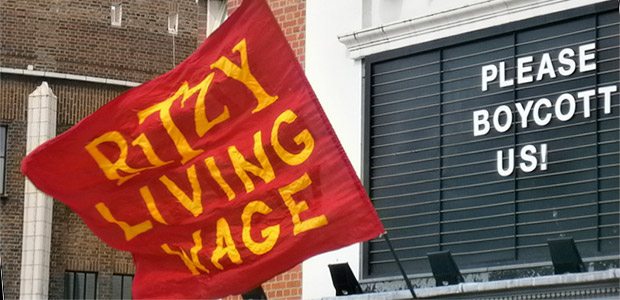 UK: The Ritzy strike is getting more acrimonious. Striking staff are now urging people to boycott all Picturehouse (Cineworld) cinema, after 97% voted to continue the strike.
Yesterday, striking workers at the Brixton Ritzy cinema announced the start an official boycott of all Picturehouse Cinemas.

They called on supporters of their Living Wage campaign to not spend money at any Picturehouse-owned cinema until their ongoing wage disputed is settled. LINK
Ireland/UK: The Irish Independent looks at Cineworld and whether its shares are a good investment prospect. It likes what it sees.
Interestingly retail revenue accounted for 50pc of the Art House box office revenue and almost a third of multiplex retail revenue. The company is experimenting with Starbucks outlets in its cinemas; 11 cinemas already have coffee sales. The trend in booking is also interesting as 42pc of all sales in the Art House cinemas are by internet and 23pc of mainstream cinemas up from 12pc in 2012.

Following CCI acquisition the group is now projecting revenue of £640m this year and £750m next year.

If this is achieved the company will have more than doubled its 2012 revenue. The increase in sales is also reflected in its pretax profits of £43m and expected to double by 2015. LINK
India: Another futile state government attempt in India to boost local film making industry by telling cinemas what to program, this one in Kannada. As elsewhere in India this is likely to backfire.
Replying to BJP's Jaggesh in the Legislative Council, owners of multiplexes will be asked to screen Kannada movies during day time.

Chief Minister Siddaramaiah will soon hold a meeting with all the stakeholders, including the representatives of Kannada filmdom and multiplex owners, in this regard, he added.

As a result of the Tamil Nadu government's decision to reduce entry fee to multiplexes, investors were reluctant to go to that State.

Same is the situation in the neighbouring Andhra Pradesh. LINK
Accessibility
UK: This cinema in a suburb to London is doing its bit for the visual and hearing impaired community.
The boss of Redhill's Harlequin Theatre and Cinema has said she is "thrilled" it is now screening subtitled and audio described screenings, following the installation of a new digital projector.

Elizabeth Smith, theatre manager at the Harlequin, said she couldn't wait for customers to try out the new screenings which make it possible for deaf and hard of hearing people, blind and visually impaired people, to enjoy the cinema experience with their family and friends. With almost every popular cinema release now available with subtitles and audio description, she said The Harlequin is thrilled to be offering the service to deaf and blind people throughout the borough. LINK
Digital Death Watch
Germany: Digitisation is all but complete in this corner of Germany, seemingly without too many cinemas closing.
The digitization of cinemas in Lower Saxony is almost complete. More than 90 percent of the theaters in the country were digitized, said Holger Tepe, a board member of the theater offices of Lower Saxony and Bremen, Osnabrück. For the classic 35-millimeter film barely find a rental. However, a very different projection technology was needed for digitization – and thus for the cinemas investment in five-digit level. Simultaneously Lower Saxony is hardly affected by closures Cinema: Between 2011 and 2013, the number of venues had fallen by two to 173. LINK
Cinema Opening/Closings
USA (OH): With a name like The Quaker Cinema you expect simple wooden chairs rather than plus loungers, but it seems this cinema is only staying true to its history for the exterior.
"We are elated that Mike Ernest has undertaken the revitalization of The Quaker Cinema, and bringing back the art deco panels and glass block of the 1940s," said Debbie Aubihl-Knisely, administrative director of the New Philadelphia Business and Community Association. "Theaters can provide an entertainment option for keeping the downtown active in the evening and increase economic activity in the business district.

"Theaters can also provide a social and cultural outlet. Arts and entertainment attract people to the downtown who normally would not visit there. That was proven with the recent New Philadelphia Business and Community Association's Artists Walk." LINK
USA (AZ): No clarity still on a new cinema in this corner of Arizona.
Maya Cinemas is still researching its options to build a multiplex movie theater in San Tan Valley; however, "nothing is sure right now," Larry Porricelli, vice president of the Los-Angeles-based theater chain, said during a phone interview July 1.

Mr. Porricelli hopes the company can make an announcement within a month, he said.

In November, the Independent reported the theater chain planned to break ground in early 2014 at Hunt Highway and Gary Road in San Tan Valley, just east of Wal-mart, according to Jon D. Willis of Willis Property Co. LLC. The company planned a 59,000-square-foot, 14-screen movie theater and several restaurants, Mr. Wilis, who represents Maya Cinemas, told the Independent during a phone interview Nov. 12. LINK
USA (CT): Movie viewing options look set to be further reduced in Bridgeport, Connecticut.
This could be the last July 4th weekend that the explosions, gunfire and screams synonymous with summer movie blockbusters rock the walls in the Showcase Cinemas on Canfield Avenue.

After two decades, the owner of the old Black Rock neighborhood movie house — National Amusements — announced it would put the multiplex on the market, further reducing film fanatics' options in Greater Bridgeport.

In December Regal Stratford Stadium announced that it would close and be replaced by L.A. Fitness. LINK
India: Inox Leisure has opened a new multiplex in south east Indian state of Andhera Pradesh.
INOX Leisure Ltd have commenced the Commercial Operation in 3 screens of the Company's new Multiplex Cinema Theatre situated at 4th Floor, Chitralayaa, Suryabagh, Visakhapatnam – 530020, from Today, i.e. July 04, 2014.

Inox at Chitralaya has 3 screens and 635 seats. The multiplex is 3D enabled with 2K digital projectors and will screen a mix of Telugu, Hindi and English movies, all under one roof.

INOX now has a total of 23 screens in Andhra Pradesh (7 screens in Vijayawada, 3 screens in Vizianagaram including 13 screens in Vizag). INOX is now present in 44 cities with 81 multiplexes, 316 screens and 85,091 seats. LINK
Finally
There's no such thing as 'Free Popcorn'. Unless it is Tuesday and you are at an MJR Digital Cinema. So find one by tomorrow.
MJR Digital Cinemas is offering free popcorn on Tuesdays, beginning July 8 through Aug. 26 at all of its theater locations.

All popcorn sizes will be free every Tuesday and includes one free refill on the same day of purchase.

The offer is only valid with a ticket purchase.

MJR Digital Cinemas has nine theater locations, including Southgate Digital Cinema 20, 15651 Trenton Road, Southgate. LINK
SUMMARY: Today's cinema news: world's biggest cinema screen is in South Korea, BO down in US & UK (for different reasons), non-World Cup news from Brazil, Ritzy staff strike expands

Latest posts by Patrick von Sychowski
(see all)