File under 'Keep Calm & Carry On' – online film distribution revenue will overtake cinema box office in 2017, according to a new report by PwC. But box office is actually predicted to keep rising, while the real loser will be DVD and Blu-ray. China and 3D also come under scrutiny.
By 2018, electronic home video, which includes subscription video-on-demand services and cable on-demand offerings, will be the main contributor to total filmed entertainment revenue, overtaking the box office by 2017, the study finds. In five years, revenues for the sector will double from $8.5 billion in 2014 to $17 billion by 2018. Though the movie business is clearly an industry in flux, there are bright signs for one of its oldest distribution avenues, the theatrical exhibition industry. Ticket sales are projected to climb over the next five years, with domestic box office revenue climbing 15.9% from $10.8 billion to $12.5 billion. Meanwhile ticket prices will increase by less than a dollar from an average of $8.89 to $9.81 by 2018. LINK
Variety complains that "The study's methodology is opaque, with PwC reporting that it relied on historical data and proprietary data to come up with its models and forecasts." (What, as opposed to a crystal ball?) Law & Order
USA (MI) – A man who took a pistol into a cinema and then flashed a fake CIA badge will be sentenced today. Impersonating a CIA agent is a federal offence, just so you know.
Police were called to the theater for a report of a man with a visible handgun, and officers made contact with Delavergne. According to federal court records, the FBI was contacted by the Grand Blanc Township Police Department about the identification. Delavergne allegedly told the FBI agent he went to the theater after work wearing his 9mm pistol and body armor because he did not want to leave them in his car. Federal court documents say he told FBI agents that he had a permit to carry a concealed firearm.  LINK
UK –  Talking loudly in the cinema is in and of itself a crime against cinema etiquette, but this is much worse. Let's hope the perpetrator is caught and feels the full force of the law.
A cinema-goer was bitten on the head after asking another audience member to be quiet. The 28-year-old victim was with his girlfriend at Cineworld in London Road, Crawley, West Sussex, on Sunday when he was assaulted. Police said he asked a man talking loudly in the row behind him to be quiet and the man hit him on the head. The victim left, but was followed outside and bitten and hit. He suffered cuts and bruising to his face and neck.  LINK
Business China – Is this another sign of fraud/problems in the Chinese exhibition industry? Apparently it is difficult to get an invoice if you buy multiple tickets, even from 'reputable' chains. Tax authorities are reportedly and understandably 'concerned'.
Qin said that on May 12, the company where he organized the staff together to go and watch a movie, set out to buy 16 Wanda Cinema movie ticket at a cost of 1,040 yuan. "I asked the theater for an invoice, but the other said not to buy movie tickets invoicing." Qin said that although he repeatedly requested it, but has not yet heard from the invoicing party. Subsequently, Mr. Chin told the tax authorities to reflect on this problem. Under the coordination of the tax department, he finally got the invoice on 27 May. Qin said that usually they go watching movies themselves and their friends will not ask for an invoice, if not the larger amount, so you need to be reimbursed, or he would not have asked the theater for an invoice.  LINK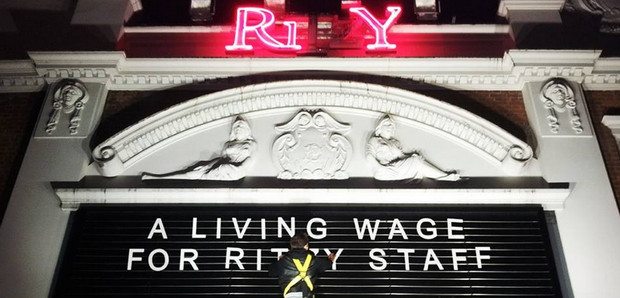 UK – No resolution to the pay dispute between Picturehouse (Cineworld) and the workers of the Brixton Ritzy. A sixth day of strike is now planned.
ECTU General Secretary Gerry Morrissey said: "Until today we thought we were on course to an amicable agreement with Ritzy management, but their move to buy off the determined and well-organised members in the Ritzy with another cut-price pay offer is a big mistake." "The Ritzy workforce has called for fair pay throughout this dispute, and they know this means at least the London Living Wage. We are willing to bargain over the timetable for the full rate to be introduced, and even offered the Ritzy a get-out if the figure for 2015 exceeds inflation by more than 2%."  LINK
Premium Cinema
Israel – Jewlicious [sic] writer Gil takes it upon himself to review Cinema City Jerusalem's VIP offering which  for 129 Shekels (USD $35) offers you film viewing in a comfortable recliner equipped with a red button and a big buffet with unlimited extra helpings. But with the food described as tasting "microwaved" is it worth it? But wait! There's more!
There were also unlimited soft drinks in cans, unlimited beer on tap, unlimited wine, a wide selections of frozen pastry deserts and small sized Ben and Jerry's ice creams. The Ben and Jerry's didn't come with much of a selection, but, hey, it was all you could eat. Once the movie began the buffet was closed. But wait! There's more! Only the main dishes were taken away. All of the drinks, including the beer, the desserts, including the ice cream, and an unlimited amount of popcorn were all still there. You could take as much as you wanted into the theater and go back out to get more as many times as you wanted. For the first time I was disappointed that a theater in Israel did not stop a movie at the exact middle, no matter how short it was, for a completely unnecessary intermission.  LINK
People
Norway – Guttorm Petterson has been elected new head of Norwegian industry body Film&Kino. He was previously head of distribution arm SF Norge for the past 15 years.
Chairman Knut Even Lindsjørn told the meeting that there has been a lot of interest for this job and many well-qualified applicants. – Film & Cinema is perceived as an important and relevant trade association, said Lindsjørn and presented Guttorm Petterson as director when Lene Løken retires in autumn 2014. Lindsjørn described Petterson as "an asset" and "a good person to lead Film & Kino."  LINK
India – Jagran Post has a long article about what Bollywood's power brokers expect and want from the new Information & Broadcast Minister Prakash Javadekar of the recently elected BJP government.
Mukesh Bhatt says that as the President of the Film and Television Producers' Guild, he has made several presentations to the government but these have yielded no results so far. He now wants the new government to partner with them. The producer says, "There are many issues that need to be addressed. First and foremost is the creative problem; it's about censorship. There are fears that the Bajrang Dal and the RSS might throttle our creative freedom. Also, we need the ministry to help us build more cinema halls across the country. And last but not the least, there is a need to create a bond between the government and industry. We need to nurture a spirit of togetherness and not us against them only then can healthy growth happen."  LINK
Digital Death Watch
Italy – The two small cinemas will close to make way for new apartments because of declining attendance and inability to meet the cost of digital conversion.
Another piece of Lecco who goes: Cinemas Nuovo and Mignon, after more than 50 years, they have increasingly turned off by their projectors. It was the last Monday evening of performances and Tuesday, usually placed on both day rooms, dampers via the Constitution will not open more viewers. In their place, in the coming months, will be home to apartments and commercial activities. It was announced by the owner of the distribution company Nexo, the Milanese businessman Stefano Di Sarro , owner of the two halls: "It 'was a sad decision and until' the very end we stalled trying to figure out if it could be done differently. "  LINK
Cinema Opening/Closings
UK – A commercial cinema partner is now sought to contribute GBP £3 million for the redevelopment of the Abingdon Guildhall.
New, cut-price designs for refurbishing the 1960s hall were revealed to Abingdon Town Council's Guildhall Committee for the first time last night. The council had hoped to spend £4.4m, but a bid for £1.9m from the Heritage Lottery Fund (HLF) was rejected in April. Last night, architects Lewandowski Willcox showed the committee what it could get for closer to £3m.  LINK
UK – Bolton Council has given the go-ahead to build a nine-screen multiplex in the town's mall The Market Place. The shopping complex's new centre manager Nikki Wilson-Cook is happy.
"I think it's just the thing that the town needs to get back to where it used to be. "It's about creating something different. "The cinema concept will be about showing films for the community with maybe live opera shows or an orchestra in the intervals. "More like the Cornerhouse in Manchester as opposed to an Odeon.  LINK
UK – The proposal to redevelop the Odeon Marble Arch that we mentioned in yesterday's Daily has been approved by Westminster City council.
Almacantar has been granted planning permission for its planned redevelopment of Marble Arch tower, as well as a site on Edgware Road.LINK
USA (MI) – A good way to open a new multiplex.
MJR Digital Cinemas is kicking off the grand opening of its new Troy location with a fundraiser benefiting the Boys & Girls Club of Troy on June 19. The MJR Movie Night fundraiser will be held at the MJR Troy Grand Digital Cinema 16 located at 100 E. Maple Rd. starting at 5:30 p.m. Patrons will have access to a cash bar and food from an array of Troy's finest eateries. Restaurants already confirmed for the event include Kona Grill, Granite City, Carrabba's Italian Grill and Tim Hortons Troy.  LINK
Australia – It looks like the new owner of this iconic art-deco cinema plans to restore it to its former glory.
Mr Venables said the historic property had sold for an undisclosed price to a Melbourne buyer. While he declined to discuss the new owner's identity or plans in details, Mr Venables said the buyer intended to restore the heritage-listed and Commercial 1 zoned property to its former glory. "It's been bought by a Melbourne based investor and all indications are that this buyer does know Lorne and the Surf Coast really well," he said.  LINK
Finally
'Iconic Movie Posters Reinterpreted As Neon Signs' The headline is fairly self explanatory. We sure would love to see one of these over a cinema.
On his Twitter page, Mr Whaite refers to himself as a "bespectacled pop artist & digital neon freak," which is a great introduction to his series of neon film posters for popular movies. Using iconic images from the films, he playfully creates a simple neon sign, taking their aesthetic inspiration from the flashing luminous tube lights used to advertise late night establishments for drinking and other heinous activities. On his Tumblr site, which includes other filmic art, he explains his love for these electric fireflies of the city: "I love neon signs—they're hypnotic, sexy, sleazy and tacky all at the same time—and I've always thought it would be cool if cinemas used them to advertise films. So with that in mind, I thought I'd have a go at designing some animated Movie Neon. My first attempt is Ghostbusters—an obvious choice really, particularly as neon featured heavily in the video for Ray Parker Jr's single…"  LINK

Latest posts by Patrick von Sychowski
(see all)