The fact that China's box office is booming is taken as a given, but depending on how you look at the figures, some more troubling aspects shine through.
Grace, vice president of Arts and Consulting Research told the "First Financial Daily" correspondent that although the theater building heat remains the same, since last year the per capita attendance continues to decline, in addition, a monthly box office analysis that the market performance is still potential for the market to fall, should be vigilant.
And despite some big hits like "Monkey King" that does not mean that all months represent unchecked growth. Quite possibly the opposite.
Throughout the first five months of 2014, although they did create the highest grossing single month, but the movie box office market on a monthly count fell. In February this year the market continued to perform eye-catching, with the box office results for the first time pushed the monthly rise to 30 billion yuan; March continued to market the off-season, April decline, down 1% year-on-year, in May performance is not satisfactory, an increase of only 7% . Continued growth in the number of screens, viewing habits in a gradually mature market, the market still appears as a broader market decline, it is worth alert.
Finally, if you look at this from a five year perspective, growth is not close to what it ought to be right now.
For ongoing theater building heat, Hou Tao told reporters, according to Arts Grace Consulting study of the past five years, including tracking attendance of this year, a downward trend in attendance last year, attendance is about 17% below the 2012 level this year half expected 15% to 16% growth in attendance, which is not optimistic.   LINK
Advertising
Australia – Shazam is looking to extend its cinema partnership model from the US to Australia, doing with Val morgan what it's done with NCM in the US.
Although Sos concedes the issue of movie etiquette and not using phones or playing audio in theatres is valid, he believes cinema is a lucrative and growing market for brands to engage with audiences through mobile

"We're so wedded to the device that the idea of turning it off and putting it down for few hours actually scares us so [most people] are trying to do things on the phone before the movie starts," he said.

"There's an opportunity to connect through the soundtrack of a movie, introduce direct click-to-buy, as well as connect with advertisers before films start. In that way it's a natural environment to Shazam. And because it's unobtrusive its a nice way to engage with content."  LINK
USA – Meanwhile another company promises to be the 'Shazam And Pinterest Of Cinema', though perhaps better suited for home than the multiplex since it involves Google Glass.
What if you could discover products and locations from your favorite movies the moment they appear on screen? Whether it's James Bond's 007 tuxedo from "Skyfall" or a pair of shoes from the ladies of "Sex and the City," a tech startup called TheTake hopes to be both "the Shazam and Pinterest for movies" by integrating its technology with mobile, Web and Google Glass platforms.

Tyler Cooper, cofounder and chief executive officer of TheTake, spoke to International Business Times about how the company's technology works and when its users can download the mobile app.  LINK
Business
India – Unlike PVR, Reliance ADAG does not publish financial quarterly figures for Big Cinemas (particularly now that the Reliance MediaWorks shares are de-listing), but they are still happy to talk screen numbers.
Reliance Media Works is expanding the base of its multiplex arm Big Cinemas by adding up to 50 screens in southern and eastern regions within a year. Big Cinemas is part of the Reliance ADAG group. "We are expanding at Coimbatore, Vizag, Chennai, Bangaluru, Hyderabad and Kolkata in East. we are looking to add up to 50 screens in next one year. They would be three screen and five screen theatres," Reliance Media Works Chief Executive Officer Venkatesh Roddam told PTI. However, he did not share investment details.  LINK
India – After yesterday's positive quarterly figures from PVR, investors are now classifying the exhibitor as a BUY opportunity.
"PVR has an impressive market share of ~25% (including Cinemax) of the total 1600 multiplex screens in the country. After the Cinemax acquisition, the company has a combined revenue share of 20-22% (Bollywood) and 30-35% (Hollywood) of multiplex revenues. The company has about 421 screens as on date and plans to augment its market share by rolling out 60-70 screens each year. This leadership position gives PVR the leverage to negotiate better deals with movie producers.

We expect the total tally at PVR to reach 481 screens (109 properties) and 537 screens (119 properties) in FY15E and FY16E, respectively. PVR also plans to approach the next government for a minimum window norm before movie releases are available on other platforms." "We expect consolidated revenue and EBITDA growth at a CAGR of 13.0% and 18.8%, respectively, in FY14-16, led by ATP uptick and increased occupancies aided by the higher property roll-out. Moreover, a gradual recovery in economic activity will increase disposable incomes to keep growth buoyant. We continue to maintain our BUY recommendation. We value PVR at 10x FY16E EBITDA and arrive at a target price of Rs 673", says ICICIdirect.com research report.  LINK
UK – LondonMetric has sold part of its portfolio of Odeon cinema properties for a small profit.
At Huddersfield, LondonMetric has exchanged on the sale of the Odeon Multiplex cinema for £15.2 million to TIAA Henderson Real Estate, reflecting a net initial yield of 6.1%. The nine screen 54,436 sq ft cinema is let to Odeon Cinemas Limited for a remaining term of 24.2 years with no breaks. The lease is subject to annual fixed uplifts linked to the RPI index of between 1% and 5%. The property formed part of a portfolio of ten Odeon Multiplex Cinemas acquired by LondonMetric in November 2013 for £80.7 million, reflecting an overall net initial yield of 7.2%. Following this disposal and the previous sale of the Odeon in Dudley, LondonMetric now owns a portfolio of eight Odeon Multiplexes with a rent roll of £4.4 million.  LINK
Audio
Australia – Dolby is expanding its Atmos footprint Down Under.
The normal surround sound in any garden-variety movie cinema is already pretty good, but it's about to get a whole lot better. Village and Reading cinemas around the country are installing or planning to install Dolby Atmos in their flagship auditoriums, with up to 64 speakers inside each movie theatre.

One of the first cinemas in the country to be upgraded to Dolby Atmos is the recently renovated Village Cinemas at the Crown Casino complex in Melbourne's South Bank. The first was the Reading Cinemas complex at Waurn Ponds in Victoria, and more multiplexes are planned for the near future.  LINK
Crowd fundraising
UK – East London's most famous DVD rental store Close-Up has an ambitious plan to create a small cinema space for the local film community. They are looking for GBP £45,000 on Kickstarter.
After twelve months we are finally near completion, and never want to hear about another RSJ again, but there is still some way to go…

The works involved to convert the existing 2100sq foot venue have pushed us to the edge of our financial resources. It has been an epic journey to find the £180,000 needed so far to carry out these works.  LINK
Accessibility
Germany – The first review of the Greta and Stark apps for visually and hearing impaired cinema patrons. Overall positive but could be improved further.
His conclusion after the movie: "It is welcome that as an app has been developed, however, it still has a few shortcomings.." Thus, the 16-year-old who is blind from birth, disturbed that the descriptions were spoken too fast and he had therefore difficult to process all the information. Even so, many details – such as what number has a door – would have been superfluous, because it did not matter for the rest of the film. Particularly annoying is Achim, that it is only for phones with touch screen are "Greta", which is not necessarily user-friendly for the blind. "Maybe you could bring something similar for key phones on the market," suggests the high school student.

"Stark", the equivalent for the deaf, works similarly to "Greta". Just not via headphones, because "Starks" shows advanced, so-called "Hard of Hearing" information on the smartphone: subtitles for the hearing impaired. The want Tannja and Markus Frank test. However, even before the movie starts, the couple realized that it will be uncomfortable to hold the phone during the whole idea in his hand. Necessity is the mother of invention, two stools in front of the chair of the Franks are quickly placed, on which stand up both their phones upright. Not ideal, but better than before. On its website, the developers state that they as a holder and a data glasses working on better solutions.  LINK
Cinema Opening/Closings
Oman – Vox Cinemas continues to expand across the Gulf States.
VOX Cinemas opened its ten-screen state-of-the-art theatre in Muscat City Centre (MCC) on Monday. VOX Cinemas has said that this will usher in a new era of cinematic excellence and introduce a truly immersive movie-going experience.

Following this launch, a seven-screen cinema is set to open later this month at Qurum City Centre…

Movie goers will be spoilt for choice, with the convenience to choose how they want to watch their favourite blockbusters – in standard 2D, with spacious VIP seating, or opt for the biggest, most immersive experience ever to be introduced to Oman – VOX MAX, a megascreen concept first launched by VOX Cinemas in UAE in 2011. It is one of the most popular movie-going experiences, presenting movies the way directors intended them to be watched – on huge screens, with crisp digital imagery supported by state-of-the-art surround sound technology and comfortable seating.  LINK
UK – Plans to demolish what was once Europe's largest cinema, the Odeon Marble Arch, will be decided on today in London. The new development would still house an Odeon cinema.
Plans to demolish the 1960s "eyesore" Marble Arch Tower and replace it with flats overlooking Hyde Park will be decided by councillors tonight.

Developer Almacantar will learn if its contentious proposal to raze the building, which also includes the Odeon cinema at the western end of Oxford Street, will get planning permission.

The design is by Rafael Viñoly, the architect who is masterminding the redevelopment of Battersea Power Station and was behind the Walkie Talkie tower at Fenchurch Street.  LINK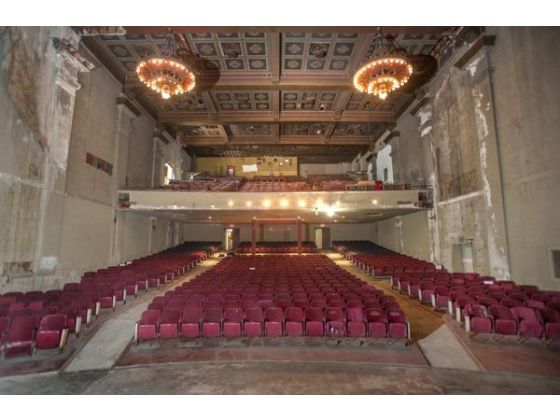 USA (CA) – A good overview of efforts underway to renovate and/or re-open some truly magic theatres in Southern California's Orange County (aka, the O.C.).
Sunshine streams through a hole in the ceiling of the empty 87-year-old Balboa Village Theatre, lighting the sand floor and grafittied interior walls.

"I really thought we were going to do it," says Dayna Pettit, a local Realtor who has crusaded for nearly 20 years to reopen the historic cinema, which closed in 1992. "I remember Disneyland donated red velvet seats."

Today, there are no red velvet seats. No big screen. No marquee.  LINK
Finally
It's almost summer, which means that it must be time for… listicles! Yes, after yesterday's 30 Greatest Cinemas, today we bring you Europe's Top 10 Open-air Cinemas. Beat this one for size.
Locarno on the Lake, Switzerland

The Swiss lakeside town of Locarno, at the northern tip of Lake Maggiore, with views of snow-clad Alpine peaks in the distance, is the venue for one of Europe's oldest outdoor cinema festivals. The great attractions are the beautiful Piazza Grande – with seating for 8,000 to view the movies – and the 26 x 14 metre screen. The starry summer skies, balmy night air, palm trees and bohemian atmosphere make alfresco film watching a real pleasure.  LINK

Latest posts by Patrick von Sychowski
(see all)