UK – Is cinema becoming a luxury? By that we mean unaffordable to the average income family? This study makes for worrying reading.
A night out at the cinema is becoming increasingly unaffordable because of rising ticket prices, experts are warning.

The consumer media survey by consulting firm Deloitte found that 70 per cent of people on an annual salary of more than £55,000 go to the cinema at least twice a year — but only 39 per cent of those earning under £20,000 do so.

Since 2007/08, the cost of a ticket has risen 4.4 per cent a year — ahead of inflation, at 3.1 per cent. The average ticket in the UK now costs £6.53, according to the Cinema Exhibitors' Association. Prices in central London can be around £12.  LINK
In London 27 out of 73 constituencies do not even have a local cinema.
India – The newly elected BJP government will have a full IN-tray upon taking office in New Delhi. Here is some sensible advice for them from the head of PVR: scrap the punitive entertainment tax.
While India is the fifth-largest market in the world with box office collections of $1.6 billion, the overall year-on-year growth has been around 9 percent over the last five years, and has been largely driven by multiplexes. In comparison, China's box office has leapfrogged to $3.6 billion in 2013, representing a year-on-year growth of 27.5 percent. China added approximately 5,000 new screens in 2013 as compared to negative screen addition in India. (It is estimated that 250 new multiplex screens were added but 400 single-screen cinemas shut down in 2013.)

The entertainment tax rates in India are the highest in the world. This acts as a major impediment to the growth of the exhibition industry. Rates are as high as 67 percent in Uttar Pradesh and 45 percent in Mumbai, the movie capital of the country. Consequently, a large portion of theatre ticket receipts go towards taxes instead of being channelled into development of quality exhibition facilities. As a result, most single-screen cinemas are in a dilapidated state because of poor and negative profits. It is imperative that the entertainment tax structure across the country is rationalised by bringing down the rates.  LINK
Business
UK – If true then it strikes me as very petty by Picturehouse/Cineworld.
The Picturehouse cinema chain has refused to host a benefit showing of award winning film director Ken Loach's latest film because he supports strikers in the chain's Ritzy cinema.

Ken Loach, a Palme D'Or winner, is travelling to Cannes, France, to show his new movie Jimmy's Hall. No other director has been invited to show their films at the Cannes festival as often as Loach.

He told Socialist Worker, "Every film I do we have a small benefit screening for Bath City Football club at the Bath Little Theatre. It has a charitable foundation and a non league club like them hang on by their fingertips.  LINK
UK – It may have just got a brand new sign in place, but Plaza Cinema in Waterloo deserve to be commended for their charity initiative.
It comes in the same week as the Plaza announced a fresh initiative to work with the local foodbank with the hope that the cinema can help raise donations for the charity.

Staff are asking anyone who pays £2.60 to watch a film on 'Plaza Wednesdays' to also give one item of food that will be passed on to the foodbank.  LINK
UK – Yet another letter complaining that Cineworld shuns more art-house oriented fare at their multiplex.
You will be aware that Wakefield is the UK's 11th largest city with a population in the region of 300,000.

Now,I don't know if facts such as that have any bearing on how decisions are made by Cineworld in how they treat the cinema-going public and how poorly they actually serve their potential customer base.

Wakefield consistently misses out on a whole range of films that usually have a screening at Castleford Cineworld but are never shown at Wakefield.  LINK
Technology
China – Barco, Christie and NEC are not the only ones with laser (light source) projectors. Look to China for pioneering efforts in this field.
CCID appliances at the "17th Beijing International High-Tech Expo China", the Light Fung Wah Ying (Beijing) Technology Co., Ltd. and China Film Company jointly announced the formation of a close strategic partnership. Together they will create a new laser-based ALPD cinema laser display technology. As the owner of the intellectual property and technology, Light Fung Wah Technology also showcased the latest research and development of laser film projectors. The move also demonstrates to the the mainland film market that it is about to usher in the laser projection theater era. During the exhibition, Beijing Municipal Committee, the Ministry of Industry, Science and Technology and other government department heads have come to the booth, and Fung Wah technology and laser shadow theater project demonstration was highly appreciated.  LINK
Accessibility
China – It seems that China is making a significant effort in providing accessibility for visually impaired cinema patrons.
Fifteenth "Shanghai assistive Week" recently came to an end. Our reporter learned that this year, "to provide audio description viewing services for the city's 20,000 visually impaired people," was the first column in the municipal practical projects, the city has 16 movie theaters opened with special accessibility. In addition, a number of assistive residual items from this year were in place to help the long-term services for persons with disabilities, to help resolve the practical difficulties faced by people with disabilities.

It is understood that Shanghai has 16 commercial theater that provide audio description film screenings, a monthly audio description film screenings throughout the year will provide movie viewing services for 20,000 visually impaired people. Cathay cinema which mainly provide visually impaired Jing'an, Huangpu services; theater district 15 vision disabilities will all meet the needs of the nearest convenient viewing place. In the first four months, a cumulative total of 16 cinemas screened 64 films, with about 7,000 disabled people able to watch.  LINK
Cinema Opening/Closings
Canada – Multiplexes opening in places previously served by single-screen cinemas always present a challenge for the incumbent, particularly when they focus on premium experience in terms of F&B. Also strange that the smaller cinema was not given an alcohol licence, but the three Cineplex 'VIP screens' were.
Cineplex Entertainment's plan to open a glitzy new movie theatre at Lansdowne Park late this year could spell doom for the nearby single-screen Mayfair Theatre, the co-owner of the city's oldest surviving cinema warned on Monday.

The new, 10-screen theatre will be "one of Canada's most luxurious and technically advanced movie theatres," according to Cineplex. Three of its cinemas will be licensed to serve alcohol.  LINK
USA (AL) – This could be one of the northernmost cinemas in North America. Notice that all the buildings are on stilts.
A new movie theater in Bethel and the two-story mall it will be located in will have traditional Yup'ik names.

KYUK reports (http://kyuk.org/26372/) the $18 million, two-story Kipusvik (gee'-BUZ'-vik) Building will open July Fourth. Kipusvik is a traditional Yup'ik word which means "a place to purchase."

Bethel Native Corp. President Ana Hoffman says the theater will be named Suurvik Cinema. Suurvik means "show hall" in Yup'ik.  LINK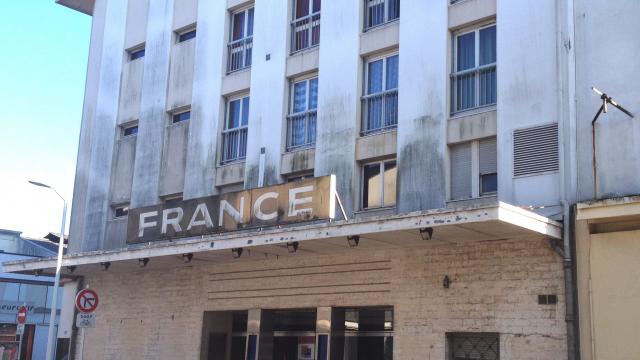 France – Let's hope they manage to bring this cinema back to life.
Closed since 2001, the former hall of the rue Jean-Jaurès had been sold in February. Saint-Nazaire two investors who, in turn, want to revive it.

On February 20, the Lagrange family had finally found a deed for the old cinema France rue Jean-Jaurès. It was 13 years old she wanted to separate from what was, with 400 seats, the largest cinema hall of Saint-Nazaire, opened in 1974 and closed in 2001.  LINK
China – Hong Kong exhibitors are making inroads into the cinema market in mainland China, this one in Zhuhai, a city of 1.5 million inhabitants.
The Hong Kong-owned theater first opened on the 20th of May. This is the first introduction of Zhuhai to the CEPA9 ("Closer Economic Partnership Arrangement between the Mainland and Hong Kong" Supplemental Agreement IX) audiovisual services that permit Hong Kong-owned cinema.
The theater spent 10 million yuan, the investor is a Hong Kong listed company National Arts Holdings Limited. The theater is also the company's first in mainland cinemas.

The general manager will be Zhuhai Yi Feng Yu, with some of what their theater in the Mainland offering being different, as the hospital launched is a private home theater-style and other types of services, such as the ability to make an appointment in advance of the viewing time, customers can pick any movie released and there are food offerings of wine, cake, coffee, pizza and other food choices, customized to meet the needs of all types of cinema fans.  LINK
Finally
We don't have any pictures of the new cinema above, but we expect it is pretty spectacular. Anyone doubting just how amazing new cinemas in China can be (never mind how far superior to most in the West) need to check this other cinema opening in China this week.
Adjacent to Haicang Lake, the Monroe Opera Cinema is one of the six main anchor stores in Aluohai City Plaza, offering superb movie times in its 9 deluxe halls with over 1,200 seats. Covering an area of 5,000 square meters, the European style cinema has profound elements similar to an opera house.

The cinema has 4 normal halls, a 480-seat giant-screen hall, a family hall, two lover's halls and a VIP lover's hall, offering many options for moviegoers for a unique and wonderful experience at the cinema.  LINK

Latest posts by Patrick von Sychowski
(see all)