Is China undergoing a 3D backlash? Speakers at the recent Beijing International Film Festival seemed to go to great lengths to condemn poor 3D.
Prominent members of industry like Yang Buting, chairman of China Film Distribution and Exhibition Association and China Film Overseas Promotional Corporation, lined up to have a go at the format. Director Paul Andersson (Resident Evil and many other 3D films) said that there were too many bad 3D films and exhibitors over-charging (see next item), which could lead China to follow the US lead of audiences switching back to 2D.
Take the numbers with a pinch of salt, however, as the most recent screen count in China is 20,007, which makes the first figure quoted nonsensical.
More than 20,000 movie screens in China can play 3D films and more companies are competing to sell their 3D projection equipment, which used to cost between 80,000 yuan and 150,000 yuan. Now equipment is no more than 20,000 yuan, said Yang.

"This kind of vicious competition has lowered the quality and cost of 3D films, thus upsetting viewers," he said.

Paul Anderson told Xinhua that it is better to give audiences a choice.

"If you don't give them a choice and you deliver bad 3D products, eventually they will stop going to the cinema. American people are choosing to watch 2D rather than 3D films," he said.  LINK
It is worth remembering that films like RoboCop and Transcendence were released in 3D only in China, to qualify for the 20+14 foreign film import quota, while Noah was released in 3D everywhere around the world (except in muslim countries that banned it in 2D and 3D) except in the US.
Chinese cinemas are also coming under scrutiny by city councils for the practice of charging a premium for tickets to 3D films, as well as requiring patrons to spend extra to buy 3D glasses.
Miss Xiao told reporters the she recently went to a South City theater to watch a 3D movie. After buying the tickets, she was told she would be required to purchase 3D glasses sold by the cinema or she would not be able to watch the 3D movies. "At the time, I felt very angry, but I did not want to think about spending more money to buy more than the ticket to affect my mood, so I spent more than ten yuan to buy 3D glasses trouble." Consumers such as Miss Lee, Mr. Jin is one of many who suffered such things. City Council said yesterday, after investigating  theatres in Dongguan, that this situation does exist.  LINK
The City Council is threatening cinemas with actions for violating Article 26 of the "Consumer Protection Law" and urges them to "consciously safeguard the legitimate rights and interests of consumers." Seems like there is trouble brewing here on multiple fronts.
Business
UK: Vue has sold its flagship cinema in London's Leicester Square to an investment management company that fronts pension funds amongst others. I'm guessing they will rent it back to Vue, rather than evicting them.
Cordea Savills, the international property investment manager, has purchased the Vue Cinema in London's Leicester Square for £23.46 million on behalf of a UK pension fund client. The asset is the first to be purchased as part of a new mandate of £100 million to be invested in properties with RPI or fixed rental increases.

The nine-screen cinema, seating 2,500 people, lies in the heart of London's tourist and leisure industry, the West End. It was rebuilt behind the Art Deco façade in 1993 and is the only true multiplex on Leicester Square.

The property comprises a 22 year leasehold interest from freeholders Gascoyne Estates and is being acquired at an initial yield of over 8.25% with fixed annual rental increases of 2%.  LINK
Technology
USA (CA): FJI provides an overview of various ticketing systems vendors. Here is a (random) example of one:
Retriever Software
Retriever Software introduces Retriever Mobile, their branded theatre app for convenient ticket sales and theatre marketing through mobile devices. With 58% of U.S. consumers already owning smartphones and 1.2 billion users accessing the web with their devices, the Retriever Mobile App will become a timely and powerful addition to your theatre marketing force. Their apps are custom-designed and branded specifically for each theatre, and can offer features including one-touch ticket purchasing with mobile wallet, virtual gift cards, and push-notifications for promotions and newsletter distribution. They can even keep your patrons connected to the theatre through a Facebook schedule. Once your patrons download the app from iTunes or Google Play, your theatre will become their favorite place for entertainment. Contact Retriever at 888-988-4470 or visit them at www.retrieversoftwareinc.com for additional information.  LINK
Crowdfunding
USA (IL): A good example of a Kickstarter digital cinema story with a happy ending; the USD $70,000 target was reached nine days early. But there is much more going on elsewhere in the country.
At first glance, the recent campaign for the century-old Wilmette Theatre seems plucked from the pages of a Hollywood script – a cast of characters has 30 days to raise $70,000 or their beloved movie theater will be unable to foot the bill for a projector needed to stay in business.

But the North Shore venue's fans were all but proclaiming, "let's put on a show!" after an online Kickstarter fundraising campaign for the historic theater on Central Avenue in the heart of downtown Wilmette reached and surpassed its $70,000 goal before the April 30 deadline.  LINK
There is a LOT of background to the problem facing other single-screen cinemas and statistics from NATO and other sources, so do read the entire article:
The financial hardships posed by the conversion from film to digital are not uncommon to small, independent movie houses, said Patrick Corcoran, vice president and chief communications officer at the National Association of Theatre Owners, who said of the 5,750 for-profit movie theatres across the U.S., roughly 800 to 1,000 venues have not converted to the new digital technology.

While the trade organization does not track nonprofits like the Wilmette Theatre, overall an estimated 94 percent of the 40,048 movie screens nationwide have now converted to digital technology, Corcoran said.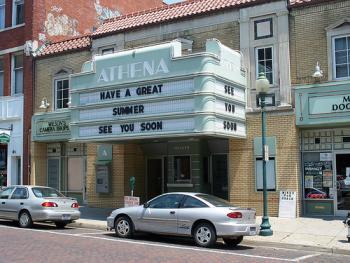 USA (OH): Interestingly a fund raiser for a cinema that is NOT aimed at digital conversion but for general operating expenses.
Ohio University has made several upgrades to the theater in the years since purchasing it, including new projectors, refurbished seats and programming like "Science on Screen," a project of the Coolidge Corner Theater that is supported by the Alfred P. Sloan Foundation.

Since OU's ownership, the Athena has also been taken back to its art-house cinema roots, screening films that focus on independent work, foreign cinema and documentaries on current issues. It is the only art-house cinema in southeastern Ohio.  LINK
The Athena is one of the handfull of cinemas that participates in the "Science on Screen" (see below).
Event Cinema
USA (CA): FJI has an article looking at 'alternative content' (the term 'event cinema' still hasn't caught on in US), in which the writer focuses primarily on Fathom, the Met Opera and the interesting Boston-based Coolidge Corner Theatre's "Science on Screen":
"Science on Screen" pairs a film with a discussion: A speaker, usually a professor or scientist, leads a talk on a scientific topic loosely related to the themes of the film. The looser the connection, the better: "We're not showing Jurassic Park and talking about dinosaurs," says Coolidge Corner executive director Kathy Tallman. A screening of Bill & Ted's Excellent Adventure featured an MIT physicist waxing theoretical on real-time travel; Young Frankenstein's screening included a talk about bioelectricity with a Tufts principal investigator; and, during one of Tallman's favorite events, a viewing of 8 Mile featured a discussion on the brain activity of musicians when they improvise, led by a Johns Hopkins surgeon.

In 2008, then executive director Denise Kasell brought "Science on Screen" to the attention of the Alfred P. Sloan Foundation, a nonprofit grant-making organization. "They were impressed enough by the program to expand it on a national level," says Tallman. That year, Sloan gave Coolidge Corner a grant the theatre then re-granted to eight cinemas for the purposes of establishing their own "Science on Screen" programs. The Coolidge has received three grants from the Sloan Foundation, Tallman reports, totaling over $1 million. They have so far supported 30 theatres.  LINK
Pop-up Cinema
UK: Outdoor screenings are not just the exclusive preserve of London in the UK. Manchester has a regular summer series too.
The summer screenings, sponsored by San Miguel, will take place every Thursday, adjacent to the new Lawn Club bar, which is now open.

Thousands of visitors can get comfy on a bright yellow deckchair and enjoy film favourites such as The Goonies, Dirty Dancing and Pretty Woman.

Running throughout summer until September, tickets for each film are £3, with deckchairs available at a small extra cost.  LINK
Cinema Opening/Closings
U.A.E.: The Indian's love affair with Middle Eastern cinemas deepens.
The CEO of Oscar Cinemas has just lifted the curtain on a seven-screen multiplex that will open the tills later this year. It forms part of the Al Shaab Village Mall in Sharjah. "The location is what interested us right from the beginning, being halfway between Sharjah and Ajman," said Kabeer. "Cinema screens in the UAE have so far tended to be in high-density locations and there are few of them in less easily accessible locations. However, road networks into the northern emirates are improving and that improves the viability for cinemas in non-Tier A locations."

Oscar Cinemas operate 18 screens in Abu Dhabi and Al Ain, including having the management of the popular Al Wahda Mall in Abu Dhabi. It has also been looking at enquries coming in from Oman and Qatar to launch a presence there.?  LINK
South Africa: A new Imax is coming to South Africa, courtesy of Ster Kinekor.
Ster-Kinekor will begin construction of a new Imax theatre at The Grove mall in the east of Pretoria this month (April 2014), the cinema company announced on Twitter today (22 April 2014).

The expected completion date for the Imax theatre is June 2014, in time for the launch of Transformers Age of Extinction, Ster-Kinekor said.

News of the new theatre comes after Ster-Kinekor announced the return of Imax to South Africa in September 2013, with the first theatre constructed at Ster-Kinekor's cinemaplex in Gateway Mall, Durban.  LINK
USA (AZ): Harkins has been given the green light for a 14-screen multiplex in suburban Phoenix.
The town of Queen Creek has issued building permits for the Harkins Theatres 14-screen multiplex at Queen Creek Marketplace, Queen Creek Councilman Jeff Brown posted on Queen Creek/San Tan Valley Independent's Facebook page April 17.

"Our new Harkins Theatres will be slightly over 64,000 square feet and will house 14 theaters ranging in size from 128 seats to 428 seats in each theater," Councilman Brown wrote. "The new 14-plex theater will have a total seating capacity of 3,110 people."  LINK
Finally
It seems that the 'Theatre at the End of the World' in the Egyptian desert is no more. It was a soebody's crazy dream made (almost) reality, and now it is just a memory, without a single film ever having been shown there.
When the photographs made the original rounds, the theater seemed to have been in more or less pristine condition, but now a new set of pictures has been released that shows the site in ruins. No one has taken credit for the destruction, and it seems possible that the actual site was destroyed before the theater's recent popular renaissance, although it seems equally likely that it was brought to the attention of vandals thanks to its sudden rediscovery. Whatever the case, it seems we've lost yet another of the amazing places that the internet has brought to light, for better or worse. [Egyptian Streets]

UPDATE: Twitter user LionelJune points out that the theater was likely stripped for scrap metal which is rather scarce in Egypt right now. Zayed's photographs would seem to confirm this as it looks as though the chairs' metal sidings have been stripped away. Either way, a shame.  LINK

Latest posts by Patrick von Sychowski
(see all)