Could Chinese authorities be about restrict imports of the quintessential multiplex staple imported from the United States?
No, we are not talking about movies or Hollywood; the greatest American export success to Chinese cinemas does not come from California but from the fields in Nebraska.
Different Attitudes – Changing Habits
Nothing illustrates the difference between Chinese and American cinema goers more than the respective attitudes to 3D and popcorn. While American audiences are increasingly turning their back on 3D, their appetite for concessions appears undiminished, to the point of circuits like Marcus and Laemmle installing larger seats to accommodate the expanding backsides.
Meanwhile, the challenge for Chinese cinemas is how to get people to consume more concessions to match their seemingly insatiable appetite for 3D films and thus increase average revenue per cinema visit. But a change is already underway.
The importance of popcorn to the growing Chinese cinema sector was highlighted by the recent revelation by Dalian Wanda Group that nationwide popcorn sales for its Chinese cinemas totaled 390 million yuan (USD $62.8 million) last year.  This amounted to 72% of total concession sales and 9.5% of its total earnings of 4.1 billion yuan. (By way of comparison Wanda's American chain AMC earned USD $1,847 million from ticket sales and USD $787 million from food and beverage in 2013, with concessions thus representing over 28% of total revenue.)
The push to pop in China is understandable because the ingredients for a bucket of popcorn cost just 3 yuan (US$0.48) while selling for 20 to 30 yuan (USD $3.22-$4.83). Huang Qunfei, general manager of the Chinese exhibitor Beijing New Film Association,  was quoted by Xinhua as saying, "It is very common to have an 80-percent profit margin in selling popcorn due to its low costs. Although tickets sales make up the largest share of revenues, popcorn and snacks can sometimes contribute more to profits."
Sales of popcorn accounted for as much as 20% of the total revenue of Chinese cinemas turnover in 2013. Wanda is the largest but not the only circuit benefitting from growing popcorn demand. Quoted in the Want China Times:
An executive at the Beijing UME Cineplex stated that popcorn and beverages were usually the only derivatives sold at domestic cinemas and that the complex's popcorn sales accounted for 10% of its total revenue of at least 30 million yuan (US$4.8 million) last year.
However, the issue of concessions is complicated by the increasing tendency by Chinese cinemas to bundle cinema tickets, popcorn and sodas as one combo.
As quoted in the Wantinews:
Some studios will be popcorn, drinks and movie tickets to the package in the form of sales, for the theater, it is also a most profitable way to steal the box office, such as, 'two movie tickets + popcorn + two glasses of cola in a vat' Sale price of 100 yuan, reported profits in the theater, the price will these two movie tickets to the film side of the reported minimum price, usually 25 yuan, that is reported as 'two movie tickets sold 50 yuan', while the remaining 50 yuan is classified as popcorn and beverage consumption, profit from.
Selling the cinema ticket at minimum price, for which revenue has to be split, while increasing the proportion of revenue from concessions, is thus an added incentive for Chinese exhibitors to encourage stronger popcorn and soda demand from audiences.
The China-Nebraska Connection
A little known fact about Chinese cinema concessions is that while multiplexes increasingly rely on domestic films for hits, they are still almost wholly dependent on US imports for popcorn kernels. Wanda has a supply agreement with from Nebraska-based farmers' co-operative Preferred Popcorn, which is the world's third largest supplier of popcorn kernels.
When the Preferred Popcorn organisation opened its new 'global' headquarter in Chapman, NB, last year, the global nature of the 15-year old company was apparent. The company exports to over 60 countries, but one in particular stands out:
[Nebraska Governor Dave] Heineman related a story about one of his trade missions to China when [Preferred Popcorn CEO Norman] Krug was part of the delegation.

"We were in China, and we thought we would have a reception for the Chinese, and I told Norm that we had to have popcorn," he said. "I didn't give him a lot of advance notice, but he produced. You should have seen all the Chinese delegation and all of us who were there as we were enormously proud that we could talk about a product that is being produced here in Nebraska, in the metropolis of Chapman."
It might seem like an amusing anecdote, but there was great seriousness to the China visit by Preferred Popcorn CEO Norm Krug on 25 February this year. The purpose of the trip was noted as "to exchange views with Wanda with regard to corn kernels supply and food safety." But this seemingly innocuous phrase hides a twin danger that could potentially damage America's popcorn dominance in China.
Ever since the 2008 Chinese baby milk and infant formula scandal, food safety has been a top concern in China. As a result, China restricts which type of genetically modified organism (GMO) crops and food stuff it allows to be imported. Reported in the Wall Street Journal only three days ago, China has clamped down significantly on corn imports from the United States this year:
China's tougher stance on imports of genetically modified corn is roiling U.S. agribusiness, largely halting trade in the biggest U.S. crop in its fastest growing market. By one industry estimate, exports are down by 85% compared with last year.

Since mid-November, China repeatedly has refused shipments of U.S. corn, saying officials detected that some contained a genetic modification developed by Syngenta that Beijing hasn't approved.

The rejections have hurt grain-trading companies such as Cargill Inc. and fueled frustration with what some U.S. executives say is Beijing's opaque regulatory process when its clout as an importer is growing. China is the world's fastest-growing market for corn.
This table neatly illustrates just what is at stake for American corn growers looking to export east. As Gary Martin, president of the North American Export Grain Association, says in the article. "It's a watershed-type of moment. It's pretty dramatic if the U.S. can't supply the Chinese market." Agriculture major Cargill blamed its quarterly 28% decline on the Chinese rejections.
Not All Corn Is Created Equal
It is important to note that popping corn is a specialised crop, different from typical corn. The fields of corn on the cob that you see driving through the Midwest – or that you saw Cary Grant run through in North By Northwest – is not destined for the cinema. The majority of such corn is livestock feed and America exports it to China to fatten their pigs and chickens destined for the a sweet-sour ending on the dining table of middle class urban Chinese families.
Popping corn is grown on just a handful of large farms in Indiana, Nebraska, Ohio and South Dakota, with smaller amounts also grown in Illinois, Iowa, Kentucky and Missouri. Planting is spread over many states, so that drought in one state (as was the case in 2011) ensures that other states can still supply America's favourite movie snack.
The issue of GMO corn was raised during the Nebraska trade visit to China earlier this year. Reported in the Weekly Journal (link – WARNING: NSFW due to gratuitous and irrelevant busty Chinese lingerie model photo!):
In addition, the main raw material is corn popcorn, caramel and coconut oil, according to the USDA website data, as of 2012, the United States produced 88 percent of the corn is genetically modified crops. Wanda Corn popcorn then used genetically modified corn is not it?

In this regard, China announced its aspects Wanda Corn materials are non-genetically modified corn. And the reporter purchased Wanda cinema popcorn boxes also did not see any explanation for their corn feedstock.
Yet with so much of American corn being GMO, the Chinese fears persisted and the question was repeatedly put to Preferred Popcorn:
Weekly Times reporter wrote Preferred Popcorn Company to continue to ask questions about the company's corn sources for China, but as of press time, the reporter has not yet responded.

It is worth noting that after the media interviews the chairman of the Iowa Corn Association Williamson, according to its introduction, Iowa transfer is higher than the proportion of GM maize cultivation U.S. average, more than 90% of the corn is genetically modified varieties. When asked about the food in the end these are sent to where, Williamson said: We did not make any distinction, there is no trace, which is a perfectly normal thing, where there is a demand to where we go, of course, including local markets are processed late will become anything you eat – corn syrup, cereal, popcorn, etc.
Popping corn growers are aware of the dangers that GMO corn poses to exports, not just to China. In the recent article 'Popcorn growers Face 2014 Challenges':
As for genetically modified seed coming into popcorn production, Hoffman said, the industry realizes its vulnerability to consumer protection and a sensitivity of demand in not only the United States, but Europe, which has refused a major seed company's GMO popcorn.

"We acknowledge the genetically altered world is growing," Hoffman said. "At the same time, we don't think popcorn absolutely needs to go there at this point."
This is not the same as a confirming that all of the popping corn grown in the Midwest is 100% GMO free. It is interesting to note that Europe has apparently already rejected some exports of GMO popping corn.
However, the article notes that dent sterility of popping corn means that "pollen coming from another genetically altered plant, such as seed corn, fails to result in popcorn fertilization when landing on the silks." Whether this will be enough to convince the Chinese in the long term remains to be seen.
Outlook – Fresh With A Chance of Caramel Flavour
For the moment Chinese cinemas' need to grow concession sales outweighs concerns about GMO. America's near-monopoly on popping corn export to China is thus unlikely to be broken anytime soon.
After the disastrous droughts of 2011, everything you need to know about the 2013 is summed up by the headline of this article from International Food Trader 'U.S. Popcorn Harvest: Big Yields, High Quality':
Before the combines rolled out, expectations for the 2013 U.S. popcorn harvest were low, reflecting concerns about sub-par quality and below-average yields due to a late planted crop and spotty weather during the growing season. But as the crop has come in, growers have been pleasantly surprised; the top popcorn-growing states are reporting record-level yields and crop quality has been described as exceptional across the popcorn belt.

"Even the worst quality description I heard from processors was good," says Popcorn Board Chair Richard Duty. "So from a quality standpoint, our crop is very good this year."

"The quality is some of the best I've seen during my years in the business," seconds Norm Krug of Nebraska-based Preferred Popcorn.
Nebraska is also not facing any threat from other potential popping corn export markets. Argentina has a similarly poor harvest to the United States in 2011 and 2012, requiring it to re-stock grain banks. Moreover, as the IFT article notes, "Back on the other side of the Pacific, popcorn planting in Argentina and Brazil is being hampered by a shortage of seed."
With Brazil being the world's second largest popcorn consumer after the USA, it will also need to divert production to meet domestic demand this year, as a "spike in demand is expected in mid-2014, when Brazil hosts the FIFA World Cup."
So unlike Hollywood, which has to contend with the 34 film annual import quota in China, farmers in Nebraska and other US states are likely to continue to enjoy near-monopoly of product supply in Chinese cinemas, at least in the near future (plus we've not even mentioned Coca Cola or Pepsi). But China still has a long way to go to match America at the concessions counter, as the average American consumes 13 gallons of popcorn each year, or 16 billion quarts in total.
If there's any lingering doubt about the importance of China to US pocorn farmers, it is worth noting that the industry-funded Popcorn.org website is now also available in Mandarin at popcornchina.cn, the symbol for popcorn is 
 and the Chinese like it slightly sweet.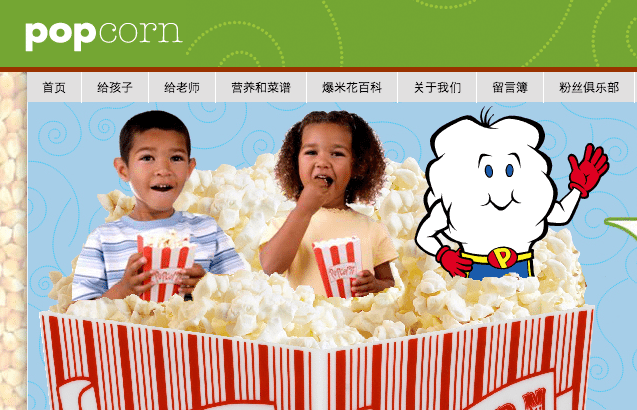 Latest posts by Patrick von Sychowski
(see all)