Normally we bury cinema openings further down in the Daily, but this merits top billing.
Back in January we wrote about how premium cinema operator ArcLight had set its sights on Los Angeles' Santa Monica market and whether this would create a screen glut.
Now news reaches us that ArcLight is already planning a second multiplex in downtown Santa Monica, which would include an Imax screen.
ArcLight Cinemas is in negotiations with City Hall to put a theater on the land where Parking Structure 3 currently stands — on Fourth Street at Arizona Avenue, said Andy Agle, director of Housing and Economic Development.

A preliminary agreement that would allow ArcLight to start drawing up official plans could go before City Council later this month.

At that same meeting, council will consider final approval of another ArcLight theater proposed for the third level of the Santa Monica Place mall. Those plans have been in the works since last year. The Santa Monica Place theater could include up to 13 screens and 1,500 seats.  LINK
Meanwhile other cinemas in the area, such as Laemmle, are reducing seating capacity and expanding concessions and cafe areas instead. AMC is also expected to reduce the number of seats.
Business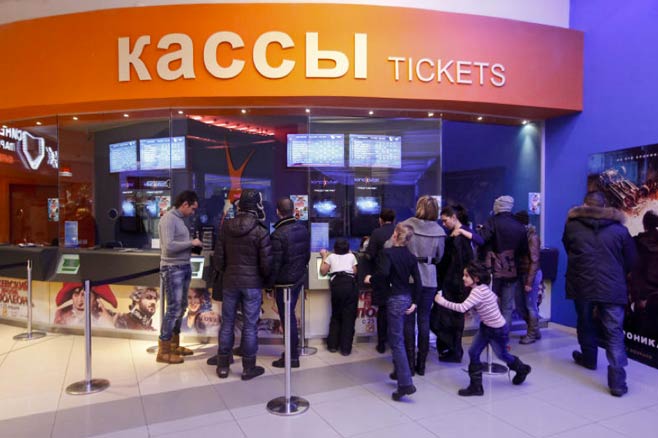 Russia: Rather than introducing a quota on foreign films, as had been previously mooted, it looks like Russia will instead introduce a levy this summer.
The government plans to popularize Russian films on the home market by introducing extra charges for Western movies and granting tax breaks to domestic ones may do no more than mildly handicap foreign competitors while failing to meet the industry's underlying needs.

The suggestions, published Monday on the government website, are directed at increasing the presence of Russian films in theaters, Prime Minister Dmitry Medvedev said at a meeting of the council on the development of national cinema in late March during which the measures were discussed.  LINK

Australia: Crowd-sourcing film selection will be one of the topics discussed at upcoming Australian cinema conference. Full conference program HERE.
A US scheme which enables moviegoers to select a title from a library and organise a screening at a participating cinema, if sufficient people are willing to buy tickets, will be pitched to Australian exhibitors this month.

The service named Tugg, which launched in the US in 2012, has amassed a library of more than 1,000 titles and last year organised screenings of more than 180 films in 300 cities.

Tugg co-founder and chief operating officer Pablo Gonzalez will explain the concept at the Independent Cinemas Association of Australia conference being staged in Sydney on April 29 and 30.  LINK

Imax: Motley Fool asks whether Imax shares are a good investment prospect. Despite a strong film line-up and aggressive international expansion the outlook is mixed.
International expansion and a strong lineup of blockbuster releases are promising indicators for future revenue and profit growth at IMAX. But its still too early to tell how this movie will end.

The stock is expensive, with a forward price-to-earnings ratio of 28.6, representing an 8% premium to its five-year average and a 19% premium to the S&P/TSX Composite Index. And its expansion in China poses risks. In addition to the challenges IMAX may face enforcing its intellectual property rights, the Chinese government regulates the number and timing of Hollywood films released in the country.  LINK
Kino 2014
Germany: The annual German cinema trade show is underway in Baden Baden. It looks like an interesting programme. The keynote from Thomas Negel urges the exhibitors not to fight the battles of yesterday – VoD is coming, so be prepared!
Der HDF-Vorstandsvorsitzende Thomas Negele ist überzeugt: VoD wird das Kino in Deutschland noch empfindlich treffen – wenn es die kommenden Jahre nicht nutzt, um eigene Stärken zu betonen und den direkten Weg zum Kunden zu finden. Dafür bedarf es finanzieller Unterstützung – aber auch eines Schulterschlusses der Branche.  LINK
Audio
India: Dolby's Atmos is growing in popularity in India, not least due to more Bollywood and South Indian films released in the format:
To enhance the entertainment experience, Dolby Laboratories plans to install its latest technology — Dolby Atmos — in 75 screens across the country by the year-end.

At present this new technology has been adopted by 40 screens and single screen-owners have been encouraged to upgrade, Pankaj Kedia, Country Manager – India Dolby Laboratories said.  LINK
And this article details how Dolby went about wooing the Indian film and cinema industry.
For Dolby, having Bollywood and other regional movie industries move from the 5.1 and 7.1 surround sound standard is a daunting task.

It has to convince the entire chain: production houses, directors, sound designers as well as theatre owners.

The company, which set up an India subsidiary five years ago, has, therefore, invested in giving eight different mixing studios the ability to perform Dolby Atmos sound mixing in a way that would not result in increased post-production time.  LINK
Accessibility
Australia: Deaf cinema patrons (and TV viewers) are consumers too, so making captions for them should be a no-brainer.
Advertising technology company Adstream has engaged a company to add captions to all of its TV and cinema ads in Australia.

Captioning and Subtitling International (CSI), part of media and entertainment services company Deluxe, has started captioning all of the TV and cinema commercials distributed by Adstream Sydney.

The captions can be accessed by anyone, anywhere in Australia, free of charge.  LINK
Law
Russia: We had already reported on this earlier, but several cinemas in Novosibirsk have now been convicted for showing The Wolf of Wall Street. An appeal is likely.
Five movie theater chains have been fined a total of 4 million rubles ($113,328) for showing the Hollywood blockbuster "The Wolf of Wall Street," which the central court of Novosibirsk deemed to be propagandizing narcotics use.

In February, the Novosibirsk branch of the Federal Service for Narcotics Control brought a case against six companies holding a total of 10 movie theaters for showing "The Wolf of Wall Street," saying that the film "reflected a subculture of drug abusers" and idealized the use of narcotics, Itar-Tass reported.  LINK
USA (NC): The  Carmike Westgate Twin Cinema in Lenoir, NC was held up at gunpoint this past Monday. Fortunately nobody got hurt.
The armed robbery happened about 10:15 p.m. Monday at the theater, located at 1966 Morganton Blvd., according to information from the Lenoir Police Department.

Employees gave the man an undisclosed amount of money and the man left the theater, according to the information. A description of the suspect was not available.  LINK
 Technology
Germany: Cine-Star has launched a dedicated iPhone app in Germany, but it gets a distinctly mixed review for ticket booking handling.
Wer bei uns in Bochum ins Kino gehen möchte, wählt bevorzugt das UCI aus. Neben UCI gibt es noch eine andere weit verbreitete "Kette": In vielen Städten sind die CineStar-Kinos vertreten. Ab sofort können sich Filmliebhaber mit der kostenlosen CineStar-App (App Store-Link) für das iPhone über das aktuelle Programm informieren oder Tickets buchen.  LINK
Translated verdict:
Browse to the CineStar app is okay, but unfortunately not to use for ticket bookings. Here it makes the UCI ( App Store link ) is significantly better (even if not everything is adapted to iOS 7). Bookings are made directly optimized in the app, also the ticket can be stored in Passbook, so you must not be available at the box office, yet print the ticket at home or pick them up at a local switches must – just great.
NAB/Las Vegas: Qube Cinema is launching its cloub-based KDM service at NAB.
At NAB, Qube Cinema will launch invitation-only access to its new KeySmith.biz website, a powerful key management and reporting service for independent filmmakers, small distributors and compact postproduction facilities. KeySmith.biz allows filmmakers to generate KDMs for their DCPs, by accessing a comprehensive Theatre Database that is continuously updated through strategic regional partners and crowdsourcing.  LINK
Cinema Opening/Closings
UK: Eastbourne is set to get a nine-screen multiplex as part of the re-vamp of its shopping centre. No news on who will run it.
The £85 million extension of Eastbourne Arndale Centre is on top of existing plans for around 23 new stores and extra car parking spaces.

The planning committee at Eastbourne Borough Council gave unanimous support to the additional application for the cinema and restaurants with work expected to start next year.  LINK
USA (NJ): Jersey City Planning board has amended the McGinley Square East Rehabilitation Area plan, enabling Saint Peter's University to increase its planned building by 100 feet to better include a cinema.
Inside would be a grand lobby for a 13-screen cinema on the second floor. The floors above would include areas of apartments and a dorm area. On the 20th floor would be two penthouse restaurants with 20-foot glass windows facing Manhattan. It would have a rooftop swimming pool, Saint Peters officials said.

The original proposal did not consider the cinema's 32-f00t-high ceiling and the penthouse restaurants' 20-feet-tall ceilings. Also, because the $220 million project will include the cost of building a 4-story underground parking deck with more than 700 parking spaces at a cost $40 million, some additional apartment will added to offset the cost, Saint Peter's officials said.  LINK
UK: Bolton is set to get a nine-screen underground cinema in The Vaults. No word on the operator.
THE transformation of Bolton's Market Place by creating a subterranean complex of restaurants and bars as well as a nine-screen cinema has begun.

Owner Moorgarth has started the £15 million conversion and promised that the shopping centre it acquired in October will remain open until it is complete — by Easter 2015.  LINK
Canada: Cineplex is opening its sixth theatre in Edmonton.
When it opens on Friday, Cineplex Cinemas Manning Town Centre at 153rd Avenue and Manning Drive will offer 10 auditoriums, including one UltraAVX room. The company says UltraAVX auditoriums are wall-to-wall-screen formats with reserved seating and premium sound, sharpness and 3-D capability.

The long-awaited complex gives Cineplex Entertainment a presence in the northeast, said Pat Marshall, the company's vice-president of communications.  LINK
USA (IL): Digital Cinema Destinations Corp. has acquired its first cinema in the Chicago area.
A new owner has reached an agreement to buy the Lansing Cinema 8 multiplex, and plans to transform it from a movie theater to a destination that regularly shows live sports, opera and other special events.

The idea is that people could go see a simulcast ballet performed in New York City or a heavyweight title bout in Las Vegas for a fraction of the cost.  LINK
Interestingly the article tell us that most "Digiplex theaters show 200 special events a year. They bring in as much as 20 percent of their revenue just from the special events, which are often one-time-only or re-broadcast only a few times."
UK: A former colleague asked me yesterday if I knew how much multiplexes cost to build on a per-screen basis. According to this nine-screen Cineworld news from Portsmouth's Whiteley complex it would appear to be GBP £1.72 million per screen.
'It will be finished in about March 2015 and then the rest of it in the summer will be the internal fit-out.

'It's looking to open in summer, maybe August next year.'

Cllr Evans heard from British Land and the firm's construction company about the £15.5m project last night.

The construction of the cinema will see the loss of 128 car parking spaces at the shopping centre.  LINK
India: Hydrabad-based exhibitor Asian Cinemas is opening tow multiplexes this year.
V.V.Vinayak, Hero Nithin and Samantha will open the Asian GPR multiplex with three screens at Kukatpally on 10th April between 7.30 am and 8.30 am. This multiplex will have a seater arrangement of about 1143 and various food courts will be available for refreshment. The rates are affordable to even the middle class people.

Ticket rate at this Kukatpally multiplex is Rs.125/- [USD $2.08]

The Asian Cine Square multiplex at Uppal, which is equipped with 5 screens and 1528 seats, will be opened by the Race Gurram team, which includes Allu Arjun, Surender Reddy and SS Thaman . Ex.MLA Raja Reddy and Corporator Suguna will open two of the screens .

The ticket rate at Uppal multiplex is only Rs.100/- [USD $1.66]  LINK
Finally
A drunk man was caught masturbating and shouting obscenities during a screening of Noah in an Australian cinema. Apparently not the first time he's been caught doing this, so no bail.
Daniel Carl Austin, 29, fronted the Brisbane Magistrates Court from behind the glass prisoner's dock after his arrest late on Tuesday for wilful exposure and being a public nuisance at the South Bank Cineplex.

Prosecutor Sen-Sgt Mark Gorton said Austin got so drunk during the screening of Noah on Tuesday night he began masturbating and calling out to other movie patrons, including some young women who were sitting nearby aged between 16 and 18.  LINK

Latest posts by Patrick von Sychowski
(see all)