The emergence of China as the world's second largest cinema territory after US comes as news to precisely no one. Interestingly recent Hollywood films like RoboCop and Need for Speed have earned more at the Chinese box office than in North America, helped in no small part by their 3D release.
According to a report by the Motion Picture Association of America (MPAA), China's box office sales in 2013 achieved $3.6 billion and grew by 27%, compared to the 1% growth observed in the U.S. Many insiders predict it will surpass the U.S. in six years.

SARFT announced an alarmingly rapid proliferation of cinemas in China in 2013, with an average of 13 new theaters being built per day.
But while Chinese films have previously tended toward mythological/historic epics or reality TV show adaptations, the success of Berlin Film Festival Golden Bear-winner Black coal, Thin Ice, points towards an interesting change in the tastes of the Chinese cinema going public, as explored by this CNN article.
The cherry landed on top when the film opened in China on March 19 to unexpectedly high box office earnings. State-run news agency Xinhua reported the movie raked in US$12.8 million in its first two weeks, becoming the current king of Chinese language cinema.

"I did think that we would do better than other Chinese award-winners, but I never thought we could possibly reach the RMB 100 million mark," says Diao, who was attending the Hong Kong International Film Festival.

The success of "Black Coal, Thin Ice" is a possible game changer for the global film industry. If Chinese films continue to be so well-rounded, it could challenge the Hollywood-dominated global film scene.
While the last sentence is a tad optimistic, in that the film is only likely to do well outside of China at the art-house circuit, it could be an indication on a broadening of the types of films that get released and do well in China. If that it is the case, it will in itself be enough a challenge for Hollywood.
NAB
KenCast: With CinemaCon barely over, it is time already to focus attention on NAB. KenCast is one of the companies that will show off their products and solutions.
Delivering content for the military, government agencies and news media for two decades, KenCast continues to enhance its offerings to meet the latest requirements in digital cinema and even those of the future with their EdgeSpan CinemaPro appliances.

KenCast will feature a privately held 4K ad-splicing technology demonstration with Audience Response System (ARS) for cinema, at this year's NAB exhibition, showing how theater exhibitors can splice national or local advertisements into a live stream.  LINK
Sonic Equipment: Coming too late for CinemaCon, Christie bigs-up its partner Sonic Equipment's 1,000th installation milestone.
Christie®, a global leader in digital cinema technology, is proud to announce an impressive achievement from long-term partner, Sonic Equipment Company, which recently reached a milestone with the installation of its 1,000th Christie Solaria® Series DLP Cinema® projector.

Sonic's reputation for providing current and future Christie customers with unparalleled technical support and maintenance has made them a popular and trusted provider of cinema sales, service and installation. The partnership has allowed the two companies to leverage each other's strengths and resources in order to offer superior services to their customers, resulting in Sonic's cumulative sale of more than 1,000 Christie projectors.  LINK
Technology
Harkness: The screen lifecycle management app launched last year by Harkness has passed 2,500 downloads. Not bad for such a specialised app.
Harkness Screens launched the range of screen lifecycle management tools at CinemaCon 2013 on the Apple iOS platform, releasing the Digital Screen Modeller (a real-time 3D modelling simulation tool for examining light on screen in an auditorium) and the Digital Screen Archiver (a secure database system designed to aid cinema operators in the process of on screen brightness management). In October 2013 both apps were launched on the Android platform.

In January 2014 Harkness Screens announced the launch of its third utility, the Digital Screen Calculator, released on both Apple iOS and Android. The Digital Screen Calculator is a tool designed to enable cinema operators or installers to quickly ascertain capability in terms of brightness levels based on equipment choices.  LINK
Doremi: We will be doing a separate article on VPF in Latin America, but just to let you know that Doremi has scored a success in Colombia.
As the South American market continues to rapidly expand, Doremi, the global leader in digital cinema technology, has reached a major agreement with Royal Films, one of Colombia's largest cinema operators, through Bardan Cinema, one of Latin America's largest integrators. Further expanding Doremi's presence in the continent, this agreement adds 130 ShowVault/ IMB servers to Royal Film's theaters.  LINK
CineDining
USA (AZ): The wine-and-dine cinema concept is coming to Tucson in a USD $2 million project:
A new theater coming to Tucson plans to combine the experience of dinner and a movie.

Roadhouse Cinemas is tentatively slated to open in August in what is now Grand Cinemas Crossroads 6 at 4811 E. Grant Road.

The theater will offer first-run movies in digital format on six screens, while serving meals to your seat, including burgers, flatbread pizza, mac and cheese and stuffed naan.

Local craft beer and wine will be available.  LINK
Accessibility
USA (PA): On World Autism Day (today) we bring you news of another autism-friendly screening, but with a strange concessions twist.
Aaron's Acres will present its third annual Sensory-Sensitive Cinema Day at Penn Cinema, 541 Airport Road, Lancaster, on Saturday, April 12, at 10 a.m.

Children and their families are invited to attend "Rio 2." Lights and sound will be adjusted to accommodate sensory-sensitive concerns. Families may bring their own snacks and beverages to enjoy during the movie; no powdered donuts permitted. The concession stand will also be open.  LINK
"No powder donuts"?? But I guess strawberries are OK.
Health & Safety
USA (MN): Could cinemas be next in line? Minneapolis has passed a new ordinance related to fears about excessive noise in concert venues. As so often, cinemas too could find themselves targets next.
A new city law might force music venues to give concertgoers' ears a break.

The change would come in the form of free earplugs, which Minneapolis venues would have to provide under the new ordinance.

Some businesses disagree with the change, saying it's unnecessary and could negatively affect revenue, while other stakeholders say that providing free hearing protection is important.  LINK
Digital Death Watch
USA (WA): The new owner of the oldest theatre west of the Rockies (opened in 1901!) has grand plans for it. While mostly performing arts, the venue also has a strong cinema tradition.
"There use to be several of these in Everett, but this is the last one, the best one," Curt Shriner said.

The Shriners' plans call for date night movie showings of Sundance Films on Wednesday and Thursday, continuing silent film showings, a set of three community theater productions this year, live music and other events. The

Shriners want to open up the theater to the whole community, including kids and younger adults.

"The Latino community is part of the community, and we want to draw them in," Curt Shriner said.  LINK
The cinema has a truly impressive (not to say epic) history and it is good to see owners with 360-degree vision for theatres as a centre for the local community that involves film.
UK: An offer by the local council in Folkestone to fund the digitization of one of two screens in return for taking over the running of the Silver Screen Cinema has been rejected.
At the town council meeting on March 20, councillors agreed to fund a new digital projector, but only if the authority took over the running of the business.

Supporters who had gone to the Guildhall Street cinema last Saturday for the fundraising showing of The Artist were told the town council' final offer would be rejected.

A statement said: "While they are willing to take the cinema on as part of their long-term plans for the Town Hall, they are only prepared to install half of the necessary projection equipment to keep the cinema open.  LINK
 USA (PA): Another small victory for community-run cinemas.
Renew Theaters, the nonprofit organization that runs the County Theater in Doylestown, has signed a lease to operate the historic Princeton Garden Theatre owned by Princeton University.

Renew plans to renovate the historic theater, which was purchased by the university in 1993 and last renovated in 2001 when a digital cinema system was installed. The lease begins June 1.  LINK
Cinema Opening/Closings
UK (Scotland): The town of Angus (of eponymous beef fame) does not have a cinema, but a local nightclub could soon fill that function if it succeeds in licence change to allow access to under-18s.
Chalmers Nightclub in Arbroath has already installed a Dolby 7.1 surround sound system and a 6.5 metre by 3.5 metre screen.

The Queens Drive club could accommodate up to 100 people for a screening and it hopes to be able to show films just a few weeks after they are released into cinemas.

If it gets the under-18s licence, it plans to try a variety of viewings including Saturday morning children's shows, weekend evening shows and mid-week specialist screenings.  LINK
UK: Bristol-Culture highlights a bitter dispute between two opposing plans for the Whiteladies Picture House:
The first is a well-meaning yet ultimately futile scheme proposed by the Whitleladies Picture House Ltd, which includes the retention of the main auditorium space as a 580-seat theatre and cinema screen, a separate 60-seat cinema under the existing balcony and the reinstatement of the historic foyer and ballroom.

The second is from the Everyman chain of cinemas, who will invest in the region of £3 million fitting out the cinema and have already signed a legally binding contract with the building's owner David Lewin, who is himself committing a further £1 million.  LINK
The website highlight the case of the new Everyman Cinema in Maida Vale, west London, to argue why Everyman represents the better of the two plans. The photos of the Maida Vale cinema definitely look inviting (see below).
Canada (ON): Kitchner, the home if Christie Digital, will see its local cinema close and re-model.
Frederick Twin Cinemas will be closed for renovations until at least April 11 after being taken over by Imagine Cinemas, a small Ontario movie theatre operator.

And the renovations will give patrons the chance to sit where Hollywood's most famous stars once sat, Imagine's general manager, Gina Facca, said in an interview.

"We have purchased chairs, we bought them from Grauman's Chinese Theatre, also known as Mann's Chinese Theatre, in Hollywood," Facca said. "A little bit of Hollywood history is coming to Kitchener."  LINK
I wonder if they get a local discount from Christie? Seems though they are not complete fans of all things digital. "We're not putting 3D in," Facca said. "I know that's been a big thing, a lot of people don't want it."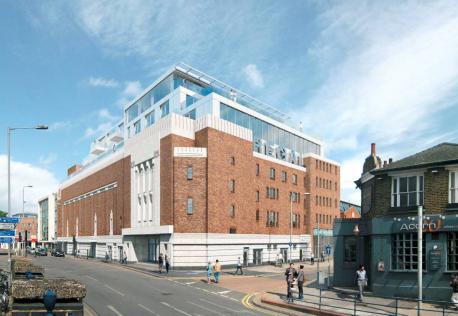 UK: Plans to convert a former bingo hall that used to be a Regal cinema in Kingston-Upon-Thames back into cinema is being opposed by a coalition of interest groups.
The Cinema Theatre Association, the Theatres Trust and the Twentieth Century Society are all opposing developers CNM Estates' proposals for the historic Richmond Road building, formerly a Gala Bingo hall.

The groups' objections are based solely on plans to subdivide the cinema's art deco auditorium, which they believe will "irreversibly harm" the Grade II listed building.  LINK
The plans look good to me, but they would change the look of the building itself.
UK: Councillors in Abingdon are moving ahead with plans to revamp the Guildhall, including installing a cinema, despite a failed GBP £1.9 million Lottery Funding application.
Abingdon Town Council said it did not know why the Heritage Lottery Fund turned down its application for funding towards the £4.4m scheme.

Council leader Sandy Lovatt said it would definitely still go ahead, probably without an overhaul of the main hall and stage. The plans included a renovation of Abbey Hall with new theatre seating for 150 to 200 people, a 110-seat cinema, a new cafe-bar with an outdoor terrace, and a new layout for the building, with easier open plan, disabled access.  LINK
UK: London's Crouch End has a new cinema and childrens' charities benefited from its opening.
Crouch End got a touch of glitz and glamour as actors, filmmakers and residents gathered to open a new cinema and raise money a charity for disabled children.

ArtHouse cinema, in Tottenham Lane, celebrated its grand opening last night and raised cash for the Hornsey-based charity Action For Kids.  LINK
Finally
On this exact day 112 years ago, cinema first came to the City of Angels. The opening cinema programme featured a four-minute drama entitled Ruined By Hard Drink.
Tally's Electric Theatre is listed as the first permanent movie theater designed specifically for the exhibition of films. It was opened in the spring of 1902 by Thomas L. Tally in Los Angeles.

In later years, Tally had the idea to create an organization of exhibitors, one from each major city, which would buy, or make, and distribute their own films. He presented his idea to another exhibitor, John D. Williams of West Virginia, who liked the idea and combined forces with Tally. They named their new company First National Exhibitors Circuit.

The organization's first office was two small rooms at 18 East 41st Street, and their motto proclaimed, "The Good Guys Get, By Getting Together".  LINK

Latest posts by Patrick von Sychowski
(see all)