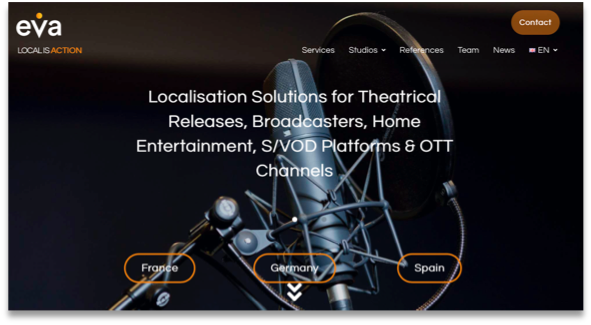 The localisation business known as Eclair Versioning & Accessibility or EV&A, that has been operating as a stand-alone company under the leadership of Angel Martin since Eclair group's reorganisation in early 2020, is now operating as EVA.
With the new brand the group is also updating their communications, presenting a new, informative website available at http://www.eva-localisation.com and implementing additional email addresses @eva-localisation.com.
EVA's facilities are located in Vanves (Paris) & Strasbourg, operating as Eclair V&A for versioning and as ST'501 for accessibility services including live subtitling, in Berlin, operating as Eclair Studios Germany / Christa Kistner Synchronproduktion GmbH, in Karlsruhe under the name of Studio 7, in Madrid & Barcelona, known as Tecnison and in Rabat as Studio 8.
All the studios have already started to use "by EVA" next to their own brand, and "EVA" as their collective brand.
Implementing a new group brand is both exciting and efficient (…) bringing different studios, practices and cultures together offered us an opportunity to remind the industry who we are", said Angel Martin, EVA's MD, "our strength remains in the experienced local teams that add value for our customers, understanding each project's needs with passion and finding the best voices and technical means to deliver the same service required, in every language, wherever they are based.
"Operating under EVA's umbrella will remind the industry that we are an international provider with a very attractive footprint" says Bouchra Alami, EVA's Deputy MD and France & Morocco's Country Manager, "Eclair is a strong brand, especially in France (…) as EVA's localisation services offering extends across various territories, we needed an identity to reflect that; EVA clearly conveys this without forgetting where we are coming from."
Sebastian Reiss, "EVA" Germany's Country Manager said, "we have decades of history operating under Christa Kistner Synchronproduktion and our community knows that. We want our partners to also know we are part of "EVA" and that it brings value to our offering".
Ana Arbona, Spain's Country Manager, said "sharing this project with colleagues in other countries has been a great way of growing; finding a common brand to continue this journey is an efficient way to tell the world we are one team, offering the same services, practices and quality. Ultimately it is important our customers have direct access to all the facilities and services, regardless of in which language or country. This is what we want to achieve with EVA!"
About EVA
With offices in France, Germany, Spain and Morocco, EVA performs localisation services, including script adaptation, voice casting, dubbing, lip-sync recording and mixing, as well as accessibility services such as live subtitling and multilingual versioning and audio description, providing services to broadcasters, theatrical releases, VOD/SVOD platforms, OTT channels, audiobooks and podcasts.