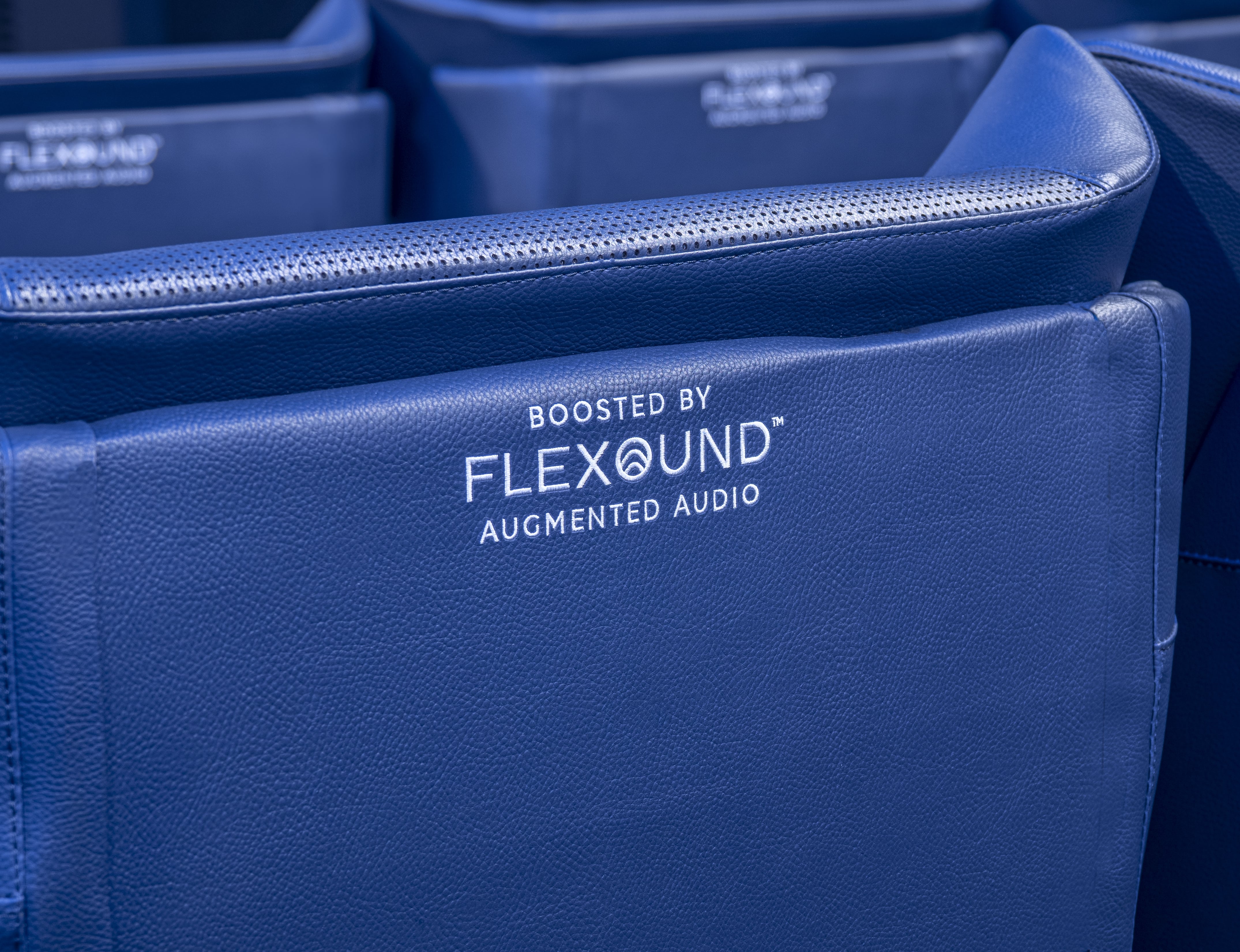 CJ 4DPLEX introduces CGV's Second FLEXOUND Augmented Audio™ Theatre at CGV Songpa in Korea. Gold Class Wangsimni, CJ CGV's premium theatre, reopened on 30 August 2019, was Asia's first screen with audio enhancements in every seat.
CGV Songpa SphereX is now the second CGV screen with FLEXOUND Augmented Audio™ enhancement in every seat. Based on the great audience feedback and experiences at their first FLEXOUND cinema in CGV Gold Class Wangsimni, CJ CGV and CJ 4DPLEX decided to continue the co-operation with FLEXOUND. CJ 4DPLEX, which is known for 4DX and ScreenX -innovative movie format-, developed this new collaboration between CJ CGV and FLEXOUND for the ultimate Sound Solution into the cinemas.
This new SphereX Songpa cinema with 73 FLEXOUND boosted seats opened on Christmas Eve, 24 December and screens the filmization of the famous musical CATS.
CJ 4DPLEX and FLEXOUND are in talks to expand the collaboration further in more CGV theatres, as well as incorporating FLEXOUND Augmented Audio™ with 4DX and ScreenX.
FLEXOUND Augmented Audio™ is a revolutionary Finnish audio innovation that is rapidly gaining recognition in different industries globally. "The original idea about multisensory listening started from therapy for autistic children. Soundwaves are vibration that can be heard with our ears, but sound can also be perceived with our skin and body. Why only use our fairly bad human hearing, if we can enjoy wonderful movies and music also with our sensation of touch?", asks the FLEXOUND CEO Mervi Heinaro.
Patented FLEXOUND technology offers equal sound quality in every seat independent of seat location. It improves the clarity of dialogue, enhances the emotions created by the story and provides the audiences a very natural and truly immersive sound without need for a remix or recode allowing cinema operators to screen any content in a FLEXOUND Augmented Audio™ boosted cinema.
FLEXOUND Augmented Audio™ is designed and engineered in Finland. The multinational team started the work in 2015 to help autistic children by adding the sensation of touch to music. Now the versatile, globally unique, and patented technology can be embedded into cinema, airplane or car seats, gaming chairs, cushions, furniture and more. FLEXOUND has won many hearts and awards internationally. FLEXOUND is a member of the International Cinema Technology Association.
CJ 4DPLEX is a leading, next-generation cinema technology company, headquartered in Seoul with international offices in Los Angeles and Beijing. The company has created innovative film technologies for theatres worldwide that include '4DX', 'ScreenX', '4DX Screen' for consumers to experience films in ways that were never before possible. 4DX provides moviegoers with an exciting, multi-sensory experience, allowing the audience to connect with movies through motion, vibration, water, wind, snow, lightning, scents, and other special effects that enhance the visuals on-screen. ScreenX is the world's first multi-projection system used within a theatre setting.
CJ CGV is the largest multiplex cinema chain in South Korea, and the world's 5th largest company present in China, Turkey, Vietnam, Indonesia, Myanmar, the United States and Russia. As of December 2019, CJ CGV is operating over 4,135 screens at 573 locations in 8 countries around the world. CJ CGV has continued developing special theatres like '4DX', 'ScreenX', 'SphereX',''Goldclass'. Now, the company has a vision of introducing and developing 'Cultureplex' – a culture playground where people can experience all different types of cultures including films, music, performances, games, sports, food, drinks and so on – beyond the multiplex.