The latest CJCinemaSummit featured a special focus on China, the world's biggest cinema market in terms of box office and screens. With the blockbuster Spring Festival just concluded, we heard from experts at Comscore and Vista Group about the outlook for the year ahead, how Chinese releases continue to push records at home and internationally and how Hollywood films are still proving important for the sustainability of the local industry, despite reports to the contrary.
Latest Analysis of the Chinese Market
Paul Dergarabedian Senior Media Analyst, Comscore shared the latest market data into the region as part of the Summit (with additional insights from Frank Perikleous, Comscore's Vice President of Movies, APAC & AUS). In short, it shows a market recovering strongly from the pandemic induced lockdowns. 2021 was the second successive year that China was the highest grossing territory, after reaching that milestone for the first time in 2020.
Last year's week long Lunar New Year celebrations generated an "incredible" USD $1.32 billion in sales in China. Putting this into perspective, Dergarabedian noted that "that week grosses more than any country outside the of North America and Japan earned in their entire year in 2020 and 2021." Some of the highest grossing films in China and for the world in 2021, were notably "The Battle of Lake Changjin" (USD $890m worldwide and second behind "Spider-man: Far From Home" – USD $1.32 billion); "Hi Mom" in third place with USD $832 million and "Detective Chinatown 3" in fifth position globally, behind "No Time To Die, scoring USD $695 million.
That's a marked change from times when Chinese films made negligible international impact and the domestic box office was dominated by foreign releases. Even in 2012 when China was the number two territory in the world with USD $2.6 billion in annual Box Office receipts 14 of the top 20 grossing films domestically were Hollywood titles like "Titanic". In 2019 that had reduced to just five titles.
Now Chinese blockbusters like "The Battle at Lake Changjin II" are dominating the local scene. According to Comscore the sequel alone has generated more than USD $500 million and is among the top 10 films in China amassing USD $1.5 billion only six weeks into the year. Accounting for all releases and the total nears USD $2 billion, an extraordinary figure which equates to nearly half of the total box office take worldwide and far in excess of the US' second largest market at USD $567 million or 15.4% up to the second week of February 2022.
Split that for Asia across all of 2021 and China accounted for 36.45% of the global gross, Japan 6.94%, South Korea 2.49%, Australia 2.27% and Hong Kong 1%. Looking ahead, Comscore forecasts China to deliver another robust year in 2022 but with cinema-going rebounding in North America there will be a race to see which market takes top spot.
"North America has the opportunity to grow much more in 2022 given that 2021 was only 40% of its pre-pandemic result and China in 2021 was at around 70% of it pre pandemic achievement," Dergarabedian said. "It will be a close race, and potentially China will hold that mantle in 2022. "Confidence and patronage across the globe has been increasing as people are wanting to regain their social lives and the theatrical experience is not only the best way to indulge in the cinematic universe, but it allows the opportunity to escape from the everyday pressures of the real world."
COVID Restrictions and Hollywood Rations Are Road Bumps
The Lunar New Year Festival in China usually spells a bonanza at the box office in what is the world's largest cinema market but business has had a rocky spell of late, said Lawrence Wang who heads up Vista Group's operation in the territory. With the Festival in 2020 cancelled as COVID restrictions came into force the population's appetite for cinema roared back in 2021 propelling the take to for that single week to record USD $1.32 billion. This Festival just passed however registered just USD $600 million which is considerably down on 2021 as reflected in admissions down 27% at 114 million.
"There are a number of reasons but the main one remains COVID," Wang explained in his presentation. "In a lot of areas of the country COVID still affects cinema operations with 75% occupancy restrictions and no concessions sales in some areas." He went on to say that, "My very deep concern regarding COVID is that some local film bureau forbid cinemas to sell concessions including water, which will heavily affect the cinema going experience."
In addition, average ticket prices have increased 8% as operators seek to claw back some profit. And the Winter Olympics from Beijing happening concurrently will also have drawn audiences away from the big screen. "It's a bit barren this year so far," Wang remarks.
It's not all COVID related though. "Content is quite limited," he said. "We don't have huge IP." Last year, the domestic industry benefitted from hits like "Detective Chinatown 3" directed by Chen Sicheng, starring Wang Baoqiang and war epic "The Battle of Lake Changjin" which justified the country's largest ever production budget of USD $200 million to take a domestic record USD $769 million after less than three weeks on release.
China's state rules restricting the number of foreign, specifically Hollywood, titles from playing in the country is another factor hobbling the country's box office potential.
Opening the Gates Is Inevitable
"I am strong believer that imported films are essential for the growth of the Chinese market," Wang said. "Last year, the box office from imported film was around 20% which is the lowest since 2016 and only marginally higher than in 2020 (19%) when cinemas only opened for a half a year. "Even for us at Vista, the criteria used to approve foreign film for exhibition in China is really vague and blurred. The ban can be changed at any time, even at the last minute which means there is still huge potential for China box office."
As it stands none of the three films that Disney released from the MCU last year have been distributed in China. If "Eternals" (directed by Chloe Zhao) and the subject matter of "Shang-Chi and the Legend of the Ten Rings" may have proved controversial, the same surely can't be said of runaway global blockbuster "Spider-Man: No Way Home."
"I believe that 2021 was an extreme case and that Hollywood films will become more and more popular in China," Wang said. "Hollywood films will be imported more and more in the future because local content is insufficient to support the box office. The Chinese government used to try to encourage local content by subsidising cinemas if their local box office was more than their Hollywood box office but this subsidy has dropped from 50 percent to 20 percent."
"At a certain point the government will open the gates and I think everybody hopes that will happen," he stated. "Social media and the internet has already made this trend unstoppable. The government needs to find a way to open the gates."
It's not clear what the intent is of Chinese government action on foreign films. On the one hand, a reduction in their number probably boosts support for audiences to see local films – with hit titles like "Hi Mom" benefitting. Yet, as Wang points out, local exhibitors are missing out on potential business without being able to offer guests a full release slate.
Business Diversification Is Crucial
Wang explained that Vista's strategy in the Chinese market is to offer exhibitors new tools to change the way they go to market. "We can help cinemas to create new revenue streams such as using the cloud to reduce the cost of cinema staff, encouraging loyalty members by smarter cross selling such as selling ticket coupons on TikTok," he revealed.
Cinemas are open to changing the way they operate. "Concession sales in China are less than 20% total revenue right now. It's not profitable, so they have to try something new. They will go more into food and beverage, bars and restaurants," Wang predicted.
China may already have overtaken the United States both from a screen count and box office perspective with an ambition to open another 20,000 screens to reach 100,000 across the country by 2026. But Wang sees a bigger picture.
"To me, screen count and box office are just numbers," he insisted. "The more important thing is if the cinemas are in a healthy condition. The density of cinemas is already high and equates to fierce competition so everybody gets less [of the total share]. There is still a potential for screens to increase in rural areas, but this will not lift the box office much. In the main cities there is not much space to build new cinemas. So, it's about higher quality cinemas and a healthy environment that will be key to growth."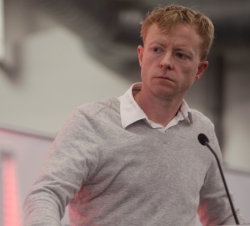 Latest posts by Adrian Pennington
(see all)