Natalia Baydan, CEO of Ukrainian multiplex chain Planeta Kino is a friend to Celluloid Junkie and well known to the cinema industry family. She was one of those interviewed on the CJCinemaSummit on Thursday 3 March, speaking from her native city Kyiv, which is currently threatened with a mass invasion of armed Russian aggression and says that she and her husband have decided to stay and help and to fight.
"We will fight and protect everything we love," she said. "I am a business woman and like other business people here I will stay here and fight. Here is the irony, I am CEO of a cinema chain, in the entertainment industry, and we never thought that this might happen, that our cities would be bombed, our people killed, among them children."
"Our army is strong and will do everything possible to protect our inhabitants. Many people have left but we still have many old people who just cannot move. Some volunteers have tried to get to them to feed them because they cannot even leave their homes to buy food. We assist as much as possible the volunteer groups, anybody who needs some assistance."
"Simple things like water and bread are in short supply. That is why we have to do everything possible to help people survive in these conditions. Volunteers are baking bread and distributing it to those who need it. Everyone is asking how they can be useful."
Planeta Kino is the second largest cinema chain in Ukraine and had envisaged a successful come back after the dark months of Covid-19.
"Now we have a much more serious threat and unbelievably this is happening in the 21st Century," Baydan said. "We are dealing with monsters like a bad Hollywood movie. I still can't believe it."
Her company's cinemas are based in the country's regional hubs like Odessa, Kharkiv, and Kyiv. None have been hit by Russian attacks at the time of writing.
"Mostly we are in shopping malls and it's a miracle that none are destroyed," she reported.
Some cinemas including the historic Youth Center (Cinema) in Chernihiv have been destroyed.
Naturally Baydan's focus is on her staff, her neighbours and the wider city population. "Staff in our cinemas are actively participating by helping to protect Kyiv during the night. All these very young boys and girls have to protect their native city from armed military invaders. My line managers are working at the hospitals."
Though it may seem little in response, Disney, Sony and Warner Bros have pulled titles including "Morbius" and "The Batman" from theatrical release in Russia for the foreseeable future.
"I realise that the Russian market is a huge one and that this decision means that they will lose money but I hope everyone appreciates that everything happening here is much more important than money. In Ukraine we protect not just our motherland, our homes, our children, we protect the values of freedom and democracy for the world."
Baydan explained that like many Ukrainians they have been fighting a proxy war by Russian backed separatists in the east of the country since 2014. Her husband spent a year in the region in support of Ukranian resistance.
"That's why we came to the decision to stay here in Kyiv," she said. "We will fight and protect it as much as we can."
The cinema industry can seem entirely peripheral to these global events. To some, the continued exhibition and streaming of film and TV is a much needed escape from the alarming headlines. But Bayden's message, endorsed by Cinema Junkie, is that what everyone does matters. We cannot turn our back and this horror or the citizens of Ukraine's plea for help.
Baydan urges everyone to spread the truth to Russian friends.
"I know that cinema industry is a big family so please, share information with your colleagues in Russia. They need to understand that we are not just protecting our future but theirs as well. They have to go into the streets and protest and say 'no' to this war. They can't be afraid now. We can't give up now. We need to protect our future."
Also speaking with CJCinemaSummit on the ground in Kyiv was Sergey Budyak, CEO at Movex Ukraine, an IT and software company that amongst other things provides customer loyalty schemes for cinemas around the world.
"Today I tried to visit my office and I spent more than 8 hours driving and now I'm not able to get home to my property near Kyiv so I am staying with my aunt. My kids are with their mother, my wife, at home and I am separate from them."
"We are focussed on protecting our borders. We can hear explosions one by one. Just moving hour by hour and spending a lot of time talking to our Russian and international colleagues to understand what is happening. Russians are starting to wake-up – my colleagues there are proposing money and some help."
"Now the streets are dark with soldiers – Ukranian soliders – every few hundred meters and you have to show your papers. They have orders to attack and destroy because a lot of Russians have changed vehicles inside the city – they are saboteurs."
"I have a gun. My kids know how to use Molotov cocktails. This is the experience now. My goal now is to think what will come after. I am trying now to find a way to focus people on the future of the country not on revenge. We can find lots of films about the second world war in which the Germans were bad and Russians were good. This is propaganda also. We don't need to be full of revenge."
Part of the close knit cinema family is Tomasz Jagiello, CEO at Helios cinemas in neighbouring Poland, who was the third speaker on this CJCinemaSummit.
He said, "This last week, honestly I forget about Covid and the weekly results of my cinemas or windows. I feel like we are witnessing a change in history. I don't remember any moment where's there been such a clear line between bad and good. That's why we all united to support the good and we all admire the great Ukranian nation."
He also gave his personal picture of the war. "Women with children scared and crying, exhausted just entering Poland. More than 600,000 woman and children enter our country in the last week. The men are going the other way to fight for their country. There are only a few border control points – these are bottlenecks. They are arriving by train, foot and car. It's two days of queuing for pedestrians."
"Thousands of volunteers are waiting at the border with food and with their own cars to take refugees to their own flats. This is just the beginning. It could be 1 or 2 million refugees and they will all find safe shelter in our country."
Helios cinemas is also beginning an extraordinary initiative to open free screenings of kids cartoons in all its cinemas with free coke and popcorn to Ukrainian refugees.
"As a company, we knew immediately on the second day after the war started that there would be hundreds of thousands of children coming to Poland. We believe these children need two hours to forget and their mothers needs two hours to rest. That is the least we can do."
"What is so strange is that half an hour ago we held the premier of "The Batman" dubbed in Ukrainian in Warsaw. Not to entertain people or to make money, just to show to Ukrainians that this is the place they can live."
"We started to show Ukrainian versions of movies two years ago in concert with the studios as a business project for Ukrainians living in Poland. Now it has a new meaning. For a week, a month, a year these screenings can be come hope."
"Each business conversation starts with Ukraine and the war and what will happen. This is not a local conflict. Probably we will face consequences in areas of inflation, energy and currency. Honestly it doesn't feel important now when people are dying. We will solve our problems in time. Now we need to do whatever we can to help and give our small effort for the war to end. Slava Ukraini."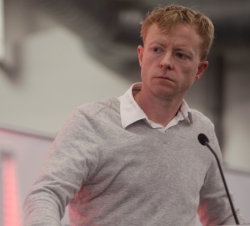 Latest posts by Adrian Pennington
(see all)