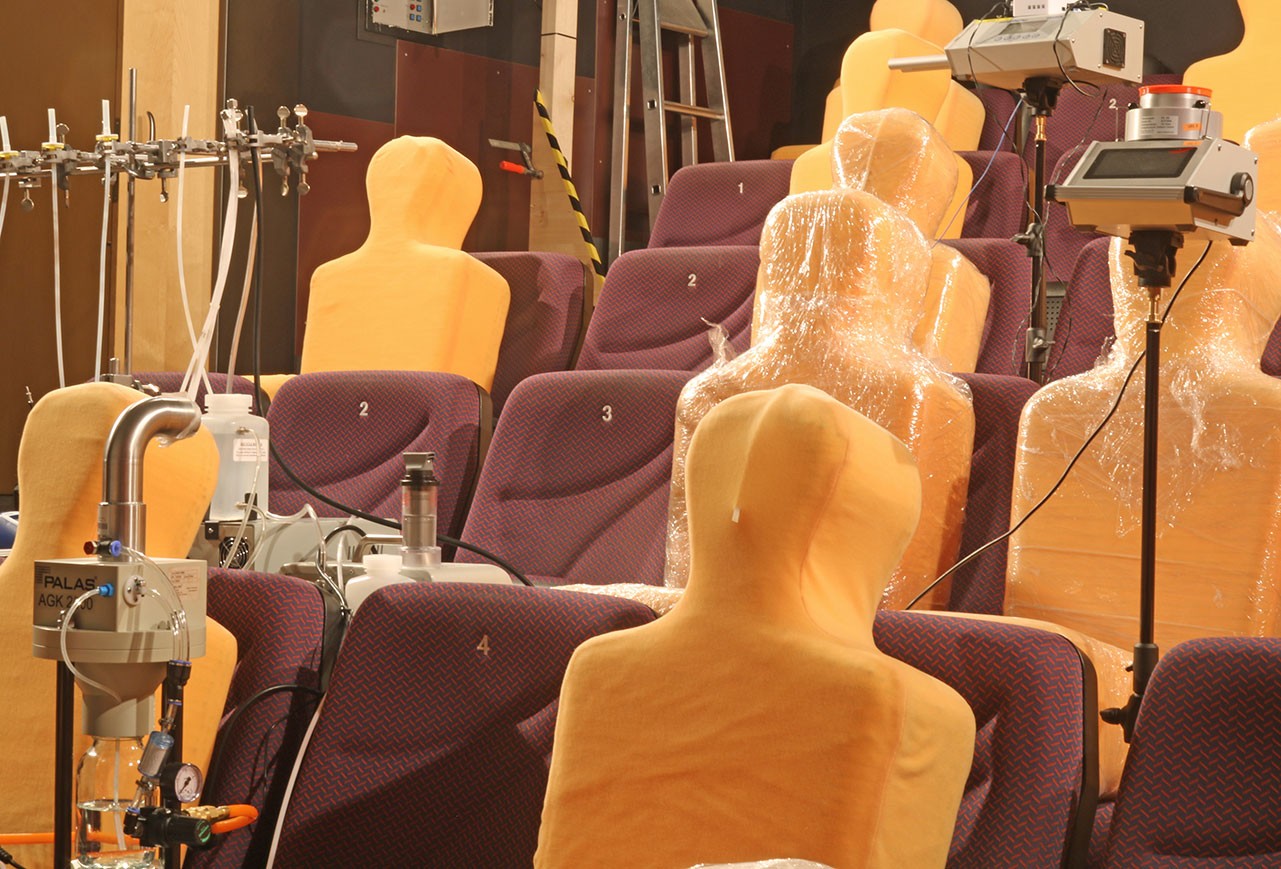 A study by a consortium led by the Fraunhofer Institute for Building Physics (Fraunhofer IBP) in Germany has found that regular cinema ventilation is enough to ensure that COVID-19 infection risk is minimal in a typical theatrical environment. The 'CineCov' project set out to test the dispersion of aerosol particles in an actual cinema auditorium through rigorous and comprehensive measurements and testing. The findings add scientific credence to questions being asked as to why cinemas in Bavaria and elsewhere are singled out for harsher COVID restrictions compared to restaurants and other hospitality venues. No spread of COVID has, to date, been traced to a cinema anywhere in the world and good ventilation is one of many reasons for this.
The 'CineCov' project is funded by Germany's Federal Government Commissioner for Culture and the Media (BKM) on the initiative of Germany's Head Organisation of the Film Industry (SPIO), with several partners involved. With a new wave of COVID infections in Germany and elsewhere, the aim is to understand what constitutes a safe indoor environment and how risk is minimised. Together with the University of the Federal Armed Forces and other partners a test site was set up inside the Neues Rex cinema in Munich, where they carried out comprehensive measurements and evaluated different scenarios by means of physical simulation. The findings were that any infectious aerosols potentially released by the audience are quickly removed by the cinema's existing ventilation system.
"The air heated by people rises upward. Especially the so-called displacement ventilation typical for movie theaters makes use of this effect," says Professor Dr. Gunnar Grün, project manager of CineCov, in a summary of the initial findings. "This has the decisive advantage that aerosols and the viruses they contain are effectively removed." These findings are backed up by data from Germany's contact tracing Luca app, which has had a very low percentage (just 1.7%) of 'pings' from cinema visits.
A further COVID safety test has been launched by Fraunhofer IBP and its partners in the Trifthof Cinema Center in Weilheim, Upper Bavaria. The aim of this further study is to examine which combination of air purification and surface cleaning provides the greatest effectiveness. Fraunhofer IBP's Hygiene and Indoor Climate Research Group is using surrogate viruses (model viruses), rather than actual SARS-CoV-2 viruses, to investigate whether or how many infectious aerosols can be detected in the immediate environment of an particular person, both with and without air purification. These findings will be used for revised hygiene practices and recommendations for cinemas being developed together with the Institute for Occupational Medicine, Safety Engineering and Ergonomics (ASER), using tools from Fraunhofer Singapore and Fraunhofer Austria that will further optimise visitor guidance – for example in cinema foyers and other areas where people gather.
The initiator of CineCov, Dr. Thomas Negele, is a former president of SPIO and is himself a cinema operator in Straubing. He comments that "for us, it is hard to understand why cinemas are subject to much stricter access regulations than, for example, restaurants. Current scientific analysis proves that movie theaters can be operated safely for people with only a low risk of infection. It should be the focus by of all of us to standardise the best possible safety measures today for the future. Our goal, therefore, is to make this most beautiful form of film culture an even safer experience for everyone and also to provide policymakers with a more nuanced foundation," for their decision making.
Celluloid Junkie was the first industry publication to collect data and research that established in October 2020 that no single case of COVID transmissions anywhere in the world has been traced back to a cinema environment, unlike cafes, gyms churches, schools, offices and other public venues, many of which were 'super spreader' sites. These findings have since been reaffirmed by industry initiatives such as the NATO-led CinemaSafe that ensured that cinemas remained a safe environment from infections. Celluloid Junkie also highlighted in June of last year the importance played by cinemas' heating, ventilation and air conditioning (HVAC) systems in preventing the spread of COVID and how it played a more important role than face coverings, or 'hygiene theatre' measures such as surface cleaning.
Several studies since have backed up these findings. Research by Germany's Martin Luther University Halle-Wittenberg found that with safety measures in place "the risk of getting infected is very low," in indoor venues such as concert halls. A study from Spain in October 2020 found that four months after reopening, not a single COVID infection had been traced back to a Spanish cinema, and that incidence of COVID-19 in cultural activities is just 0.01 percent. Meanwhile, there has been no study or research that we have come across that points to cinemas being a more, or equally, at-risk environment for COVID infections compared to gyms, pubs, restaurants, schools, churches and other public places where people congregate.
The findings of the CineCov study come at a particularly critical time for the theatrical industry, as cinemas are, in many parts, singled out for harsher restrictions than other hospitality venues, ranging from a ban on popcorn and kimchi in South Korean cinemas, to cinemas in Wales being forced to check patron's COVID passes, whereas pubs and restaurants are not required to do so. In Bavaria, where the CineCov study took place the operator of Nürnberg's renowned Cinecittà multiplex, Wolfram Weber, has spoken out against the 2G+ requirements, which require their patrons to only have to show a COVID pass (proving vaccination or recovery) to eat in any of the cinema's in-house restaurants; but the moment they want to watch a film in the adjoining auditoriums they need to provide a recent COVID test.
There has been little or no scientific evidence put forward by governments in imposing tough restrictions on cinemas, despite major efforts by cinema chains to ensure a safe environment for their patrons, such as Odeon's We Are Safer Cinema. Trade bodies, such as UK Cinema Association, have previously spoken out against the introduction of 'COVID passports' for cinemas and their recent adoption in Wales, while HDF Kino in Germany has warned about the financial danger posed to cinemas through the "lockdown through the backdoor" of 2G+ requirements. This work and research by a world-renowned institute will give cinema operators and cinema trade bodies ammunition to demonstrate that cinemas are one of the safest public spaces when it comes to COVID infections amongst hospitality and leisure venues.
Findings of the study can be found here (in German).
Background Information on the CineCov Project
Indoor air hygiene and the use of air purification technologies in movie theaters in the COVID-19 pandemic
"For resilient and feasible hygiene concepts for movie theaters in the COVID-19 pandemic, it is necessary to investigate approaches for minimizing the spread of coronaviruses via aerosols – especially for the event spaces where many people are present. For this purpose, representative premises will be selected in the project based on the typical existing ventilation routing. Air purification technologies are installed by the operator. Their cleaning effect will then be investigated in tests using surrogate viruses and fluidic processes, and aerosol dispersion will be demonstrated by means of simulations. The findings subsequently form the basis for the development of prototypical hygiene concepts for movie theaters. Expert support will be provided for their implementation in theatres in order to eliminate uncertainties regarding hygiene, occupational health and safety and technical feasibility. "
List of CineCov consortium partners:

Latest posts by Patrick von Sychowski
(see all)