Dear Junkies,
We are back after the summer break and look forward to an exciting autumn of cinema news, analysis and releases. As always, thank you to those of our readers writing in and keeping us informed.
Regards, Patrick
---
Banner quarter for AMC but 'clearance' lawsuit worries; PVR buys SPI; Turkey takes toll on CGV; Vue Wales 'double charging'; IMAX and Google end VR camera work; German BO misery; 'Month of Argentine Cinema'; Spanish cinemas not passing on VAT savings; KNCC re-brands Cinescape ahead of Saudi push; Hoendervangers new Pathé Nederland MD; autism friendly happy ending; XL Cinema helps India's blind; Tyneside flooding; importance of concessions to Indian cinemas and solar-powered mobile cinema in South African townships. 
---
USA (CO) –  Ho, ho, ho! Who's got the last laugh now? Adam Aron, that's who, after AMC posted second quarter earnings that beat industry expectations. "It is finally time for the sky-is-falling-in cynics to admit that they misinterpreted a brief slump in moviegoing last summer," the global cinema giant's CEO is quoted as saying. "Overall revenue rose 20 percent to $1.44 billion, against a year-earlier $1.2 billion, which exceeded a $1.43 billion Wall Street forecast. The biggest box-office drivers for AMC during the second quarter were Avengers: Infinity War, A Quiet Place and Deadpool 2." It was enough for Seeking Alpha to exclaim 'Buy AMC Entertainment Holdings, The Movie Industry Is Not Dead'. The success of the AMC Stubs A-List unlimited (aka 'MoviePass-killer') scheme is only one of the reasons that AMC is doing well, after some painful restructuring. THR – 8 August 2018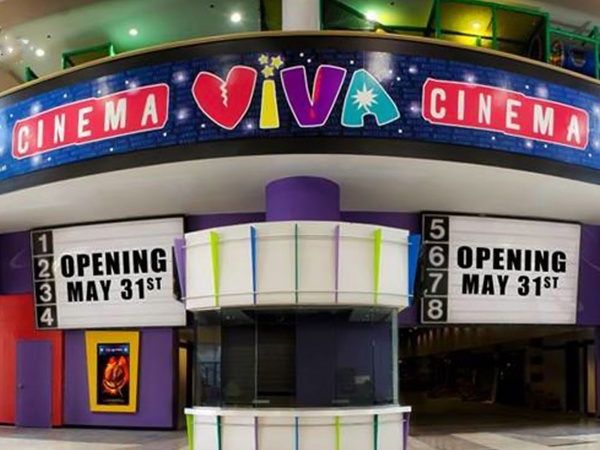 USA (TX) – But in a dark lining to the above silver cloud, AMC will have to face a lawsuit from a small cinema that claims it was driven out of business due to 'clearances', i.e. the practice of booking films from distributors in such a way as to inhibit geographical competitors from also screening them. "Viva Cinemas Theaters, the plaintiff, specializes in serving the Hispanic community with dubbed or subtitled films and alleged in its 2015 complaint that AMC came to "clearance" pacts that carved out exclusivity on first-run films in its geographical region. Locked out of hits including Iron Man and Fast and Furious tentpoles, Viva went out of business." This case could potentially be as important as the 1948 ruling that lead to the Paramount Conscent Decree. THR – 21 August 2018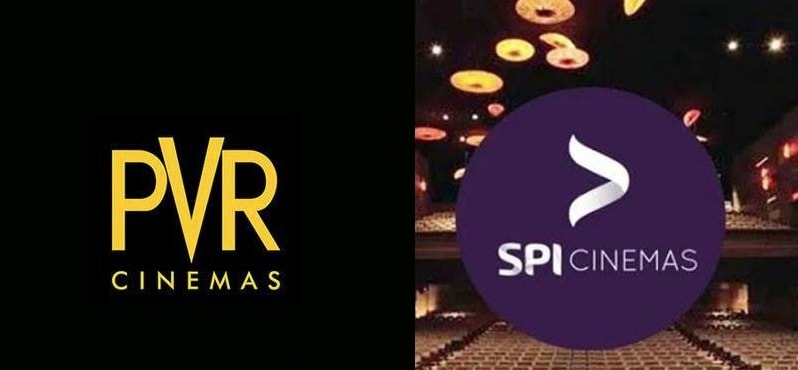 India – In the biggest cinema news in India in years, market leader PVR has acquired the biggest cinema chain in South India SPI Cinemas. "Multiplex operator PVR on Friday said it has completed the acquisition of 71.69% share of South India-based chain SPI Cinemas in an all-cash deal of Rs 633 crore.  SPI Cinemas operates 76 screens across 17 properties in 10 cities under several brands such as Sathyam, Escape, Palazzo, The Cinema and S2 Cinema." PVR previously acquired DT Cinema in the north, but it meant that it was blocked from expanding further in the the Delhi region, hence why it has been forced to look south. Here is an interview explaining why SPI decided to sell now.  The Tribune – 18 August 2018
Korea (Republic of, South) – Economic turmoil in Turkey is taking its toll on cinema operator CJ CGV, with its large presence in the country. "CJCGV also saw an operating loss of only 300 million won in its operating profit in the Turkish subsidiary in the second quarter. Before the earnings announcement, it was far less than that of CJCGV, which predicted that the company would have posted an operating profit of 11.9 billion won in the second quarter." As a result CJ CGV shares fell 10% in one day. The company still has a goal of being the worlds No. 1 exhibitor by 2020 with 10,000 screen globally. Business Post – 24 August 2018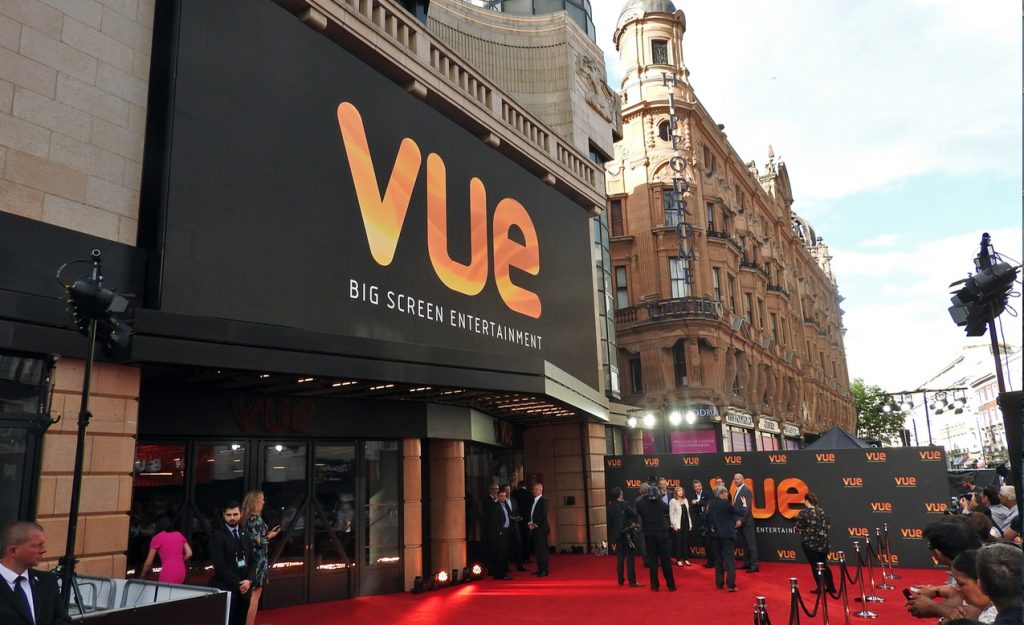 UK (Wales) – Vue has dropped the prices in most of its cinemas, but not by the same amount everywhere, leading to geographical discrepancies. Nobody complains about the difference in price between Vue West End and Islington in London, but parents in Wales are upset about the differences. "In Carmarthen in Wales a family would pay £34.16 to watch a film but in Cardiff it is only £19.00. Parents are so angry at what they call unfair pricing they are organising a boycott. One labelled the discrepancy "unacceptable" and claimed it was because of a lack of local competition." Vue points to discounts on Mondays, as well as 2-for-1 offfers with Meerkat Movies, but this seems to fall on deaf ears. Telegraph – 18 August 2018
USA (CA) – It seems that VR won't be taking off in cinemas, as IMAX and Google "pause the development" (face saving term for 'cancelling') of their joint VR camera. Imax has also closed two of its seven global VR centres, while it evaluates its options for the other five. It is reported that Google was the one to pull the plug on the project, having plenty of experience of killing head-mounted next-generation tech (remember Google Glass?). You can read here about why we were sceptical about this as far back as February of last year. Variety – 20 August 2018
Germany – It's been a bad first half to the year for German cinemas – and the outlook is not much better. 51 million fewer tickets were sold, representing a 15% year-on-year decline. Box office fell from 519 million euro to 439 million euro. Only 70 Hollywood films opened in the first six months, a drop by a fifth y-o-y. Only three of the top 10 films were local. There is a risk that total tickets sold could fall from last year's 122 million to less than 100 million this year. Lots of finger pointing. Handelsblatt (DE) – 21 August 2018
Argentina – It is the "Month of Argentina Cinema" until 19 September, during which you can watch local films for half the price from Sunday until Thursday. The joint initiative by National Institute of Cinema and Audiovisual Arts (INCAA) together with the Ministry of Culture of the Nation to promote local cinema will operate in all of the country's cinemas and multiplexes. It has already had an impact with a reported "six out of ten entries sold throughout the country [for local films] and with three of the first four places of public preferences." Imneuquen.com (ES) – 20 August 2018
Spain – Questions are being raised about whether the cut in VAT (sales tax) on cinema tickets in Spain form 23% to 10% is being passed on to customers. It is reported that "data handled by the Ministry of Culture reflect that half of the cinemas have applied this reduction that is between 50 and 90 cents less, a figure that "is not enough."" There are even reports that only a third of cinemas have reduced ticket prices. There has not been a meeting between the Ministry and representatives of Spanish cinemas. Expansion (ES) – 21 August 2018
Kuwait – KNCC is rebranding its Cinescape with a new logo and look in conjuncture with the opening of the nine-screen Cinescape Al Kout Mall multiplex ahead of the Islamic Eid Al-Adha holiday. "The new opening and rebrand are part of the exhibitor's wider expansion plans across Kuwait and other Gulf states, including the newly opened up Saudi Arabia." KNCC has plans to open multiplexes with a total of 27 screens before the end of this year across Riyadh, Jeddah and Dammam. KNCC's currently has 65 screen across 13 locations in Kuwait, representing an 87% market share. This is set to grow to 105 screen by 2022. Zawya – 21 August 2018
People
Holland – Pathé Nederland has a new MD with Jacques Hoendervangers replacing Lauge Nielsen, who stepped in when MD Dertje Meijer was dismissed earlier this year. He will take up his job on 1 October as he is presently MD for  Loyalty Management Netherlands. There are still few details of the fraud investigation launched after both Meijer and  financial director Edwin Slutter in March this year. Entertainment Business (NL) – 9 August 2018
Access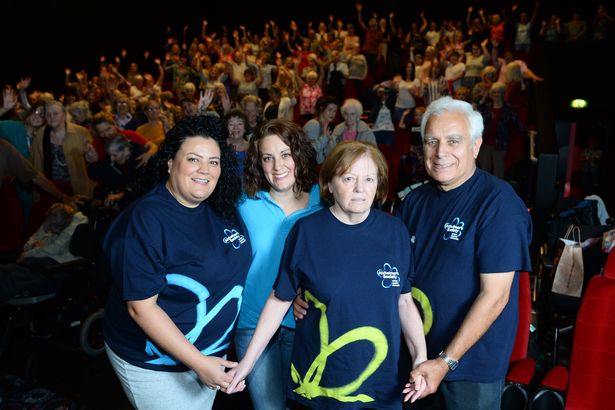 UK – A woman with dementia was asked to leave a screening of "Mamma Mia! 2" after she started to loudly sing along to the songs that she remembered. But the manager of the Cineworld in Newport, South Wales, made up for it by hosting a special screening for the 68-year old woman. "He hosted a special viewing for Shirley, who brought husband James, daughters Rhiannon and Bethan and 100 friends and fellow sufferers so they could all sing along to their hearts' content." More and more cinemas have started holding special dementia-friendly screenings. Mirror – 20 August 2018
India – The world's largest cinema territory by ticket sales is finally introducing audio-description for films with the launch of the XL Cinema app. It was unveield with the Bollywood blockbuster "Sanju" and has already seen 2,500 uses in its first two weeks. "The app, launched in July by the software firm Brajma Intelligent Systems, uses audio descriptions provided by Saksham, an NGO working to empower people in India who are blind or visually impaired." India has 8.8 millio blind and 47.7 milion visually impaired.  The Guardian – 24 August 2018
Health & Safety
UK – The independent Tyneside Cinema had to close for after its basement was flooded. "Their Facebook post read: "Unfortunately the Tyneside Cinema and Coffee Rooms is closed for the rest of today due to a burst water pipe in the basement. The Tyneside Bar Cafe and Vicolo will remain open as usual." Chronicle – 19 August 2018
Concessions / F&B
India – Injecting some common sense into the Indian F&B debate, a division bench of the Hyderabad High Court dismissed a lawsuit trying to restrict cinemas from selling non-packaged food items and soft drinks at higher rates and to allow outside food in. "Is it necessary to eat during those three hours in theatres? People can go to normal theatres instead of multiplexes. On issues like exorbitant rates, lack of quality etc., one can approach consumer forums for remedy," the Court stated. But the Indian multiplex operators increasingly rely on F&B for profit margins, and the recent rulings elsewhere have depressed their share price. LiveMint – 25 July 2018
Meet @Buhle_Sithela: a Khayelitsha-based social entrepreneur using his solar-powered mobile cinema to bring cinema to the hood. #wingstosucceed pic.twitter.com/sFBetqxkmN

— Red Bull (@RedBullZA) July 13, 2018
South Africa – Pop-up screenings are common enough in Europe and the US, but this rubbish bin cleaner in a township with almost no screening facilities is making a real impact with his solar-powered mobile cinema events.
"Film has always been one of my biggest passions, but I hate the fact that there are little to no cinemas in the townships. So I decided to start my own screenings. Ekasi Pop-up Cinema is a concept of bringing cinemas to the township. We saw a gap that we don't have cinemas in our community. I believe films can engage community into one space. We can educate, inspire and entertain using films. By hosting these screenings we create a safe space in the community and we can have discussions after the film."
Buhle Sithela's advice of 'find something that you love and do it every day' is one that resonates. Red Bull – 18 August 2018

Latest posts by Patrick von Sychowski
(see all)