Cineworld: Dolphin Sqare and Dover open, Merseyside July/Aug, York in 2019, Hounslow in 2020; Curzon: Goldsmith College single-screen open but no interest in Wilmslow Rex; Empire: Imax confirmed for Seaway and seats delayed opening of Sutton; Everyman: brings cinema to Crystal Palace and details on Altrincham; Odeon: tempting to Ayr's Kyle Centre; Reel: Blackburn look revealed; Showcase: get four more screens in Kent; Vue: Eltham work starts. Independent: Stowmarket's Regal to expand, Plymouth's 360-degree cinema, Lyme Regis Regent restoration delayed, Montrose seat-ends found, Kingsway plans. Ireland: Omniplex plans for Longford, Wilton Cork plans, Galway's Pálás opens €9.5m later, Savoy's five easy pieces. Unknown: Westside in Wolverhampton, Mill quarter Perth, Lincolnshire's Corn Exchange. Finally: moving The Grand Electric Cinema. 
---
---
Cineworld – The Dolphin Square Cineworld in Weston-super-Mare opened on Friday 26 January. Local councillors were quick to embrace the eight-screen multiplex and proclaim that it would 'put the town back on the map' and make the city  'a place where people are proud to live, work and play'. The shopping mall had delays and difficulties, but it appears to have been worth the wait. Previously the closest cinemas were in Bristol and Yeovil. Weston Mercury – 25 January 2018
Cineworld – Work has been going on for a year on the GBP £23m extension for the New Merseyside Retail Park extension in Specke that will include an 11-screen Cineworld. The cinema will open in 'late summer' with July/August mentioned as likely dates. Liverpool Echo – 9 January 2018
Cineworld – Dover's first multiplex opening was pushed back to mid-February when Cineworld inaugurated its six-screen 909-seat cinema with the third "Fifty Shades" film. The multiplex is part of the larger GBP £53 million St James' retail and leisure development off Townwall Street. Cineworld already operates a multiplex in nearby Ashford. over's previous cinema Silver Screen opened in the early 1990s. Kent Online – 12 January 2018
Cineworld – Work has started on the High Street Quarter site development project in west London's Hounslow (near Heathrow airport) that includes 527 homes, including a 27-storey tower, retail units and a 10-screen Cineworld multiplex. The cinema is expected to open in 2020 alongside the commercial units, with the first homes ready a year before that. Get West London – 2 February 2018
Cineworld – A new Cineworld multiplex is due to open in York in 2019 but already now a cinema war is breaking out. The Reel cinema that was formerly an Odeon has re-opened as an Everyman. Vue lost a legal fight opposing cinema plans for Monk's Cross in January 2017, but has instead dropped ticket prices to GBP £4.99. This is less than half of what nearby City Screen charges, GBP £12.20, while Everyman's 'premier' adult ticket is GBP £13.50. York Press – 10 February 2018
Curzon – The refurbished Curzon cinema at Goldsmith college of design in London has re-opened. "The cinema will host  everything from major blockbusters to community films. It will also offer exclusive Q&As with film-makers and Goldsmiths experts in a range of fields including psychology, music and art." The 105-seat auditorium has 4K projection and 7.1 Dolby sound. There is also a new cafe called 35 [millimeter?]. South London Press – 26 January 2018
Curzon – There is apparently no interest from Curzon in turning the former Rex cinema building in Wilmslow back into a cinema. "Unfortunately the company has confirmed that due to plans to refurbish and expand some of their existing cinemas, including the Knutsford venue, they would not be in a position to consider opening one in Wilmslow." Curzon is apparently spending "a substantial amount" on the Knutsford site. The comments section indicates that the council is in discussions with several other operators. Wilmslow.co.uk – 23 February 2018
Empire Cinemas – An Imax screen has been confirmed for the Seaway development in Southend. Empire will have an 11-screen multiplex with 1,370 seats where there is currently a car park off Lucy Road. "The scheme also includes a Travelodge Hotel with 80 rooms, ten new restaurants and cafes, two indoor leisure units, a new public square and a multi-storey car park." A second development, also with a cinema, is planned near the new Southend United stadium at Fossetts Park. Echo News – 31 January 2018
Empire Cinemas – The re-opening of the Empire Sutton was postponed but it is now open. The delays was caused by seats shipping in from the US not arriving in time."Due to a delay in the delivery of our superior standard seating from North America, Empire regrets to announce that the new, 10-screen cinema at the St Nicholas Centre, in Sutton, will not be opening this coming Friday as advertised." But the cinema is now open. Croydon Advertiser – 7 February 2018
Everyman – After an eight-year campaign the resident of Crystal Palace to have a cinema in the restored to the 25 Church Road location there is victory.
We have great pleasure in being able to confirm that yesterday afternoon Everyman Media Group conditionally exchanged contracts for the acquisition of 25 Church Road.

Everyman plan to restore a four-screen cinema to Crystal Palace, bringing films to audiences on the big screen on a regular basis for the first time in fifty years.
Kingsway International Christian Centre (KICC) finally agreed to sell the building after not winning permission to turn it into a church. Picture Palace Campaign website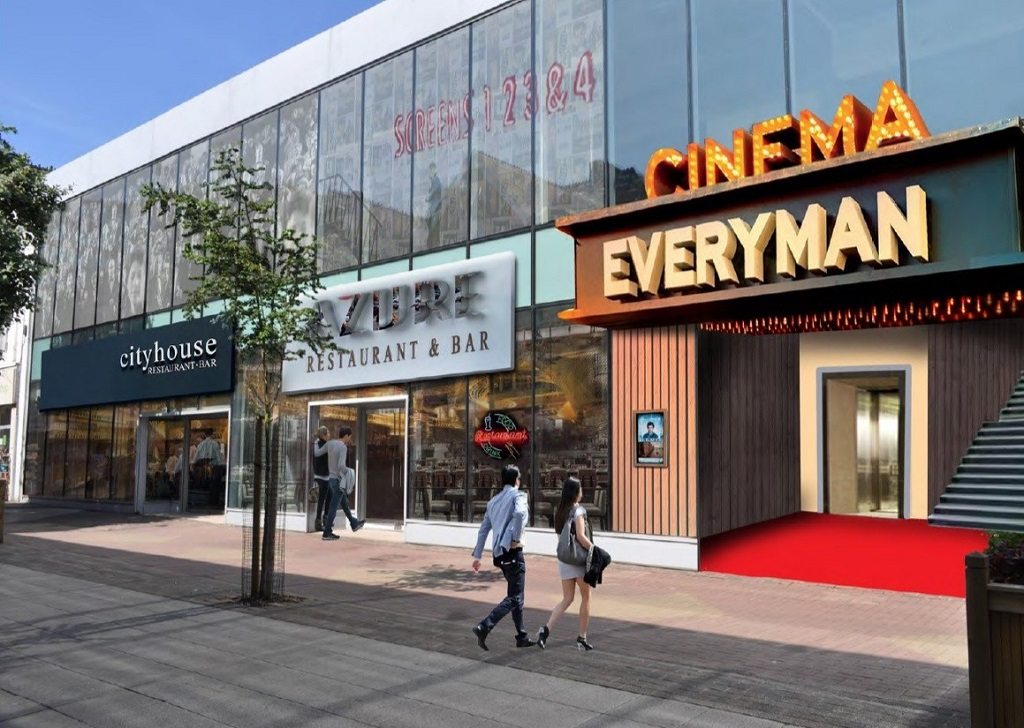 Everyman – More details have been revealed about a four-screen cinema at the former JJB Sports site on George street in Altrincham. Everyman CEO Crispin Lilly is quoted as saying "Our focus is really on experience, from a fabulous bar and food and drink menu, including wine and hand-rolled pizza, to comfy sofa seating and a great programme of film and events." The aim is to open the cinema this year, one of five planned Everyman launches in 2018. A planning application has been submitted that provides details about the site. Altrincham Today – 12 January 2018
Odeon – Edinburgh-based developer PJ Leggate is hoping to tempt Odeon to move from its current location in Burn's Statue Square to a new seven-screen venue at Ayr's Kyle Centre. Scaled back plans have been re-submitted with South Ayrshire Council. This proposal would just see the ground floor used, as well as accommodating six restaurants. Daily Record – 2 February 2018
Reel – The first images have been released of what the GBP£6.5million eight-screen Reel Cinema in the former Waves centre in Blackburn will look like. "Blackburn with Darwen Council has submitted a planning application for the cinema on the former Waves Water Fun Centre site in Nab Lane." There would be two food and drink outlets, as well as a licensed bar. Click here for a gallery of cinemas that Blackburn has lost. Lancashire Telegraph – 19 January 2018
Showcase – Bluewater Shopping Centre in Kent opened four new Showcase Cinema de Lux luxury screen cinema on 12 January, in addition to the 13. The new screens were created in the space formerly used by Glow.
Mark Barlow, general manager of Showcase Cinemas UK told several hundred invited guests how when the company bought the cinema at Bluewater 20 years ago, it was its first shopping centre venue. Its IMAX screen then followed in 2014.
He said: "It's been a real journey. We knew with the IMAX screen that we had to further enhance the experience at Bluewater with more space. Now we have four extra screens."

Of the comfortable, reclining seats, he added: "If you fall asleep – fine. If you start to snore you'll be thrown out!"
Showcase was the first cinema operator in the UK to introduce fully electric recliners in its refurbished cinemas. Kent Online – 13 January 2018
Vue – Construction work has started on the six-screen Vue cinema being built as part of the Eltham Masterplan. "The project is part of a large regeneration of the high street to make it an entertainment destination, including the instalment of a £40,000 Hollywood-style Eltham sign." The multiplex is due to open in the spring of 2019. This Is Local London – 4 February 2018
Independent – Stowmarket's Regal cinema is set for an expansion with two additional screens as well as a thorough refurbishment after a submission was made toMid Suffolk District Council for a GBP £1.56 million grant and GBP £1 million loan. A feasibility study was undertaken in 2016 that found in favour of the project. The cinema is considered a key part of Stowmarket but not up to the standards of nearby cinemas in Ipswich and Bury St Edmunds. East Anglian Daily Times – 31 January 2018
Independent – Plymouth is set to get Europe's first 360-degree cinema – "first" apart from the ones in Norway, Poland, Austria and Germany."It's been described as a virtual reality set for 150 people to all experience something at the same time – and it will be at Devonport Market Hall in Plymouth. It could show live sport, cultural events, including dance and music and nature films, or be used for parties and weddings." Opening is set for the end of 2019. Cornwall Live – 17 February 2018
Independent – Delays in reconstruction work of the Regent Cinema in Lyme Regis that was destroyed by a fire in March 2016. "A spokesman for the firm [WTW-Scott Cinemas] said there have been 'regrettable delays' in rebuilding the cinema, which burnt down almost two years ago, but reassured residents that they remain hard at work to find a way to move forward." The plan is to restore the 1930 art-deco building to its former glory, but there were financial/design problems with the first proposal. Bridgeport News – 1 February 2018
Independent – Progress for the GBP£2.5 million Montrose Playhouse cinema project. "The 10 art deco cast iron cinema seat ends and mid-sections from the original cinema were found in a garden and the Montrose Playhouse team wants to restore them as part of the community art centre and cinema project." The aim is to open by December 2019. Evening Express – 13 January 2018
Independent – Plans have been put forward to restore the former King's Heath cinema outside Birmingham. The ex-cinema was turned into a bingo hall and then destroyed by a fire. "There is definitely requirement for a food outlet, residential accommodation of around 30 or so flats and community amenity space and we would really like to create a plaza with some greenery so the building meets the street," said Nirmal Vora, a director of Nestings Group. She would also like to see a cinema return. Birmingham Post – 18 January 2018
Ireland (Republic of) – Omniplex plans to turn the vacant Longford Shopping Centre into a 'massive entertainment and activity centre'. Omniplex currently operates a cinema in situ next to the centre, want to transform the empty space into major entertainment destination. Discussions had previously been kept secret "due to the sensitivity of the talks." Longford Leader (paywall) – 14 February 2018
Ireland (Republic of) – Wilton shopping centre in Cork is set for a 100 million euro refurbishment that would include a cinema and hotel. "Wilton Town Centre will also incorporate a hotel and two new public plazas. We are also proposing a cinema which will act as an evening focal point and be at the centre of more lifestyle uses," a spokesman for developer Clarendon is quoted as saying. No word on any operator. Irish Mirror – 11 January 2018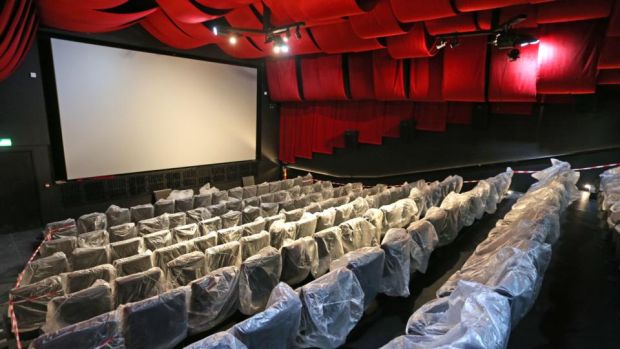 Ireland (Republic of) – Galway's art-house cinema Pálás has finally opened after several delays and ending up costing. €9.5 million (or is it €8 million?). "Element Pictures, which also runs Dublin's Light House Cinema, promises a mix of the best new Irish and international films, along with classics, foreign-language movies, animated films, shorts, documentaries, special events and festivals." Irish Times – 21 February 2018
Ireland (Republic of) – Work has started to split Dublin's Savoy into several smaller screens. "Changes to the famous Savoy One theatre will make it "a large popcorn machine" with screens at the back, the Dublin film festival director [Gráinne Humphreys has said." The new cinema  will split the 760-seat Savoy One auditorium into five smaller ones. The Times – 20 January 2018
Unknown – A GBP £55m Westside leisure scheme by Urban&Civic in Wolverhampton, that will include a cinema, restaurants, a hotel and  car park, has been approved. Phase one is expected t be completed in 2020. No word on who the cinema operator might be. Insider Media – 11 January 2018
Unknown – Preparation work has begun on the GBP £30 million cinema and shopping complex Mill Quarter on the edge of Perth centre. "The works are being undertaken to ascertain the ground conditions, the results of which will then influence the form of structure to be implemented for the proposed development," said Stephen Hampshire of Expresso Property. No mention of any cinema operator. The Courier – 6 February 2018
Unknown – Plans have been drawn up for a cinema in Lincolnshire's Corn Exchange building area, opposite the market place in Sleaford. "A spokesperson for the Sleaford Corn Exchange said the cinema would be built on waste land behind the site." There are currently only cinemas in nearby Lincoln, the Kinema or Grantham. Lincolnshire Live – 15 January 2018
Unknown – Plans to have a multiplex in the re-developed south London neighbourhood of Elephant and Castle. " The project will include 979 homes and a multiplex cinema, alongside a new campus for the London College of Communication (LCC) and incubator hubs for local start-ups." no word on when this might happen. City Metric – 15 January 2018
Finally
The Grand Electric Cinema will be moved brick-by-brick from its existing location in Ryhope in Sunderland 24 km to Beamish, The Living Museum of the North. There the former cinema will be restored and preserved for future generations as part of a 1950s town. The cinema The Grand was built in 1912 and closed in the 1960s, after which it became a bingo hall – like counties other cinemas. Chronicle Live – 31 January 2018

Latest posts by Patrick von Sychowski
(see all)