Picturehouse loses Ladywell Playtower project to Curzon; Cineworld's Weston-super-Mare ready to open (nearby Odeon drops prices); Everyman in old ABC in Tunbridge Wells, Cirencester and Lincoln's Corn Hill hat-trick; The Light's funky  Redrock cinema opens; Odeon Derby property sold; Picturehouse in Ashford and Chester; Odeon out of Queensgate?; Unknown operators for Coventry Telegraph Bangor's Parc Bryn Cegin, Barnstaple, Beesron and Millbay; King of Prussia and Oswestry church to become cinemas; Refurbs: Empire Sutton's St. Nicholas Centre, Odeon Luxe Blanchardstown, Campbeltown Picture House, Abbeygate Cinema re-claims bingo hall (w00t!), Hollywood Royalty Cinema, Majestic in King's Lynn re-submitts plans and overwhelming response for Montrose Playhouse project.
---
---
New Openings
Curzon – A look inside the derelict Victorian bath house in London's Lewisham that is set to become a Curzon Cinema, with the Council changing the previous decision that awarded it to Cineworld's Picturehouse. The Council apparently changed its mind after it got a petition with 6,000 signature relating to Cineworld/Picturehouse's pay dispute. The overhaul of the Ladywell Playtower – a Grade II-listed building completed in 1884 – will retain the iconic turret. The three-screen cinema will also feature a public events foyer, café, bar, restaurant and 19-21 flats. Opening is set for 2020. The Spaces – 21 November 2017
Cineworld – The eight-screen multiplex in Weston-super-Mare's Dolphin Square is set to open 26 January. It is Cineworld's third cinema in Somerset and part of a GBP £45 million leisure complex. It will have a Baskin Robbins ice cream counter and if he had to hazard a guess, probably also comfy seats. It is reported that the Odeon cinema that is only 350 meters away is already reducing its ticket prices. Weston Mercury – 1 December 2017
Everyman – The GBP £80 million redevelopment of the former ABC cinema in Tunbridge Wells is moving ahead. The project will include shops, restaurants, a new cinema, a medical centre or office space and around 100 flats. Construction will take approximately two-and-a-half years. Everyman is mentioned as the operator of the new three-screen cinema. KentLive – 20 November 2017
Everyman – Work has started on a cinema for Cirencester, three years after planning consent was granted and a year after Everyman pulled out. The project is expected to be completed within 15 months and Everyman has re-committed to the project, which includes a four-screen cinema, six shops, four restaurants and a 110-bed student accommodation. Wilts & Gloss Standard – 30 November 2017
Everyman – Lincoln's Cornhill Quarter will get a 'boutique cinema' operated by Everyman, who notched up a lot of new site contracts at the end of 2017. "The three-storey glass-fronted Everyman Cinema, opposite the Corn Exchange and facing onto a new public square, is due to open in Spring 2019 as part of the £70m transformation of the area." The four-screen cinema will feature a rooftop terrace bar and restaurant, as well as a private screening lounge available to hire. The article includes lengthy quotes from Phil Clapp praising Everyman's expansion and championing cinema going in general. Linconshire Live – 30 November 2017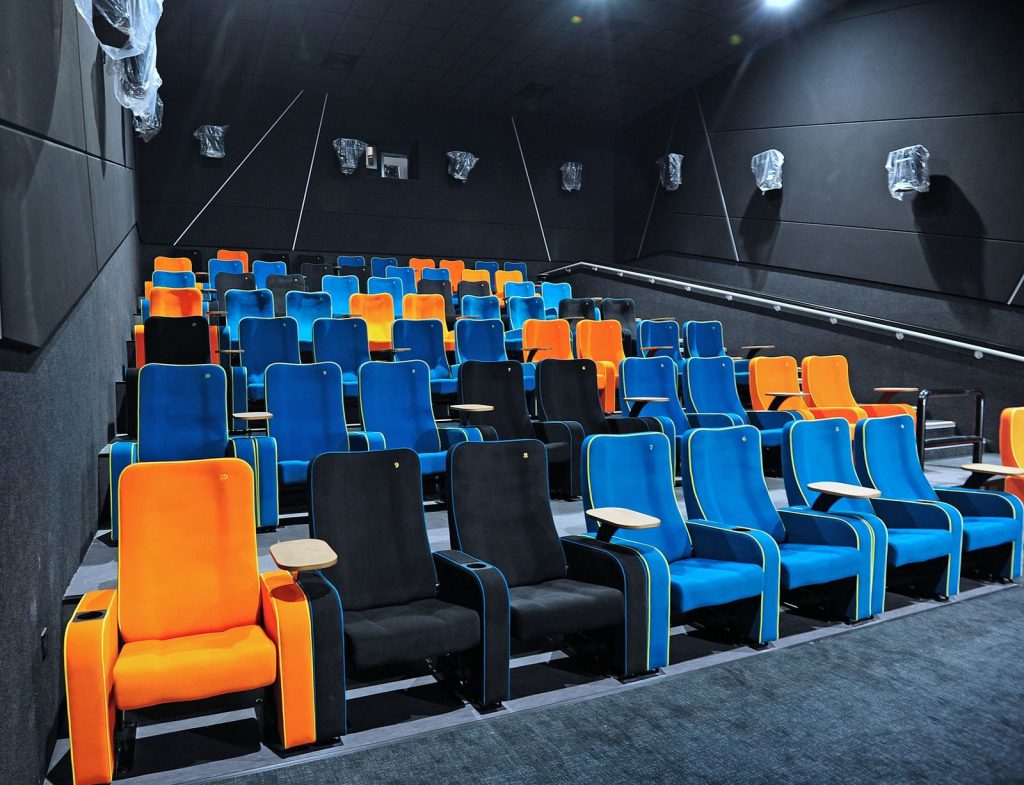 The Light – The new Light cinema opened in Redrock on 24 November. It is the company's eight site with 13 more planned in the next two years. "The 10-screen venue will have a cafe-bar offering locally made cakes, beer from Stockport Brewery Robinsons, and pies from Lord of the Pies, which is also based in the borough." A number of restaurants also opened, including Zizzi, Pizza Express, Gourmet Burger Kitchen, and MangoBean Coffee. Good photos in the article. Manchester Evening News – 20 November 2017
Odeon – Odeon's cinema property in Derby has been sold by its owner LondonMetric for GBP £19 million. "The 10-screen, 37,000 sq ft cinema formed part of a portfolio of ten Odeon Cinemas acquired in 2013." The sale will not affect the operations, which is described as representing "reliable and predictable income streams." TheBusinessDesk.com – 27 Movember 2017
Picturehouse – A GBP £75 million pound hotel and cinema complex will open near Ashford's town centre. The Elswick Place development will includes a six-screen Picturehouse cinema, eight restaurants and a 58-room Travelodge. Completion is set for December this year. KentOnline – 25 December 2017
Picturehouse – A six-screen cinema operated by Picturehouse will be part of the GBP  £300m Northgate Development aimed at regenerating Chester. The Cineworld-owned operator has applied for a premises licence allowing them to show movies until 4am. The 715-seat cinema will be located on the site of the old Princess Street bus exchange. NEarby Storyhouse has just one screen with 100-seats. Chester Chronicle – 3 December 2017
Unknown – Work is scheduled to start this year on the GBP £30 million cinema-led expansion of Peterborough's Queengate shopping centre that was previously set to include an Odeon. Guy Thomas, head of retail at Lendlease, which operates the centre on behalf of owners Invesco, said "We are finalising discussions with a major cinema operator," but won't reveal who that is for the 11-screen complex. Peterborough Telegraph – 30 November 2017
Unknown – A five-screne cinema complex will be fitted in the re-modelled Coventry Telegraph building. The former newspaper office that has been vacant since 2012 will also have a 1950s style hotel. The arthouse cinema (no operator named) will be available as a break out facility for the Belgrade Theatre. Coventry Telegraph – 28 November 2017
Unknown – A cinema operator has been secured for Bangor's Parc Bryn Cegin's 10-screen multiplex, but the name can't be revealed due to "commercial confidentiality". In order for the 40,000-sqft screen complex to go ahead the developer needs to secure more restaurants. The plans includes a cinema, six restaurants, a family pub and a Welsh produce shop. The cinema would include a PLF screen. Only two restaurants have been signed so far. Daily Post – 2 December 2017
Unknown – Plans for a a multi-screen cinema, restaurants and a hotel have been revived for Barnstaple. North Decon Council's redevelopment plan of a 12-acre site between Queen Street and Bear Street date back to 2008 but are now being revived. The move comes after a consultation bout parking in the city. DevonLive – 24 November 2017
Unknown – There is a GBP £30 million plan for the redevelopment of Beeston to build a cinema, bars, restaurants and cafés as well as 100 homes. The six-seven screen cinema "could help usurp the Rushcliffe town across the River Trent as the destination of choice to visit and live outside the city." Work could start in 2019 and be completed the following year. Nottingham Post – 23 November 2017
Unknown – An "arthouse" cinema is planned for Millbay, Plymouth by the owner of Plymouth Pavilions. The plan also includes two hotels and would not compete directly with the  GBP £48 million Cineworld complex under construction at Bretonside. A spokesman said the cinema would be more for cultural showings and that "This tends to be smaller cinemas, more comfortable seats, attracting an older demographic, middle-aged to older people." Discussions are underway with various operators. DevonLive – 29 November 2017
Independent – The King of Prussia Inn pub in Bovey Tracey will be converted to a 118-seat cinema with a cafe, bar and restaurant, following a fundraiser by Bovey Tracey Paradiso Arts that has raised over GBP £288,000. The newly formed community group plans to buy the closed pub and convert it into a "multi-platform arts centre featuring an art gallery and studios, a 40-cover cafe/bar and an exclusive cinema." Further planning permission is required, but the effort has broad community support. DevonLive – 30 November 2017
Independent – The conversion of a former church in Oswestry will create a 112-seat cinema. "There is no date yet for work on the cinema to start. A consultant involved in the scheme says the next step is to apply for grants to make the project a reality." The building in The Citadel, King Street has been empty for five years. The town has a specialist cinema Kinoculture but no cinema for new releases. Cineworld most recently pulled out of a deal to be part of a shopping and leisure centre in town. Shropshire Star – 9 December 2017
Refurbs / Re-opening
Empire – Empire is re-opening the cinema in Sutton's St. Nicholas Centre that cloised last June for major refurbishment. Opening is scheduled for later this month (January), with larger space and seating in the foyer, as well as new double seats or electric recliners. The 10-screen cinema will feature a PLF Impact screen with Dolby Atmos. There will also be D-Box seats. Croydon Advertiser – 29 November 2017
Odeon – The Odeon Luxe refurbishment scheme has now been extended to properties in the Republic of Ireland, with the Odeon Blanchardstown the first to re-open. Actor Barry Keoghan ("Dunkirk") was roped in a spokesperson for the launch:
"The new ODEON Luxe fully reclining seating really brings luxury to going to the cinema and with the new IMAX screen and renovated iSense screen there really isn't anywhere else I would want to go to see the latest films!".
The iSense screen is  16.41 meters wide  and 8.9 meters tall. Buzz.ie – 4 December 2017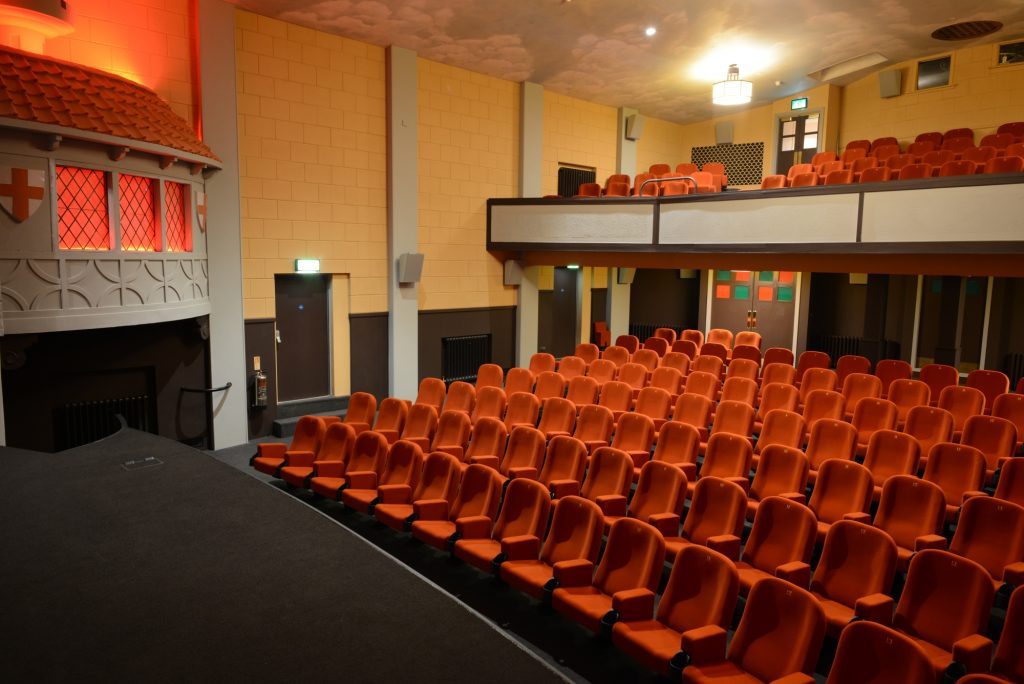 Independent – Campbeltown Picture House has been restored to its 1935 glory with new seats and more. Note the faux balcony to the left of the stage. Campbeltown Courier (paywall) – November 2017
Independent – The Abbeygate Cinema in Bury St Edmunds is getting two more screens, in a conversion of a next-door bingo hall. One will be 200 and the other will be 50-seat large. The part-time manager Pat Church has been waiting 40 years to expand the cinema. "My one main ambition now is to be here on the opening night, dressed up, on the front of house greeting people into it … that's my last main ambition now." The aim is to have them open by the start of 2019. East Anglian Daily Times – 2 January 2018
Independent – The Hollywood Cinema in Great Yarmouth has had a 'five-figure' sum spent on restoring it to its former glory, "renewing almost all the 800 seats in the five-theatre complex and adding what is thought to be one of the biggest screens in East Anglia in its cinema one." It also undergoes a name change to the Hollywood Royalty Cinema. Great Yarmouth Mercury – 22 November 2017
Independent – New plans have been submitted to expand the Majestic cinema in King's Lynn after the previous plans were withdrawn over a door opening onto a highway. "Now the plans have been resubmitted, with a side door shown opening into a recessed porch. Planning papers say that the extension will create a 120 new seats in a new extension off Sedgeford Lane." A ground floor extension would have a further 100 seats. Eastern Daily Press – 4 December 2017
Finally
The Montrose Playhouse Project (a long-time favourite here at CJ) to convert a former swimming pool to a cinema has been overwhelmed by the pledge of GBP £200,000-worth of time and material for the start of the work. "A volunteer team of local tradesmen and DIY enthusiasts spent a gruelling six weeks stripping the building back to its shell to allow renovation work to start." Thanks to those 70+local volunteers the project is now ahead of schedule. Truly a community cinema. The Courier – 29 December 2017

Latest posts by Patrick von Sychowski
(see all)