Dear Junkies,
As we start the new year, we can look back on an eventful 2017 that had everything from AMC's nosediving share-price and Saudi Arabia lifting the ban on cinemas to the Mouse-devours-Fox stunner that ended the year. If you want to read our predictions of what lies ahead in 2018 then please do have a look at CJ's collective crystal ball gazing. We can predict with 100% certainty that you will be seeing lots of changes at Celluloid Junkie as we improve, expand and innovate in the coming 12 months. Thank you to our loyal readers, fans and business partners that make this possible.
Regards,  Patrick & the CJ Team.
---
Global BO strong in 2017; BO outlook even better for 2018; Australia's Village kills dynamic pricing trial; 4DX sees record growth in 2017; IMAX VR plans revealed; focus on cinema innovator Rooftop Film Club and Ourscreen; MBAs Rethinking Cinema Experience; Saudi Arabia candidates; MovieTime to expand in India; RealD files patent suit against Volfoni and CinemaNext in Germany; Cineplex and D-Box VR; robbery in German cinema and AMC 'Star Wars' silence warning withdrawn. 

---
Global – Box office was strong globally in 2017 at USD $39.92 billion, where even the US crossed USD $11bn for the third year in the row, even if it didn't match the high of 2016. It was helped in the final days by "Star Wars: the Last Jedi" which crossed the USD $1 billion mark globally, making it the year's top film. It was France's third-biggest year in half a century woith 209.2m admissions and BO of €1.36 bn (USD $1.64 billion), while Germany had a particularly good ending to the year, though coming off a particularly dire 2016. Other territories are also reporting a solid year, with more than nine million cinema tickets sold in Finland. Thats the first time this has happened since 1983 and works out to over €100m at the BO. Variety – 31 December 2017
Looking ahead to Hollywood's 2018 releases, a better breed of franchises and a more evenly distributed release calendar bodes well for the coming year. worth quoting Patrick Corcoran, spokesman for cinema trade body NATO:
2017 showed that when the movies are there, audiences will show up in record numbers, no matter what time of year. A more balanced schedule in 2018 should build on an otherwise solid 2017. There are some very big titles in Q1 — continuing a recent lucrative trend – and a return to a more appealing summer, with August (essentially abandoned in 2017) boasting several potential crowd-pleasers.
A full list of the major releases, from "Maze Runner: Death Cure" (in Barco Escape?) on 26 Jan to "Mary Poppins Returns" on 25 December, is also included. Variety – 28 December 2017
Australia – Village Cinemas has cancelled a dynamic ticket pricing trial after a backlash against 'upcharging' AUS $1 (USD $0.78) at selected location in the state of Victoria. "Under the model, the price of movie tickets and snacks and drinks rose by up to one dollar per item after 5pm on Friday and Saturday nights, traditionally the busiest period for cinemas." The trial was supposed to have run throughout the school holidays but after internal documents were posted on social media the cinema did a U-turn. As an opinion piece in Which-50 puts it: "Arrogance, poor service, and bad decision making dressed up as innovation. This is why incumbents fail." News.com.au – 4 January 2018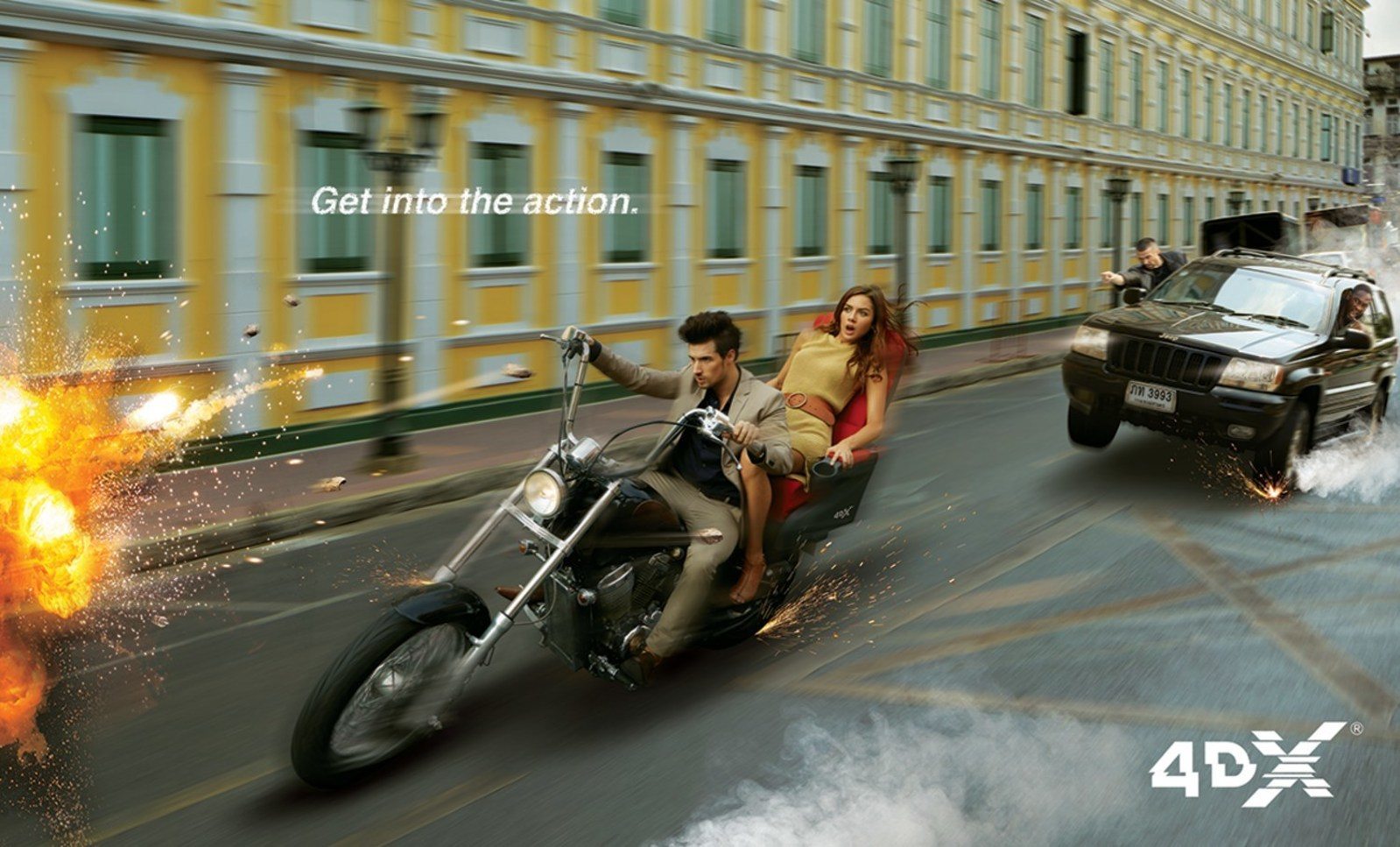 Korea (Republic of, South) – CJ 4Dplex's 4DX immersive seating attracted 19 million attendees in total in 2017, achieving sales of USD $228 million. It operates in 475 auditoriums in 57 countries, with European installations alone growing 72% last year, as well as doubling in North America and Africa. Business Post (KR) – 3 January 2018
USA (CA) – FJI does an in-depth interview with Rob Lister, chief development officer at IMAX about the large format company's push into virtual reality (VR). Lister emphasises that these are early learning days but that the company is applying its proprietary know-how to the design of the experience centres, most of which are co-located with cinemas. the idea is to use under-utilised screens 16 and 17, with revenue split three ways between Imax, cinemas and content owners. FJI – 29 December 2017
UK – Gerry Cottle Jr. ran away from the circus to join the cinema. More precisely, he set up Rooftop Film Club in 2011, "born out of the mundaneness of the multiplex experience." With four venues in rain-sodden London, the company has expanded to New York and Los Angeles and is next opening in Miami, San Diego, Boston, Chicago, Austin, Barcelona and Dubai this year. There is also a profile of Ourscreen as an example of other blue-sky thinking cinema entrepreneurs active today. The Times (paywall) – 3 January 2018
Canada – Rethinking Cinema Experience is a title of a piece by students from the Markus Giesler's MBA course Customer Experience Design at the Schulich School of Business with good descriptive and some prescriptive observations. "Creating and configuring openly accessible and inviting common areas, and implementing public Wi-Fi access are low cost and potentially highly effective." More thinking is required in this area. HuffPo – 3 January 2018
Saudi Arabia – The Financial Times looks at the potential for cinema in Saudi Arabia, now that the ban is being lifted. Vue and AMC are some of the operators seeking to establish a presence, as are local Gulf-based and Indian operators. Licence regulations are currently being drafted and five to six cinemas are anticipated for Jeddah alone. And Saudi Cinema account tweeted "We're back" to 79K followers. Interestingly Imax is the only operator who already has a presence in the Sultan Bin Abdulaziz Science and Technology Center since 2005 where it plays educational films. Understandably it too is eager to expand. FT (paywall) – 4 January 2018
India – One of India's oldest cinema chains plans to spend close to USD $20m (INR 125 crore) to double its screen count from 50 to 100 this year. MovieTime Cinemas is based primarily in north and west India but the expansion will focus on tier II and III cities in states like Andhra Pradesh, Punjab, Karnataka. The family-owned company will be using its own funds. Economic Times – 3 January 2018
Technology
Germany – RealD has launched a patent lawsuit against Volfoni and CinemaNext in Germany alleging that three of its European patents have been infringed. Volfoni responded with – a press release. RealD buying MasterImage was only a temporary lull in this ongoing dispute. Call it 'Light Doubler: Infinity Wars – Part II'. ScreenDaily – 20 December 2017
Canada – Cineplex has launched a VR arcade in partnership with motion seating company D-Box in its Gloucester multiplex. Loctaed next to the arcade section (!) the 10-chair installation plays a 12+minute animated film called "Raising a Rukus". A similar installation already exists in Cineplex Toronto. CTV – 6 December 2017
Law & Order
Germany – An armed robbery took place at the CineMotion cinema in Langenhagen as three masked and armed men and escaped with cash from the box office. They are described as 20-25 years old, thin and with a 'southern' appearance, speaking German with an accent. A similar robbery took place on 9 november at the Hotel des Kinos. HAZ (DE) – 2 January 2018
Finally
USA (FL) – No spoiler but there is a crucial scene towards the end of "Star Wars: the Last Jedi" when the film goes completely silent for about ten seconds. Apparently some viewers complained, thinking that there was something wrong with the screening. This led AMC to put up a sign in two locations:
Please note The Last Jedi contains a sequence at approximately 1 hour and 52 minutes into the movie in which ALL sound stops for about 10 full seconds. While the images continue to play on the screen you will hear nothing. This is intentionally done by the director for a creative effect.
When the media took notice, AMC promptly removed it. Remember Harlan Ellison's complaint about hearing the sound of the Death Star explosion in space? Seems people are never happy either way.  Vanity Fair – 28 December 2017

Latest posts by Patrick von Sychowski
(see all)