Samsung LED Cinema in Switzerland; young people cinema attendance surprise; DECIPRO's Jean-Marc Couffignal dead; IMAX VR in Odeon Trafford Centre; Cineworld revenue up; Vue heart attack help; sex in cinema couple arrested; Curly Wurly or dog poo; cinema attack;  Twavox access app; 'Young Pope' 2 in cinemas and Vue buying Odeon rumours dealt with.
---
---
Switzerland – The first Samsung Cinema LED screen in Europe will be installed in Zurich's Kino Arena Sihlcity. The installation in February 2018 will be the third anywhere in the world after two in South Korea and a planned one fin Thailand. The cinema will remove its projector and introduce a new seating concept. Cinema operator  Edi Stöckli, Patrick Tavoli and Imaculix AG will then roll out Samsung's Cinema LED to the other Kino Arena cinemas. IT-Markt (DE) – 13 November 2017
UK – Are fewer young people going to the cinema? Stephen Follows shines his data spotlight on the billion dollar question that is keeping cinema executives awake at night. Yes, while there is a decline, 15-24 year olds made up 29% of cinema audiences in UK in 2016 compared to 26% in 2004, so actually in increase. But no reason to be complacent. Stephen Follows – 27 November 2017
France – It is with sadness that we note the passing of Jean-Marc Couffignal. As well as being a fixture of almost every annual European cinema event, his company DECIPRO provided high-end service for French exhibitors and film festivals, including Cannes and Annecy. More than that, he was spoken of as a kind person who was always willing to help. Condolences to his colleagues and family and may he rest in peace. Le Film Francais – 27 November 2017
UK – Imax has opened its first European VR centre at the Odeon Trafford Centre. Consisting of 10 'pods' for social VR experiences, it is Imax's fifth VR Centre, after Los Angeles, New York, Toronto and Shanghai. "Launch content includes Ubisoft's "Star Trek: Bridge Crew Rescue at Perseph" and a "Justice League" experience from Warner Bros." Five more VR Centres will open shortly in US and Asia. Variety – 22 November 2017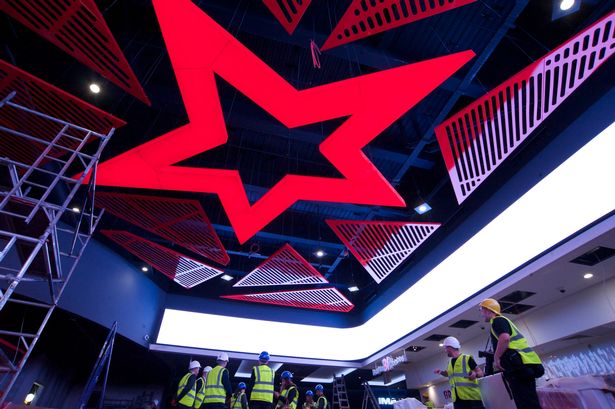 UK/EU – It has been a good box office year so far for Cineworld. "Total revenues rose 10.6% for the 48 weeks ending November 19, with box office takings lifting 10.4% over the period." The opening of several new multiplexes and a strong growth in concession sales – 13.4% in total including a 24.6% increase outside the UK and Ireland – helped strengthen revenue. Irish Examiner – 23 November 2017
Malaysia – Healthcare platform/app BookDoc rewards users who maintain active lifestyles with discounted cinema tickets in partnership with MCL Cinemas. (No word on popcorn or soda being included.) Business Insider – 26 November 2017
Health & Safety
UK – A mother-of-two claims that cinema staff ignored a father who collapsed, leaving his two children to call for an ambulance. "Kelly Woods said her 11-year-old son and 13-year-old daughter were walking out of Vue Cinema in Cheshire Oaks , when their dad complained of pains in his chest." The daughter diled 999 emergency services while the son ran inside the cinema calling for help. The son was told that the cinema did not have a defibrilator and the staff allegedly did not offer to help. Vue has responded that its staff did try to help. Livepool Echo – 22 November 2017
USA (TX) – A couple were caught having sex at a packed screening in the Santikos Casa Blanca cinema in San Antonio, "really fast sex." But not fast enough not to get arrested. No word on which film that got them so excited. The Sun – 23 November 2017
UK – A mother who took her son to see "Paddington 2" at the New Century Cinema in Sittingbourne claims that her son put his hand in dogpoo that the staff had failed to clean up. The cinema manager claims that it was a Curly Wurly chocolate bar. (Wasn't sure whether to file this under 'Concessions' or 'Health & Safety'). Mirror – 24 November 2017
Law & Order
UK – A serious assault took place during a screening of " Thor: Ragnarok" at the Showcase Cinema at Avonmeads. A man on crutches was allegedly pushed over and spat at when he complained about another cinema goer walking and blocking his view repeatedly. The police are looking for two men in connection with the incident. Bristol Post – 21 November 2017
Access
France – Over 700 cinemas across France provide access for impaired patrons through the Twavox app. Developed by the company ESII it provides free subtitling and audio description services for those hearing or visually impaired. Available through Google Play and Apple's App Store the app is compatible with the 90% of films that have audio description today. 20minutes (FR) – 27 November 2017
Event Cinema
Italy – Following the success of the third season of 'Gomorrah' in Italian cinemas, the second series of 'The Young Pope' could have its launch in cinemas.
Sky Italia executive vice-president of programming Andrea Scrosati told Broadcast that Gomorrah's cinema release was conceived as a "powerful marketing tool" that also led to additional revenue. Its performance demonstrated that there is room for greater flexibility between cinematic and TV windowing, said Scrosati.
The Gomorrah experiment covered its print and advertising costs – if it had stayed in cinemas one more day it was predicted to have turned a profit. Screen Daily – 24 November 2017
Finally
We were tempted to include this weekend's Sunday Times Vue 'exclusive'…
…but then we thought better of it.

Latest posts by Patrick von Sychowski
(see all)