Dear Junkies,
VR is a poor fit for cinema. So why is everyone from AMC and IMAX to Paris art-house exhibitor MK2 leaping into the virtual reality business? Hype and fear of being seen to be overtaken by new technology/content is a large part of the reason. Cinemas can't screen Netflix shows, but they can install VR pods in the lobby, and thus claim to be part of the Next Big Thing in entertainment.
VR falls into the categories of interactive entertainment (games) and 360-degree video (immersive experiences). So far games have dominated VR at the expense of experiences (like Carne Y Arena). Today VR in cinemas is little more than 360-degree arcade games, costing four quarters per minute. Furthermore, most of them are not social or geared towards women, who are the largest constituent of cinema goers.
A few years ago it was fashionable for multiplexes to have bowling alleys attached, but now cinemas like PVR have sold them off; "The sale of bluO is in line with our strategy to divest all non-core assets and focus on our core cinema exhibition business."
While high-end VR equipment is still expensive for home users, it is a relatively low cost investment for cinemas, particularly if they have spare real estate. More importantly, cost of failure is also low. Should it be a success, cinemas can spin it off, but if it isn't they can quietly wind it down and go back to focusing on the core cinema exhibition business.
Regards, Patrick
---
AMC VR 'simply a market test'; PVR's Bijli interviewed; TN entertainment tax cut; Lotte's Indonesia ambition confirmed; Majestic goes ICE & LightVibe; Samsung & ScreenX at Busan; MoviePass parent's stock soars/falls; Reel results down; Russia fee hike scrapped; UK 'Beyond Multiplex' study; Steve Knibbs awarded; India & Russia threats against cinema over historic films; AR glasses tested in Korea; live crab and other things cleaners find in Singapore cinemas.
---
USA – AMC's addition of virtual reality attractions is not the reason to buy the company's stock. This Seeking Alpha piece form a former AMC investor is very good on historical context, not least as the author wrote "Virtual Reality and the Exploration of Cyberspace" back in 1993. VR for AMC is "simply a market test". There are better reasons for investing in the company, including wider deployment of Imax, Dolby Cinema and dividend that currently yields 5.8% ROI. [NB: this does not constitute CJ endorsement and/or investment advice.] Seeking Alpha – 16 October 2017
India – A long and (as usual) rewarding interview with PVR Chair Ajay Bijli about demonetisation, high end screens and why the GST should not have been pitched for cinemas at the same level as casinos and luxury goods.
All over the world ticket prices are not even taxed and even if they are it is not more than 18 percent to 20 percent. Blended entertainment tax was also close to 19 percent. The argument that in GST one has to pay something very similar to what they were paying earlier, therefore, doesn't hold true. It is only Delhi and Mumbai who paid 40 percent is now paying 28 percent, rest of the places across India were paying only about 10-15 percent.
He also talks Netflix, the new loyalty scheme (more on this here as well) and what's next in F&B and retail. MoneyControl – 16 October 2017
India – Rumours that south Indian state of Tamil Nadu has reduced entertainment tax from 18% to 9% – not confirmed, but enough to bump the share price of cinema stocks. India Infoline – 13 October 2017
Indonesia – Korea's Lotte is pressing ahead with its plans of opening cinemas in Indonesia. "We don't have an exact timeline for physically launching a new cinema business in Indonesia yet, but it is highly likely that the country will be our third territory overseas, following Vietnam and China," a Lotte Group source told Variety. Lotte is also seeking to spin off its Lotte Cinema and Lotte Entertainment form the parent company. Variety – 13 October 2017
France – The Majestic cinema in Jaux has become the first non-CGR cinema to install the ICE (immersive cinema experience) with LightVibes in one of its 14 auditoriums. Tickets will be €15. In addition to the light panels on the sides, a laser projector for €350,000 has been installed, Dolby Atmos audio fitted and motorised semi-recliners at €2,000 each have been installed, with seating reduced form 185 to 115. The "Flatliners" and "Jumanji" remakes from SPE will be the first titles. Le Parisien – 13 October 2017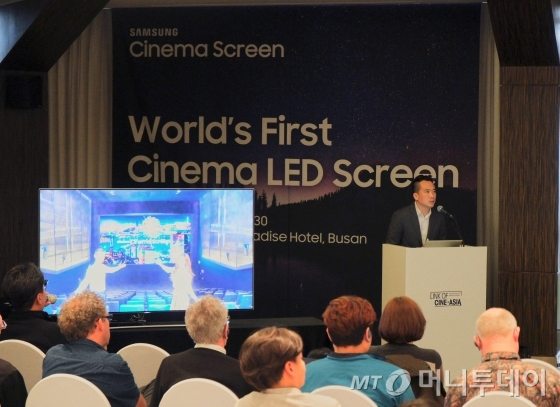 Korea (Republic of, South) – The Busan film festival has been an opportunity to showcase and discuss Korean cinema technology, primarily Samsung LED Cinema and CGV's Screen X. No new announcements from Samsung.  "We plan to actively pursue Cinema LEDs to expand in domestic and overseas movie theaters," Kim Seok-gi, vice president of Samsung Electronics' video display business, said. "We will contribute to the development of the movie industry by collaborating with various partners." It was revealed that CGV spend KRW 1 billion (USD $880,000) to convert a film for the three-screen format. It will have 38 overseas installations next year. SisaCast (KR) – 16 October 2017
USA (NY) – The share price of Helios and Matheson, the data company which bought a majority stake in MoviePass, went from USD $2.40 to USD $38.86 in the past months, before falling down to USD $20 last week. Analyst are split on whether there is a long term business model in selling movie tickets at a loss, in return for data, advertising and other ancillary services/revenues.  Motley Fool – 14 October 2017
UK – Turnover dipped from GBP £10.9 million to GBP £10.7 million for Reel Cinemas, while pre-tax profit went from GBP £406,489 down to to GBP £289.609 as attendance fell. Insider Media – 16 October 2017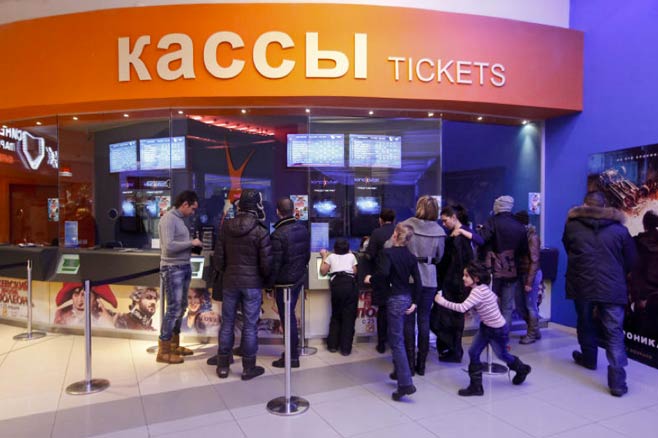 Russia – Plans to introduce an increased exhibition fee of RUB 5 million (USD $86,700) from the current RUB 3,500 (USD $60) have been scrapped. Revised proposal could still see major Hollywood titles facing a levy of up to 12% on gross or net receipts. The scrapped proposal would have been particularly tough for European art-house and niche films. The money would be used to fund Russian films. THR – 13 October 2017
UK – A GBP £900,000 research project on how people watch films has been launched in the UK. "Beyond the Multiplex: Audiences for Specialised Film in English Regions will focus on ways to enable a wider range of audiences to participate in a more diverse film culture that embraces the wealth of films beyond the mainstream." The scope covers everything from rural film clubs and international film festivals to VoD. BDaily – 12 October 2017
People
UK – Vue's Steve Knibbs will receive the Exhibition Achievement Award sponsored by the UK Cinema Association at the 2017 Screen Awards.
He joined AMC in 1987 and was a pioneer of multiplex operations in the UK. He worked at AMC as operations director and then managing director of the UK business during the time the company was acquired by Paramount Pictures and Universal Studios, when it was renamed United Cinemas International (UCI) in 1989.
He joined Tim Richards to form Vue in 2003. The rest is, as they say, history. Congratulations. Screen Daily – 16 October 2017
Law & Order
India – Threats of violence against cinema which plan to show Bollywood historical film "Padmavati". "[W]e will burn cinema halls screening the film…our members are trained in handling a large array of weapons ranging from swords to AK 47 guns," said Bhanwar Singh Reta, founder, Jai Rajputana Sangh. Threats like these are common in India and sometimes result in violence, but those issuing them are rarely prosecuted. Hindustan Times – 15 October 2017
Russia – Despite threats from extremists, Russian cinemas will go ahead with screenings of historical biopic "Matilda" about the romance between the future Tsar Nicholai II and half-Polish dancer Matilda Kshesinskaya. "We are grateful to law-enforcement bodies and special services for all they've done in the past month for us to be assured of our spectators' safety," said Roman Linin, the head of the Cinema Park and Formula Kino cinema chain in a statement. Reuters – 13 October 2017
Access
Korea (Republic of, South) – Augmented Reality (AR) glasses are used to overlay subtitles on the cinema screen for deaf and hearing impaired as part of the 13th Audiovisual Movie Viewing Assistive Technology Demonstration. Hani (KR) – 16 October 2017
Finally
Singapore – Live crabs, soiled diapers, luggage, prams and even a bag of new underwear are some of the more unusual things cleaners find after the end of the last screening in Singapore cinemas. The good news is that PSA about customers removing their own trash is starting to take make a difference. This in-depth article goes into detail of just what it takes to clean the cinema and the issues the staff face and the items they find. Keys and wallets are held in Lost & Found but consumables are discarded after 24 hours – including the crab. Straits Times – 15 October 2017

Latest posts by Patrick von Sychowski
(see all)