Odeon 'Luxe' in East Kilbride; Cineworld Bracknell opens but Bretonside on hold; Empire Poole plans; Newcastle Everyman go-ahead; Nottingham big enough for The Light and Blackpool work to start; Montrose signs ownership; Pavilion conversion; new cinema plans for Kingston, Basildon, Paisley, Wolverhampton, Brent Cross and Woolwich; CineMarsh 60-seater; Re-furbs: Palace Gorleston, Everyman York, Picturehouse Bromley, Reel Burnley, Savoy Exmouth, Stella Dublin, Phoenix Leicester, King's Lynn Majestic and Curzon Clevedon up for award.
---
Singapore's hip The Projector is the CJ + Vista's Cinema of the Month
---
East Kilbride (Scotland) – The first ever fully-reclining 'Luxe' cinema in Europe is what the re-launched Odeon cinema in East Kilbride is described as. The nine-screen multiplex is now equipped with 652 luxury leather recliners. It features an Isense PLF screen with 4K projection and Dolby Atmos audio, as well as Dolby Fidelio Audio Description system and Hearing-impaired loops across all screens. There is a Coke Freestyle machine and a new Oscar's drinks point serving a selection of alcoholic beverages. Daily Record – 4 October 2017 (More photos here.)
Bracknell – Cineworld's latest multiplex opened in mid-September. The 12-screen cinema has luxury recliners and 4DX seating, which apparently worked for the opening screening of "It". The facilities are described as 'first class' even though the cinema doesn't look big from the outside. "And yet as soon as you step through the tall glass doors you are met with a huge LED screen on your left advertising films, and then a wide open space in the shape of a triangle, giving the option to go up to the screens." The newspaper reviewer calls it "a cinema to be proud of." Bracknell News – 16 September 2017
Plymouth – No go ahead yet for British Land to start work on the Bretonside, so Plymouth City Council is spending GBP £500,000 to do decorative work in the area. The plans are for a new 12-2creen Cineworld multiplex, as well as sky bar and 14 restaurants on the site of a former bus depot. Plymouth Herald – 12 October 2017
Poole – Empire will be opening a multiplex in Poole after signing a 25-year lease with LGIM Real Assets to open at the Dolphin shopping centre. The nine-screen cinema will be the city-centres first, alongside four restaurants. Opening at the end of 2018 it will occupy the space of a former Argos store. One of the nine screens will be an open-air roof-top screen, with the Empire PLF Impact and D-Box motion seating also on offer. Commercial News – 12 September 2017
Newcastle – Go-ahead has been given for Everyman's plans to convert the Legends nightclub into a cinema. Work is due to begin immediately to convert the sub-terranean space into a four-screen cinema. The GBP £3m project is said to create 30 new jobs. Chronicle Live – 3 October 2017
Nottingham – The Light's Keith Pullinger feels that Nottingham is big enough for another multiplex to compete with the existing  Cineworld,  Broadway Cinema and the out-of-town Showcase and Savoy. "Nottingham is a big city with a fantastic student population. The cinemas trade very well and we think there's room for another mainstream cinema with a slightly different approach to it." The Light always tried to be different from 'generic multiplexes' in its eight existing locations. The Light recently posted half-year profits of GBP £1.5 million. Nottingham Post – 8 September 2017
Blackpool – Work is set to start early next year on the multiplex and Imax at the Houndshill Shopping Centre after plans were given the green light by the local Council. "Hector Black, a director of Edinburgh-based architect Covell Matthews which has designed the scheme, said: "The aim is to commence on site with the project as quickly as possible, with the main works commencing probably in the new year." The cinema will create 30 full-time and 60 part-time jobs. Blackpool Gazette – 27 September 2017
Montrose – The group planning on turning Montrose's old pool into a cinema has finally assumed ownership of the property [Chairman David]  Paton said now they have ownership signed and sealed they can start to "seriously pursue larger funding opportunities and events to fund the renovation into a cinema and arts centre". We wish them well. Feels like we have been tracking this forever. The Courier – 8 September 2017
Buxton – The Pavilion Arts Centre will be converted into a 350-seat cinema this December. "I can't believe there hasn't been a cinema in the town for decades and it this a brilliant development for the town," saysHelen Naylor, press and content officer for Buxton Opera House, which owns the building. Programming is currently being worked out with the Independent Cinema office. Buxton Advertiser – 13 September 2017
Kingston – Planning application has been approved for a 'boutique' cinema in the Bentall Centre in Kingston. The four-screen cinema will be on the second and third floor of the shopping centre, which is being refurbished in its 25th year. No operator has been announced. Surrey Comet – 13 September 2017
Basildon – Plans for a 10-screen cinema in East Square, Basildon have been revealed. A further six units will be allocayted for restaurants. The local council is seeking feedback from local residents. No operator has as yet been selected. Echo News – 2 October 2017
Paisley (Scotland) – Plans for a cinema and performing arts centre have been announced. "Paisley Community Trust (PCT) wants a "cultural and creative quarter" called Baker Street Paisley to be built on the site behind Arnotts on Gauze Street." The cinema would have three to five screens and would open in 2021. No operator has been linked to it and it may run as an independent. BBC – 29 September 2017
Wolverhampton – The Westside project is a GBP £55 million development that will include shops, restaurants and a multiplex. Construction will start in 2018 and the first phase will be completed by early 2020. No word on how many screens or who the operator will be. Birmingham Mail – 22 September 2017
Re-furb/Re-opening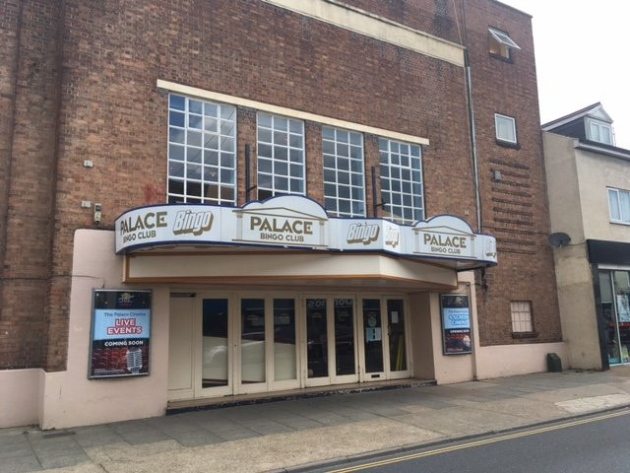 Gorleston – The Palace Cinema is due to re-open with a soft launch on 20 October and a full opening in November. The four-screen cinema is Has new seating as well as an upstairs bar. Eastern Daily Press – 4 October 2017
York – More details about Everyman's GBP £4 million refurbishment of the former Odeon cinema Reel. Turnaround has been quick, with new heating and A/C as well as bar and eating area for the five-screen. "We paid £1.3m to Reel for the building, but will be investing £2.7m in doing it up, and that's a level of money that three years ago people would have thought we were stark raving bonkers to be honest," says Everyman CEO Crispin Lilly. York firm Simpsons is responsible for the work. The Press – 19 September 2017
Bromley – The Bromley Picturehouse will re-open as six-screen Picturehouse cinema, having previously been an Odeon, Empire and most recently Cineworld.
The new development will add an additional two cinema screens and restore many classic elements from its art deco past and improve facilities across the venue. The new capacity for the cinema is proposed at 916 seats, which is up from the present 889.
The office space in the back will be converted to bar, kitchen and cafe. Having opened in 1936, the art-deco cinema is "one of the original Oscar Deutsch Odeon theatres" that gave name to the cinema chain. Bromley Times – 7 September 2017
Burnley – GBP £2 million has been spent refurbishing the Burnley Reel cinema. Changes include "brand new foyer, new seating, new side lights in the auditorium, a complete refitting of the toilets and new carpets and flooring throughout transforming the site into an Oscar-winning worthy picture palace." The VIP screen has 29 electric recliners. The former Apollo cinema is said to be Reel's flagship site. Burnley Express – 5 October 2017
Dublin (Ireland, Rep.) – A warning letter has been sent by Dublin City Council to the owners of the Stella cinema, who have been carrying out refurbishments to install recliners and turn it into a 'luxury cinema' with bar and cocktails. The cinema was Dublin;s largest when it opened in 1923 and seated over 1,000 patrons. Now it will have 220 big leather recliners.  The Times (paywall) – 10 September 2017
Leicester – Plans have been submitted to double the number of screen of the Phoenix. Two new 70-seat screens would be built and the busy restaurant would also be expanded. Outdoor seating area for the restaurant would be used for the GBP £7 million project that is still putting together funding and would be completed by 2020. Leicester Mercury – 22 September 2017
King's Lynn – The Majestic Cinema has applied for permission to add one more screen with an additional 120 seats. An extra 100 seats for the existing screen would also be added Eastern Daily Press – 22 September 2017
Finally
Bristol – The Curzon cinema in Clevedon has been shortlisted for the 'Cinema of the Year' awards.
With one screen and 320 seats, the Curzon's auditorium retains the grandeur of its period features while offering the latest 2k digital projection.

"It is an incredible honour for us to be shortlisted for these awards," said Luke Doran, general manager at the Curzon Clevedon. "We have such a fantastic team at the Curzon, made up of staff and volunteers, who all play a vital role in our success."
It also operates a Front Room Cinema project for people in care homes. The award will be announced 30 November. Bristol Post – 5 October 2017

Latest posts by Patrick von Sychowski
(see all)