CGV and Megabox fight back against Lotte, CGV Q2 results buoyed by overseas, Vue for sale, Mk2 3rd biggest in Spain, Odeon's 'blockbuster tax', Chennai GST ticket sales drop, Abirami drops 'convenience fee',  Indian cinema ad grows 20%, France cinema 6 month dip, smoking lights up big screen, "Dunkirk" in 70mm, "Okja" performs in Korea, The Globe in event cinema first, Korean fire evacuation, CGR robbery, ex-PVR employee card cloners and Down Under Hot Tub Cinema.
Korea (Republic of, South) – Lotte may have had the biggest cinema news in Korea this past week with the Samsung Cinema LED screen opening, but its two competitors are in no mood to be overlooked. CJ CGV has announced that it plans to make the movie theater a 'participatory culture playground' with its 'cultureplex' efforts. This includes bed cinema (Temp Cinema – in partnership with Tempura mattress), Skybox and Egg Box seating for families and couples, Cine de Chef and 'VR Park (above)'. CJ CGV also re-itterated its committment to overseas expansion (see below). Chosun Biz (KR) – 18 July 2017
Meanwhile Megabox claims to be closing the gap with its two larger competitors, with a market share of 22.91% last year. "Unlike CJ CGV and Lotte Cinema, whose screen growth has slowed, Megabox is rapidly increasing its market share." Last year Megabox had 590 screens and grew 16.4%, while CGV with 996 screens grew 2.2% and Lotte with 793 screens grew 5.3%, meaning that Megabox is growing by double digits compared to single digits for its competitors over the past two years. The Bell (KR) – 18 July 2017
Korea (Republic of, South) – Earnings from its overseas cinemas helped buoy CJ CGV in its Q2. Its China operation grew in market share from 2.6% to 2.9%, with a sales boost of 35%. Meanwhile year-on-year ticket sales growth in Turkey was 50%, with sales increasing and both territories in the black. Yet at home business did not fare equally well. Currently the split is 54-36 for domestic-overseas, but CJ CGV is pushing to make the overseas sales position 75% by 2020. Overall Q2 revenue was KRW 372.3 billion (USD $330 million) and profit of KRW 10.6 billion (USD $9.4 million). Business Post (KR) – 4 July 2017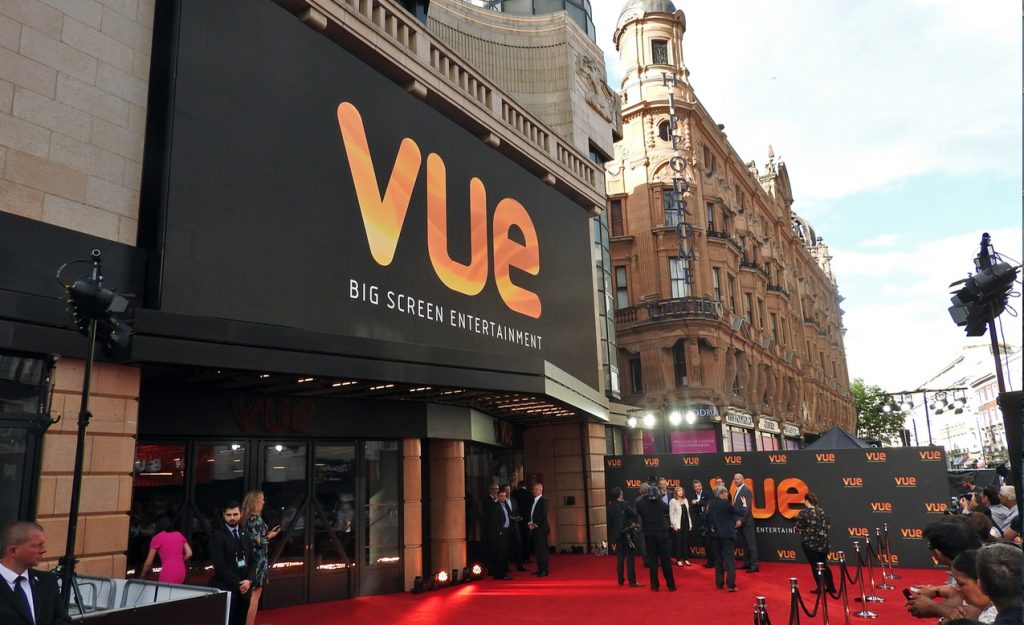 UK/Europe – Vue is for sale. So says an article in The Times (paywall) in which Tim Richards is quoted as saying, "We are truly the last port of call if an international operator wants to come into Europe. There's a huge amount of interest from all corners." Meanwhile The Telegraph says the chain could sell for GBP £1.6 billion – a lot more than the GBP £921 million that Odeon & UCI sold for last year. With senior management controlling 27% this would put them in line for a GBP £400 million pay day. But AMC can't/wont buy it and CGV, Cinepolis and others don't have equally deep pockets, it is worth remembering. Telegraph – 15 July 2017
Spain – French arthouse chain MK2 has acquired a 15-screen multiplex in Madrid, making it the country's third-largest exhibitor. Mk2 previously bought the Cinesur chain in 2014. The acquisition of the Cines Dreams Palacio de Hielo, with 15 screens and 4,200 seats means that the most popular cinema in the Spanish capital is now part of MK2's Iberian empire, which spans 10 cinemas with 128 screens. Screen Daily – 11 July 2017
UK – Odeon is (again) accused of having introduced a 'blockbuster tax' by charging extra for the latest releases. "Transformers 5" is said to cost GBP £2 extra, while "War for the Planet of the Apes" is GBP £1.50 and "Despicable Me 3" is GBP £1.00 more. However, Odeon is not alone, with Vue also said to be doing. It this simply flexible/variable/dynamic pricing coming into play and being noticed? BT – 15 July 2017
India – Cinema attendance is said to have fallen "sharply" in south-Indian city of Chennai since the price hike of tickets due to the introduction of the nation-wide GST (good & services tax) that replaced varying local 'entertainment taxes', or exemptions from said taxes.  Attendance is said to be as low as 30% in the film mad state of Tamil-Nadu. Yet business is not affected in cities like Hyderabad, Vijayawada and Vizag. Hard tell at this stage if it is due to the tax or the quality of the films on release. Gulte – 16 July 2017
India – At the same time Abirami theatres are the first multiplexes in Chennai to drop the "convenience fee" for credit card bookings. Previously the charge was INR 36 (USD $0.56). " I'm doing it at my own cost and it is going to be expensive for me but I'm doing it for the public," said Abirami Ramanathan, President of Tamil Film Chamber of Commerce (TFCC) and owner of Abirami cinemas. But the move is only 'experimental' and set to last one or two weeks. The News Minute – 15 July 2017
India – A report by the cinema advertising arm of Group M points to shifting pattern in Indian cinema going habits. Over 30% of multiplex income now comes from F&B, 57% of audience base in eight cities surveyed watch a film in cinema at least once every six months and 71% of these are between 15 and 24 years of age. The report also points to 20% growth in cinema advertising. Business Today – 12 July 2017
France – Cinema attendance dropped -1.8% in the first six months in France according to data from CNC. Yet smaller operators do not seem worried, blaming a slightly sunnier June but overall feeling that the market is steady. La Voix du Nord – 13 July 2017
USA – The appearance of cigarettes on the big screen has increased this decade, with the Centre for Disease Control (CDC) noting that it appeared 3,145 times in Top 10 films in 2016, compared to 1,824 times in 2010. Data comes from the site Scenesmoking.org which rates each film in release by the amount of smoking it depicts ("Spider-Man: Homecoming" and "Despicable Me 3" get pink lungs, while "Baby Driver" and "Wonder Woman" are black). CDC – 7 July 2017
UK – Christopher Nolan's release of Dunkirk in record number of 70mm prints is as much about a greater theatrical experience as it is about preserving the film for posterity. "With the confusing proliferation of digital technology, there isn't any stable digital archiving medium," the director was quoted as saying. Expect both the negative, IP and several prints to be preserved for posterity safely in Warner Bros archives in California and UK. Guardian – 11 July 2017
Korea (Republic of, South) – Despite being boycotted by the country's three largest exhibitors, Netflix "Okja" was the fourth most watched film in its opening weekend with 52,700 tickets sold. Being blocked from 90% of cinema screens means that it only had 925 showings across 104 screens between 7 and 9 July. By comparison "Spider-Man: homecoming" sold 2.6 million tickets from 30,736 screens. TF Prism (KR) – 10 July 2017
Event Cinema
UK – The first ever live transmission from London's The Globe Theatre will take place on 21 September. CinemaLive and Shakespeare's Globe will send "King Lear" with Kevin McNally to 300 cinemas across the world. Broadway World – 14 July 2017
Health & Safety
Korea (Republic of, South) – A malfunctioning smoke detector led to the evacuation of 300 spectators from a multiplex Koseo-dong, Jeonju City in Chonbuk province on 9 July. After 20 minutes the all-clear was given for audiences to return, but some complained to the management about the disruption. KBS News (KR) – 9 July 2017
Law & Order
France – A masked and armed robber stole 100 euro from CGR des deus lions cinema. Nobody was injured when the event took place at 1am but one of the two security guards had to be taken to ER and treated for shock. France Bleu (FR) – 10 July 2017
India – Three former employees of a PVR cinema in Gurgaon have been arrested for allegedly cloning customers credit cards. "Two ATM card readers, one card cloning machine, one laptop and few cloned cards were recovered from the accused." A similar operation was previously uncovered in Delhi. Between 45 to 50 cards of customers were believed to be cloned. Nyoooz – 14 July 2017
Finally
Australia – It may be winter in the Southern Hemisphere, but that hasn't stopped intrepid entrepreneurs from launching Hot Tub Cinema in Sydney. Following its success in UK, USA and Ibiza, the concept has come Down Under in a big way:
The first fortnight of screenings have been so popular they are expanding to Perth and Brisbane this month, with plans for Melbourne and the Gold Coast after that.

While the campus location suggests the audience would be mostly under 25, the organisers have been surprised they are largely aged 25-30, though that might reflect the hefty $45 ticket price, which includes a mulled wine on arrival.
The pools are cleaned every night and there is a lifeguard on duty. SMH – 12 July 2017

Latest posts by Patrick von Sychowski
(see all)