Celluloid Junkie is proud to have partnered with Vista Entertainment Solutions (VES) for the Cinema of the Month series. Vista is the world's leading cinema ticketing and software solutions company. We won't just be featuring cinemas whose operators use Vista, but we will surely mention when that is the case. CJ would like to thank everyone at Vista for enabling us to showcase some of the most interesting, innovative and inspiring cinemas from around the world. 
---
Awarding the title 'Cinema of the Month' based on popcorn might seem frivolous, but if we had to choose between the many things that are amazing about SF Bio's Filmstaden Scandinavia in Stockholm, Sweden, popcorn would be it for us. But more than just popcorn, the way concessions are sold at this best-in-breed multiplex is an on-site masterclass in cinema F&B retail. Yes, it also has Sweden's first Imax, luxurious VIP screens, a destination restaurant and more, but wait until we tell you about the cheddar popcorn.
Located in Mall of Scandinavia, north of central Stockholm, Filmstaden Scandinavia is the flagship multiplex of SF Bio, part of Nordic Cinema Group (NCG) which was recently acquired by Wanda-owned AMC. Their CEO Adam Aron even went so far in an earnings conference call as to say that "Nordic is a high-quality operator with attractive growth metrics and operating margins well above Odeon's and, for that matter, even above our own at the legacy AMC theaters." A trip to Filmstaden goes a long way towards explaining why AMC paid four times more on a per-screen basis for NCG than for Odeon & UCI.
SF Bio opened the first multiplex in Scandinavia when SF Filmstaden was inaugurated 15 February 1980 behind Stockholm's famous PUB department store. The name, meaning 'film city', came from SF Studios' sound stages, as the then-parent company also produced and distributed films. It was the first multiplex I ever visited when I was just eight-years-old and still living in Stockholm. Interestingly, of the 11 screens, screens 1 and 2 were owned by rival Sandrews, while 6 and 7 were operated by the Swedish Film Institute. In 1985 four screens were added. In 1989 I saw Michael Moore's "Roger & Me" there for my 17th birthday – on my own. Then, in 1996 it closed when SF's nearby Sergel cinema re-opened as a multiplex.  Today the building is home to a clothing shop.
Going up to Solna, seven minutes on the commuter train from Stockholm Central Station, I was wondering whether nostalgia would keep me from enjoying SF Bio's newest Stockholm multiplex fully. Arriving in the mildly presumptuously named Mall of Scandinavia (NB: Stockholm is marketed to tourists as 'Capital of Scandinavia' – much to annoyance of Danes and Norwegians) you quickly become aware that Paris-based real-estate giant Unibail-Rodamco SE's property is not just any old shopping mall.
Opened in 2015 it serves as the largest mall in the Nordic territories with 224 shops, and is an attempt to re-position malls in the age of one-click online shopping; 20-25% of the leased space is dedicated to experiences, rather than just buying retail merchandise. This includes some 22 restaurants that represent a variety of foods and tastes beyond the usual quick serve franchises. The vegetarian, organic, hand-crafted, ethnic and artisanal eateries further spill out into the central isles, creating an outdoor/indoor feel, in a country that could never have a true outdoor mall like Los Angeles' The Grove on account of its long winters. So instead, they have birch trees indoor.
Filmstaden sits on the top floor of the mall in the back. Having made your way up the escalators, the sweeping red SF Bio marquee offers several points of entry to the multiplex. To the right there are the automatic ticket kiosks and a few of the screens, to the far left are the VIP auditoriums and the Drama restaurant, accessible through their own entrance. Next to them a narrow corridor near the centre, leading out from the screens in the back, including the IMAX. But the widest entrance is to the candyland emporium that is the concessions sales area. It is hard to avoid not entering the cinema this way, just like the miles of duty-free shops between the security check and the gates in most new airports.
There are a total of 15 screens with 1,800 seats in Filmstaden Scandinavia of which the centrepiece is arguably the IMAX screen. It is the first 'commercial IMAX screen in Sweden', though not in Scandinavia. Because even if we disregard museum/planetarium IMAX screens that preceded it by decades, the first IMAX in Scandinavia was the Cinemaxx IMAX in Copenhagen opened on 23 April 2015, a good six months before Filmstaden.  Cinemaxx also has an IMAX in Aarhus while NCG will open one soon in Oslo and Finnkino is going with its Scape PLF in Finland and the Baltics.
The fact that Filmstaden came second in the Nordic Imax 'race' by a whisker does not detract from how impressive it is. Entering it for the first time with a seasoned cinema industry colleague, he exclaimed "Wow!" and stood briefly frozen in place as we took it all in. The laser projection onto the 247 square meter screen is paired with an array of immersive 12.1 audio featuring extensive acoustics and sound isolation work (by Tyréns) that you can enjoy from any one of 421 premium seats.
The next three smaller screens (2-4) have 331, 211 and 179 seats and Dolby Atmos, while all other auditoriums have 4K projection and 7.1 audio. The VIP screens (12-15) are assigned their own section of the cinema, with 37 to 50 premium seats each. It may be the same seat count as the Filmstaden multiplex of my youth, but far from the cramped shoebox-size feel of the auditoriums that I remembered. Separating them from the rest of the cinema is a swanky bar and the restaurant Drama.
Restaurang Drama has become such a success that it not only attracts moviegoers, but also visitors to the mall (hence the dedicated entrance).  Even with 20+ other restaurants in the mall that range form Amazing Wok (Asian) to Zócalo (Mexican), office workers come here regularly for Drama's reasonably priced lunches, served by exceptionally friendly waiters in a setting that oozes understated elegance (Swedes don't do flashy) and privacy through ingenious string curtain partitions. Kokong Design, which created it said they were inspired by the famous New York jazz bars of the 1930s, mixed with art deco.
Amazingly when SF Bio approached some of Stockholm's top chefs about opening a high-end restaurant for their high-end cinema, they were turned down, as nobody thought that an eatery in a multiplex located in a mall on the outskirts of Stockholm would have much success. Instead SF turned to Vardagruppen, operator of four restaurants in Västerås, one-and-a-half hours west of Stockholm, known for being both cosy and high class. The food is based on Swedish classics and international popular dishes and lives up to the hype of Scandinavian cuisine's revival.
Once you have finished your meal you can take your glass of wine and proceed to one of the four VIP screens. It might seem strange that the VIP concept has taken off faster in a class-less and egalitarian country like Sweden than, say, in the United Kingdom. But Sweden has long had a tradition of accessible luxury, the dates back to the design schools of Svenskt Tenn, through the mid-century Modernist furniture, all the way to the recent Balenciaga cross-over between IKEA and luxury. And with Sweden already having some of the highest cinema ticket prices in Europe (the hike in sales tax from 6% to 25% this year didn't help), paying a little bit extra does not seem to deter people, with both the IMAX and VIP screens typically selling out fastest in Filmstaden Scandinavia.
Yet for the majority of moviegoers in Sweden, cinema is primarily associated with one particular small luxury, and it is not comfortable recliners, smoked salmon nibbles or a glass of champagne, but sweets, popcorn and a Coke. Despite generally ranking high on global health statistics, Swedes have a sweet tooth that sees them consume around 17 kilograms (37 pounds) of candy per year. There are uniquely Swedish concepts such as fika (twice-daily coffee break with a bun), fredagsmys (Friday night stay-home-and-chill with savoury snacks) and lördagsgodis, which literally means 'Saturday sweet treats', the day children get to chose from the pick-and-mix sweets sold in dedicated shops, grocery stores, 7-Elevens and elsewhere. Swedes are a nation of smågodisätare (candy nibblers).
Nowhere is Swede's love for sweets and savoury treats more apparent than in the cinema and SF Bio has taken this love to its logical conclusion creating concessions stores with "walk through POS" (point-of-sale), which is what Filmstaden Scandinavia and five of its other multiplexes have. Four of the circuit's other multiplexes have concession stores with a long desk POS solution. However the increase in sales for the walk through POS concessions stores is so compelling that SF Bio and Nordic Cinema Group is looking to roll out the concept as widely as possible, allowing for space constraints in older cinema. No doubt AMC must have been mightily impressed when they saw this – and the revenue it brings in.
Although it is the start of the cinema journey, walking into the concessions area from the mall feels like entering the gift shop at the end of Willy Wonka's factory tour. The selection on choice would seem overwhelming if it was not so spaciously and cleverly laid out, between islands of differently organised sweets – pick-n-mix in one chocolates in the other. There is even a dedicated shelf for 'healthy' treats, such as nuts, dried fruit, cereal bars, organic liquorice, fruitgummi bears, etc., which is one of the fastest growing segments of SF Bio's food and beverage (F&B) retail.
While the sweets on sale are impressive, perhaps even more attention has been paid to the sale of popcorn, savoury treats and Coke. Filmstaden Scandinavia's concessions area was purpose-built with self-serve Coca-Cola Freestyle and frozen Coke machines in mind and they take a pride of place as you walk through. Off to the right side, the full length of a wall is taken up with rear-loading chillers for bottled drinks, including plenty of water, smaller size Coke servings and a seemingly endless variety of fruit juices, sports drinks as well as other carbonated and non-carbonated beverages.
SF Bio is also unique in that it offers self-serve popcorn, packed and stacked in rear-loaded glass-cupboards circulating hot air. (Interestingly this is a concept I am told will not travel well, as customers in other countries mostly associate such glass cabinets with chilled drinks.) Although most of the popcorn is popped fresh on-site behind the scenes, there is a display popping unit to create small batches, but above all to show the theatre has fresh popcorn. Along with regular popcorn there is also Pringles and grill, BBQ, lain and bacon-flavour crisps. You can even have a fika (coffee and a chocolate treat) for a reasonable SEK 30 (USD $3.38).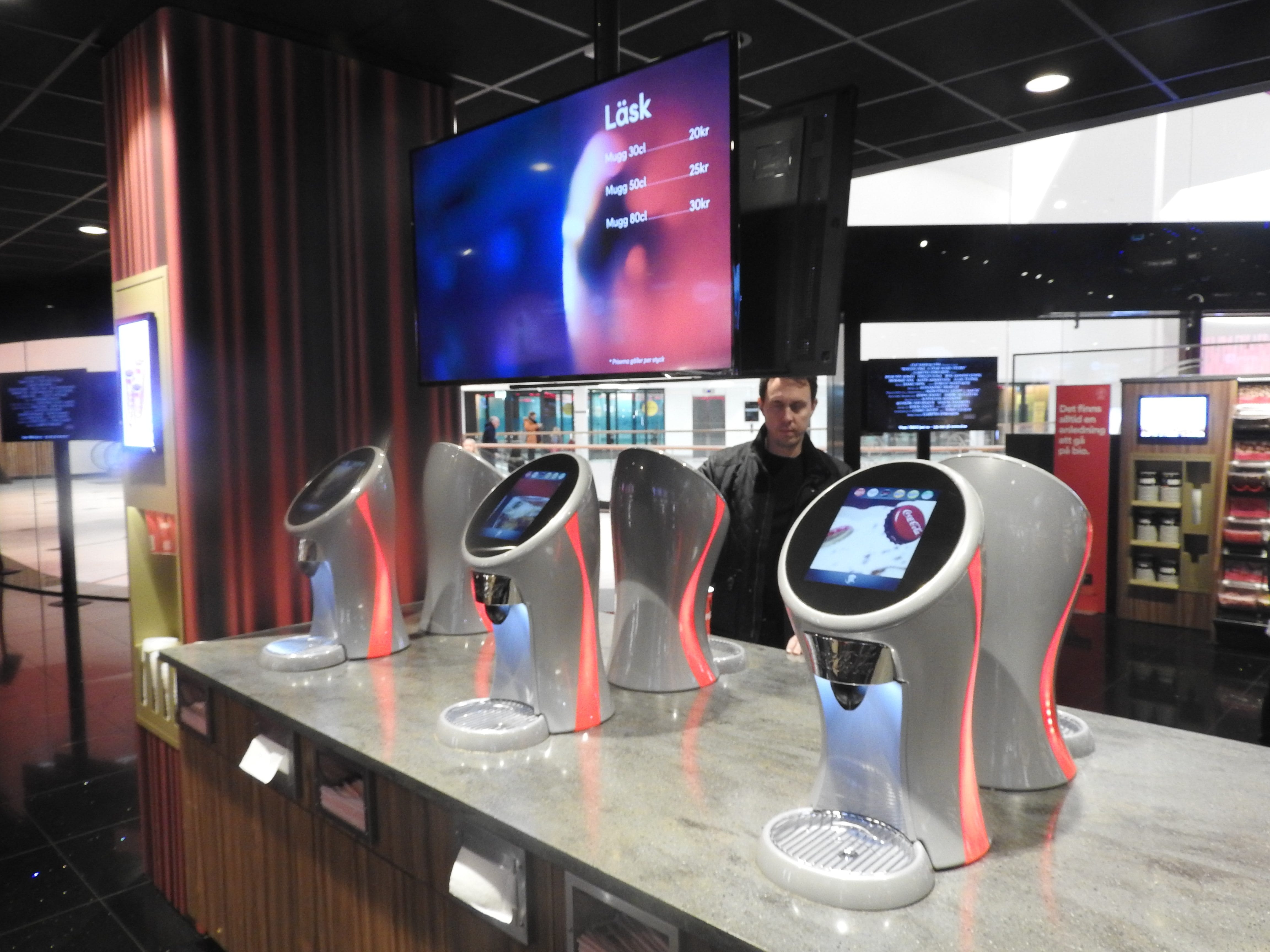 Yet the greatest discovery came upon testing the cheddar popcorn that SF Bio had been developing in-house in the F&B cinema retail version of the Manhattan Project; a snack weapon so potent that any resistance is futile. You may have tried cheese-flavour popcorn, and seasonings for popcorn are a staple commodity on the trade show floor (and goody bags) at CinemaCon, but nothing prepares you for SF Bio's Cheddar Popcorn. It was created by combining the flavours of Sweden's beloved 'Ostbågar' (cheese puffs or cheese curls) with fresh popcorn and is so moreish that unlike regular popcorn it is not sold in the largest size of cups.
If there ever was a Proustian madeleine moment, it was standing in the Filmstaden Scandinavia multiplex and biting into the cheddar popcorn and being transported to that first childhood visit to the SF Bio multiplex and the taste of fresh popcorn. SF Bio's Filmstaden Scandinavia is as close to perfection as multiplexes come these days outside of Asia-Pacific or the Gulf. Sure, its faulty roof leading to a closure right in the period when fans had bought tickets to watch "Rogue One" on the IMAX screen may have contributed to the departure of SF Bio's previous CEO. But if you want to know why AMC made Jan Bernhardsson COO of Odeon Cinemas Group and Adam Aron thinks that the Scandis could help teach Odeon & UCI a thing or two about cinema retail, then head over to the Mall of Scandinavia.
The only other cloud on the horizon for Filmstaden Scandinavia? It could be that when sister company SF Kino opens its new 14-screen multiplex in Oslo Storo with an IMAX on 22 March 2018, there could be an even more impressive cinema in the Nordic Cinema Group family. Norwegiand might be a peace-loving, mediating, Nobel Prize awarding bunch, but they are not ones to accept having the Scandinavian crown claimed from them. Oh, and they plan to sell cheddar popcorn as well.
FULL DISCLOSURE: Filmstaden Scandinavia was visited as part of the meeting of the UNIC Retail Group, rather than as a 'mystery patron'. We were treated to a tour, a tasty lunch, several film clips and tech demonstrations and of course the famous Cheddar Popcorn. To avoid any perception that we here at CJ can be bought with free popcorn (however delicious), I returned to SF Bio a few weeks later and paid for my own ticket (to see "Logan") and my own Coke Zero and Cheddar Popcorn. (Picture proof below.) And it tasted even more divine.
Celluloid Junkie selects the CJ Cinema of the Month based on our own independent survey. We always pay for our own tickets, Swedish cheddar popcorn and Coke Zero, and visit the cinema in a 'mystery patron' capacity in most cases. Whenever possible we take our own photographs of a cinema in lieu of corporate stock photos. Thus, sometimes you get authenticity at the expense of focus. Our impressions may be subjective, but we always try to be fair and factually accurate in everything being presented about one of the cinemas we have chosen.

Latest posts by Patrick von Sychowski
(see all)