USA: Emagine War Memorial, Alamo Springfield, Portland airport cinema Indonesia: airport cinema too UK: Cineworld Liverpool, Qatar: FLIK Lagoona Holland: Kinepolis' 2nd new multiplex Iraq: Basra cinema Germany: Wolf Kino in Berlin Poland: Helios Wolominie Russia: Cinema with glass done (!) Japan: Aeon Shin Komatsu Malaysia: Lotus Five Star back in Bunga. Re-open/re-furbs: "World's oldest cinema" in La Ciotat, Westway in Frome, London's Lexi needs new sign, Aeon Kumamoto Closing: temporary cinema in Dundee's Wellgate, Market Hall delays for Wakfield, Sofia's Vlaikova cinema NOT closing Finally: Odeon closing prompts Sullivan musings on picture palaces.
---
"Kubrick crossed with Winding Refn" – the White Cinema in Brussels is the CJ + Vista Cinema of the Month
---
USA (MI) – Emagine Entertainment has partnered War Memorial in Grosse Pointe to create a cinema in the latter's theatre space. The Patriot Cinema will show first-run films, both blockbusters and arthouse fare, as well as live events both on screen and stage. Recliner seats will be installed. The cinema will open in December and run from Thursdays to Sunday. Detroit Free Press – 6 February 2017
USA (MO) – Work is underway on the latest Alamo Drafthouse in Springfield. The 14-screen cinema will open this spring and feature The Backlot, a full-service bar and eatery with 48 craft beers. KSGF – 14 February 2017
USA (OR) – Portland Airport has a small cinema showing free movies. "Hollywood Theatre's new 17-seat "microcinema" at Portland International Airport will offer a free hourlong program of short films from Pacific Northwest filmmakers." It joins the likes of Hong Kong (which beats them all with an Imax) and Vlnius (which shows tourist docus). The Oregonion – 17 February 2017
Indonesia – Another airport that will soon have a cinema is the domestic departure terminal of Soekarno-Hatta International Airport's Terminal 3 in Tangerang, Banten. The cinema only has 13 chairs and will show short films sponsored by the country's main telecoms company. Jakarta Post – 21 February 2017
UK – Work has begun on the 11-screen Cineworld cinema in Liverpool's New Mersey Retail Park. The cinema will open next summer and will be flanked by six restaurants. Liverpool Echo – 1 February 2017
Qatar: Al Mana has opened it latest FLIK multiplex in the Lagoona Mall in West Bay. The cinema in Doha has four screens and a total of 172 seats and claims to be the "first dedicated Platinum and Gold Class multiplex in the GCC region", according to a press statement. These include  custom-designed genuine leather reclining seats paired with tables and cup coolers, as well as a premium dining option. FLIK is expanding next to the Mirqab Mall on Al Nasr Street (eight screens, 1,000 seats) and Doha Mall in Abu Hamour (eight screens, 1,400 seats) that will include the FlikMax PLF screen. Gulf Times – 15 February 2017
The Netherlands – Kinepolis has won approval to build its second ground-up multiplex in the Dutch province of Noord-Brabant. The seven-screen, 1,500 seat multiplex wil open in the spring of 2018 close to the central station of the city of 's-Hertogenbosch. It will be the fourth site since it bought Wolff Bioscopen (2014) and Utopolis (2015), having recently opened the ten-screen Kinepolis Breda. Film Journal – 17 February 2017
Iraq – The first new cinema in Basra has just opened. The USD $4 million is welcome relief for the people who have seen too many different types of conflict in recent years. Iraq once had 82 cinema, but war and sanctions led to the closre of most of them. Reuters – 17 February 2017
Germany – The Berlin Film Festival saw the pre-launch of the Wolf Kino in the trendy Neukoelln district. The two-screen cinema also has a bar and an annex that can be used for screenings or events. On the outside there are wooden cutouts of wolf packs. Very hip yet friendly neighbourhood cinema that was launched by film enthusiasts with €50,000 raised through crowdfunding. Berliner Zeitung (DE) – 14 February 2017
Poland – Helios opened its latest multiplex on 14 February in Wolominie. The four-screen cinema has 550 seats and is the 42nd multiplex in Helios' network, which totals 233 screens and over 47, 000 seats. Helios is set to open three more multiplexes in 2017 in Stalowa Wola, Krosnia and Warsaw, where it will be Helio's first multiplex in the Polish capital. Retailnet (PL) – 14 February 2017
Russia –  Moscow City International Business Centre will see the opening of a cinema and concert hall in December of this year. The 1,576-seat cinema will host major events, such as concerts and conferences, in addition to showing films. The venue will have a "unique transparent dome", though this is unlikely to come in handy for film screenings. Mos.ru – 17 February 2017
Japan: Aeon Cinemas is opening its latest Aeon Cinemas Shin Komatsu multiplex in  Hokuriku's New Aeon Mall. The multiplex has seven screens of varying sizes, with a seating capacity of 1,100 and opens 24 March. It is the fourth Aeon cinema in the Ishikawa Prefecture. As well as films the cinema will screen live events. With this cinema Aeon has 86 cinemas with a total of 726 screens across Japan. AV Watch (JP) – 17 February 2017
Malaysia – Cinema is returning to the Malaysian state of Kuala Terengganu, with Lotus Five Star opening in the city centre's Paya Bunga Sentral mall. The cinema will occupy five floors and seat a total of 1,500 patrons when it opens in early April. The cinema will show movies in movies in English, Bahasa Malaysia, as well as Chinese and Indian languages. Lotus already operates around 25 cinema in Malaysia. New Straits Times – 10 February 2017
Re-opening/Re-furbs
France – "The World's Oldest Cinema" has been re-opened in La Ciotat after extensive renovation. The Eden cinema saw the first movie screening 21 September 1895. "We scraped the walls back to the original color under 28 layers of paint. At the historic session of 1895, the projector was roughly at the level of the current 3rd rank, facing a screen of 2 x 2 meters, " enthuses Michel Cornille. The cinema has sttod empty for almost 20 years. Telerama.fr (FR) – 19 February 2017
UK – The Westway cinema in Frome will re-open after extensive refurbishment. A fire in October delayed the intended January opening. The cinema now has three screens and a bar area. SomersetLive – 16 February 2017
UK – One of our all-time favourite cinemas, London's Lexi, has a Kickstarter campaign for better signage. We support them. Time Out London – 17 February 2017
Japan – Aeon is re-opening Aeon cinema Kumamoto (Kajima cho) that had been closed due to the Kumamoto earthquake in April last year. Work has been done to strenthen the building and carry outgeneral repairs. The cinema will resume operation on 24 March. Mainichi (JP) – 18 February 2017
Closing/other
UK: Dundee may get a temporary cinema in the old BHS store in the Wellgate Centre while it waits for the opening of the delayed Light Cinema. The 900 seat cinema was originally supposed to open at the end of this year but is now set to go live in 2019. The Courier – 15 February 2017
UK – A further six month delays for the Market Hall cinema plans of Wakefield? Work was due to start this summer, but this is now looking unlikely. No operator has yet been selected. Wakefield Express – 17 February 2017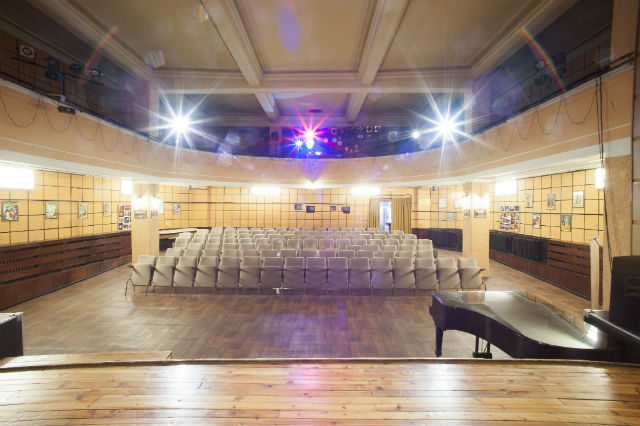 Bulgaria – An apparently false rumour that Sofia's oldest cinema is closing has led to a surge of a visitors. The 150-seat Vlaikova cinema has been going since 1926 and is one of only three old screens left in the Bulgarian capitol.
A news report, published in a Bulgarian newspaper on February 6, claiming that the cinema was struggling to survive, triggered a wave of shock among Sofia's film enthusiasts, which then led to a campaign on social media aimed at saving Vlaikova.
Sometimes you don't appreciate a good thing until it is gone. Fortunately not in this case. Balkan Insights – 15 February 2017
Finally
UK – The new flagship Odeon cinema in Bournemouth has been well received, but that does not mean that the old Odeon in the city is not missed. Industry veteran John Sullivan muses on the nature of the picture palaces of yester-year and what has or will become of them.
Cinemas built through the 1920s and '30s in the United Kingdom had grandeur, majesty and style – something that for all the technological superiority of the new wave of cinemas seems to be lost forever. Architecturally, few things are sadder than the demise of these incredible picture palaces.
You don't have to be a cinema history fanatic to appreciate the something is irrevocably lost when many of this buildings vanish – though so many of them have already been turned into bingo halls or just left to rot. OzSeeker – 16 February 2017

Latest posts by Patrick von Sychowski
(see all)