Alibaba invests in Showtime, GIC pumps $260m into Cinema XXI, Atom Tickets profiled Redux, cinema stocks fall, Odeon-AMC Manchester conflict, Showtime Taipei is Christie Vive's 400th, Korean cinemas' variable pricing, Canada cinema hack, Indian cinema national anthem arrests, Inox plans, MK2 VR venue plans, Dutch supply Chinese VR, Malick's UltraWidescreen, DepthQ US patent, PVR to install 10x4DX, Sawhney is Carnival COO, DCM signs Everyman, NCM signs Bow Tie, MK2's Music Cinema Club, ECA Russian chapter, Sherlock IV in cinemas, raunchy mom in cinema pilloried. 
---
Read what cinemas can learn about innovative design from Pret, brought to you by CJ + COKE
---
China (Hong Kong SAR) – Probably the biggest news at the busy CineAsia was the investment by China's e-commerce giant Alibaba in cinema data company Showtime Analytics. The €1.2 million investment by Alibaba Pictures' subsidiary Yueke/Finixx was its first ever investment outside of China (Alibaba itself invested in Steven Spielberg's Ambling Partners). Showtime will work with Finixx to use its software for the over 2,000 cinemas in China connected to its ticketing and software solutions. Press Release – 7 December 2016
Singapore/Indonesia – The second biggest news of the show was the surprise investment of 3.5 trillion rupiah (USD $260.7 million) by Singaporean sovereign wealth fund GIC into Indonesia'sPT Nusantara Sejahtera Raya (NSR), which operates Cinema 21, Cinema XXI and The Premiere brands in Indonesia. Cinemas were previously on Indonesia's "negative investment list" barring foreign ownership, though still interesting to see a SWF target the country's former cinema monopolist, at a time when Blitz CGV and Lippo's Cinemaxx are aggressively targeting it. Speaks more to Indonesia's potential than Cinema XXI's . Reuters – 5 December 2016
USA (CA) – NY Times profiles Atom Tickets. If the headline "A Movie Ticketing Start-Up Hopes to Fill Empty Seats" sounds familiar, that's because it is. Back in June the LA Times profiled Atom Tickets under the headline "This movie-ticket start-up says it can fill empty theaters across the country". So it is safe to assume that Atom Tickets wants to fill empty seats in theatres. The only news is that three Hollywood directors have joined Atom's advisory board: JJ Abrams, Tyler Perry and Steven Spielberg, with the first two also holding a stake in the company. New York Times – 4 December 2016
USA – Cinema stocks tumbled – Regal, AMC and Cinemark were on average down 8.9% that day – on suggestions that Hollywood studios might shorten the release window and are holding discussions with Apple and others about creating a premium home window. Wall Street obviously thinks that this could hurt cinemas, so exhibitors are unlikely to agree to anything studios or third-party operators (Apple et al) are offering them without asking for a lot in return. Market Watch – 6 December 2016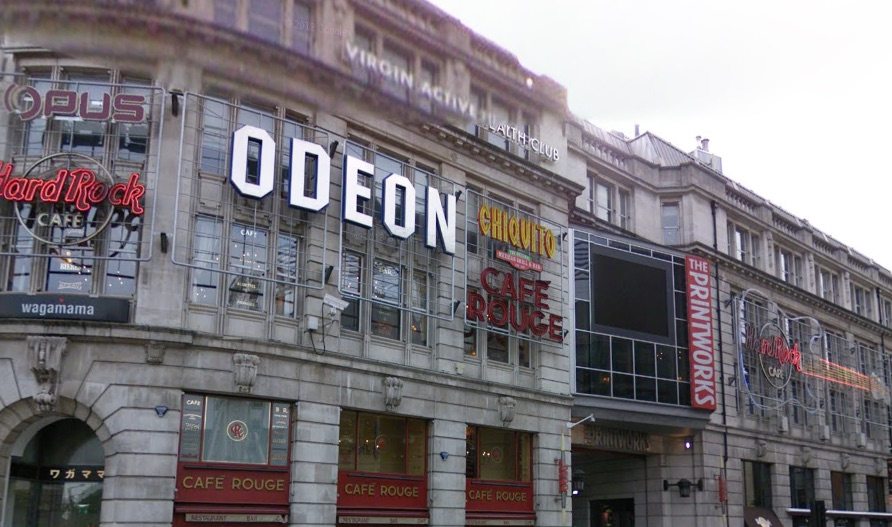 UK – AMC's acquisition of Odeon may have been completed, but Competition and Markets Authorities (CMA) are still looking into whether AMC Great Northern, which is AMC's only multiplex in UK, is too close to Odeon Printworks in Manchester for competition to be healthy. The company has until 15 December to come up with a solution, but it will be loath to give up either site. BDaily – 8 December 2016
China (Hong Kong SAR) – Christie touted the 400th installation of its Christie Vive Audio system at CineAsia, appropriately enough in Showtime Cinemas in Taiwan. The cinemas will also feature Christie RGB Laser Projection System with enhanced wavelength diversification (EWD), plus Christie CP2215, Christie CP2220, and Christie CP2230 DLP digital cinema projectors, making it the largest Christie installation in Asia. Great coincidence that it happened to be its 400th. Press Release – 10 December 2016
Korea (Republic of – South) – Multiplex operators have introduced variable pricing without announcing it, based on seat, time of day and other variables:
CGV and Lotte Cinema have lowered prices in the front row, which is inconvenient to view, and raised the price in the back row, which is easier to view. Also, the price of the prime time ticket of Multiplex 3 company was raised to 11,000 won from the existing 10,000 won ticket.
Cinemas say this offers customers flexibility and choice, but not everyone is convinced. Good infographics, even if you don't read Korean. SBS News (KR) – 5 December 2016
Canada (ON) – A small cinema in Hyland was hacked by someone who published a rambling racist manifesto on the cinema's website. The website was hosted by a reputable firm, but this did not prevent the attack. Expect more of this and even with bigger cinemas in the future. LFPress – 11 December 2016
India – Seven people have been cited by the police for not standing up in a cinema in Chennai while the newly introduced National Anthem was played. They were charged under the Prevention of Insults to National Honour Act, 1971. It sure didn't take long for the flawed Supreme Court ruling to kick in, but at least people in wheelchairs are now officially exempted from standing. Hopefully it means more of them won't be assaulted for failing to show patriotism. Hindustan Times – 12 December 2016
India – Inox plans to invest almost INR 1,000 crore (USD $148 million) over next five years. It was only in August that it promised to invest INR 200 crore (USD $29.67 million) over the next two years, so five times two year is what it is now. More interesting to read about Inox's plans for a "Laserplex" in Mumbai, denial of China acquisition discussions and the impact of demonetisation on credit card bookings of tickets. Inox has also signed a strategic partnership with Harkness to install the Clarus XC270 3D screens in over 100 auditoriums. The Economic Times – 8 December 2016
Virtual Reality
France – MK2 is opening the first permanent virtual reality (VR) cinema space in France. A dozen VR head setst (HTC Vive, Playstation VR and Oculus Rift) can be tested by users in the space called "MK2 VR", open from Wednesday to Sunday in the cinema MK2 Bibliothèque in Paris. They will feature special VR tie-in shorts from films such as "Star Wars Battlefront's" X-Wing VR mission and "Assassin's Creed". Interesting to see more and more cinemas take the lead on VR. Elisha Karmitz, MK2's CEO says "this place is the first step of the MK2 strategy in virtual reality." A second venue will open in early 2017. L'Union (FR) – 8 December 2016
The Netherlands – Dutch startup &Samhoud Media has signed a distribute deal to provide films to around 100 VR cinemas in China. The company already operates The VR Cinema and two-star Michelin restaurant &Samhoud|Places in central Amsterdam. The cinemas are being opened and operated by Gome Group, which operates 2,200 mega-stores in China, with the first cinema seating 50-100 set to open this month in Shanghai, Beijing and three more Chinese cities. Dutch News – 2 December 2016
Technology
USA – Director Terrence Malick's space documentary "Voyage of Time: the Imax Experience" is also being released in 'Ultra Widescreen' format on 21 US screens form 9 December onwards. The aspect ration will be 3.6:1, compared to 2.76:1 for films like "Hateful Eight" or 2.55:1 CinemaScope for "La-la-land". Unlike the Imax version this release will not feature narration by Brad Pitt. It does not appear that the film will be shown in the Barco Escape or Screen X formats. Variety – 5 December 2016
USA – DepthQ has received a US patent for its CineBright high brightness 3D polarisation. U.S. Patent No. 9,494,805 "Stereoscopic light recycling device" is frankly perplexing because it looks just like the same type of over-and-under 3D 'light doubler' that RealD and MasterImage have been slugging it out over in patent courts around the world. Why DepthQ should further target the US, which is and will remain such a solid RealD territory, as opposed to emerging markets is even more of a mystery. Press Release (PDF) – 5 December 2016
Seating
China/India – PVR signed a deal with CJ 4DPlex at CineAsia for 10 additional installations of 4DX seating auditoriums over the next 24 months (accelerated from 36 months). Four will be retrofits and six will be new, with 75 to 120 seats per auditorium. CJ $Dplex has 360 auditoriums installed across seven territories. India has two existing installations, one of which is with PVR. Press Release – 10 December 2016
People
India – Carnival Cinemas has appointed Vishal Sawhney as the new Chief Operating Officer (COO), having previously held the same title at rival PVR and CEO of bowling chain PVR bluO. Carnival has 325 screens in 119 locations across India. Business Standard – 5 December 2016
Advertising
UK – Digital Cinema Media (DCM) has won the contact for the Everyman Group of cinemas from rival Pearl & Dean, giving it an 81% market-share of the UK cinema business. As well as serving Odeon, Cineworld and Vue, DCM also has Curzon and Picturehouse in its portfolio of boutique cinemas of 66 cinemas with 190 screens (86% of the arthouse market). DCM blog – 7 December 2016
USA (CO) – Bow Tie Cinemas has signed an affiliate agreement with National CineMedia (NCM). The oldest theatre circuit in North America will see its 43 theatres with 271 screens in CO, CT, MD, NJ, NY & VA become part of NCM's network from Q1 2017. The deal is said to be the first win for NCM's new Affiliate Partnerships team. Press Release – 7 December 2016
France – The agency Brass has partnered MK2 to promote emerging music artists by showing music videos in cinemas under the banner of Music Cinema Club. The screenings will take place every two weeks and will be sponsored. Interesting move given the ubiquity of music videos on YouTube and Vimeo, but the curation aspect coupled with the big screen and sound system is what could make it work. L'ADN (FR) – 5 December 2016
Event Cinema
Russia – The Event Cinema Association has launched a Russian chapter, headed by digital cinema stalwarts Oleg Berezin of Nevafilm. The aim is to help grow the role of event cinema in Russia and the CIS. Press Release – 5 December 2016
UK – The final episode of the fourth season of BBC's "Sherlock" will be shown in cinemas across the UK. "The Final Problem" is being brought to cinemas in partnership with Hartswood Films. The Drum – 10 December 2016
Finally
UK – A 42-year old wife and mother has been pilloried online for admitting to performing sex acts with her husband in her local cinema. The woman defended her actions thus:
I should add at this point that it's usually at least a certificate 15 film so there are no young kids around. We also tend to go to the early afternoon shows which aren't so busy so I'm not sitting next to anyone at the time.
Other mothers on Mumsnet were not impressed, calling the couple "disgusting" and advocating they be arrested. The tabloids lapped it all up. The Mirror – 4 December 2016

Latest posts by Patrick von Sychowski
(see all)