Ang Lee IBC Keynote, Carmike – AMC vote delayed again, CNC innovation award, Mexico cinema 6th cheapest, Ethiopia and Qatar multiplex growth, ICO Women Leader scheme renewed, Prince Charles Cinema profile, Ajay Bijli PVR interview, India cinema sound, Vista on POS-less cinema era, bad Odeon POS-less experience, Guzzi sceptical to 4D, Bayreuth "Parsifal" event cinema, Robert Bagby fetted, Andy England interviewed, Myanmar 100 cinemas, Bangkok's first art-house cinema, LA Bastille closed, Pokemon Go PSA and drinks at Alamo Drafthouse
---
The Netherlands – Ang Lee will deliver the Keynote address at the IBC2016 conference in Amsterdam on Monday 12 September. The director's "Billy Lynn's Long Halftime Walk" from SPE is even prior to its world premiere considered an innovation milestone in the art and technology of big screen story telling, with its 120fps, 3D, HDR, 14ftLb and immersive audio. The keynote is the pinnacle of IBC's Big Screen conference strand (available free to anyone who registers for IBC), which includes session on motion capture, light field cameras, virtual reality storytelling, laser projection, immersive audio, HDR, Big Data, investment ROI and the EDCF update. Not to be missed! Press Release – 12 July 2016
USA (GA) – Carmike has again postponed the vote on whether to accept the USD $1.1 billion takeover by AMC. The post-poned vote had been scheduled to be held today, the new date is 25 July. Coming days after AMC's acquisition of Odeon & UCI, the delay could indicate a scramble to pull together the votes needed. Seeking Alpha – 14 July 2016
France – The CNC has launched an innovation award for cinemas, with the prize to be handed out this autumn. Nominations are open for the inaugural award. Criteria include architecture and design, use of technology, programming and communication channels. The award is €10,000 and lots of free publicity. Press Release (FR) – 5 July 2016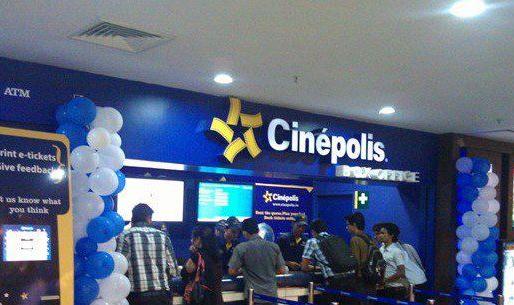 Mexico – The National Chamber of the Cinematographic Industry (Canacine) has found Mexico to be the sixth-cheapest country in the world for cinema tickets. In the first half of 2016 the average price was just 45.67 pesos (USD $2.90), down 5.22% year-on-year but with attendance 12% up. Bolsamania (ES) – 12 July 2016
Ethiopia – Multiplexes are slowly starting to spread across sub-Saharan Africa. Matti Multiplex Cinema is expanding beyond its sites in Tigray State's capital, Mekele and Dahir Bar, the latter of which is being upgraded from 35mm to 3D digital. The four new sites are Adama, Hawassa, Dire Dawa and Gonder, opening at a cost of 15 to 25 million Birr (USD $684,000 to $1.14 million). 2Merkato.com – 12 July 2016
Qatar (U.A.E.) – Is cinema attendance keeping up with the growth of cinemas in Qatar? It currently has around 60 screens, but a "huge rise is expected in the number of cinemas across Qatar by early-2018, with the country scheduled to see no fewer than 200 screens across nearly 23 locations." However customers are increasingly looking for special deals and promotions as cinemas try to fill empty auditoriums mid-week. Gulf Times – 12 July 2016
UK – The Independent Cinema Office (ICO) is renewing its Women Leadership initiative for the cinema sector. ICO director Catherine Des Forges is quoted as saying: "We've seen some robust new statistics over the last few months highlighting the lack of representation of women in film production, but it's a mistake to overlook exhibition where change is desperately needed." Good to see this initiative continue. Screen Daily – 12 July 2016
UK – The 405 profiles The Prince Charles Cinema and talks to Head Programmer Paul Vickery.
The structure of our programme is very different to most cinemas; we have a core of repertory (older) films served up as seasonal strands or singular events which run alongside that of New Release / First Run films. This gives our programme a rather distinct shape and flavour. Some chain cinemas dabble with the odd repertory screening her and there, usually slotting them in at times which aren't particularly popular, but we're dedicated to giving the history of cinema the same space as current releases which is why every evening you'll be able to find a classic film running at the same time as a current release.
Check out the article for the gorgeous picture of this gem of a cinema. The 405 – 13 July 2016
India – BusinessLine interviews Ajay Bijli, Chairman and MD of PVR. He remains bullish on growth prospects for multiplexes in India.
The next step will be to continue to expand to new cities as well as strengthen our presence in the current cities by going to new catchment areas. In addition, we will continue focusing on innovations to enhance the cinema-going experience. We will also continue to look at introducing new formats, by either bringing international formats to India or creating our own.
He sees opportunities to acquire regional circuits with 40-50 screens and says that online ticket sales now account for 40% of overall ticket sales. BusinessLine – 13 July 2016
India – A good article about the problems with sound levels in Indian cinemas. ""The main speaker behind the screen is set at 85, the sub-woofers are at 90, and the surround sound system is usually at 82. So, it averages about 85," Himani Shah of Gold Cinema is quoted as  saying. "But the issue is that this level is actually too low. We invest almost Rs 20-30 lakh [USD $45,000 – $30,000] in our sound systems and these current permissible limits are too low for a complete cinematic experience." Times of India – 13 July 2016
New Zealand – Good post on the Vista blog about the "Dawn of the POS-less cinema era" and its implications. Design will have to be re-thought, audience stratification is likely and ensuring staff availability when there are problems. Vista blog – 7 July 2016
UK – And as an example of how POS-less cinemas can be a truly terrible customer experience, here is a story of a family outing ruined at the Odeon cinema in Huddersfield. The ticket machine would not issue the booked ticket for an aunt taken her two nieces to see "The Secret Life of Pets" but that was just the tart of Alison Brown's problems.
She went looking for someone to help her, but there was no-one downstairs at all. When she went upstairs, she said there were two men selling popcorn but they told her they were unable to help.

Mrs Brown said they then stopped a man in an Odeon uniform who was walking passed them upstairs. She said he advised her to wait by the main door for five minutes and, if the manager was in, he would come and see her. But no-one appeared, and by this time it was 3.50pm and the film had started at 3.30pm.
They finally got a refund and ended up going to KFC instead. Poor show, Odeon. The Examiner – 14 July 2016
Technology
UK – Powster has launched a new feature to promote Warner Bros' "Suicide Squad", whereby users can favorite showtimes and send their favorites to friends. Working on a similar principle to scheduling site Doodle it doesn't require a login, and people can coordinate their friends and find which times everyone can do. Once you have decided it links off to the cinema checkout page (int'l and USA) – all updated in realtime. Powster
Seating
Canada (Quebec) – Radio Canada looks at the phenomenon of immersive seating, with Korea's CJ 4DX challenging domestic incumbent D-Box (not to mention Imax). Vincent Guzzo, President of the Quebec Association of Theatre Owners (APCQ), is sceptical about the whole concept. "Let's discuss this innovation like any other […] I think it will be a gimmick […] I wouldn't close the door to anything, but I can guarantee you that I did not open it either […] the truth is simple: make movies that the world wants to see." Radio Canada (FR) – 14 July 2016
UK – BBC Business looks at what cinemas are doing in terms of investing new technologies (4D, laser and Imax) to counter the challenge form online film offerings. Nothing very new but a good overview nonetheless, with quotes from UKCA's Phil Clapp and IHS's Charlotte Jones. BBC – 15 July 2016
Event Cinema
Germany – A major milestone in event cinema history as the famous Bayreuth Festival will be shown live in cinemas. Wagner's "Parsifall" will be shown in over 100 cinemas across Germany, Austria and Switzerland on 25 July. There will also be interviews and behind-the-scenes during the intermissions. The whole Ring cycle will be show in partnership with Sky-Arts: "Das Rheingold" (26 July), "Die Walküre" (27 July), "Siegfried" (29 July) and the "Götterdämmerung" (31 July). Der Tagesspiegel (DE) – 12 July 2016
UK – The Regent Centre in Christchurch was the most number one for attendance of over 600 cinemas in the UK and Ireland that screened Andre Rieu's 2015 Maastricht Concert. Now you know. Bournemouth Echo – 14 July 2016
People
USA (FL) – Robert (Bob) Bagby, President & CEO of B&B Theatres, is this year's recipient of the "Al Shapiro Distinguished Service Award" at ShowEast. "Bob is a family man and a well respected leader at B&B and his dedication and hard work to not only his circuit, but the entire film industry is to be commended and celebrated," ShowEast co-managing director Andrew Sunshine is quoted as saying. Press Release – 11 July 2016
Advertising
USA (NY) – BoxOffice Pro carries an interview withAndy England, who has settled into his new role as  NCM's CEO. He sees parallels with his previous job at MillerCoors and is looking to expand on-screen advertising into the lobby and digital media. "I'm excited to do more, and I think data is going to be the key to that. Being smarter about who you're targeting, where you're targeting them, and with what message and how well thought out it is." BoxOffice Pro – 11 July 2016
Cinema Opening/Closings
Myanmar (Burma) – Maze Co. has begun its ambitious USD $20 million plan to roll out cinemas across Myanmar, starting in Rangoon's Taik Kyi and southern Shan State's Aungban townships. Backed by KBZ Group plans to build 100 cinemas (!) over the next two years. Rangoon alone is set to get 24 cinemas, but the main target is small town and cities without any cinemas. The Irrawaddy – 12 July 2016
Thailand – Bangkok is set to get its first dedicated independent/art-house cinema with the opening of the Bangkok Screening Room (BKKSR) in late August. The 50-seat cinema will have a small bar and restaurant attached and is the brainchild of three cineasts that previously ran the "Open Reel Rooftop Festival" and the pop-up cinema at the Wonderfruit Festival. Bangkok previously only had the Fries KhaosodEnglish – 13 July 2016
France – Paris' La Bastille cinema closed on 7 July due to unpaid rent. The closure follows that of the Saint-Lazare Pastier cinema in January. It too belonged to the Ciné Métro Art network, run by Galeshka Moravioff. The reason given for the closure is because a €1.5 million grant from the CNC for refurbishment was not paid out in time. There is hope that the cinema will re-open shortly. Le Figaro (FR) – 12 July 2016
UK – More boutique hotel screening rooms opening, this a 'luxury' 20-seater located in the Hoste Arms, in Burnham Market, Norfolk. The screening room is part of an £300,000 expansion, including gym and function room, with classic films shown daily for the hotels guests. Interesting to see this spread outside of London too. Eastern Daily Press – 12 July 2016
USA (AL) – A groundbreaking ceremony has taken place for the new 10-screen multiplex Clark Cinemas, located on Boll Weevil Circle in Camellia Commons. It is said to be the first of its kind in Alabama "to be built from the ground up, rivaling a remodeled version in Huntsville, Alabama. It will consist of electric recliners, three 3-D auditoriums, an expanded concession menu, digital projectors and stereo sound [!]." Wow, stereo sound. DothanFirst.com – 13 July 2016
Finally
USA (TX) – Always one to surf the cultural and technical Zeitgeist, while keeping the cinema experience paramount and sacrosanct, Alamo Drafthouse has a new PSA asking patrons not to hunt for Pokemon Go characters in the auditoriums, but also offering special off-menu Pokemon Go cocktails. At least ten of Alamo's 22 locations are PokeStops. (Sadly the PSA video has been removed from YouTube for violating WB's copyright, probably as it used footage from "Se7en". THR – 14 July 2016

Latest posts by Patrick von Sychowski
(see all)