"Money Monster" sink US BO, Indian cinema expands – get Atmos and Rated 'Buy, New Beverly Cinema docu, London Gourmet Cinema Club, upgrade concession or be a dinosaur, Odeon bomb hoax, Ulmer fire, French video games cinema, Moet outdoor screening, Saigon CGV bed cinema, Landmark in NYC Via 57 West, Austria's biggest Imax and cinema signs.
---
USA – Box office in North America is up by just 1.3% at the half-way mark of 4th of July, meaning that is only just ahead of inflation. Interestingly it is not major box office flops like "B.F.G." that are to blame but George Clooney and Julia Roberts, sort of:
Among the losers this summer is "Money Monster," the George Clooney and Julia Roberts film from Sony's TriStar, which took in just $14.8 million during its opening weekend…

These non-tentpoles, with more modest budgets that often appeal to more mature audiences, are not living up to studios' expectations, according to Drexel Hamilton analyst Tony Wible.

Their historical role has been to smooth a studio's financial performance in between blockbusters. But no more.
So when people complain that Hollywood only makes sequel super hero franchise movies, blame instead the audience that turn away from more ambitious original films. Seeking Alpha – 8 July 2016
India – The Financial Express looks at new technologies arriving in India's multiplexes, including immersive seating, Imax, VIP and Playhouse – PVR's children-focused screens. Cinépolis India is also looking to launch a similar concept soon. "We are looking at about nine projects over the next three years. Cinépolis Junior will basically be a theatre where parents and children can watch a flick together," says Ashish Shukla, director, expansion, Cinépolis India. Financial Express – 10 July 2016
India – Dolby is looking to have 100 Dolby Atmos installations in India by the end of this year, as well as rolling out the Dolby Cinema concept. As of 2015 Dolby had under 50 Atmos installations in India. As for Dolby Cinema, "We are having some conversations but at this stage, I don't have a timeframe," says Pankaj Kedia, senior director for the region at Dolby Singapore. Business Standard – 9 July 2016
India – The share price of Indian multiplex operators obviously isn't high enough because BofA-ML rates both PVR and Inox as 'Buy' based on changing market dynamics:
Our buy ratings on PVR/Inox are based on the following: (i) We see continued increase in discretionary consumption spend, led by lower oil prices, 7th pay commission benefits, and favourable demographics (47% of population being youth), which will likely lead to higher spending for a superior cinema experience; (ii) Theatre industry dynamics are improving with single-screens on a decline and consumers preferring multiplexes. The industry is also consolidating with the top 2 being listed companies – PVR and Inox; (iii) Inherent demand for movies remains strong given cultural inclination for movie watching and lack of other meaningful entertainment options for families.
The only ones who aren't buying are foreign operators like Wanda and Vue, for whom India is looking very pricey already. Financial Express – 11 July 2016
Canada – "Out of Print" is a feature length documentary about the New Beverly Cinema in Los Angeles, famously owned by Quentin Tarantino, which only shows 35mm prints.
Filmmakers obscure (Fred Dekker; RoboCop 3) and less so (Rian Johnson, Edgar Wright, Kevin Smith) sing its praises, while offbeat regulars make a night at the Bev seem like a sitcom – there's the guy who falls dead asleep every night, and the woman who smushes her popcorn down in the container and then demands a top-up.
Sadly not showing in many cinemas and most definitely not on 35mm film. National Post – 8 July 2016
Concessions / F&B
UK – The famous Malmaison hotel in the City of London financial district is launching a Saturday London's Gourmet Cinema Club in its private cinema, which costs GBP £64 for two. Included in the price is comfy sofas, a glass a sparkling wine, snacks such as mini burgers, popcorn and giant cookies and even an edible ticket, which has to be a first of sorts. Film are classics such as "E.T." and "The Never Ending Story", screening three times each Sunday. Wharf – 8 July 2016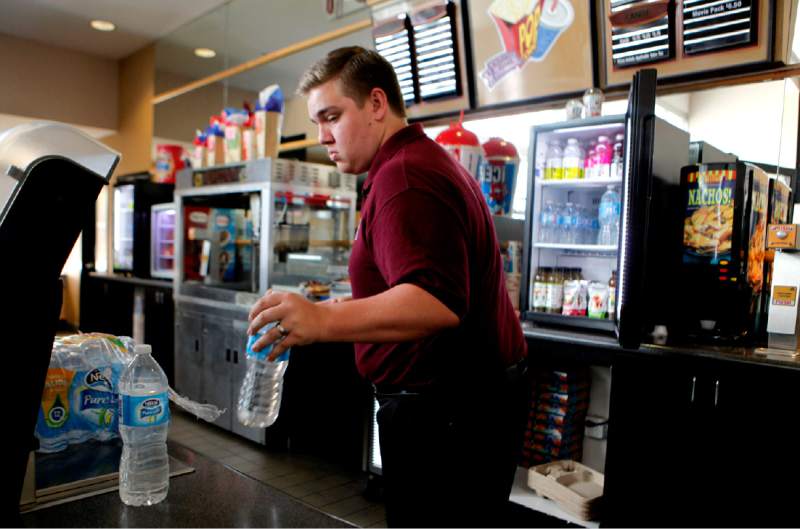 USA (CA) – Boulevard Cinema in Petaluma, CA, is upgrading its concessions offering to include a restart for hot meals and an alcohol license. What is most interesting is the candour with which the cinema's owner Dave Corkill talks about the need for spending a 'substantial' amount on upgrading the cinema. "It's our job to do it better. If we don't do it better, we're going to be like a dinosaur. If we don't improve what we have, Petaluma will be like it used to be, and not have a movie theater. It's not an 'if' – it must happen." Hot snacks and alcohol is the new digital. Argus Courier – 9 July 2016
Law & Order
India – A man called in a bomb threat to the Odeon cinema located in Connaught Place in central Delhi last Saturday. Police and fire services scrambled to the site, which was evacuated, but no device was found. No one has been charged for the hoax call. Indian Express – 9 July 2016
Health & Safety
Germany – The local fire service was called to the cinema in central Ulmer after three large batteries connected to the electricity supply caught fire and caused smoke. Damages are estimated to be in the region of €20,000. Sudwest Presse (DE) – 10 July 2016
Gaming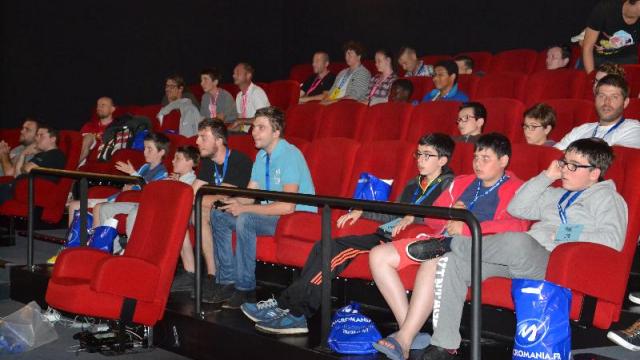 France – Two auditoriums in Cinéville Parc Lann de Vannes were turned into big screen video game competition venues for Mario kart tournaments and Fifa 16 games. More than 80 players competed, "It's less busy than we hoped , says Yannick Coriton, the event organizer. "But the important thing is to participate. "  Unknown what if any charges were levied. Ouest France (FR) – 9 July 2016
Outdoor cinema
Japan – Tokyo Mid-Town has landed one of the most prestigious sponsors for its outdoor cinema screenings with the Moet Midpark Cinema.  Moet & Chandon offers a special menu that spectators can enjoy the outdoors in a luxury style along with film like "The Great Gatsby". PR Times (JP) – 8 July 2016
Cinema Opening/Closings
Vietnam – The first bed cinema has opened in Vietnam by CGV. Located in Ho Chi Minh City (Saigon) in the Tan Binh District, the L'Amour screening room has 12 beds 1.6 meters wide. Ticket price is VND 600,000 (USD $28) per bed for one or two adults. The price includes drinks, such as tea or coffee and snacks. Unless anyone should het too amorous, there are surveillance cameras and personal to watch the audiences' behaviour. VietnamNet – 11 July 2016
USA (NY) – Landmark Theatres will open an eight-screen multiplex in the Via 57 West complex on Manhattan's Upper Westside. The new theatre in the pyramid shaped building will feature "leather electric recliner seats, laser projection technology and a full bar made of stone and Italian marble with an aged wood counter," and is described as a "game changer" for the area. Wall Street Journal – 10 July 2016
USA (OH) – The historic Drexel Theatre in Columbus is re-opening after a USD $1.5 refurbish. "At first thought we'd just do the marquee and the two lobbies, but the Friends of the Drexel did a great job in fundraising, so we were able to redo the theaters as well," said Theatre Director Kevin Rouch. The gorgeous art-deco cinema plays both digital and 35mm prints. Columbus Underground – 10 July 2016
Austria – Hollywood Megaplex has opened the largest Imax screen in Austria in Pasching. Key stats: 600 seats, 330sqm screen, 14 m room height, 2.2 meters between seat rows for comfort. Megaplex has spent €30 million on the whole Pasching multiplex, which has a total of 14 screens and 3,000 seats. Megaplex website
[dailymotion]http://www.dailymotion.com/video/x3os8dn_projet-cinema-les-arts-de-montivilliers_news[/dailymotion]
France – Foundation has been laid for the new four-screen cinema Les Arts , in Montivilliers, near Le Havre (Seine-Maritime). With the Gaumont des Docks Vauban closed in 2009, the new cinema was funded by Codah (Communauté d'agglomération du Havre), Montivilliers city, Seine-Maritime regional council and the CNC to the tune of €7.8 million. Normandie 76 Actu (FR) – 9 July 2016
India – Cinépolis Neptune Magnet Mall in Bhandup has re-opened. The six-screen multiplex has received an upgrade in seating and food offerings."The specially designed comfortable reclining seats and gourmet coffee shop, offering freshly prepared food and coffee, makes this multiplex truly distinctive," Cinépolis is quoted as saying. Television Post – 8 July 2016
Germany – A re-opening of the arthouse cinema in Heilbronn following refurbishment of the Filmkunstkinos on 25 August. The interior design is inspired by Le Corbusier, an improved food and drink offering, and 4K projection in screen 1, while screens two through four have to make do with 2K. RNZ (DE) – 10 July 2016
USA (ME) – The owner of the Narrow Gauge Cinema in Farmington has filed an application to expand with an 80-car drive-in cinema behind his existing property. The cinema has already branched out by launching the Stone Hearth Open Air Cinema on the patio shared by their businesses, Stone Hearth Cafe and the Greenwood Dining Room. Franklin Sun Journal – 9 July 2016
Bangladesh – Star Cineplex has opened a cinema in Cox's Bazar with seating for 200 people. Multiplex growth in Bangladesh has been lagging that of India and even Pakistan. Dhaka Tribune – 7 July 2016
Finally
UK – A collection of some of the best cinema sign boards. Half of them are from Prince Charles, which we've already featured, but some new and funny ones from elsewhere too. Wonder how many people confused these for an actual film. Londonist – 8 July 2016

Latest posts by Patrick von Sychowski
(see all)