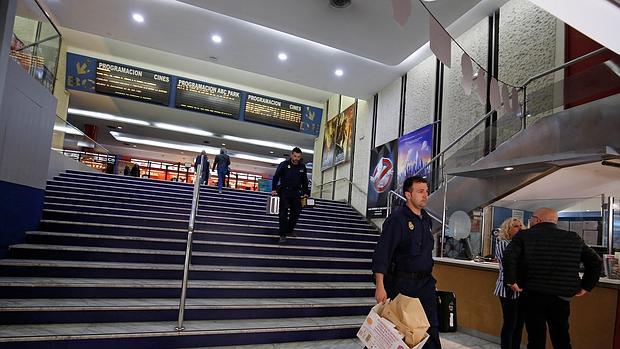 In this issue: Spanish cinema tragedy, CinemaCon updates (teens, texting, ticket prices & DCDC), Inox limit, 28 Days review, Toyota cinema seats, Live Cinema cons, blind cinema patron in Germany, Imax subtitling for deaf, new cinema plans and Scottish cinema Wurlitzer. 
Spain – A woman who had been reported missing seven days earlier was found dead in the emergency stairs of the ABC Park de Valencia cinema in Valencia. The 55-year old had a movie ticket on her and is suspected to have fallen down the stairs. Some reports say she may have been trying to leave quickly through the emergency exit after feeling unwell. The stench from the decaying corpse eventually attracted the attention of cinema staff cleaners. 20 Minutes (ES) – 20 April 2016
USA – Teenagers are back in the multiplex, was the positive message from CinemaCon's MPAA market report:
Teens aged 12-17 went to the movies at higher rates than any other age category, accounting for 7.3 percent of per capita attendance, according to the annual theatrical market report from the Motion Picture Association of America. That's up from 6.4 percent in 2014, a number that had been largely static since 2011.
However, attendance in the age bracket above declined, taking some of the shine off this news. The Wrap – 12 April 2016
USA – The average price of US cinema tickets was up 5% year-on-year for Q1 2016 to USD $8.58, was another of the pieces of news that NATO shared at CinemaCon. Premium screens for "Star Wars: the Force Awakens" was largely the reason for the average being even higher (USD $8.70) in the last quarter of 2015. Variety – 20 April 2016
USA – The majority of US cinema screens now get their films via satellite. That was the revelation from the Digital Cinema Distribution Coalition, which claimed to have supplied 62% of Us screens in 2015, compared to 44% at the end of 2014. The total number of shows is now close to 25,000. Deadline – 11 April 2016
[youtube]https://www.youtube.com/watch?v=SBgS7IjVuEU[/youtube]
USA – To text or not to text in cinemas, that was the question at CinemaCon 2016. AMC's CEO Adam Aron initially came out cautiously in favour of winning back Millennials to cinemas this way, but later back peddled. "NO TEXTING AT AMC. Won't happen. You spoke. We listened. Quickly, that idea has been sent to the cutting room floor," AMC wrote on its Twitter feed. But not before anti-smartphone-in-cinema champion Alamo Drafthouse's Tim League came out against it, stating that "Innovation in this direction could seriously hurt our industry." Variety – 15 April 2016
India – Foreign ownership in Inox has reached the trigger limit for the Foreign Institutional Investors (FIIs)/Registered Foreign Portfolios Investors (RFPIs). This means that any more non-Indian investors would need permission form the Reserve Bank of India (RBI) to buy future shares. Live Mint – 12 April 2016

Canada – Imax had a good first quarter to 2016 on the strength of "Deadpool", "Batman vs. Superman" and more. Revenue was up 48% year-on-year to USD $91.2 million. Global box office grew 64% with new screens in India, Japan and China. Variety – 21 April 2016
Event Cinema
UK – The Guardian considers Secret Cinema's latest live cinema staging of "28 Days Later" to be a "a bloodthirsty attack on the wallet," including a GBP £20 costume and GBP £17.50 for "two small cheeseburgers and a portion of chips." No word on whether there was also popcorn and how much that cost. The Guardian – 15 April 2016
Germany – The new series of "Game of Thrones" starts 24 April, and for this in Germany that don't subscribe to Sky, they can get free tickets in Munich at the City Kino. Presumably the cinema makes money on popcorn and Coke. Merkur (DE) – 20 April 2016
India – Twenty minutes into a 15 minutes delayed screening of "The Jungle Book" the machinist of a PVR Imax cinema in Mumbai re-startes the film for the benefit of children who had come late. This is the kind of thing that could only happen in an Indian cinema. "When we questioned the manager he said there were many children in the group that had walked in late for the show. The manager also said that the decision to restart the movie was taken because the multiplex was part of the service industry which was meant to cater to everyone," though in this case it is suspected they were children of VIPs. Mumbai Mirror – 15 April 2016
Seating
Japan – Toyota getting involved in the design of luxury cinema seating? That seems to be the case in this pilot for "Midland Square Cinema 2" in Nagoya. "A premium seat by Toyota Boshoku was designed and adopted in part of the cinema seat, enhanced seating comfort. This is the first time the company has entered the seat business for the movie theater." Mainichi (JP) – 19 April 2016
Advertising
Germany – Tobacco advertising is set to be outlawed in cinemas and OOH (out of home) in Germany by 2020 according to a federal proposal. It would apply to films screening to anyone under the age of 18 and also include E-cigarettes. German cinemas' advertising is heavily reliant on tobacco advertising since it is banned from television. Merkur (DE) – 9 April 2016
Outdoor Cinema
U.A.E. – Dubai has a new outdoor cinema with the arrival of the Sunlounge Cinema at Zero Gravity. Recent hits are screened for free in HD, while the place makes money on F&B. The National – 18 April 2016
Events
UK – Secret Cinema's founder and NT Live's Victoria Murray are two of the speakers at the inaugural Live Cinema conference held on 27 May in London. It will also coincide with the unveiling of Live Cinema's Arts Council-funded report on the sector (PDF link for full report). Screen Daily – 18 April 2016
Access
Germany –  Thorsten Schweinhardt is blind; but his hobby is to go to the cinema. He attends one of only four cinemas in the whole of Germany that offer audio description for blind patrons. A shamefully low number. Hessenschau.de – 13 April 2016
UK – Imax has started offering subtitles for the deaf and heard of hearing – but only at the Bradford National Media Museum it would seem. "The breakthrough is a result of a partnership between Picturehouse Bradford and the British Deaf Association (BDA), whose local teams have reviewed and improved the cinema's accessibility over the last few months." First film shown this way was "The Jungle Book". The Telegraph & Argus – 19 April 2016
Cinema Opening/Closings
France – A ten month delay for the opening of the Gaumont Pathe Alesia in Paris' 14th district. It was supposed to open at the end of 2015. The reason for the delay is that "in Paris, it's very complicated," and they "had some bad surprises." Le Parisian (FR) – 19 April 2016
Quatar – A new three-screen multiplex has opened in Al Khor Mall operated by tar Bahrain International Cinema (QBIC). Screen 1 has 146 seats, Screen 2 has 82 seats and Screen 3 has 277 seats, with silver screen for 2D and 3D films. Gulf Times – 20 April 2016
Austria – Cineplexx is spending €5 million to upgrade its 18-year old Wals-Siezenheim (Flachgau) multiplex near Salzburg Airport. One screen will feature Dolby Cinema. ORF (DE) – 18 April 2016
Pakistan – The opening of a new multiplex is always something to celebrate in cinema-starved Pakistan. This three-screen cinema has opened its doors inside the Millennium Mall in Gulistan-e-Jauhar, Karachi. The third screen will only be added in six months time though. The Express Tribune – 16 April 2016
Australia – Hoyts Australia is the preferred operator for a new cinema in Canberra's Gungahlin region. Building it will take 18 months and it will feature eight screens. Canberra Times – 14 April 2016
UK – Cineworld claims that it will be forced to close its cinema in Liverpool's Edge Lane when its lease res out in three months. A new Cineworld (above) is due to open in late 2018 as part of the New Mersey Retail Park in Speke. Liverpool Echo – 12 April 2016
Japan – Ion is set to get its first Imax when the Ion Cinema Otaka (Nagoya, Aichi Prefecture) unveils it this summer. The cinema had previously introduced D-Box motion seating. AV Watch (JP) – 11 April 2016
UK – Go-ahead has been given for a 12-screen multiplex in Rushden Lakes development. Cineworld will be the operator. Northamptonshire Telegraph – 20 April 2016
UK – Clacton's Century Cinema is set for a GBP £500,000 renovation that will see to provide a luxury experience, while seating capacity shrinks to 400 to accommodate new leather recliners. Interesting to see smaller operators getting behind the re-seating trend in the UK ahead of the likes of Vue and Odeon. Gazette News – 14 April 2016
USA (VA) – Almo Drafthouse is coming to Virginia when its 33,000-square-foot cinema opens in Charlottesville's 5th Street Station in early summer 2017. Alamo Drafthouse is able to expand quickly thanks to switching to a franchise model, with more than 20 locations operating across the US already. The Daily Progress – 21 April 2016
Finally
UK (Scotland) – An interview with the Chairman of the Scottish Cinema Organ Trust.
We once played a concert on the Wurlitzer for around 700 visitors during a Doors Open Day. Very few of them knew of its existence. That was a revelation for us: we knew we had to get word of the organ out there. Since then, the Wurlitzer has been highly successful.It has a quite wonderful sound. We bring up a concert organist from the south every month. Tomorrow it's the turn of Richard Hills, who happens to be not just the supreme classical organist but is also a wonderful cinema organist. He has won many prizes and was even the American Theatre Organ Society's Organist of the Year in 2010. He will play a fantastic concert for us.
Well worth a visit to the Pollokshaws Burgh Hall. The Herald – 16 April 2016

Latest posts by Patrick von Sychowski
(see all)