In this issue: ScreenX grows, Everyman expands, Curzon's 3 Cs, Czech BO, Vue complaints, Thunderstorm partners, Bardan+TK, rats, DCM, Inox+Imax and more.
Indonesia – Fresh of having announced the deal to acquire a stake in Turkey's Mars, Korea's CGV is increasing its stake in Indonesia's Blitz cinema chain. Ccv is spending just over USD $30 million to increase its stake in parent company Graha Layar Prima from 14.75% to 40.25%. South Korean private equity firm IMM has been revealed as CGV's partner in the Mars deal. Variety – 6 April 2016
South Korea – The upcoming CinemaCon will be a showcase for the ScreenX immersive screen promoted by CJ-CGV.  Variety has a profile of the immersive screen format, said to cost USD $400,000 to install. While it will be promoted in Europe and North America, where it competes with Barco's Escape, its largest market is likely to be Asia and particularly China, where it is releasing ""Mojin: The Lost Legend" in partnership with Wanda. Variety – 5 April 2016
UK – London-based Arthouse chain Everyman is looking to have an additional 25 sites by 2021. It currently has 16 sites with a total of 39 screens. Everyman revenue increased 44% last year on admissions increases of 50%. Two former Odeon sites that Everyman took over, Gerrards Cross and Esher, have significantly increased box office, pointing the way for more possible future spin off acquisitions from Odeon. Screen Daily – 6 April 2016
UK – Business Insider has an in-depth profile and interview of Everyman's rival Curzon. Curzon's COO Mel Alcock explains the three 'C's that guide Curzon's film selection:
We curate it, what do our consumers want, and is it commercially viable? … What we tend to look at in exhibition is we might take what we call a crossover film, where as long as there is some degree of heritage or quality — for example, a "Spectre" of this world, a Sam Mendes — we would actually show that because we believe that meets our curated quality.
Alcock also says that big cinema chains are effectively strong arming distributors into a certain publicity spend. Good insights overall, such as the nugget that Curzon was re-built with the help of Apple designer Sir Jony Ive's sister Alison, who is a marketing consultant. Business Insider – 4 April 2016
Czech Republic – 2015 was a good year at the box office in the Czech Republic, with 13 million tickets sold, the highest number since 2010. Prices of tickets have become more accessible to a larger public. Significantly also several cinemas that were closed were re-opened with digital equipment thanks to subsidies from the European Union. There are also several major multiplexes under construction. Radio Prague – 5 April 2016
UK – A father's Facebook post about the cost of cinema and food at a Vue cinema has gone 'viral' (at least in UK media). He seems particularly unhappy about the price of nachos. Some media outlets point out that he could have saved money by taking advantage of the many ticket deals. Interestingly Vue also responded that he can bring his own food in, as long as it is not hot food or alcohol. Aol. – 6 April 2016
UK – Arts Alliance Media has added three new partners to its Thunderstorm platform: Cheerfy, Incode Cinemaand Smart Pricer. Press Release – 5 April 2016
Italy – Next week sees the fourth annual Cinemadays in Italy, during which cinema tickets are half price during the weekday at participating cinemas. Last year saw box office grow 146% year-on-year, with a total BO €5.5 million. Similar campaigns also take place in France (Printemps du Cinema) and Italy (Fiesta del Cine). Screen Daily – 6 April 2016
USA – Cinema integrator Bardan has entered into a strategic relationship with TK Architects to "develop leading -edge cinemas throughout the Americas and Caribbean." TK Architects is a leading cinema architect and design firm. Read our interview with their CEO here. Barman previously partnered with Barco and Philips Lighting. FJI – 8 April 2016
USA – This Quartz journalist is not a fan of immersive seating, judging from the title of his article, called, "I watched "Batman v Superman" at a 4D theater so you don't have to." His conclusion?
for those seeking real immersion in a cinematic experience, 4D is at best an expensive distraction. Batman v Superman was the least immersive movie experience of my life, and all it left me with was wet hair and a sore back.
Ouch! Quartz – 28 March 2016
Health & Safety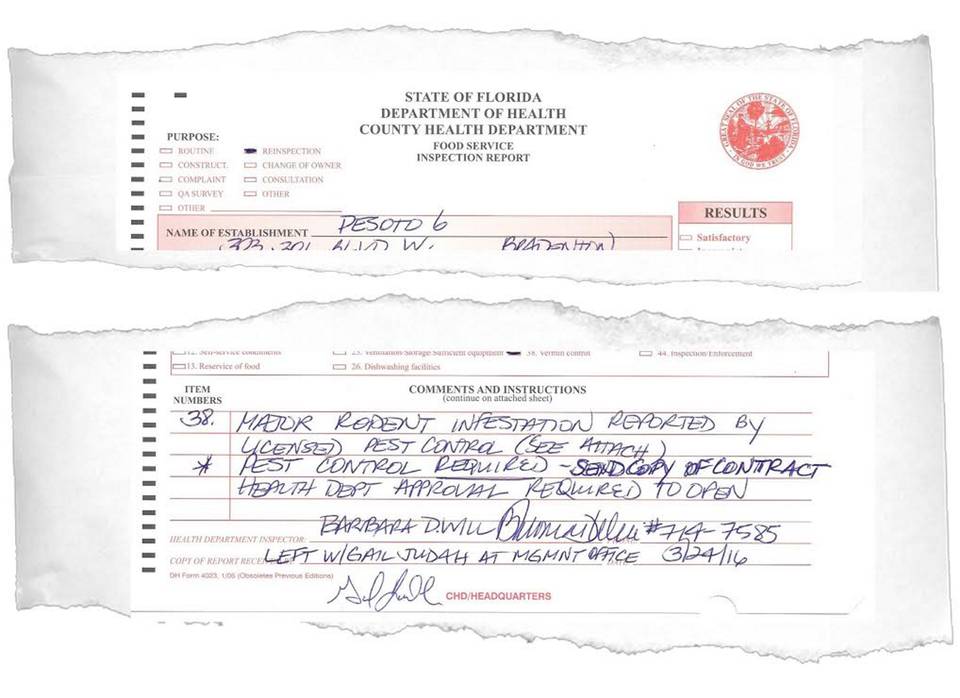 USA (FL) – DeSoto 6 Colonial Cinemas in Manatee apparently has a rat problem. Measures have been taken and no rodents were spotted by the Health Inspector in the food area. Bradenton Herald – 5 April 2016
Adverting


UK – Cinema advertising was up 26% in the first quarter of 2016, according to Digital Cinema Media (DCM). Gold Spot revenues were up even more to 244% year-on-year. Since assuming the advertising contract for Everyman, DCM now has 80% of the UK cinema advertising market. Screen Daily – 6 April 2016
Imax/PLF
India – Imax has signed a five-cinema deal with Inox, making it the largest of its kind in India. Inbox already operates four Imax screens in Mumbai, Bangalore, Delhi and Kolkata. In total there are nine operating Imax screens in India and 11 contracted to open in the next few years. Press Release – 5 April 2016
Cinema Opening/Closings
USA (TN) – A wonderful looking cinema conversion planned for Memphis' Central Station Neighbourhood from Malco and our friends TK Architects. The 1914 building was built by Illinois Central railway line to provide steam and electrical energy to South Main's Central Station. Now the planned eight-screen cinema will the anchor point of the in the residential, retail and cultural revival of the Central Station area it is hoped. The Commercial Appeal – 1 April 2016
UK – Cineworld is about to open a new six-screen multiplex in Yate's Riverside. Opening 29 April the multiplex is said to have been working with local schools, shops and football clubs to be part of the community. Bristol Post – 5 April 2016
Finally
Out at Sea – You can now watch films on an Imax screen far away from dry land. Carnival Vista is the first cruise ship to launch with an Imax screen (and a  second regular screen). No word on which ticket system they are using. Cruise Hive – 4 April 2016
Patrick was a Senior Analyst at Screen Digest, went on to launch the digital cinema operations of Unique and Deluxe Europe, then digitised Bollywood at Adlabs/RMW, and now writes, consults and appears on panels about cinema all over the world.
Latest posts by Patrick von Sychowski (see all)